Abstract
We fielded an experiment in the 2012 Cooperative Congressional Election Study testing the theory that motivated reasoning governs reactions to news about misdeeds on the campaign trail. Treated subjects either encountered a fabricated news story involving phone calls with deceptive information about polling times or one involving disappearing yard signs (the offending party was varied at random). Control subjects received no treatment. We then inquired about how the treated subjects felt about dirty tricks in political campaigns and about all subjects' trust in government. We find that partisans process information about dirty campaign tricks in a motivated way, expressing exceptional concern when the perpetrators are political opponents. However, there is almost no evidence that partisans' evaluations of dirty political tricks in turn color other political attitudes, such as political trust.
This is a preview of subscription content, log in to check access.
Access options
Buy single article
Instant access to the full article PDF.
US$ 39.95
Price includes VAT for USA
Subscribe to journal
Immediate online access to all issues from 2019. Subscription will auto renew annually.
US$ 99
This is the net price. Taxes to be calculated in checkout.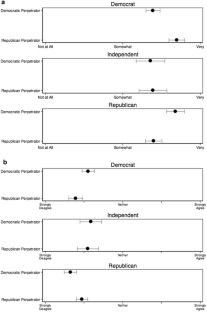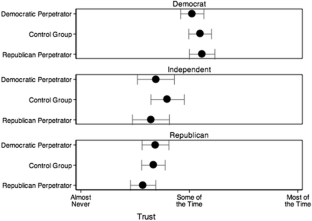 Notes
1.

Stories about dirty tricks involving yard signs are a staple of election coverage. We did a Lexis-Nexis search ("yard sign" and "theft" in Newspapers, Law Reviews, State and Federal Cases, and Company Profiles) and found 412 stories (spot checks indicate nearly all are about stolen political signs, eliminating duplicates only reduces the total to 397, and the vast majority are U.S. newspaper stories). Space does not permit an exhaustive breakdown (the earliest search item dates back to 1981), but coverage of yard sign theft is steady with 16 stories appearing in 2014, 48 in 2012, 27 in 2010, 76 in 2008, 25 in 2006, and 48 in 2004. Relative to total campaign coverage, sign thefts are a small fraction of the stories, but there is substantial and sustained coverage nonetheless. Also, we highlight that our total undercounts coverage because of our limited search parameters and the limited materials that are archived in Lexis-Nexis. In short, many Americans read about political sign thefts in every election cycle.

2.

The likely electoral gain associated with a dirty trick is very small, yet the potential personal consequences of getting caught are very high—though, no doubt, heavily discounted by the low probability of detection and legal action. Still, the probability of incurring major legal costs is not zero. Though yard sign theft convictions are relatively rare in our understanding, reports of theft and vandalism flood police blotters during election season and some criminal cases do result. Witness this Cleveland Plain Dealer headline, "4 men arrested in Perrysburg for stealing Romney signs while driving sheet metal union truck" (Pat Galbincea, November 2, 2012). Likewise, convictions are rare in robocall schemes, but Julius Henson did jail time and had a $1 million civil verdict imposed against him for masterminding the robocall trick mentioned in the Baltimore Sun blurb above. Paul Schurick was sentenced to home detention, community service, and four years of probation in the same case. All to say, the perpetrators faced severe personal consequences.

3.

For example, Alvarez and Boehmke (2008) find almost no correlation between frequency of fraud allegations in California and Georgia and vote margins.

4.

Apart from these two articles—neither of which focus exclusively on campaign related misbehavior—we found no work examining public opinion about dirty tricks. One explanation for the paucity of research into public opinion about dirty tricks is the presumption of universal public disapproval we noted earlier. Grossman et al. (n.d.) and Sides et al. (2010) make a related point about negative campaigning noting that previous work has focused on the effects (e.g., on turnout, trust, efficacy, and so on) to the near total exclusion of research about how citizens perceive the negative campaign process. Still, neither Grossman et al. (n.d.) nor Sides et al. (2010) explore opinions about dirty tricks. We note that the public's view of dirty tricks—in some ways, an especially insidious form of going negative—is important because legal and ethical campaign behavior is fundamental to conducting free and fair elections.

5.

The CCES study is a survey conducted over the Internet to an online panel. Individuals are selected for participation from the online panel through a matched random sample methodology. The CCES is designed to match the Census Bureau's American Community Survey demographically and has been validated using a variety of methods, such as comparisons to state and national election returns. The CCES also provides a statistical weight in order to render population estimates more representative, but we do not use the weight since we are interested in an experimental effect. Mutz (2011) advises that weights can interfere with experimental effects, especially if one expects different effects in different groups, as we do. She writes, "If effects are known or expected to be heterogenous by some group characteristic, but the sample is roughly representative on that characteristic, then weighting in general (and its consequent loss of power) is not worth it" (Mutz 2011, 123).

6.

Our treatments ascribe the actions to partisan organizations. In reality, dirty tricks are perpetrated by unaffiliated hooligans, partisan activists, campaign professionals, and even by candidates. To our knowledge, this is again a lacuna in the literature and we commend it to future research. We suspect that candidates and professionals are probably less likely to go rogue, but when they do so it is a bigger problem—and they do at times do so.

7.

Because our severity and justifiability questions include references to the vignettes, control group subjects did not receive these. However, we highlight our "experiment within an experiment" design. The party of the perpetrator was varied at random so that the treated groups (those exposed to a story about a Democratic perpetrator compared to those exposed to a story about a Republican perpetrator) are comparable. Sometimes the most appropriate experimental comparison is not to an untreated group. Given our interest in whether evaluations depend upon the party of the perpetrator, our design provides an appropriate experimental comparison. Our design also permits comparisons to a more conventional control group for other political attitudes (e.g., political trust). Alternative designs (such as one in which the control group sees a vignette about a dirty trick without reference to the partisanship of the perpetrator) would permit additional interesting comparisons for future research.

8.

Statistically, party identification is independent of the treatment since random assignment governed placement into treatment groups. Empirically, the estimates are the same with or without the partisanship controls (since they are uncorrelated with the treatments), but we include the controls because the partisan differences are interesting and informative.

9.

Subjects were assigned each treatment using random assignment and so each is statistically independent of the other (we verified this empirically as well, the zero-order correlation is .03). The results in Table 1 reveal the Sign or Robocall treatment does not interact with the partisanship of the subjects (e.g., the "Sign" coefficients are very similar across the last three columns). We also verified that the two treatments do not interact with each other. Finally, when the sample is stratified by Sign or Robocall treatment, the pattern in Table 1 remains intact. Thus the process of motivated reasoning functions equally well whether subjects were exposed to a relatively minor infraction or a potentially major instance of election fraud.
References
Alvarez, M., & Boehmke, F. J. (2008). Correlates of fraud: Studying state election fraud allegations. In M. Alvarez, T. Hall, & S. D. Hyde (Eds.), Election fraud: Detecting and deterring electoral manipulation. Washington, DC: The Brookings Institution.

Alvarez, M., Hall, Thad, & Hyde, S. D. (2008a). Introduction: Studying election fraud. In M. Alvarez, T. Hall, & S. D. Hyde (Eds.), Election fraud: Detecting and deterring electoral manipulation. Washington, DC: The Brookings Institution.

Alvarez, M., Hall, T., & Llewellyn, M. (2008b). Are americans confident their ballots are counted? Journal of Politics, 70, 754–766.

Billig, M., & Tajfel, H. (1973). Social categorization and similarity in intergroup behaviour. European Journal of Social Psychology, 3, 27–52.

Birch, S. (2007). Electoral systems and electoral misconduct. Comparative Political Studies, 40, 1533–1556.

Birch, S. (2009). Electoral corruption. In T. Landman & N. Robinson (Eds.), Handbook of comparative politics. London: Sage.

Birch, S. (2011). Electoral malpractice. Oxford: Oxford University Press.

Braman, D., & Kahan, D. M. (2003). Caught in the cross-fire: Defending the cutural theory of gun-risk perception. University of Pennsylvania Law Review, 151, 1395–1417.

Brewer, M. B. (1979). In-group bias in the minimal intergroup situation: A cognitive-motivational analysis. Psychological Bulletin, 86, 307–324.

Brewer, M. B. (1999). The psychology of prejudice: Ingroup love or outgroup hate? Journal of Social Issues, 55, 429–444.

Campbell, A., et al. (1960). The American voter. New York: Wiley.

Doise, W., et al. (1972). An experimental investigation into the formation of intergroup representations. European Journal of Social Psychology, 2, 202–204.

Ferguson, C. K., & Kelley, H. H. (1964). Significant factors in overevaluation of own-group's product. Journal of Abnormal and Social Psychology, 69, 223–228.

Freud, S. (1933). New introductory lectures on psycho-analysis. In Standard edition (Vol. 22, pp. 3–128). London: Hogart Press.

Gollust, S. E., Lanz, P. M., & Ubel, P. A. (2009). The polarizing effect of news media messages about the social determinants of health. American Journal of Public Health, 99, 2160–2167.

Grossmann, M., Sides, J., Lipsitz, K. (n.d.). The Myth of universal aversion: Public opinion about negativity in American Campaigns. http://home.gwu.edu/~jsides/aversion.pdf. Accessed 30 October 2010.

Hartman, T. K., & Newmark, A. J. (2012). Motivated reasoning, political sophistication, and associations between president Obama and Islam. PS. Political Science, 45, 449–455.

Hastorf, A. H., & Cantril, H. (1954). They saw a game: A case study. The Journal of Abnormal and Social Psychology, 49, 129–134.

Hetherington, M. J. (2005). Why trust matters: Declining political trust and the demise of American liberalism. Princeton: Princeton University Press.

Kahan, D. M., Braman, D., Cohen, G. L., Slovic, P., & Gastil, J. (2008). Who fears the HPV vaccine, who doesn't, and why? An experimental study of the mechanisms of cultural cognition. Law and Human Behavior, 34, 501–516.

Kahan, D. M., Jenkins-Smith, H., & Braman, D. (2011). Cultural cognition of scientific consensus. Journal of Risk Research, 14, 147–174.

Kunda, Z. (1990). The case for motivated reasoning. Psychological Bulletin, 108, 480–498.

Lehoucq, F. E. (2003). Electoral fraud: Causes, types, and consequences. Annual Review of Political Science, 6, 233–256.

Lehoucq, F. E., & Molina, I. (2002). Stuffing the ballot box: Fraud, electoral reform, and democratization in costa rica. Cambridge: Cambridge University Press.

Lodge, M., & Taber, C. S. (2000). Three steps toward a theory of motivated political reasoning. In A. Lupia, M. D. McCubbins, & S. L. Popkin (Eds.), Elements of reasoning: Understanding and expanding the limits of political rationality. Cambridge: Cambridge University Press.

McCann, J. A., & Dominguez, J. I. (1996). Democratizing Mexico: Public opinion and electoral choice. Baltimore: Johns Hopkins University Press.

McCann, J. A., & Dominguez, J. I. (1998). Mexicans react to electoral fraud and political corruption: An assessment of public opinion and voting behavior. Electoral Studies, 17, 483–503.

McCann, J. A., & Redlawsk, D. P. (2006). As voters head to the polls, will they perceive a 'culture of corruption?'. PS: Political Science and Politics, 37, 797–802.

Mitchell, D.-G. (2014). Here today, gone tomorrow? Assessing how timing and repetition of scandal information affects candidate evaluations. Political Psychology, 35, 679–701.

Mutz, D. C. (2011). Population-based survey experiments. Princeton, NJ: Princeton University Press.

Nyblade, B., & Reed, S. R. (2008). Who cheats? Who loots? Political competition and corruption in Japan, 1947–1993. American Journal of Political Science, 52, 926–941.

Nyhan, B., & Reifler, J. (2010). When corrections fail: The persistence of political misperceptions. Political Behavior, 32, 303–330.

PEW. (2010). Distrust, discontent, anger and partisan rancor. http://www.people-press.org/2010/04/18/section-1-trust-in-government-1958-2010/. Accessed on October 21 2014.

Redlawsk, D. P. (2002). Hot cognition of cool consideration? Testing the effects of motivated reasoning on political decision making. Journal of Politics, 64, 1021–1044.

Redlawsk, D. P., & McCann, J. A. (2005). Popular interpretations of 'corruption' and their partisan consequences. Political Behavior, 27, 261–283.

Rudolph, T. J. (2006). Triangulating political responsibility: The motivated formation of responsibility judgements. Political Behavior, 27, 99–122.

Schaffer, F. C. (2002). Might cleaning up elections keep people away from the polls? Historical and comparative perspectives. International Political Science Review, 23, 69–84.

Schaffer, F. C. (2007). Lessons learned. In C. F. Schaffer (Ed.), Elections for sale: The causes and consequences of vote buying. Boulder, CO: Lynne Rienner Press.

Schaffer, F. C. (2008). The hidden costs of clean election reform. Ithaca, NY: Cornell University Press.

Sherif, M., et al. (1961). Intergroup conflict and cooperation: The robbers cave experiment. Norman, OK: University Book Exchange.

Sides, J., Lipsitz, K., & Grossman, M. (2010). Do voters perceive negative campaigns as informative campaigns? American Politics Research., 38, 502–530.

Taber, C. S., & Lodge, M. (2006). Motivated skepticism in the evaluation of political beliefs. American Journal of Political Science, 50, 755–769.

Taber, C. S., Lodge, M., & Glathar, J. (2001). The motivated construction of political judgements. In J. Kuklinski (Ed.), Citizens and politics. Cambridge: Cambridge University Press.

Tajfel, H., & Billig, M. (1974). Familiarity and categorization in Intergroup Behavior. Journal of Experimental Social Psychology, 10, 159–170.

Tajfel, H., Billig, M., Bundy, R., & Flament, C. (1971). Social categorization and intergroup behaviour. European Journal of Social Psychology, 1, 149–178.

Westen, D., et al. (2006). Neural bases of motivated reasoning: An fMRI study of emotional constraints on partisan political judgment in the 2004 US presidential election. Journal of Cognitive Neuroscience, 18, 1947–1958.
Acknowledgement
A previous version of this paper was presented at Panel 22-11: The Experimental Study of Campaigns at the Annual Midwest Political Science Association Meetings in Chicago, IL (April 2013). We would like to thank Ted Carmines and the Center on Congress at Indiana University for allowing us to work with them on the 2012 Cooperative Congressional Election Study. The authors would like to thank Casey Dominguez, John Ryan, the anonymous reviewers, and the editor for helpful comments and suggestions. All errors remain the responsibility of the authors.
About this article
Cite this article
Claassen, R.L., Ensley, M.J. Motivated Reasoning and Yard-Sign-Stealing Partisans: Mine is a Likable Rogue, Yours is a Degenerate Criminal. Polit Behav 38, 317–335 (2016). https://doi.org/10.1007/s11109-015-9313-9
Keywords
Election fraud

Dirty tricks

Public opinion

Experiment

Trust

Cynicism

Universal aversion

Motivated reasoning