Abstract
The association between education and political participation is one of the strongest and most reliable in American politics, but it is poorly understood. Whether human capital acquired through education affects participation remains unknown. Most studies of this question restrict measurement of human capital to years of schooling (attainment) or civics knowledge. But attainment is a weak instrument for human capital, which varies considerably within attainment levels. And skills beyond civics—particularly verbal communication skills—are politically important. With data from the National Education Longitudinal Study, I examine the relationship between verbal skills acquired in school during adolescence and participation later in life. I find a strong positive effect, showing that when young people learn to use their voices in school, they are more likely to speak up as participatory adults. The findings reveal an important mechanism by which education affects democratic life, call for a broadening of the empirical treatment of education in political science, and suggest an answer to the puzzle of participation.
Access options
Buy single article
Instant access to the full article PDF.
USD 39.95
Price excludes VAT (USA)
Tax calculation will be finalised during checkout.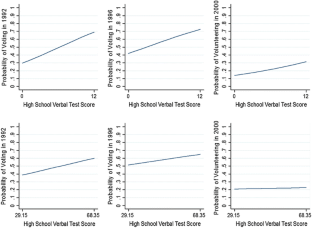 Notes
Campbell issues a similar criticism: "…virtually every study that employs education, including this one, treats all types of schooling as equal, when there are obviously wide disparities across high schools and colleges" (2009, p. 785).

According to a report on the National Assessment of Educational Progress (NAEP) Long-term Trend data, though the achievement of younger children has increased over the past 40 years, the skills of 17 year olds have remained the same (Rampey et al. 2009). Patterns in the civic knowledge of American adolescents are more ambiguous, but civics achievement seems to have stagnated or declined slightly over this period as well (Niemi et al. 2005).

To some extent this is a point on which the developmental psychological and political science literatures coincide. Efficacy has long been central to explanations of political participation (Campbell et al. 1954, 1960; Easton and Dennis 1967; Finkel 1987; Jennings and Niemi 1981; Pateman, 1970; Rosenstone and Hansen 1993; Verba and Nie 1972; Verba et al. 1995). But to date, attention to specific forms of efficacy in the political science literature has focused on domain-specific (political) rather than task-specific efficacy. The political importance of task-specific and communication efficacy has been proposed in the political science literature (Condon and Holleque 2013, p. 12), but the relationship has not been tested empirically.

Other large-scale longitudinal studies of adolescents do exist, but none of the more recent studies are suited to the identification strategy in this study, which relies on measures of verbal achievement and potential confounding variables collected at the beginning and end of adolescence. The National Longitudinal Study of Adolescent Health (Add Health) began slightly later than the NELS, in the early 1990s with a representative sample of children in seventh through 12th grades, but only a portion of the sample has data available from before high school. The Early Childhood Longitudinal Study, Kindergarten Class of 1998–1999 (ECLS-K) follows children only through 8th grade. The Education Longitudinal Study of 2002 (ELS:2002) is more recent, but unlike the NELS, data collection began with 10th and 12th graders, and childhood or pre-high school characteristics are not measured. Finally, the most recent survey of the National Longitudinal Surveys (NLS), the National Longitudinal Survey of Youth 1997 (NLSY97), begins with adolescents ages 12–17, but academic achievement data, essential for this analysis, is not a part of the study. It is also worth noting for political scientists, that the participatory outcomes in these other education, labor, and health focused studies are limited.

The 1992 election occurred after the 1992 data collection. Respondents were asked to report their turnout in the 1994 survey (Did you vote in the 1992 Presidential election?). There was no data collection in 1996, so turnout in the 1996 election was reported in 2000 (Did you vote in the 1996 Presidential election?). Turnout in the 2000 election is unavailable.

Both volunteering measures are self-reported, collected in 2000, of whether the respondent engaged in these activities in the past 12 months. (For the next set of items, tell me if you did any of these activities within the past 12 months. Please answer yes or no for each of them. Did you…volunteer in a civic or community organization? …participate in a political campaign by more than just voting?).

The measure of average English course grade in the NELS is a continuous variable ranging from 0 (F) to 12 (A+), with a mean of 6.26 (C) and a standard deviation of 2.66. Over-reporting, which occurs when respondents are asked to recall their achievement, is highly unlikely in this transcript-generated variable.

I use the norm-referenced IRT theta score provided in the NELS. This is a measure of latent verbal ability estimated with a Bayesian Item Response Theory Model. The scores are standardized (mean 50, standard deviation 10) based on the scores of participants with data in all of the first three (in-school) waves. For more information on the psychometric properties of the tests in the NELS, see Rock et al. (1995).

Actual passages and questions from the tests are not made publicly available.

The literature on course grades supports the assertion that they are good measures of skills. A detailed study of English course grading practices (Kelly 2008) shows that performance on a standardized verbal test (including essay and multiple choice items) is a stronger predictor of English grades than non-skill factors like participation and behavior. Additionally, the majority of teachers base grades on achievement, and the older the students, the more likely their teachers are to base grades on achievement rather than effort, improvement, or compliant behavior.

There is a growing psychological literature on pragmatic language competencies. They are distinct from the conventional language skills measured by tests, and more relevant to social success and effective communication in real-world contexts (Russell and Grizzle 2008).

Some political studies do include course grade measures, but interpret them as measures of ability or intelligence rather than skills or knowledge acquired in the courses (Highton 2009; Hillygus 2005). The research on course grades does not support their use as an indicator of ability or intelligence alone. Grades do in fact measure subject achievement.

Measurement error could also bias effect estimates. The tests and transcript-reported grades in the NELS are among the most sophisticated and studied measures of achievement available, but all measures of human capital are subject to measurement error, producing downward bias in effect estimates. Therefore, the estimates here can be thought of as a lower bound.

In contrast, Nie et al. (1996) do not confront the issue, and rely on the adult vocabulary score to support their rejection of the human capital theory. The authors also use English proficiency as a measure of verbal skill. This measure is even more problematic than the vocabulary score, correlating with its own set of political advantages the authors do not include in their models (e.g. length of tenure in the US, acculturation).

While the analytic focus on high school serves as an identification strategy, allowing me to isolate the contribution of education, it is not intended to indicate that other segments of schooling: elementary and college, are unimportant to engagement. The high school focus has the added benefits of focusing attention on the formative years of adolescence and the role education plays during the first elections for which young adults are eligible.

The 8th grade GPA measure is a composite of student reported grades in multiple subjects. Students reported whether they got "mostly As," "mostly Bs," etc. in middle school in major academic subjects. Their responses were averaged to generate the variable I use here. Transcript data is unavailable prior to high school.

Occupational prestige is measured in the NELS using the Duncan socioeconomic index (SEI), a ranking of occupations based on occupational earnings and occupational education commonly used in sociology and education research (Duncan 1961).

In 1988, 800 public and 200 private schools were drawn from the population of American junior high schools. Eighth grade students were sampled within schools. Unadjusted estimates will be less variable than if they were based on a simple random sample. I use probability weights provided by the NELS to account for the sampling design, panel attrition, and nonresponse, and I adjust the standard errors for the sampling design.

When interpreting these results, readers should note that the bias introduced into the models by "post-treatment" variables is not a concern if I make the assumptions that I am sufficiently controlling for confounders and the assignment process with covariates, and the effects of human capital are consistent across groups, (here, levels of attainment).

The models of 1992 turnout include an indicator of high school graduation and an indicator for whether or not the respondent had entered college. The models of 1996 turnout include high school graduation and an indicator for whether any post secondary degree had been attained.

The main measure used is 8th grade performance on a mathematics standardized test. I also include the average grade in high school math courses to control for additional non-verbal skills beyond those measured in standardized tests.

The result is the same even when the math measures are included but verbal measures are not.

It has been suggested that any effect of skills acquired through education on voting can be explained by more skilled individuals finding bureaucratic hurdles like registration easier to navigate (Wolfinger and Rosenstone 1980). The models of voter turnout reported in this manuscript do not include a control variable for registration, which is endogenous to turnout and could introduce bias. However, since only registered voters can vote, I also conducted both voting analyses including registration. The effects of verbal skills are only slightly attenuated, if at all. The effect of human capital acquired in school does not simply make it easier for people to register to vote.

Estimates vary, but these studies show that an increase of one standard deviation in test performance translates into 10–20 percent higher annual earnings in adulthood. One key difference is that these economic returns to education are driven largely by math achievement. This does not hold for civic returns, driven only by verbal skills.

Multilevel model estimates indicate that thirty to forty percent of the variation in achievement is found between schools, indicating that school quality and learning opportunities, in addition to child background and ability, are essential in the production of human capital (Borman and Dowling 2010; Konstantopoulos and Borman 2011).

Similar patterns exist when students are compared based on family income. Estimates are based on the author's independent analysis of student survey data accompanying the 2007 National Assessment of Educational Progress (NAEP) Writing and Reading assessments.

As of June, 2014 these standards were originally adopted by 45 states and the District of Columbia, though the governors of South Carolina and Oklahoma, both originally adopters, signed laws to replace the Common Core standards with independent state standards.
References
Ames, C. (1992). Classrooms: Goals, structures, and student motivation. Journal of Educational Psychology, 84(3), 261–271.

Anagnostopoulos, D. (2003). Testing and student engagement with literature in urban classrooms: A multi-layered perspective. Research in the Teaching of English, 38, 177–212.

Bandura, A. (1986). Social foundations of thought and action. Englewood Cliffs, NJ: Prentice Hall.

Bandura, A. (2005). Self-Efficacy. In V. S. Ramachaudran (Ed.), Encyclopedia of human behavior. New York: Academic Press.

Barber, B. R. (1984). Strong democracy: Participatory politics for a new age. Berkeley, CA: University of California Press.

Barksdale-Ladd, M. A., & Thomas, K. F. (2000). What's at stake in high-stakes testing teachers and parents speak out. Journal of Teacher Education, 51(5), 384–397.

Becker, H. S., Geer, B., & Hughes, E. C. (1995). Making the grade: The academic side of college life. New Brunswick, NJ: Transaction Publishers.

Berinsky, A. J., & Lenz, G. S. (2011). Education and political participation: Exploring the causal link. Political Behavior, 33, 357–373.

Borman, G., & Dowling, M. (2010). Schools and inequality: A multilevel analysis of Coleman's equality of educational opportunity data. Teachers College Record, 112, 1201–1246.

Bowles, R. P., Grimm, K. J., & McArdle, J. J. (2005). A structural factor analysis of vocabulary knowledge and relations to age. Journals of Gerontology. Series B, Psychological Sciences and Social Sciences, 60(5), 234.

Boyle, J. P. (1987). Intelligence, reasoning, and language proficiency. The Modern Language Journal, 71(3), 277–288.

Campbell, D. E. (2008). Voice in the classroom: How an open classroom climate fosters political engagement among adolescents. Political Behavior, 30(4), 437–454.

Campbell, D. E. (2009). Civic engagement and education: An empirical test of the sorting model. American Journal of Political Science, 53(4), 771–786.

Campbell, A., Converse, P., Miller, W., & Stokes, D. (1960). The American voter. Chicago, IL: University of Chicago Press.

Campbell, A., Gurin, G., & Miller, W. E. (1954). The voter decides. Evanston, IL: Row, Peterson.

Common Core State Standards Initiative. (2012). Common core state standards for English language arts & literacy in history/social studies, science, and technical subjects. http://www.corestandards.org/ELA-Literacy/.

Condon, M., & Holleque, M. (2013). Entering politics: The effects of general self-efficacy on political participation. Political Psychology, 34(2), 167–181.

Curtin, T., Ingels, S., Wu, S., & Heuer, R. E. (2002). NELS 1988/2000: Base year to fourth follow-up data user's manual. Washington, DC: National Center for Education Statistics.

Deary, I. J., Batty, G. D., & Gale, C. R. (2008). Childhood intelligence predicts voter turnout, voting preferences, and political involvement in adulthood: The 1970 British cohort study. Intelligence, 36(6), 548–555.

Dee, T. S. (2004). Are there civic returns to education?. Journal of Public Economics, 88(9–10), 1697–1720.

Delli Carpini, M. X., & Keeter, S. (1996). What Americans know about politics and why it matters. New Haven, CT: Yale University Press.

Dermitzaki, I., & Efklides, A. (2001). Age and gender effects on students' evaluations regarding the self and task-related experiences in mathematics (pp. 271–293). Motivation in Learning Contexts: Theoretical Advances and Methodological Implications.

Dewey, J. (1916). Democracy and education. New York: The Macmillan.

Diamond, J., & Spillane, J. (2004). High-stakes accountability in urban elementary schools: Challenging or reproducing inequality? The Teachers College Record, 106(6), 1145–1176.

DiPrete, T. A., & Jennings, J. L. (2012). Social and behavioral skills and the gender gap in early educational achievement. Social Science Research, 41(1), 1–15.

Duncan, O. D. (1961). A socioeconomic index for all occupations. In J. Albert Reiss Jr (Ed.), Occupations and social status (pp. 109–138). New York: Free Press.

Easton, D., & Dennis, J. (1967). The child's acquisition of regime norms: Political efficacy. The American Political Science Review, 61(1), 25–38.

Eccles (Parsons), J., et al. (1983). Expectancies, values, and academic behaviors. In J. T. Spence (Ed.), Achievement and achievement motivation. San Francisco: Freeman.

Enright, R. D., & Sutterfield, S. J. (1980). An ecological validation of social cognitive development. Child Development, 51, 156–161.

Farkas, G., Wilkinson, L., Schiller, K., & Frank, K. (2005). Teacher grading practices within school social contexts: do they disadvantage lower SES and ethnic minority students? Paper presented at the Center for Research on Educational Opportunity Conference on Examining Educational Inequalities.

Finkel, S. E. (1987). The effects of participation on political efficacy and political support: Evidence from a West German panel. Journal of Politics, 49(2), 441–464.

Frederiksen, N. (1994). The integration of testing with teaching: Applications of cognitive psychology in instruction. American Journal of Education, 102(4), 527–564.

Fryer, R. G, Jr, & Levitt, S. D. (2006). The black–white test score gap through third grade. American Law and Economics Review, 8(2), 249.

Galston, W. A. (2001). Political knowledge, political engagement, and civic education. Annual Review of Political Science, 4(1), 217–234.

Greene, J. P. (2000). Review of civic education: What makes students learn. Social Science Quarterly, 81, 696–697.

Hanushek, E. A., & Zhang, L. (2009). Quality-consistent estimates of international schooling and skill gradients. Journal of Human Capital, 3(2), 107–143.

Hart, B., & Risley, T. R. (1995). Meaningful differences in the everyday experience of young American children. Baltimore, MD: Brookes.

Hauser, S. M. (2000). Education, ability, and civic engagement in the contemporary United States. Social Science Research, 29(4), 556–582.

Herrnstein, R. J., & Murray, C. (1994). The bell curve. New York: The Free Press.

Highton, B. (2009). Revisiting the relationship between educational attainment and political sophistication. Journal of Politics, 71, 1564–1576.

Hillygus, D. S. (2005). The missing link: Exploring the relationship between higher education and political behavior. Political Behavior, 27(1), 25–47.

Jennings, R. G., & Niemi, M. K. (1981). Generations and politics: A panel study of young adults and their parents. Princeton: Princeton University Press.

Junn, J. (1991). Participation and political knowledge. New York: Greenwood.

Kam, C. D., & Palmer, C. L. (2008). Reconsidering the effects of education on political participation. The Journal of Politics, 70(03), 612–631.

Kelly, S. (2008). Race, social class, and student engagement in middle school English classrooms. Social Science Research, 37(2), 434–448.

Klofstad, C. A. (2007). Talk leads to recruitment: How discussions about politics and current events increase civic participation. Political Research Quarterly, 60(2), 180–191.

Klofstad, C. A. (2010). The lasting effect of civic talk on civic participation: Evidence from a panel study. Social Forces, 88(5), 2353–2375.

Konstantopoulos, S., & Borman, G. D. (2011). Family background and school effects on student achievement: A multilevel analysis of the Coleman data. Teachers College Record, 113(1), 97–132.

Langton, K. P., & Jennings, M. K. (1968). Political socialization and the high school civics curriculum in the United States. The American Political Science Review, 62(3), 852–867.

Luna, C., & Turner, C. L. (2001). The impact of the MCAS: Teachers talk about high-stakes testing. English Journal, 9, 79–87.

Malhotra, N., Krosnick, J. A., & Haertel, E. (2007). The psychometric properties of the GSS Wordsum Vocabulary Test. General Social Survey Methodological Report, MR111.

Mettler, S., & Soss, J. (2004). The consequences of public policy for democratic citizenship: Bridging policy studies and mass politics. Perspectives on Politics, 2(1), 55–73.

Milligan, K., Moretti, E., & Oreopoulos, P. (2004). Does education improve citizenship? Evidence from the United States and the United Kingdom. Journal of Public Economics, 88(9–10), 1667–1695.

Mulligan, C. B. (1999). Galton versus the human capital approach to inheritance. Journal of Political Economy, 107(6), S184–S224.

Murnane, R. J., Willett, J. B., Duhaldeborde, Y., & Tyler, J. H. (2000). How important are the cognitive skills of teenagers in predicting subsequent earnings? Journal of Policy Analysis and Management, 19(4), 547–568.

Neal, D. (2006). Why has black-white skill convergence stopped? In E. Hanushek & F. Welch (Eds.), Handbook of economics of education. Amsterdam, The Netherlands: North Holland.

Nie, N., Junn, J., & Stehlik-Barry, K. (1996). Education and democratic citizenship in America. Chicago, IL: University of Chicago Press.

Niemi, R. G., & Junn, J. (2005). Civic education: what makes students learn. New Haven: Yale University Press.

Niemi, R. G., Sanders, M. S., & Whittington, D. (2005). Civic knowledge of elementary and secondary school students, 1933–1998. Theory and Research in Social Education, 33, 172–199.

Pateman, C. (1970). Participation and democratic theory. Cambridge, UK: Cambridge University Press.

Persson, M. (2011). An empirical test of the relative education model in Sweden. Political Behavior, 33(3), 455–478.

Plutzer, E. (2002). Becoming a habitual voter: Inertia, resources, and growth in young adulthood. American Political Science Review, 96, 41–56.

Polikoff, M. S., & Struthers, K. S. (2013). Changes in the cognitive complexity of English instruction: The moderating effects of school and classroom characteristics. Teachers College Record, 115, 1–26.

Rampey, B. D., Dion, G. S., & Donahue, P. L. (2009). NAEP 2008 trends in academic progress (NCES 2009–479). Washington, DC: National Center for Education Statistics, Institute of Education Sciences, U.S. Department of Education.

Rock, D. A., Pollack, J., & Quinn, P. (1995). Psychometric report for the NELS: 88 base year through second follow-up. Washington, DC: US Department of Education, Office of Educational Research and Improvement.

Rosenbaum, J. E. (1980). Social implications of educational grouping. Review of Research in Education, 8(1), 361–401.

Rosenbaum, P. (1984). The consequences of adjustment for a concomitant variable that has been affected by the treatment. Journal of the Royal Statistical Society, Series A, 147, 656–666.

Rosenbaum, J. E. (2004). Beyond college for all: Career paths for the forgotten half. New York: Russell Sage Foundation.

Rosenstone, S. J., & Hansen, J. M. (1993). Mobilization, participation, and democracy in America. New York: Longman.

Rowe, D. C., Jacobson, K. C., & Van den Oord, E. J. C. G. (1999). Genetic and environmental influences on vocabulary IQ: Parental education level as moderator. Child Development, 70(5), 1151–1162.

Russell, R. L., & Grizzle, K. L. (2008). Assessing child and adolescent pragmatic language competencies: Toward evidence-based assessments. Clinical Child and Family Psychology Review, 11(1–2), 59–73.

Smith, M. L., & Rottenberg, C. (1991). Unintended consequences of external testing in elementary schools. Educational measurement: Issues and Practice, 10(4), 7–11.

Sondheimer, R. M., & Green, D. P. (2010). Using experiments to estimate the effects of education on voter turnout. American Journal of Political Science, 54(1), 174–189.

Stiggins, R. J., & Faires Conklin, N. (1992). In teachers' hands: Investigating the practices of classroom assessment. Albany, NY: State University of New York Press.

Tenn, S. (2007). The effect of education on voter turnout. Political Analysis, 15(4), 446.

Torney-Purta, J. (1997). Links and missing links between education, political knowledge, and citizenship. American Journal of Education, 105(4), 446–457.

U.S. Department of Education, National Center for Education Statistics. (1989). National Education Longitudinal Study, 1988. Chicago, IL: National Opinion Research Center [producer]. Ann Arbor, MI: Inter-university Consortium for Political and Social Research [distributor].

Valli, L., & Chambliss, M. (2007). Creating classroom cultures: One teacher, two lessons, and a high-stakes test. Anthropology & Education Quarterly, 38(1), 57–75.

Verba, S., & Nie, N. H. (1972). Participation in America: Political democracy and social equality. Chicago, IL: University of Chicago Press.

Verba, S., Schlozman, K. L., & Brady, H. E. (1995). Voice and equality: Civic voluntarism in American politics. Cambridge: Harvard University Press.

Walsh, K. C. (2004). Talking about politics: Informal groups and social identity in American life. University of Chicago Press.

Wilson, J. A., & Grove, W. R. (1999a). The age-period-cohort conundrum and verbal ability: Empirical relationships and their interpretation: Reply to Glenn and to Alwin and McCammon. American Sociological Review, 64(2), 287–302.

Wilson, J. A., & Grove, W. R. (1999b). The intercohort decline in verbal ability: Does it exist? American Sociological Review, 64(2), 253–266.

Wolfinger, R. E., & Rosenstone, S. (1980). Who votes?. New Haven, CT: Yale University Press.

Wong, K. K., Anagnostopoulos, D., Rutledge, S., & Edwards, C. (2003). The challenge of improving instruction in urban high schools: Case studies of the implementation of the Chicago academic standards. Peabody Journal of Education, 78(3), 39–87.
Acknowledgments
I thank John Witte, Barry Burden, Katherine Cramer, David Campbell, Adam Gamoran, Joe Soss, Amber Wichowsky, Sarah Bruch, Hilary Shager, and anonymous reviewers for comments and advice. The research reported here was supported by the Institute of Education Sciences, U.S. Department of Education, through Award # R305C050055 to the University of Wisconsin-Madison. Findings and conclusions are those of the author and do not necessarily represent the views of the Department of Education.
About this article
Cite this article
Condon, M. Voice Lessons: Rethinking the Relationship Between Education and Political Participation. Polit Behav 37, 819–843 (2015). https://doi.org/10.1007/s11109-015-9301-0
Published:

Issue Date:

DOI: https://doi.org/10.1007/s11109-015-9301-0
Keywords
Civic engagement

Education

Voter turnout

Longitudinal data

Youth turnout