Abstract
Previous work on the effects of race on the political behaviors of white Americans is beset with two problems. First, much of the work on the effect of race has looked primarily at attitudes as opposed to political action around a policy. Second, studies of the relationship between race and policy have revolved around issues for which it is inherently difficult to separate the effects of racial prejudice from conservative ideology. To address these problems, we examine the willingness of individuals to write their member of Congress in support of a non-racial political cause, which we experimentally treat with racial cues. We also experimentally present a comparison with a non-racial but similar 'specialized' group, which allows us to distinguish concerns about race from concerns about specialized benefits objectionable to conservatives. We show that whites with higher levels of racial resentment are less likely to act politically in support of a policy perceived as benefiting ethnic and racial minorities.
This is a preview of subscription content, log in to check access.
Access options
Buy single article
Instant access to the full article PDF.
US$ 39.95
Price includes VAT for USA
Subscribe to journal
Immediate online access to all issues from 2019. Subscription will auto renew annually.
US$ 99
This is the net price. Taxes to be calculated in checkout.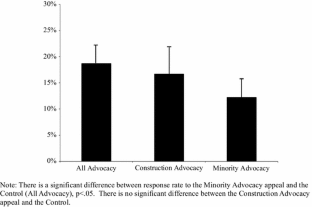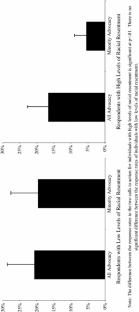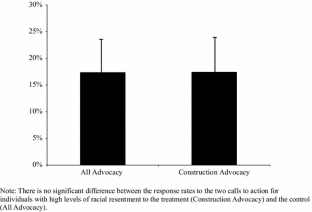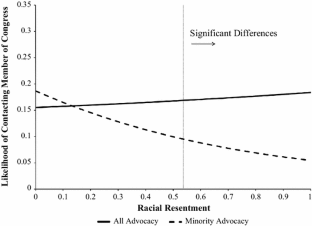 Notes
1.

Respondents were recruited through Mechanical Turk and then routed to complete the survey in Qualtrics where the random assignment was completed. After the respondents completed the survey in Qualtrics, they were given an individualized code which they were required to enter at the Mechanical Turk HIT page to receive payment for their task. Respondents were paid 75 cents for their responses to the survey which took respondents, on average, 8 min to complete, a payment level that is higher than that of other similar experimental survey HITs (Berinsky et al. 2012; Krupnikov and Levine 2014).

2.

Most relevant to this work is evidence that the college environment influences measures of racial prejudice in undergraduate samples (Henry 2008).

3.

Respondents were asked whether they agreed with the following six statements: "Irish, Italians, Jewish, and many other minorities overcame prejudice and worked their way up. Blacks should do the same without any special favors."; "Over the past few years blacks have gotten less than they deserve."; "It's really a matter of some people not trying hard enough; if blacks would only try harder they could be just as well off as whites."; "Generations of slavery and discrimination have created conditions that make it difficult for blacks to work their way out of the lower class."; "Government officials usually pay less attention to a request or complaint from a black person than from a white person."; "Most blacks who receive money from welfare programs could get along without it if they tried.".

4.

We placed the racial resentment questions at the end of the survey because we did not want them to contaminate our treatments rendering "the entire sample one big treatment group, washing out any effect of the racial messages" (Mendelberg 2008, p. 137). However, it might be that concerned individuals who read the experimental treatment that contained the racial and ethnic prime might express different levels of racial resentment as a result of being exposed to the racial prime. However, we found that this was not the case. Individuals who read the text emphasizing the benefits for minorities did not differ in their levels of racial resentment from other groups. Hotelling balance tests reveal no significant differences between the groups on racial resentment. .

5.

While our survey used a battery of six questions to reveal an individual's level of racial resentment, the ANES used only four. For the purposes of comparing samples we restrict the analysis of our survey to the same four questions that were asked on the ANES.

6.

Although some argue that racial resentment is also highly correlated to the politics of individualism (Feldman and Huddy 2005; Schuman 2000), the measure has been shown to be a consistent measure of internal beliefs distinct from ideological conservatism, and not an artifact of shared-item content with policy-attitude items (Tarman and Sears 2008). We recognize the critique that some scholars have of the racial resentment scale. Within our sample, our measure of racial resentment correlates with our measure of conservatism at .48. This shows us that, while there is some relationship between conservatism and racial resentment, the racial resentment measure is still capturing attitudes for which political conservatism does not account.

7.

Although previous work has found that subjects recruited via Mechanical Turk are just as attentive as subjects recruited to participate in an onsite laboratory (Paolacci et al. 2010), we were concerned that individuals might not carefully read the treatments and process the information we were presenting which would make it more difficult to draw substantive conclusions (Oppenheimer et al. 2009). As such, we included a manipulation check to detect whether individuals were reading the directions and paying attention to the questions immediately prior to the treatment. Because failure to pass manipulation tests also correlates with other politically relevant characteristics (Berinsky et al. 2013), we should not to discard these responses. Berinsky et al. (2013) also find that making individuals aware of their failure to pay close attention to instructions causes them to pay attention and engage at similar levels as those who did not fail manipulation checks. As such, instead of excluding these individuals from the sample, we indicated to respondents who failed the manipulation check that they had failed to read the directions and asked them to read the directions more carefully going forward. However, if we follow the more common, but erroneous, practice of removing individuals who failed the manipulation check from the sample, the results are substantively and significantly the same and all differences in response rates shown in the figures continue to be significant at the same levels.

8.

Although the cues we provided respondents explicitly relied upon race, many techniques in grassroots mobilization rely on implicit associations, both racial and non-racial (Levine 2015; Mendelberg 2001; Strickland and Whicker 1992; Weaver 2012). Scholars, however, continue to debate whether implicit racial appeals are still effective in the Post-Civil Rights era (Huber and Lapinski 2006; Mendelberg 2001, 2008). Although we do not report our findings here, we also ran the same experiment alternatively using images of white or black workers and found no effects. Our treatment manipulations, however, were not as extensive in their use of implicit associations as previous work that has found effects (Mendelberg 2001).

9.

While many organizations regularly use click-through rates as a means of analyzing the effectiveness of grassroots appeals (Congressional Management Foundation 2008), because we did not have the ability to assess whether individuals actually filled out the letter and submitted it to be sent to their member of Congress we were forced to rely on an assumption that individuals did fill out the form and then returned to the survey. Respondents were asked to fill out their name, address, and to review the text of the communication that would be sent to the member of Congress. On average, respondents who spent more than 20 s spent just under a minute and a half before returning to the survey, with the longest spending 5 min filling out the form and editing the text of the letter. Of the 243 individuals who indicated that they were willing to write a letter to their member of Congress, 135 (64 %) of them spent 20 s or more. Although ideally we would prefer to have more complete measures of participation, informal conversations with colleagues working in issue advocacy grassroots efforts indicated that our click-through to conversion percentage is roughly in line, or perhaps a little higher than the results that advocacy organizations get from email solicitations, and in line with previous informal analysis (Congressional Management Foundation 2008). Raising the minimum amount of time necessary to be considered as having completed the form to 30 s (lowering the completion rate to 48 %) has no significant effect on the outcomes.

10.

For the purpose of these figures, we created a scale of racial resentment from zero to one using the responses to the six racial resentment questions. Individuals with a racial resentment score of ½ or greater were considered to have high racial resentment, and individuals with scores of less than ½ were considered to have low racial resentment. This divided the sample roughly in half and displays a high level of consistency (Cronbach's alpha = .902). Other alternative cut points resulted in lower levels of consistency measured by Cronbach's alpha. In the models detailed further on in the text, however, we use a scale of racial resentment rather than a strict cut point. Those models show the same results.

11.

There is also no significant difference between those individuals with low levels of racial resentment, although, in this case, the percentage of respondents who contacted their member of Congress declined slightly.

12.

Although we have previously demonstrated that random assignment was successfully implemented, we also tested models that contained a battery of socioeconomic and demographic controls routinely found to influence an individual's participation rates, as well as summary variables for an individual's political involvement in a range of political participatory activities in the past 4 years. The addition of these controls does not change the effects.

13.

One might be concerned that businesses looking to hire minority employees might be viewed as "progressive" by conservative respondents. If so, we would expect ideology to have a negative effect when interacted with the racial priming treatment, and not racial resentment. We do not find that to be the case, suggesting that the decreased willingness of individuals to write their member of Congress after reading the text containing the racial and ethnic cues was not the result of conservatives being disinclined to support businesses they perceived to be progressive.
References
Abramowitz, A. (1994). Issue evaluation reconsidered: Racial attitudes and partisanship in the U.S. electorate. American Journal of Political Science, 38(1), 1–24.

Ainsworth, S. (1993). Regulating lobbyists and interest group influence. Journal of Politics, 55(1), 41–56.

Bedolla, L. G., & Michelson, M. R. (2012). Mobilizing inclusion: Transforming the electorate through get-out-the-vote campaigns. New Haven: Yale University Press.

Bergen, D. E. (2009). Does grassroots lobbying work? A field experiment measuring the effects of an e-mail lobbying campaign on legislative behavior. American Politics Research, 37(2), 327–352.

Berinsky, A. J. (1999). The two faces of public opinion. American Journal of Political Science, 43(4), 1209–1230.

Berinsky, A. J. (2004). Silent voices: Public opinion and political participation. Princeton, NJ: Princeton University Press.

Berinsky, A. J., Huber, G. A., & Lenz, G. S. (2012). Evaluating online labor markets for experimental research: Amazon.com's mechanical turk. Political Analysis, 20(3), 351–368.

Berinsky, A. J., Margolis, M. F., & Sances, M. W. (2013). Separating the shirkers from the workers? Making sure respondents pay attention on self-administered surveys. American Journal of Political Science, 58(3), 739–753.

Bobo, L., & Kluegel, J. R. (1993). Opposition to race-targeting: Self-interest, stratification ideology, or racial attitudes. American Sociological Review, 58, 443–464.

Brown, C. W., Powell, L. W., & Wilcox, C. (1995). Serious money: Fundraising and contributing in presidential nomination campaigns. Cambridge: Cambridge University Press.

Buhrmester, M., Kwang, T., & Gosling, S. D. (2011). Amazon's Mechanical Turk: A new source of inexpensive, yet high-quality data? Perspectives on Psychological Science, 6(1), 3–5.

Butler, D. M., & Nickerson, D. W. (2011). Can learning constituency opinion affect how legislators vote? Results from a field experiment. Quarterly Journal of Political Science, 6(1), 55–83.

Carmines, E. G., & Merriman, W. R. (1993). The changing American Dilemma: Liberal values and racial policies. In P. M. Sniderman, P. E. Tetlock, & E. G. Carmines (Eds.), Politics, prejudice, and the American Dilemma. Stanford, CA: Stanford University Press.

Cho, W. K. T., & Gimpel, J. G. (2007). Prospecting for (campaign) gold. American Journal of Political Science, 51(2), 255–268.

Cigler, A. J., & Loomis, B. (2011). Interest group politics (8th ed.). Washington, DC: CQ Press.

Congressional Management Foundation. (2008). Communicating with Congress: Recommendations for Improving the Democratic Dialogue. Retrieved August 25, 2014 from http://www.congressfoundation.org/storage/documents/CMF_Pubs/cwc_recommendationsreport.pdf.

Craig, M. A., & Richeson, J. A. (2014). On the precipice of a 'Majority-Minority' America: Perceived status threat from the racial demographic shift affects white Americans' political ideology. Psychological Science, 25(6), 1189–1197.

Druckman, J. N., & Kam, C. D. (2011). Students as experimental participants: A defense of the 'narrow data base'. In J. N. Druckman, D. P. Green, J. H. Kuklinski, & A. Lupia (Eds.), Handbook of experimental political science. New York: Cambridge University Press.

Federico, C. M., & Sidanius, J. (2002). Racism, ideology, and affirmative action revisited: The antecedents and consequences of 'principled objections' to affirmative action. Journal of Personality and Social Psychology, 82(4), 488–502.

Feldman, S., & Huddy, L. (2005). Racial resentment and white opposition to race-conscious programs: Principles or prejudice? American Journal of Political Science, 49(1), 168–183.

Fenno, R. F. (1978). Home style: House members in their districts. Boston: Little, Brown.

Francia, P. L., Green, J. C., Herrnson, P. S., Powell, L. W., & Wilcox, C. (2003). The financiers of congressional elections: Investors, ideologues and intimates. New York: Columbia University Press.

Gilens, M. (1995). Racial attitudes and opposition to welfare. Journal of Politics, 57(4), 994–1014.

Gilens, M. (1999). Why Americans Hate Welfare. Chicago: Chicago University Press.

Godwin, R. K. (1988). The structure, content, and use of political direct mail. Polity, 20(3), 527–538.

Grant, J. T., & Rudolph, T. J. (2002). To give or not to give: Modeling Individuals' contribution decisions. Political Behavior, 24(1), 31–54.

Han, H. C. (2008). Does the content of political appeals matter in motivating participation? A field experiment on self-disclosure in political appeals. Political Behavior, 31(1), 103–116.

Hassell, H. J. G. (2011). Looking beyond the voting constituency: A study of campaign donation solicitations in the 2008 presidential primary and general election. Journal of Political Marketing, 10(1), 27–42.

Hassell, H. J. G., & Monson, J. Q. (2014). Campaign targets and messages in campaign fundraising. Political Behavior, 36(2), 359–376.

Henry, P. J. (2008). College sophomores in the laboratory redux: Influences of a narrow data base on social psychology's view of the nature of prejudice. Psychological Inquiry, 19(2), 49–71.

Hopkins, D. J. (2009). No more wilder effect, never a whitman effect: When and why polls mislead about black and female candidates. Journal of Politics, 71(3), 769–781.

Huber, G. A., & Lapinski, J. S. (2006). The 'Race Card' revisited: Assessing racial priming in policy contests. American Journal of Political Science, 50(2), 421–440.

Kinder, D. R., & Kam, C. D. (2010). Us against them: Ethnocentric foundations of American opinion. Chicago: University of Chicago Press.

Kinder, D. R., & Mendelberg, T. (2000). Individualism reconsidered. In D. O. Sears, J. Sidanius, & L. Bobo (Eds.), Racialized politics: The debate about Racism in America (pp. 44–74). Chicago: University of Chicago Press.

Kinder, D. R., & Sanders, L. M. (1996). Divided by color: Racial politics and democratic ideals. Chicago: University of Chicago Press.

Kinder, D. R., & Sears, D. O. (1981). Prejudice and politics: Symbolic racism versus racial threats to the good life. Journal of Personality and Social Psychology, 40(3), 414–431.

Kollman, K. (1998). Outside lobbying: Public opinion and interest group strategies. Princeton, NJ: Princeton University Press.

Krupnikov, Y., & Levine, A. S. (2014). Cross-sample comparisons and external validity. Journal of Experimental Political Science, 1(1), 59–80.

LaPiere, R. T. (1934). Attitudes vs. actions. Social Forces, 13(2), 230–237.

Levine, A. S. (2015). American insecurity: Why our economic fears lead to political inaction. Princeton, NJ: Princeton University Press.

Malbin, M. J. (2009). Small donors, large donors and the internet: The case for public financing after Obama. Campaign Finance Institute Working Paper.

Mayhew, D. R. (1974). Congress: The electoral connection (1st ed.). New Haven: Yale University Press.

McConahay, J. B. (1982). Self-interest versus racial attitudes as correlates of anti-busing attitudes in Louisville: Is it the buses or the blacks? Journal of Politics, 44(3), 692–720.

Mendelberg, T. (2001). The race card: Campaign strategy, implicit messages, and the norm of equality. Princeton, NJ: Princeton University Press.

Mendelberg, T. (2008). Racial priming: Issues in research design and interpretation. Perspectives on Politics, 6(1), 135–140.

Merollo, J. S., Ramakrishnan, K., & Haynes, C. (2013). 'Illegal', 'undocumented', or 'unauthorized": equivalency frames, issues frames, and public opinion on immigration. Perspectives on Politics, 11, 789–807.

Miller, J. M., & Krosnick, J. A. (2004). Threat as a motivator of political activism: A field experiment. Political Psychology, 25(4), 507–523.

Miller, W. E., & Stokes, D. E. (1963). Constituency influence in congress in congress. American Political Science Review, 57(1), 45–56.

Oppenheimer, D. M., Meyvis, T., & Davidenko, N. (2009). Instructional manipulation checks: Detecting satisficing to increase statistical power. Journal of Experimental Social Psychology, 45(4), 867–872.

Paolacci, G., Chandler, J., & Stern, L. N. (2010). Running experiments on amazon mechanical turk. Judgment and Decision Making, 5(5), 411–419.

Rogers, T., Fox, C. R., & Gerber, A. S. (2012). Rethinking why people vote: Voting as dynamic social expression. In E. Shafir (Ed.), The behavioral foundations of policy. Princeton: Princeton University Press.

Schuman, H. (2000). The perils of correlation, the lure of labels, and the beauty of negative results. In D. O. Sears, J. Sidanius, & L. Bobo (Eds.), Racialized politics: The debate about racism in America (pp. 302–323). Chicago: University of Chicago Press.

Schuman, H., & Presser, S. (1980). Public opinion and public ignorance: The fine line between attitudes and nonattitudes. American Journal of Sociology, 85(5), 1214–1225.

Sears, D. O., & Henry, P. J. (2003). The origins of symbolic racism. Journal of Personality and Social Psychology, 85(2), 259–275.

Sears, D. O., Hensler, C. P., & Speer, L. K. (1979). Whites' opposition to 'busing': Self-interest or symbolic politics?". American Political Science Review, 73(2), 369–384.

Sears, D. O., Van Laar, C., Carrillo, M., & Kosterman, R. (1997). Is it really racism? The origins of white Americans' opposition to race-targeted policies. Public Opinion Quarterly, 61(1), 16–53.

Shea, D. M., & Burton, M. J. (2006). Campaign craft: The strategies, tactics, and art of political campaign management. Westport, CT: Praeger.

Sidanius, J., Singh, P., Hetts, J. J., & Federico, C. (2000). It's not affirmative action, it's the blacks. In D. O. Sears, J. Sidanius, & L. Bobo (Eds.), Racialized politics: The debate about racism in America (pp. 191–235). Chicago: University of Chicago Press.

Skocpol, T. (1991). Targeting within universalism: Politically viable policies to combat poverty in the United States. In C. Jencks & P. E. Peterson (Eds.), The urban underclass. Washington, DC: Brookings.

Sniderman, P. M., & Carmines, E. G. (1997). Reaching beyond race. Cambridge: Harvard University Press.

Sniderman, P. M., Carmines, E. G., Layman, G. C., & Carter, M. (1996). Beyond race: Social justice as a race neutral ideal. American Journal of Political Science, 40(1), 33–55.

Sniderman, P. M., & Piazza, T. (1993). The scar of race. Cambridge, MA: Harvard University Press.

Stout, C., & Kline, R. (2008). Ashamed not to vote for an African-American: Ashamed to vote for a woman: An analysis of the Bradley effect from 1982 to 2006. Center for the Study of Democracy, UC Irvine, Working Paper.

Strickland, R. A., & Whicker, M. L. (1992). Comparing the wilder and gantt campaigns: A model for black candidate success in statewide elections. PS: Political Science and Politics, 25(2), 204–212.

Tarman, C., & Sears, D. O. (2008). The conceptualization and measurement of symbolic racism. Journal of Politics, 67(3), 731–761.

Terkildsen, N. (1993). When white voters evaluate black candidates: The processing implications of candidate skin color, prejudice, and self-monitoring. American Journal of Political Science, 37(4), 1032–1053.

Vogel, R. J., & Ardoin, P. (2008). Ask me no questions, I'll tell you no lies: Does the Bradley effect still exist? Race Gender and Class, 15(3), 65–84.

Weaver, V. M. (2012). The electoral consequences of skin color: The "Hidden" side of race in politics. Political Behavior, 34(1), 159–192.

Weinberg, J., Freese, J., & McElhattan, D. (2014). Comparing data characteristics and results of an online factorial survey between a population-based and a crowdsource-recruited sample. Sociological Science, 1, 292–310.
Acknowledgments
The authors are very grateful to Marisa Abrajano, Megan Becker, Chris Fariss, James Fowler, Zoli Hajnal, Aaron Hagler, Brad LeVeck, Johanna Schuster-Craig, Candis Watts Smith, and the Human Nature Group at UC-San Diego for their advice and assistance on this project. A previous version of this paper was presented at the 2012 meetings of the Midwest Political Science Association. All errors, of course, remain our own.
About this article
Cite this article
Hassell, H.J.G., Visalvanich, N. Call to (In)Action: The Effects of Racial Priming on Grassroots Mobilization. Polit Behav 37, 911–932 (2015). https://doi.org/10.1007/s11109-014-9297-x
Keywords
Race

Priming

Political participation

Grassroots mobilization