Abstract
Do resumes with political "signals" make job applicants more or less likely to get hired? To test our theory that employers are more likely to hire like-minded partisans (and less likely to hire those of opposing partisan bents), we conduct a randomized experiment, sending out 1,200 politically branded resumes in response to help-wanted ads in two U.S. counties—one highly conservative and the other, highly liberal. In our pooled sample, we find that job seekers with minority partisan affiliations are statistically less likely to obtain a callback than candidates without any partisan affiliation. Meanwhile, applicants sharing the majority partisan affiliation are not significantly more likely to receive a callback than non-partisan candidates. These results suggest that individuals may sometimes place themselves at a disadvantage by including partisan cues on their resumes.
This is a preview of subscription content, log in to check access.
Access options
Buy single article
Instant access to the full article PDF.
US$ 39.95
Price includes VAT for USA
Subscribe to journal
Immediate online access to all issues from 2019. Subscription will auto renew annually.
US$ 99
This is the net price. Taxes to be calculated in checkout.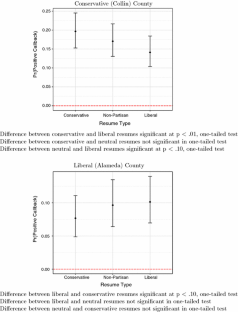 Notes
1.

We model our research design broadly off Bertrand and Mullainathan (2004).

2.

Critics question whether in-person audit and laboratory experiments that present employers with a binary choice—to hire one individual, for instance, either black or white—overestimate discrimination because they force employers to differentiate between artificially "equivalent" candidates. See, for instance, Heckman (1998).

3.

4.

5.

We also excluded Utah County, Utah, a county with a sufficiently large population that voted overwhelmingly for John McCain over Barack Obama in 2008 (76.5–18.5 %) (http://www.utahcounty.gov/Dept/ClerkAud/Elections/ElectRslts/index.html) based on concerns that partisan signals might activate differently in the predominantly Mormon county, given that—at the time of our experiment—there was widespread attention on Republican presidential candidate Mitt Romney's Mormon faith.

6.

A possible issue with relying on voting behavior is that electoral outcomes may be swayed by exogenous factors that do not wholly capture party identification. Between 2008 and 2012 (when we conducted our experiment), the partisan compositions of these counties may have changed due to factors such as migration or shifting demographics. This does not seem to be the case, however. In the 2012 election, the percentages at which Collin County and Alameda County supported Mitt Romney were almost identical to the rates at which these counties supported John McCain in 2008 and likewise for Obama. If anything, there was a slight increase in the number of individuals voting Republican in Collin County in 2012. This ensures that we do have clear variation in the political leanings of our test districts: Collin County is highly conservative, and Alameda County is highly liberal.

7.

To preserve the anonymity of the experiment and the identity of employers who received fictitious resumes, this is not the actual name of a fictitious candidate.

8.

To minimize the possibility that employers distrusted the resumes or made attempts to verify their content, we tried to exclude any details in the resumes that might have been easily checked. Because our fictitious job seekers were recent college or university graduates, it is unlikely that employers would devote significant time or effort to verifying credentials. The risk of hiring is significantly lower in these entry-level positions, where pay tends to be more modest and responsibilities are fewer. We also reduced the chance that an employer might know the person with whom the fictitious applicant purportedly worked by describing past work in vague language and avoiding "name dropping," which is consistent with how most applicants would describe their jobs, internships, and extracurricular activities.

9.

We also focused on entry-level jobs to minimize the burden on employer-subjects, who often review hundreds (if not thousands) of such resumes, and would only spend minimal time reviewing any fictitious applicant.

10.

Again, to protect the anonymity of the experiment and the identity of employers who received fictitious resumes, we omit the precise organizations and job descriptions here.

11.

One concern is that citizens may have been especially primed to think about politics during this period (leading up to and following the 2012 presidential election) because they were imbued with it every day in the news, on television, and via a cacophony of political advertisements. We acknowledge that partisan self-conceptions and stereotypes held by employers may have been especially activated during our experiment. But in the world of 24-hour news cycles and nearly nonstop campaigning, there is hardly a time when political priming is not salient in the United States.

12.

In applications sent by email, we rotated three generic cover emails including a salutation, a brief statement that the candidate was interested in the position and generic qualifications, and a closing. This ensured that the conservative, liberal, and the non-partisan resumes received roughly equivalent numbers of each generic cover email.

13.

Because the home addresses we attached to the applicants were fake, we could not track any correspondence by postal mail. Previous studies, however, suggest that it is extremely unusual for employers to contact job applicants through this medium (Bertrand and Mullainathan 2004), and we expect this to be even more pronounced today, with the expanded usage of email.

14.

To minimize the burden on employer-subjects, when a firm expressed interest in a job seeker, we notified the employer that the candidate had accepted a different position to ensure that no further time was spent reviewing a candidate than necessary.

15.

We have preserved the anonymity of employers in public dissemination of data to ensure that they do not face any reputational or legal liability for any perceived acts of discrimination. We could not have practically carried out this project with the prior consent of employers: Employers could well have acted differently if they knew they were reviewing applications for an experimental study.

16.

The unemployment rate ranged between 8.2 and 9.3 % in Alameda County during the experimental period, compared to 5.3 and 6.2 % in Collin County (http://data.bls.gov/map/MapToolServlet). On the one hand, this may have made employers in Alameda County more likely to hire candidates with similar political affiliations because they could afford to be more selective due to the surfeit of job seekers. On the other hand, the smaller number of callbacks altogether makes it harder to achieve statistical significance.

17.

Use of a one-tailed test, which is our threshold throughout this article, is appropriate where the same steps would be taken in response to both a strongly negative effect and null effect (Ruxton and Neuhauser 2010). We are particularly interested in whether employers discriminate in one-direction: in favor of in-partisans (or against out-partisans).

18.

We also reestimate models 1–4 with fixed effects for each resume to pick up unobserved unit heterogeneity across job applicants. The results remain substantively unchanged.

19.

To ensure that our results are not sensitive to violations of distributional assumptions, we also reestimate all of our models with a nonparametric bootstrapping method. None of our substantive findings change.

20.

We conducted simulations using Clarify software (King et al. 2000).

21.

Emerging techniques might include mapping an individual human resource manager's estimated political affiliation through his or her social media usage, including Twitter (King et al. 2012).

22.

23.

One of the highest profile cases occurred in 2007, when Monica Goodling, a political appointee in the George W. Bush administration, became embroiled in a Department of Justice investigation for illicitly using partisanship as a factor in hiring assistant U.S. attorneys.

24.

Consider Chick-fil-A CEO Dan Cathy, who has publicly aligned himself with a number of conservative causes, including the defense of traditional marriage, or Ben Cohen, co-founder of Ben & Jerry's Ice Cream, who has regularly endorsed liberal candidates ranging from Denis Kucinich to John Edwards.
References
Abramowitz, Alan I., & Saunders, K. L. (2008). Is polarization a myth? Journal of Politics, 70(2), 542–555.

Acquisti, A., & Fong, C. M. (2013). An experiment in hiring discrimination via online social networks. Carnegie Mellon University Working Paper.

Banerjee, A., Bertrand, M., Dattaz, S., & Mullainathan, S. (2009). Labor market discrimination in Delhi: Evidence from a field experiment. Journal of Comparative Economics, 37(1), 14–27.

Bendick, Marc J., Brown, L. E., & Wall, K. (1999). No foot in the door: An experimental study of employment discrimination against older workers. Journal of Aging & Social Policy, 10(4), 5–23.

Bertrand, M., & Mullainathan, S. (2004). Are Emily and Greg More employable than Lakisha and Jamal? A field experiment on labor market discrimination. American Economic Review, 94(4), 991–1013.

Blank, R. M., Dabady, M., & Citro, C. F. (Eds.). (2004). Measuring racial discrimination. Washington, DC: National Academies Press.

Bourdieu, P. (1984). Distinction: A social critique of the judgment of taste. Cambridge, MA: Harvard University Press.

Byrne, D. (1971). The attraction paradigm. New York: Academic Press.

Carmines, E. G., & Stanley, H. W. (1992). The transformation of the new deal party system: Social groups, partisanship among Northern Whites, 1972–1988. Political Behavior, 14(3), 213–237.

Cross, H., Kenney, G., Mell, J., & Zimmerman, W. (1989). Differential treatment of hispanic and anglo job seekers: Hiring practices in two cities. Washington, DC: Urban Institute.

Dalton, R. J., Farrell, D. M., & McAllister, I. (2011). Political parties and democratic linkage: How parties organize democracy. Oxford: Oxford University Press.

Daniel, W. W. (1968). Racial discrimination in England. Harmondsworth, UK: Penguin.

Dettrey, B. J., & Campbell, J. E. (2013). Has growing income inequality polarized the American electorate? Class, party, and ideological polarization. Social Science Quarterly, 94(4), 1062–1083.

Eriksson, S., & Rooth, D. (2011). Do employers use unemployment as a sorting criterion when hiring? Evidence from a Field Experiment. IZA Discussion Paper.

Fiorina, Morris P., Abrams, S. J., & Poper, J. C. (2006). Culture war? The myth of polarized America (2nd ed.). New York: Pearson Longman.

Fosse, E., Gross, N., & Ma, J. (2011). Political bias in the graduate admissions process: A field experiment. Harvard University Working Paper.

Galston, W. A., & Nivola, P.S. (2006). The great divide: Polarization in American politics. The American Interest.

Gelman, A., Shor, B., Bafumi, J., & Park, D. (2007). Rich state, poor state, red state, blue state: What's the matter with Connecticut? Quarterly Journal of Political Science, 2, 345–367.

Gerber, A. S., & Huber, G. A. (2009). Partisanship and economic behavior: Do partisan differences in economic forecasts predict real economic behavior? American Political Science Review, 103(3), 407–426.

Green, D., Palmquist, B., & Schickler, E. (2002). Partisan hearts & minds: Political parties and the social identities of voters. New Haven: Yale University Press.

Haidt, J. (2011, January 27). Lecture at the annual convention of the society for personality and social psychology. Available at http://www.edge.org/conversation/the-bright-future-of-post-partisan-social-psychology.

Heckman, J., & Siegelman, P. (1992). The urban institute audit studies: Their methods and findings. In M. Fix & R. Struyk (Eds.), Clear and convincing evidence: Measurement of discrimination in america. Urban Institute: Washington, DC.

Heckman, J. J. (1998). Detecting discrimination. Journal of Economic Perspectives, 12(2), 101–116.

Huffcut, Allen I. (2011). An empirical review of the employment interview construct literature. International Journal of Selection and Assessment, 19(1), 62–81.

Inbar, Y., & Lammers, J. (2012). Political diversity in social and personality psychology. Perspectives on Psychological Science, 7(5), 1–8.

King, A. S., Orlando, F. J., Sparks, D. B. (2012). Ideological extremity and primary success: A social network approach. Duke University Working Paper.

King, G., Tomz, M., & Wittenberg, J. (2000). Making the most of statistical analyses: improving interpretation and presentation. American Journal of Political Science, 44(2), 347–361.

Kroft, K., Lange, F., & Notowidigdo, M. (2013). Duration dependence and labor market conditions: Evidence from a field experiment. The Quarterly Journal of Economics, 128(3), 1123–1167.

Lamont, M., & Molnar, V. (2002). The Study of Boundaries in the Social Sciences. Annual Review of Sociology, 28, 167–195.

Layman, G. (2001). The great divide: Religious and cultural conflicts in American party politics. New York: Columbia University Press.

Lazarsfeld, P. F., & Merton, R. K. (1954). Friendship as a social process: A substantive and methodological analysis. In M. Berger, T. Abel, & C. H. Page (Eds.), Freedom and control in modern society. New York: Van Nostrand.

Mann, T. E., & Ornstein, N. J. (2012). It's even worse than it looks: How the American constitutional system collided with the new politics of extremism. New York: Basic Books.

Neumark, D. (2012). Detecting discrimination in audit and correspondence studies. Journal of Human Resources, 47(4), 1128–1157.

Neumark, D., Bank, R. J., & Van Nort, K. D. (1996). Sex discrimination in restaurant hiring: An audit study. Quarterly Journal of Economics, 111(3), 915–941.

Norton, A. (1988). Reflections on political identity. Baltimore: Johns Hopkins.

Oberholzer-Gee, F. (2008). Nonemployment stigma as rational herding: A field experiment. Journal of Economic Behavior & Organization, 65(1), 30–40.

Pager, D. (2003). The mark of a criminal record. American Journal of Sociology, 108(5), 957–960.

Pew Research Center. (June 4, 2012). Trends in American Values: 1987–2012, p. 25. Available at http://www.people-press.org/2012/06/04/partisan-polarization-surges-in-bush-obama-years/.

Riach, P. A., & Rich, J. (2002). Field experiments of discrimination in the market place. The Economic Journal, 112(483), 480–518.

Rivera, L. (2012). Hiring as cultural matching: The case of elite professional service firms. American Sociological Review, 77(6), 999–1022.

Rothman, S. S., Lichter, R., & Nevitte, N. (2005). Politics and professional advancement among college faculty. The Forum, 3(1), Article 2.

Ruxton, G. D., & Neuhauser, M. (2010). When should we use one-tailed hypothesis testing? Methods in Ecology and Evolution, 1(2), 114–117.

Taber, C. S., & Lodge, M. (2006). Motivated skepticism in the evaluation of political beliefs. American Journal of Political Science, 50(3), 755–769.

Tajfel, H., & Turner, J. C. (1985). The social identity theory of intergroup behavior. In S. Worchel & W. G. Austin (Eds.), Psychology of Intergroup Relations (Vol. 2). Chicago: Nelson-Hall.

Tilcsik, A. (2011). Pride and prejudice: Employment discrimination against openly gay men in the United States. American Journal of Sociology, 117(2), 586–626.

Ward, R. (1969). A note on the testing of discrimination. Race, 11(2), 218–233.

Wienk, R. E., Reid, C. E., Simonson, J. C., & Eggers, F. J. (1979). Measuring discrimination in American housing markets: The housing market practices survey. Washington, D.C.: U.S. Department of Housing and Urban Development.

Yancey, G. (2011). Compromising scholarship: Religious and political bias in American higher education. Waco, TX: Baylor University Press.
Acknowledgments
We thank Mike Munger for advising us, William Connelly for his help in identifying research assistants, Art Goldsmith for his encouragement and feedback, Christopher DeSante and Timothy Ryan for donating their time to answer our questions, and the anonymous reviewers at Political Behavior for their helpful critiques. We also thank Andrew Bell, Sunshine Hillygus, Daniel Krcmaric, Chris Porter, and Erik Wibbels for their thoughtful support and comments. We are grateful to Greg Franke, Annelise Madison, and Tom Sanford for their research assistance. Earlier versions of this paper were presented at the 2014 Midwest Political Science Association Annual Meeting and Washington and Lee University's "Economics of Social Problems" seminar. Thomas Gift acknowledges financial support from the National Science Foundation Graduate Research Fellowship Program and the Duke Program for the Study of Democracy, Institutions, and Political Economy. Project approved under IRB Protocol No: A0725.
Disclosure
Experiments comply with the current laws of the country in which they were performed. The authors declare no conflicts of interest.
About this article
Cite this article
Gift, K., Gift, T. Does Politics Influence Hiring? Evidence from a Randomized Experiment. Polit Behav 37, 653–675 (2015). https://doi.org/10.1007/s11109-014-9286-0
Keywords
Employment

Hiring

Jobs

Partisanship

Bias

Discrimination