Abstract
This paper explores how multivocal appeals, meaning appeals that have distinct meanings to different audiences, work with respect to religious language. Religious language is common in politics, but there is great variation in its effectiveness. I argue that multivocal appeals can resonate as religious with select audiences but have no religious content for other listeners. I test the effectiveness of multivocal and obvious religious appeals experimentally with two national samples: an ingroup that understands the religious connotations in a multivocal appeal and a religiously diverse outgroup that does not. Religious appeals are persuasive for the ingroup, but an obvious religious appeal can be politically costly by triggering negative reactions among outgroup members, while the religious meaning in a multivocal appeal eludes them. Obvious religious appeals are costly in the diverse audience because of different preferences over the appropriate role for religion in political speech.
Access options
Buy single article
Instant access to the full article PDF.
US$ 39.95
Tax calculation will be finalised during checkout.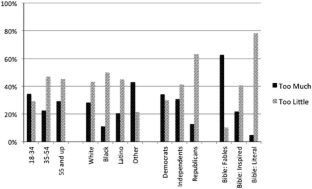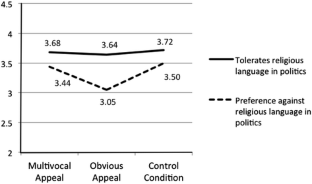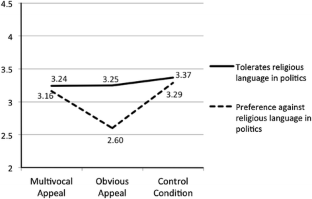 Notes
1.

The phrase "dog-whistle politics," draws upon the way that dog-whistles are perceptible to dogs but not to humans due to their high frequency. The term became popular during the 2005 election in the UK, where the exemplar of dog-whistle politics was the Conservative slogan, "Are you thinking what we're thinking?" The slogan was said to appeal to those who opposed Labour's stance on immigration. The term has its roots in Australia where it was associated with a political strategist, Lynton Crosby. Crosby ran Australian Prime Minister John Howard's campaigns before consulting in British politics. The phrase reached William Safire's "On Language" column in The New York Times in 2005. The 2005 campaign in the UK was arguably a failed attempt at dog-whistle politics, because the possible meanings of "Are you thinking what we're thinking" became a topic of debate.

2.

I have fought the good fight, I have finished the race, I have kept the faith (2 Timothy 4:7).

3.

The concept was used by Padgett and Ansell (1993) in a piece about the rise of the Medici in fifteenth century Italy. They argued that multivocality connotes "single actions that can be interpreted coherently from multiple perspectives simultaneously" (1993, p. 1263). Tilly used a different label for the concept, polyvalent performance, defined as "individual or collective presentation of gestures simultaneously to two or more audiences in ways that code differently within the audiences" (2003, p. 176). A similar observation was made earlier by Gamson (1992). He notes that "people bring their own experiences and personal associations to their readings of cultural texts" (p. 125), and so members of a heterogeneous audience can find different meanings in the same communication. While the concept of multivocality has been used in diverse literatures, its effectiveness has not been tested experimentally.

4.

In a 1981 congressional race in Mississippi, Democratic candidate Wayne Dowdy did attract attention for his surgical appeals in support of the Voting Rights Act to the black community, but it happened late in the campaign and did not undermine the effectiveness of his campaign (Glaser 1996, pp. 48–49).

5.

They argue that abortion and slavery are both instances where the strong, or politically powerful, have a responsibility to protect the weak, and that an overly activist Supreme Court erred in both Dred Scott and Roe v. Wade by not recognizing the humanity in slaves and the unborn (Buckley 2000).

6.

Calfano and Djupe (2009) use the term "coded communication" to reference what I call multivocal communication. I argue that multivocal is the more precise term because it references language with distinct meanings in different populations. In the political science literature, most research on coded appeals has focused on deniable racial appeals. While coded appeals might be deniable because the language is vague, a specific meaning of a multivocal appeal can reach a select audience based on its precision.

7.

Images and music are also likely to resonate differently depending upon the audience, but their effects are beyond the scope of this study.

8.

In marketing research, non-target effects occur when the non-target group is the majority group but not when the non-target group is in the minority. Minority group members are accustomed to being the non-target group, and typically do not develop negative feelings towards advertisements directed at other audiences.

9.

For example, former Mississippi Senator Trent Lott's comments in support of South Carolina Senator Strom Thurmond might have stayed at Thurmond's 100th birthday party if bloggers had not pursued the story (Lessig 2004). His statement "When Strom Thurmond ran for president, we voted for him. We're proud of it. And if the rest of the country had followed our lead, we wouldn't have had all these problems over the years, either," ultimately triggered calls for his resignation as Senate Majority Leader and he stepped down.

10.

On the use of samples of convenience, see Druckman and Kam (2011).

11.

The full text of the speech was as follows:

Americans are doing the work of compassion every day: visiting prisoners, providing shelter for battered women, bringing companionship to lonely seniors. These good works deserve our praise, they deserve our personal support and, when appropriate, they deserve the assistance of the federal government. One of my goals is to apply the compassion of America to the deepest problems of America. For so many in our country the need is great. I believe there is power—wonder-working power—in the goodness and idealism of the American people. [The last sentence was manipulated].

12.

The multivocal condition is taken from George W. Bush's 2003 State of the Union Address. In the original, Bush also uses the word "faith" to describe the American people. I removed this word from each condition so that the control condition would not have any religious content.

13.

See appendix for full question wording.

14.

Pentecostals are interesting as a political group: Church of God in Christ and Assemblies of God, two large Pentecostal denominations have each more than quadrupled their membership since 1970, and have a combined membership of more than 8 million (Briggs 2006). Pentecostal's growing popularity among formerly Catholic Latinos might have political ramifications; Latinos who are Catholic tend to vote for Democrats, while Latinos who identify as Pentecostal tend to vote Republican (Geis 2006).

15.

This study was fielded between May 8, 2006 and May 20, 2006. Participants qualified for this survey based on 3 criteria. They must be: (1) 18 or older, (2) identified as Pentecostal according to Knowledge Networks' religion item collected on its Public Affairs Survey, and (3) see and hear the video clip played during the survey. The survey was fielded to 1,046 people, with 726 completes (69.4% completion rate). Of these, 482 saw the video and qualified (qualification rate: 66.4%) for an overall AAPOR Response Rate (3) of 31.4%. 80 of the 482 qualified subjects were mistakenly collected from the national sample (not from the Pentecostal group) and they are dropped from these analyses for an n of 402. I use the post stratification weight supplied by Knowledge Networks for all analyses involving the sample.

16.

Ten regionally and racially diverse Pentecostal churches were called, under the pretense of a school project tracing the use of hymns. The person who answered the phone was asked about their familiarity with three hymns: Five of the ten agreed to participate and all five were familiar with "There is Power in the Blood." Familiarity with the other two hymns varied, suggesting that familiarity was genuine, rather than driven by agreement effects.

17.

The response rate for this survey was 56%.

18.

The vast majority of subjects who said they had heard the phrase before identified the source as either "church" or "hymn" in an open-ended question that followed. Subjects did not report that they identified the language with George W. Bush. It is possible that they identified the language with Bush and did not remember it at a conscious level or chose not to share it.

19.

When the same analyses were done among the full sample (including subjects who were unfamiliar with the religious message), the results for initial impression are consistent (F = 3.27, p < .05) but the effect of religious language on vote intention is no longer significant (F = 1.98, p = .14).

20.

See appendix for question wording. Cronbach's ∝ for each scale: positive emotions (interested, inspired, proud) .90, negative emotions (nervous, upset) .76, positive traits (moral, knowledgeable, likeable, strong leader) .93, negative traits (insincere, inexperienced) .67.

21.

Analysis of the emotion and trait dependent variables differed when conducted with the full sample. Among the emotion and trait measures, the experimental manipulation affected positive trait assessments (F = 2.39, p < .10) and negative trait assessments (F = 2.66, p < .10), but not emotions.

22.

Among the full sample (n = 783), the manipulation had a significant effect on both initial impression (F = 2.89, 2 df, p < .10) and vote intention (F = 5.12, 2 df, p < .01).

23.

Cronbach's ∝ for each scale: positive emotions (interested, inspired, proud) .90; negative emotions (nervous, upset) .85; positive traits (moral, knowledgeable, strong, likeable) .94; negative traits (insincere, inexperienced) .75.

24.

These effects of the experimental manipulation on emotional reactions and trait assessments are similar among the full sample (positive emotions: F = 4.60, 2 df, p < .05; negative emotions: F = .50, 2 df, p = .60; positive trait assessments: F = 5.58, 2 df, p < .01; negative trait assessments: F = 1.47, 2 df, p = .23).

25.

A preference against religious expression in politics might also moderate the effectiveness of religious appeals among Pentecostals, but the belief is too scarce to be used as a moderator. Less than 3 % of the Pentecostal sample holds this preference, while 13 % believes that there is the right amount of religious language in politics and 85 % believes that there is too little.

26.

This preference is not significantly related to experimental condition (χ2 2.839, p = 0.24).

27.

It is possible that a narrower religious grouping would be a better measure of religious similarity. I replicated the analysis substituting Protestant for Christian identification and the results are similar (the interaction between Protestant and Obvious Religious Appeal Condition is not significant) (results not shown).
References
Aaker, J. L., Brumbaugh, A. M., & Grier, S. A. (2000). Nontarget markets and viewer distinctiveness: The impact of target marketing on advertising attitudes. Journal of Consumer Psychology, 9(3), 127–140.

Albertson, B. L. (2011). Religious appeals and implicit attitudes. Political Psychology, 32(1), 109–130.

Brambor, T., Clark, W. R., & Golder, M. (2006). Understanding interaction models: Improving empirical analyses. Political Analysis, 14, 63–82.

Briggs, D. (2006, April 15). A century of faith: The Pentecostals; religious movement spread from Los Angeles worldwide. The Plain Dealer.

Brumbaugh, A. M. (2002). Source and nonsource cues in advertising and their effects on the activation of cultural and subcultural knowledge on the route to persuasion. Journal of Consumer Research, 29(2), 258–269.

Buckley, W. F. (2000). Partial democracy from the court. National Review, 52(14), 54.

Calfano, B. R., & Djupe, P. A. (2009). God talk: religious cues and electoral support. Political Research Quarterly, 62(2), 329–339.

Campbell, D. E., & Monson, J. Q. (2008). The religion card: gay marriage and the 2004 Presidential election. Public Opinion Quarterly, 72(3), 399–419.

Chapp, C. (2012). Religious rhetoric and American Politics: the endurance of civil religion in electoral campaigns. Ithaca, NY: Cornell University Press.

Cohen, G. L. (2003). Party over policy: the dominating impact of group influence on political beliefs. Journal of Personality and Social Psychology, 85(5), 808–822.

Cooperman, A. (2004, December 6). Bush's references to god defended by speechwriter: President does not claim divinity is on his side. Washington Post.

Domke, D., & Coe, K. (2007). The god strategy: how religion became a political weapon in America. Oxford: Oxford University Press.

Druckman, J. N., & Kam, C. D. (2011). Students as experimental participants: a defense of the "narrow data base.". In J. N. Druckman, D. P. Green, J. H. Kuklinski, & A. Lupia (Eds.), Cambridge handbook of experimental political science. Cambridge: Cambridge University Press.

Finke, R., & Stark, R. (1992). The churching of America, 1776–1990: Winners and losers in our religious economy. New Brunswick, NJ: Rutgers University Press.

Fournier, R., Sosnik, D. B., & Dowd, M. J. (2006). Applebee's America: How successful political, business, and religious leaders connect with the new American community. New York: Simon and Schuster.

Gallup Jr., G. (2002). Who places the most faith in religion? Retrieved May 23, 2010 from http://www.gallup.com/poll/6637/Who-Places-Most-Faith-Religion.aspx.

Gamson, W. A. (1992). Talking politics. New York: Cambridge University Press.

Geis, S. (2006, April 30). Latino Catholics increasingly drawn to Pentecostalism; shift among immigrants could affect politics. Washington Post.

Glaser, J. M. (1996). Race, campaign politics, and the realignment in the south. New Haven, CT: Yale University Press.

Goodin, R. E., & Saward, M. (2005). Dog whistles and democratic mandates. The Political Quarterly, 76, 471–476.

Hillygus, D. S., & Shields, T. G. (2008). The persuadable voter. Princeton, NJ: Princeton University Press.

Hurwitz, J., & Peffley, M. (2005). Playing the race card in the post-Willie Horton Era: The impact of racialized code words on support for punitive crime policy. Public Opinion Quarterly, 69(1), 99–112.

Inglehart, R., & Baker, W. (2000). Modernization, cultural change and the persistence of traditional values. American Sociological Review, 65(1), 19–51.

Kanner, B. (2000). Hide in Plain Sight. Working Woman, 25, 14.

Kirkpatrick, D. D. (2004, October 17). What they said, what was heard. New York Times.

Kuo, D. (2006). Tempting faith: An inside story of political seduction. New York: Free Press.

Layman, G. (2001). The great divide: Religious and cultural conflict in American party politics. New York: Columbia University Press.

Lessig, L. (2004). Free culture: How big media uses technology and the law to lock down culture and control creativity. New York: Penguin Press.

Lincoln, B. (2004). Words matter: How bush speaks in religious code. Boston Globe. Retrieved May 23, 2010 from http://www.boston.com/news/globe/editorial_opinion/oped/articles/2004/09/12/words_matter.

Mendelberg, T. (2001). The race card: Campaign strategy, implicit messages, and the norm of equality. Princeton, NJ: Princeton University Press.

Morone, J. A. (2003). Hellfire nation: The politics of sin in American history. New Haven, CT: Yale University Press.

Olson, D. V. A. (1998). Religious pluralism in contemporary US counties. American Sociological Review, 63, 759–761.

Padgett, J. F., & Ansell, C. K. (1993). Robust action and the rise of the medici, 1400–1434. American Journal of Sociology, 98(6), 1259–1319.

Palmer, K. S. (2000, July 4). Gay consumers in the driver's seat: Subaru's new ad campaign is among those signaling to homosexual buyers. Washington Post.

Pew Research Center. (2008). Conservative disillusionment: More Americans question religion's role in politics. Results from the 2008 Annual religion and public life survey. The Pew forum on religion and public life.

Pew Research Center. (2012, March 21). More see "too much" religious talk by politicians.

Putnam, R. D., & Campbell, D. E. (2010). American grace: How religion divides and unites us. New York: Simon & Schuster.

Safire, W. (2005, April 24). On language: Dog whistle. New York Times.

Sigelman, L., & Sigelman, C. K. (1982). Sexism, racism, and ageism in voting behavior: An experimental analysis. Social Psychology Quarterly, 45(4), 263–269.

Tilly, C. (2003). The politics of collective violence. Cambridge: Cambridge University Press.

Valentino, N. A., Hutchings, V. L., & White, I. K. (2002). Cues that matter: How political ads prime racial attitudes during campaigns. American Political Science Review, 96(1), 75–90.

White, I. K. (2007). When race matters and when it doesn't: Racial group differences in response to racial cues. American Political Science Review, 101(2), 339–354.

Wilcox, C. (2000). Onward Christian soldiers? The religious right in American politics (2nd ed.). Boulder, CO: Westview.
Acknowledgments
I am grateful for helpful comments from Matt Barreto, John Brehm, Josh Busby, Kyle Endres, Shana Kushner Gadarian, Melissa Harris-Perry, Tali Mendelberg, Chris Parker, Nick Valentino, Penny Visser, Chris Wlezien, and three anonymous reviewers. I also received research assistance from Andrew Dilts, who helped create the campaign ads and Charles Lipson, who gamely portrayed the political candidate. This research was funded by an NSF Dissertation Improvement Grant and supported by the Center for the Study of Democratic Politics at Princeton University and the Harrington Faculty Fellows Program at UT Austin.
Appendix
Appendix
Appendix 1: Question Wording
Initial Impression Is your initial impression of Mike Reynolds negative or positive? (5 point scale: very negative, somewhat negative, neither negative nor positive, somewhat positive, very positive)
Vote If he were running for Congress in your district, how likely would you be to vote for Mike Reynolds? (5 point scale: very unlikely, somewhat unlikely, neither likely nor unlikely, somewhat likely, very likely)
Emotional Reactions We're interested into what extent Mike Reynolds makes you feel each of the following emotions. Based on your initial impression does Mike Reynolds make you feel: (5 point scale: not at all, slightly, a moderate amount, quite a bit, extremely)
Interested, upset, inspired, nervous, proud
Trait Measures Please give your initial impression of Mike Reynolds:
In your opinion, how well does each of the following traits describe Reynolds: (5 point scale: not at all, slightly, a moderate amount, quite a bit, extremely)
Likeable, moral, knowledgeable, insincere, strong leader, inexperienced
Preference for Religious Expression Do you think there has been too much, too little, or about the right amount of expressions of religious faith and prayer by political leaders? (Too much, Too little, About the right amount)
Religiosity Would you say that currently, you are: (Not at all religious, slightly religious, somewhat religious, very religious)
Church Attendance How often do you attend religious services? (Never, once a year or less, a few times a year, once or twice a month, once a week, more than once a week).
Appendix 2: Full ANOVA results
Study 1: Pentecostal sample
|   | Multivocal | Obvious | Control | F | p > F |
| --- | --- | --- | --- | --- | --- |
| Initial impression | 3.94 | 3.73 | 3.47 | 9.60 | .00 |
| Vote | 3.51 | 3.42 | 3.27 | 2.82 | .06 |
| Positive emotions | .46 | .44 | .37 | 3.42 | .03 |
| Negative emotions | .07 | .08 | .05 | 1.97 | .14 |
| Positive traits | .57 | .55 | .47 | 5.94 | .00 |
| Negative traits | .15 | .20 | .16 | 1.63 | .20 |
Study 2: General sample
|   | Multivocal | Obvious | Control | F | p > F |
| --- | --- | --- | --- | --- | --- |
| Initial impression | 3.61 | 3.44 | 3.66 | 3.66 | .03 |
| Vote | 3.21 | 3.03 | 3.35 | 6.84 | .00 |
| Positive emotions | .42 | .35 | .42 | 5.40 | .00 |
| Negative emotions | .11 | .12 | .09 | 1.87 | .15 |
| Positive traits | .51 | .46 | .54 | 5.77 | .00 |
| Negative traits | .18 | .20 | .15 | 2.08 | .13 |
Interaction Models
 
Initial impression
Vote intention
 
F
p value
F
p value
Condition
4.84
.01
10.23
.00
Preference against religious language in politics
20.69
.00
12.41
.00
Interaction: condition × preference against religious language in politics
2.60
.07
6.78
.00
N
630
 
630
 
R2
.05
 
.07
 
About this article
Cite this article
Albertson, B.L. Dog-Whistle Politics: Multivocal Communication and Religious Appeals. Polit Behav 37, 3–26 (2015). https://doi.org/10.1007/s11109-013-9265-x
Keywords
Religion and politics

Campaigns

Persuasion