Abstract
Consistent with theories of modern racism, we argue that white, non-Hispanic Americans have adopted a "coded," race-neutral means of expressing prejudice toward Hispanic immigrants by citing specific behaviors that are deemed inappropriate—either because they are illegal or threatening in an economic or cultural manner. We present data from a series of nationally representative, survey-embedded experiments to tease out the distinct role that anti-Hispanic prejudice plays in shaping public opinion on immigration. Our results show that white Americans take significantly greater offense to transgressions such as being in the country illegally, "working under the table," and rejecting symbols of American identity, when the perpetrating immigrant is Hispanic rather than White (or unspecified). In addition, we demonstrate that these ethnicity-based group differences in public reactions shape support for restrictive immigration policies. The findings from this article belie the claim of non-prejudice and race-neutrality avowed by many opponents of immigration.
Access options
Buy single article
Instant access to the full article PDF.
USD 39.95
Price includes VAT (USA)
Tax calculation will be finalised during checkout.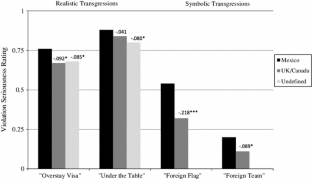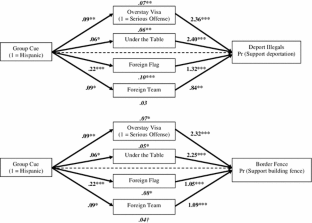 Notes
1.

Allport's (1954) original definition of prejudice also included the condition that the antipathy be "based upon a faulty and inflexible generalization." However, as Brown (2010) and Stangor (2009) note, most scholars have subsequently dropped that requirement from the operational definition of prejudice.

2.

Excerpts accessed from Numbers USA's organizational website: https://www.numbersusa.com/content/. Emphasis in italics were added by authors and do not appear in the original quote.

3.

4.

5.

6.

In our usage, the terms "Whites" and "white Americans" exclude individuals who would identify themselves as ethnically Hispanic.

7.

Data collected by the Survey Research Center, University of California, Berkeley, from February 1 to November 21, 1991.

8.

A list-assisted method of random digit-dialing (RDD) was used to obtain phone numbers in the sample from all 48 contiguous states, including the District of Columbia. Within selected households, individuals 18 years and over were chosen at random for participation. Multiple attempts were made at each contact number (as many as seven attempts) in order increase response rates and give potentially eligible respondents a reasonable opportunity to participate in the survey. Moreover, households and individuals who were initially unwilling to participate in the survey were contacted multiple times in an attempt to persuade them to participate. Calls were staggered over times of day and days of the week to maximize the chance of making contact with potential respondents. In total, 6,032 telephone numbers were dialed, each of which was given a final disposition: 3,763 numbers were deemed ineligible (e.g., nonworking, businesses, etc.), 1,109 numbers were of unknown eligibility (always busy, never answered, etc.), and the remaining 1,160 numbers were coded as eligible households (275 completes, 304 refusals, 36 non-whites, 70 language unable, and 475 callbacks). We used two methods of determining levels of participation in this survey: (1) The Cooperation Rate (AAPOR Formula #4) was 51.4 %; and (2) the Response Rate (AAPOR Formula #4) was 22.6 %. The response rate is a very conservative estimate of participation, while the cooperation rate adjusts for the fact that many phone numbers in the list are non-eligible.

9.

The "Pew Research Center Poll: Immigration" was sponsored by the Pew Research Center for the People & the Press and the Pew Hispanic Center. A total of 6,003 surveys were completed between February 8th and March 7th, 2006. The 2008–2009 American National Election Panel Study consists of an Internet panel of 4,240 Americans recruited via RDD sampling methods.

10.

Percentages do not total 100 % because of rounding.

11.

For ease of interpretation, we recoded this and all subsequent variables from 0 to 1.

12.

For instance, a respondent who was presented with the scenario of a Mexican immigrant overstaying his or her visa was later asked to evaluate the seriousness of this same Hispanic immigrant working without paying income taxes.

13.

Unlike the previous realistic experiments, our symbolic experiments involved only two conditions, and respondents were randomly assigned to either condition for each individual symbolic experiment. Our decision to exclude the race-neutral control condition for the symbolic experiments stemmed from our concern that the prior exposure to group cues in the realistic experiments could prime respondents in the neutral condition. Thus, participants in an unidentified symbolic condition, had we included one, could conceivably be primed to think of that "someone" as Mexican, British, or truly undefined, which would undermine the integrity of contrasts in responses to respondents assigned to the explicit Mexico or Canada conditions. To eliminate this possibility, our symbolic experiments explicitly specify the ethnic origins of the immigrant in question. In addition, we changed the ethnicity of the non-Hispanic immigrant in our symbolic experiments from British to Canadian to demonstrate that our results hold across different white immigrants.

14.

As there were no significant differences in main effects between the non-Hispanic treatment conditions in our realistic experiments (i.e., British and undefined cues), we opted to combine them into a single category. Thus, we used a dichotomous group cue variable for our analyses (1 = Mexico; 0 = non-Hispanic). The coding for the symbolic experiments was similar (1 = Mexico; 0 = Canadian).

15.

Perceptions about the illegal immigrant population of Hispanic origin came from responses to the following question: "If you had to guess, what percentage of the Hispanic immigrant population is living in the U.S. without legal documentation?" Responses ranged from "0" to "100 %," with a mean of 42.3 % and a standard deviation of 24.6 %. Education is a 6-point scale, where a graduate degree serves as the highest category. Household income is a 8-point scale based upon $20,000 increments, and missing values were imputed in Stata based upon gender, education, age (and its squared term), and employment status. For ease of interpretation, all variables were recoded from 0 to 1.

16.

Kinder and Kam (2010) demonstrate that ethnocentrism, or "a predisposition to divide the human world into in-groups and out-groups" (p. 8), strongly predicts anti-immigrant sentiment. They argue that individuals are predisposed to favor their ingroup at the expense of outgroups, and that antipathy toward outgroups should increase as a function of the cultural, linguistic, and ethnic distance of an outgroup to one's ingroup. According to this approach, the operative mechanism underlying our experimental findings could be general aversion to outgroups and "prejudice broadly defined" (Kinder and Kam 2010, p.52), rather than group-specific prejudice toward Hispanics divorced from an encapsulating ethnocentrism. While this alternative and more general framework could account for findings such as ours, this hypothesis is directly challenged by evidence that specific attitudes toward Hispanics, not ethnocentrism, influence immigration policy preferences (Valentino et al. 2013). In light of these countervailing findings, we should note that the primary goal of this article is to test for the existence of bias toward Hispanics by determining whether individuals evaluate the transgressive behaviors of Hispanic immigrants more negatively than those of non-Hispanic immigrants. Adjudicating whether the demonstrated bias in our experiments stems from prejudice toward Hispanics embedded within general ethnocentrism is beyond the scope of this article.

17.

Once again, we opted to collapse the British and undefined treatments from our realistic experiments because we found no significant differences in main effects between these conditions.

18.

To estimate the mediated effects of our group cue treatments on policy preferences, we used the mediation package in R (Tingley et al. n.d.) to regress (1) a continuous measure of perceived offensiveness of a given violation on a dichotomous group cue treatment variable using OLS, and (2) a categorical immigration policy item on the perceived offensiveness of a given violation, as well as a dichotomous treatment variable, using probit or ordered probit link functions.
References
Allport, G. W. (1954). The nature of prejudice. Reading: Addison-Wesley.

Beck, R. (1996). The case against immigration: The moral, economic, social, and environmental reasons for reducing immigration back to traditional levels. New York: W.W. Norton & Company.

Brader, T., Valentino, N. A., & Suhay, E. (2008). What triggers public opposition to immigration? Anxiety, group cues, and immigration threat. American Journal of Political Science, 52, 959–978.

Brown, R. (2010). Prejudice: Its social psychology (2nd ed.). Maiden: Wiley-Blackwell.

Burns, P., & Gimpel, J. G. (2000). Economic insecurity, prejudicial stereotypes, and public opinion on immigration policy. Political Science Quarterly, 1152, 201–225.

Chavez, L. R. (2001). Covering immigration: Popular images and the politics of the nation. Berkeley: University of California Press.

Chavez, L. R. (2008). The Latino threat: Constructing immigrants, citizens, and the nation. Stanford: Stanford University Press.

Chomsky, A. (2007). They take our jobs! And twenty other myths about immigration. Boston, MA: Beacon Press.

Citrin, J., Green, D. P., Muste, C., & Wong, C. (1997). Public opinion toward immigration reform: The role of economic motivations. Journal of Politics, 59, 858–881.

Citrin, J., Reingold, B., & Green, D. P. (1990a). American identity and the politics of ethnic change. Journal of Politics, 52, 1124–1154.

Citrin, J., Reingold, B., Walters, E., & Green, D. P. (1990b). The 'Official English' movement and the symbolic politics of language in the United States. Western Political Quarterly, 43, 535–559.

Cohen, E. (2001). Politics of globalization in the United States. Washington: Georgetown University Press.

Cornelius, W. A., & Rosenblum, M. R. (2005). Immigration and politics. Annual Review of Political Science, 8, 99–119.

Crandall, C. S., Eshleman, A., & O'Brien, L. (2002). Social norms and the expression of prejudice: The struggle for internalization. Journal of Personality and Social Psychology, 82, 359–378.

Devine, P. G., Ashby Plant, E., Amodio, D. M., Harmon-Jones, E., & Vance, S. L. (2002). The regulation of explicit and implicit race bias: The role of motivations to respond without prejudice. Journal of Personality and Social Psychology, 82(5), 835–848.

Dockterman, D. (2011). Country of origin profiles. Pew Hispanic Center report. Retrieved from http://www.pewhispanic.org/2011/05/26/country-of-origin-profiles/. Accessed 15 June 2012.

Gaertner, S. L., & Dovidio, J. F. (1986). The aversive form of racism. In J. F. Dovidio & S. L. Gaertner (Eds.), Prejudice, discrimination, and racism (pp. 61–89). New York: Academic Press.

Gaines, B. J., Kuklinski, J. H., & Quirk, P. J. (2007). The logic of the survey experiment reexamined. Political Analysis, 15, 1–20.

Gilens, M. (1999). Why Americans hate welfare: Race, media, and the politics of antipoverty policy. Chicago: University of Chicago Press.

Hainmueller, J., & Hiscox, M. J. (2010). Attitudes toward highly skilled and low-skilled immigration: Evidence from a survey experiment. American Political Science Review, 104, 61–84.

Hood, M. V, I. I. I., & Morris, I. L. (1997). Amigo o enemigo? Context, attitudes, and anglo public opinion toward immigration. Social Science Quarterly, 78, 7813–7819.

Huntington, S. P. (2004). Who are we. The challenges to America's national identity. New York: Simon and Schuster.

Hurwitz, J., & Peffley, M. (2005). Playing the race card in the post-Willie Horton era: The impact of racialized code words on support for punitive crime policy. Public Opinion Quarterly, 69, 99–112.

Imai, K., Keele, L., Tingley, D., & Yamamoto, T. (2011). Unpacking the black box of causality: Learning about causal mechanisms from experimental and observational studies. American Political Science Review, 105, 765–789.

Kinder, D. R., & Kam, C. D. (2010). Us against them: Ethnocentric foundations of American opinion. Chicago: University of Chicago Press.

Kinder, D. R., & Sanders, L. M. (1996). Divided by color: Racial politics and democratic ideals. Chicago: University of Chicago Press.

Kinder, D. R., & Sears, D. O. (1981). Prejudice and politics: Symbolic racism versus racial threats to the good life. Journal of Personality and Social Psychology, 403, 414–431.

McClosky, H., & Zaller, J. (1984). The American ethos: Public attitudes toward capitalism and democracy. Cambridge: Harvard University Press.

McConahay, J. B. (1986). Modern racism, ambivalence, and the modern racism scale. In J. F. Dovidio & S. L. Gaertner (Eds.), Prejudice, discrimination, and racism (pp. 91–125). Orlando: Academic Press.

Mendelberg, T. (2001). The race card: Campaign strategy, implicit messages, and the norm of equality. Princeton: Princeton University Press.

Múthen, B. (2011). Applications of causally defined direct and indirect effects in mediation analysis using SEM in Mplus. Retrieved from http://www.statmodel.com/download/causalmediation.pdf.

Newman, B. J., Hartman, T. K., & Taber, C. S. (2012). Foreign language exposure, cultural threat, and opposition to immigration. Political Psychology, 33, 635–657.

Passel, J. S. (2006). The size and characteristics of the unauthorized migrant population in the U.S. Pew Hispanic Center Research Report.

Passel, J. S., & Cohn, D. (2011). Unauthorized immigrant population: National and state trends, 2010. Washington: Pew Hispanic Center.

Paxton, Pamela, & Mughan, Anthony. (2006). What's to fear from immigrants? Creating an assimilationist threat scale. Political Psychology, 74, 549–568.

Perez, E. O. (2010). Explicit evidence on the import of implicit attitudes: The IAT and immigration policy judgments. Political Behavior, 32, 517–545.

Pettigrew, T. F., & Meertens, Roel W. (1995). Subtle and blatant prejudice in Western Europe. European Journal of Social Psychology, 25, 57–75.

Piston, S. (2010). How explicit racial prejudice hurt Obama in the 2008 election. Political Behavior, 32(4), 431–451.

Schatz, R. T., & Lavine, H. (2007). Waving the flag: National symbolism, social identity, and political engagement. Political Psychology, 28, 329–355.

Scheve, K. F., & Slaughter, M. J. (2001). Labor market competition and individual preferences over immigration policy. The Review of Economics and Statistics, 83, 133–145.

Sears, D. O. (1988). Symbolic racism. In P. A. Katz & D. A. Taylor (Eds.), Eliminating racism: Profiles in controversy (pp. 53–84). New York: Plenum Press.

Sears, D. O., & Kinder, D. R. (1985). Whites' opposition to busing: On conceptualizing and operationalizing group conflict. Journal of Personality and Social Psychology, 48, 1141–1147.

Sides, J., & Citrin, J. (2007). European opinion about immigration: The role of identities, interests, and information. British Journal of Political Science, 37, 477–504.

Simon, R. J., & Alexander, S. H. (1993). The ambivalent welcome: Print media, public opinion and immigration. Westport: Praeger.

Sniderman, P. M., & Carmines, E. G. (1997). Reaching beyond race. Cambridge: Harvard University Press.

Sniderman, P. M., Hagendoorn, L., & Prior, M. (2004). Predisposing factors and situational triggers: Exclusionary reactions to immigrant minorities. American Political Science Review, 98, 35–49.

Stangor, C. (2009). The study of stereotyping, prejudice, and discrimination within social psychology: A quick history of theory and research. In T. D. Nelson (Ed.), Handbook of prejudice, stereoptying, and discrimination (pp. 1–22). Mahwah: Lawrence Erlbaum Associates.

Stephan, W. G., Ybarra, O., & Morrison, K. R. (2009). Intergroup threat theory. In T. D. Nelson (Ed.), Handbook of prejudice, stereotyping, and discrimination (pp. 43–59). Mahwah: Lawrence Erlbaum Associates.

Sullivan, J., Piereon, J., & Marcus, G. E. (1982). Political tolerance and American democracy. Chicago: Chicago University Press.

Tingley, D., Yamamoto, T., Keele, L., & Imai, K. (n.d.). mediation: R package for causal mediation analysis. Retrieved from http://cran.r-project.org/web/packages/mediation/vignettes/mediation.pdf.

Valentino, N. A., Brader, T., & Jardina, A. E. (2013). Immigration opposition among U.S. whites: General ethnocentrism or media priming of attitudes about Latinos? Political Psychology, 34, 149–166.

Valentino, N. A., Hutchings, V. L., & White, I. K. (2002). Cues that matter: How political ads prime racial attitudes during campaigns. American Political Science Review, 96, 75–90.
Acknowledgments
We would like to thank Dan Hopkins, Shanna Pearson-Merkowitz, Nick Valentino, and Cara Wong for their helpful suggestions on earlier versions of this article. We also thank Dustin Landers for his help during the data collection phase of this project.
About this article
Cite this article
Hartman, T.K., Newman, B.J. & Scott Bell, C. Decoding Prejudice Toward Hispanics: Group Cues and Public Reactions to Threatening Immigrant Behavior. Polit Behav 36, 143–163 (2014). https://doi.org/10.1007/s11109-013-9231-7
Keywords
Immigration

Prejudice

Hispanic

Experiment