Abstract
Anyone who has lived in, driven through or walked by a "bad" neighborhood has a sense of the attributes that render such places unique: graffiti, litter, public intoxication and much more. According to the well-known theory of "broken windows," these readily observable corporeal characteristics signal neighborhood disorder and lead to increased criminal behavior. This article investigates the implications of disorder for political behavior, taking particular care to distinguish between the objective tangible conditions of disorder and residents' subjective interpretations of those conditions. Utilizing exceptionally rich data, this analysis reveals that while certain aspects of objective "reality" are consequential, perceptions of such reality are a more powerful mechanism through which neighborhood disorder impacts local political engagement. For some political outcomes, a heightened sense of the problems associated with disorder is linearly associated with an increase in participation. For others, the pattern is parabolic: those who perceive so little disorder that they remain content or so much disorder that they become disaffected are substantially less likely to take action to make their communities better. Ultimately, holding objective contextual features constant, the lenses through which residents interpret things like "broken windows" are critical determinants of grassroots politics. This information, combined with broader understandings of what shapes perceptions of disorder, lays the foundation for structuring policy in ways that facilitate grassroots activism—a vital component of the American democratic process.
Access options
Buy single article
Instant access to the full article PDF.
USD 39.95
Price excludes VAT (USA)
Tax calculation will be finalised during checkout.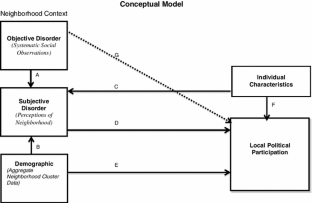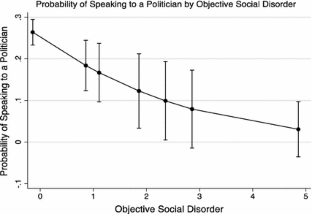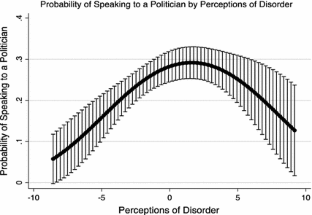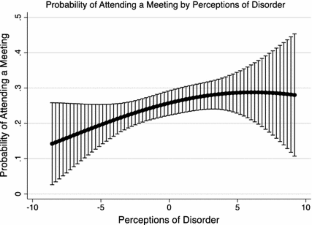 Notes
There is much contention among sociologists and criminologists about how best to define the concept of disorder (Harcourt 2001; Kubrin 2008). I will not attempt to resolve this issue here. I agree that there are problems with the idea (many of which are succinctly described by Kubrin 2008) but nonetheless contend that it captures (however imperfectly) a phenomena that is important for conceptualizing neighborhood context and is therefore worthy of study by political scientists. With this in mind, I take a practical approach and follow Skogan (2012: 174) in characterizing disorder as including, "unsettling or potentially threatening and perhaps unlawful public behaviors" (social) and "overt signs of negligence or unchecked decay as well as the visible consequences of malevolent misconduct" (physical). This definition is broadly reflective of the approach that has been taken in the literature to date.

In fact, Sampson and Raudenbush (2004) use the data leveraged in this paper to establish the connection between subjective, objective, individual and demographic factors.

I considered creating two scales: one measuring perceptions of physical disorder and another gauging perceptions of social disorder. My primary reason for not doing so was theoretical. I had no strong theoretical impetus for assuming that individuals' interpretations of their neighborhoods are filtered via such a dichotomy. Furthermore, a principal components analysis revealed that the combined items reflected one latent variable. More specifically, the first component had an Eigen value of 3.6 and captured over 60 percent of the variation between scale items. Finally, to be sure that this measurement decision did not impact the subsequent analyses, I re-ran the main models using two separate perceptions scales and found little difference in the results.

These tracts were chosen based on a stratified probability sample designed to maximize race and class variation.

For more information about how each of these phenomenon were coded see Sampson and Raudenbush (1999): "Systematic Social Observation of Public Spaces: A New Look at Disorder in Urban Neighborhoods."

In addition to their low correlation, both scales had relatively high Eigen values (above 1). However, it is important to note for these measures in particular that the construction of the scales was driven more by theory and prior research than by the principal components analysis.

I took this approach because ICPSR would not release the census data that was collected due to pending confidentiality issues. They also could not specify when the census data would be available nor would they provide census track numbers that would allow me to gather the data independently. Hence, to avoid entirely omitting neighborhood level demographic controls from the models, I decided to aggregate the level 1 data at the Neighborhood Cluster level. While this approach is not ideal, it is acceptable for several reasons. First, given the large sample size, NC's contained an average of 33 (and a maximum of 62) persons each. Second, the Neighborhood Clusters were chosen based on internal homogeneity so having information about a sizeable handful of people within a cluster should be a rough proxy for information about the NC more broadly.

Initially, I considered allowing for the possibility that slope of perceptions might vary based on the race or class composition of the neighborhood. This would mean that the effect of perceptions would be different for different kinds of neighborhoods. I tried several models to this end -but there was little evidence of significant variation in the slopes across neighborhood clusters. Since varying slopes were not critical to the hypotheses I proposed, I ultimately opted for the simpler and more parsimonious varying intercept model.

I did not include a quadratic term in the level two model. There is little precedent in the literature for doing so. However, I nonetheless tested for the possibility that there is a non-linear relationship between objective disorder and participation and found that this was not the case.

In Tables 2 and 3, the results did not change substantively when I switched the ordering of models 1 and 2. In other words, models with just the basic individual level predictors and the objective measures of disorder (without demographic neighborhood predictors OR perceptions) showed similar patterns.

Note that the sample size decreases dramatically in the move from Model 1 to Model 2 and then again (although less so) in the move from Model 2 to Model 3. The initial decrease is a result of missing objective disorder data. Fortunately, the missingness of this data is random, as PHDCN Systematic Social Observation data was collected and coded only for a random subset of block faces in Chicago and thus only for a random subset of the people in the survey sample. It is instructive to note that subsetting the initial models so that they only include observations with full SSO data (e.g. dropping all observations without full data on SSO variables) produces substantively similar results as those shown in Table 2. The decrease from Model 2 to Model 3 is more problematic because it is mostly a result of missingness in response to the perceptions variable, which may not be random. To address this I took two steps. First, I re-ran the models based on subsetted data that only includes observations with no missingness on key variables, none of the substantive effects change. Hence, differences in the composition of the sample across models do not appear to drive the results. Second, I imputed the missing observations in the perceptions scale (based on research referenced above indicating how best to predict perceptions) and ran the models with this imputed data. Again, none of the substantive effects change. Overall, the sample size changes and missing data do not appear to bias any of the findings offered in the paper.

As a more direct test than this, I initially estimated Two Staged Probit Least Squares (2SPLS) models. 2SPLS is a procedure for estimating non-recursive models when one of the endogenous variables of interest is dichotomous (Keshk 2003; Alvarez and Glasgow 2000). The results were partially in favor of the core findings of the article: perceptions of disorder remained significant when the outcome was attending a meeting, even in a recursive setting. However, this did not hold for the other dependent variable (speaking to a politician). More generally, the 2SPLS results were questionable (in particular, they were highly sensitive to model specification). This is likely exacerbated by the multilevel and non-linear nature of the analysis, which the 2SPLS models I ran were not designed to account for. Given the uncertainty of these findings, I refrain from using them as evidence for or against reverse causality.

In addition, the results dis not change when I ran models that simply added a basic interaction between income and perceptions (as opposed to splitting the interactions up based on income category and running separate models).
References
Akers, R. L., & Jensen, G. F. (2003). Social Learning Theory and the Explanation of Crime: A Guide for the New Century. Advances in Criminological Theory (Vol. 11). New Brunswick, NJ: Transaction Publishers.

Alex-Assensoh, Y. (1998). Neighborhoods, family and political behavior in urban America. New York: Gerald Publishing.

Alvarez, R. M., & Glasgow, G. (2000). Two-stage estimation of non-recursive choice models. Political Analysis, 8, 147–165.

Anderson, M. R. (2009). Beyond membership: A sense of community and political behavior. Political Behavior, 31, 603–627.

Aneshensel, C. S., & Sucoff, C. A. (1996). The neighborhood context of adolescent mental health. Journal of Health and Social Behavior, 37(4), 293–310.

Bolan, M. (1997). The mobility experience and neighborhood attachment. Demography, 34, 225–237.

Books, J., & Prysby, C. (1988). Studying contextual effects on political behavior: A research inventory and agenda. American Politics Quarterly, 16, 211–238.

Brook, D. (2006). The cracks in broken windows. The Boston Globe. Available at: http://www.boston.com/news/globe/ideas/articles/2006/02/19/the_cracks_in_broken_windows/?page=full.

Brunswik, E. (1956). Perception and the representative design of psychological experiments. Berkeley: University of California Press.

Bryk, A. S., & Raudenbush, S. W. (2002). Hierarchical linear models: Applications and data analysis methods (2nd ed.). Thousand Oaks, CA: Sage Publications.

Burbank, M. J. (1995). How do contextual effects work? Developing a theoretical model. In Munroe Eagles (Ed.), Spatial and contextual models in political research (pp. 166–178). London: Taylor and Francis.

Casciano, R., & Massey, D. (2011). Neighborhood disorder and economic self-sufficiency. Working paper. Office of Population Research Princeton University.

Chavis, D. M., & Wandesman, A. (1990). Sense of community in the urban environment: A catalyst for participation and community development. American Journal of Community Psychology, 18, 55–81.

Christie-Mizell, A., & Erickson, R. J. (2007). Mothers and mastery: The consequences of perceived neighborhood disorder. Social Psychology Quarterly, 70(4), 340–365.

Churchman, A. (1987). Can resident participation in neighborhood rehabilitation programs succeed? Israel's project renewal through a comparative perspective. In I. Altman & A. Wandersman (Eds.), Neighborhood and community environments (pp. 113–162). New York: Plenum Press.

Cohen, C. J., & Dawson, M. C. (1993). Neighborhood poverty and African-American politics. American Political Science Review, 87, 286–302.

Curtis, L. A. (1987). Policies to prevent crime: Neighborhood, family and employment strategies. Annals of the American Academy of Political and Social Science, 494, 9–168.

Dassopoulos, A., & Monnat, S. M. (2011). Do perceptions of social cohesion, social support, and social control mediate the effects of local community participation on neighborhood satisfaction? Environment and Behavior, 43(4), 546–565.

Eagles, M. (1995). Class versus community? Social identities and political mobilization. In M. Eagles (Ed.), Spatial and Contextual Models in Political Research (pp. 211–233). London: Taylor and Francis.

Earls, F. J., Brooks-Gunn, J., Raudenbush, S. W., & Sampson, R. J. (1997). Project on human development in Chicago neighborhoods: Community survey, 1994–1995. ICPSR02766-v3. Boston, MA: Harvard Medical School [producer]. Ann Arbor, MI: Inter-university Consortium for Political and Social Research.

Earls, F. J., Raudenbush, S. W., Reiss, A. J. Jr., & Sampson, R. J. (2002). Project on human development in Chicago neighborhoods (PHDCN): Systematic social observation, 1995. ICPSR13578-v1. Boston, MA: Harvard Medical School [producer]. Ann Arbor, MI: Inter-university Consortium for Political and Social Research [distributor].

Elo, I. T., Mykyta, L., Margolis, R., & Culhane, J. F. (2009). Perceptions of neighborhood disorder: The role of individual and neighborhood characteristics. Social Science Quarterly, 90, 1298–1320.

Enders, C. K., & Tofighi, D. (2007). Centering predictor variables in cross-sectional multilevel models: A New look at an old issue. Psychological Methods, 12(2), 121–138.

Epstein, P. D., Coates, P. M., Wray, L. D., & Swain, D. (2006). Results that matter: Improving communities by engaging citizens, measuring performance and getting things done. San Francisco, CA: Josey-Bass Publishers.

Florin, P. (1989). Nurturing the grassroots: Neighborhood volunteer organizations and America's cities. New York: Citizens Committee for New York City.

Franzini, L., O'Brien, Caughy M, Murray Nettles, S., & O'Campo, P. (2008). Perceptions of disorder: Contributions of neighborhood characteristics to subjective perceptions of disorder. Journal of Environmental Psychology, 28, 83–93.

Gay, C. (2012). Moving to opportunity: The political effects of a housing mobility experiment. Urban Affairs Review, 48(2), 147–175.

Hadley-Ives, E., Stiffman, A. R., Elze, D., Johnson, S. D., & Dore, P. (2000). Measuring neighborhood and school environments perceptual and aggregate approaches. Journal of Human Behavior in the Social Environment, 3(1), 1–28.

Haney, T. J. (2007). "Broken windows" and self-esteem: Subjective understandings of neighborhood poverty and disorder. Social Science Research, 36, 968–994.

Harcourt, B. E. (2001). Illusion of order: The false promise of broken windows policing. Cambridge, Mass.: Harvard University Press.

Harcourt, B. E., & Ludwig, J. (2006). Broken windows: New evidence from New York City and a five-city social experiment. University of Chicago Law Review, 73, 271–320.

Hardy-Fanta, C. (1993). Latina politics, Latino politics: Gender, culture and political participation in Boston. Philadelphia: Temple University Press.

Hauser, R. M. (1974). Contextual analysis revisited. Sociological Methods and Research, 2, 365–375.

Hill, T. D., Ross, C. E., & Angel, R. J. (2005). Neighborhood disorder, psychophysiological distress, and health. Journal of Health and Social Behavior, 46, 170–186.

Huckfeldt, R. (1986). Politics in context: Assimilation and conflict in urban neighborhoods. New York: Agathon Press.

Huckfeldt, R., & Sprague, J. (1993). Citizens, contexts, and politics. In A. W. Finifter (Ed.), Political science: The state of the discipline II (pp. 281–303). Washington, DC: American Political Science Association.

Kamphuis, C. B. M., Mackenbach, J. P., Giskes, K., Huisman, M., Brug, J., & Van Lenthe, F. J. (2010). Why do poor people perceive poor neighbourhoods? The role of objective neighbourhood features and psychosocial factors. Health and Place, 16(4), 744–754.

Kaplan, S., & Kaplan, R. (1982). Cognition and environment: Functioning in an uncertain world. New York: Praeger.

Kasl, S. V., & Harburg, E. (1972). Perceptions of the neighborhood and the desire to move out. Journal of the American Planning Association, 38, 318–324.

Kelling, G., & Coles, C. (1996). Fixing broken windows: Restoring order and reducing crime in our communities. New York: Free Press.

Keshk, O. M. G. (2003). CDSIMEQ: A Program to implement two staged probit least squares. The Stata Journal, 3(2), 157–167.

Kornhauser, R. (1978). Social sources of delinquency. Chicago: University of Chicago Press.

Kubrin, C. E. (2008). Making order of disorder: A call for conceptual clarity. Criminology and Public Policy, 7(2), 203–214.

Kweon, B., Ellis, C. D., Lee, S., & Rogers, G. O. (2006). Large-scale environmental knowledge: Investigating the relationship between self-reported and objectively measured physical environments. Environment and Behavior, 38(1), 72–91.

Lake, R., & Huckfeldt, R. (1998). Social networks, social capital, and political participation. Political Psychology, 19, 567–584.

Latkin, C. A., & Curry, A. D. (2003). Prospective study of the impact of neighborhood disorder. Journal of Health and Social Behavior, 44, 34–44.

Lee, B. A., & Campbell, K. E. (1997). Common ground? Urban neighborhoods as survey respondents see them. Social Science Quarterly, 78, 922–936.

Levitt, S. D., & Dubner, S. J. (2005). Freakonomics: A rogue economist explores the hidden side of everything. New York: HarperCollins.

Lott, J. (2000). More guns, less crime. Chicago: University of Chicago Press.

Manzo, L. C., & Perkins, D. D. (2006). Finding common ground: The importance of place attachment to community participation and planning. Journal of Planning Literature, 20, 335–350.

Marschall, M. J. (2004). Citizen participation and the neighborhood context: A new look at the coproduction of local public goods. Political Research Quarterly, 57(2), 231–244.

Meersman, S. C. (2005). Objective neighborhood properties and perceptions of neighborhood problems: Using a Geographic Information System (GIS) in neighborhood effects and ageing research. Ageing International, 30, 63–87.

Oliver, E. J. (2000). City size and civic involvement in metropolitan America. American Political Science Review, 94, 361–373.

Peterson, S. A. (1990). Political behavior: Patterns in everyday life. Newbury Park: Sage Publications.

Piven, F. F., & Cloward, R. A. (1977). Poor people's movements: Why they succeed, how they fail. New York: Pantheon Books.

Pomerantz, J. R. (2003). Perception: Overview. In L. Nadel (Ed.), Encyclopedia of cognitive science (Vol. 3, pp. 527–537). London: Nature Publishing Group.

Putnam, R. D. (1993). Making democracy work: Civic traditions in modern Italy. Princeton, NJ: Princeton University Press.

Putnam, R. D. (2000). Bowling alone: The collapse and revival of American community. New York: Simon & Schuster.

Quillian, L., & Pager, D. (2001). Black neighbors, higher crime? The role of racial stereotypes in evaluations of neighborhood crime. American Journal of Sociology, 107, 717–767.

Rich, R. C. (1979). The roles of neighborhood organizations in urban service delivery. Journal of Urban Affairs, 1, 81–93.

Roberts, S. (2011). Fewer broken windows, and a decline in crime. The New York Times. Available Online: http://cityroom.blogs.nytimes.com/2011/02/23/fewer-broken-windows-and-a-decline-in-crime/.

Rohe, W. M., & Basolo, Victoria. (1997). Long-term effects of homeownership on the self-perceptions and social interaction of low-income persons. Environment and Behavior, 29, 793–819.

Rohe, W. M., & Stegman, M. A. (1994). The impact of home ownership on the social and political involvement of low-income people. Urban Affairs Review, 30(1), 152–172.

Rosenstone, S. J., & Hansen, J. M. (1993). Mobilization, participation and democracy in America. London: Macmillan Press.

Ross, C. E. (2000). Neighborhood disadvantage and adult depression. Journal of Health and Social Behavior, 41(2), 177–187.

Ross, C. E., Mirowsky, J., & Pribesh, S. (2001). Powerlessness and the amplification of threat: Neighborhood disadvantage, disorder, and mistrust. American Sociological Review, 66, 568–591.

Sampson, R. J., & Groves, W. B. (1989). Community structures and crime: Testing social-disorganization theory. American Journal of Sociology, 94, 774–802.

Sampson, R. J., Morenoff, J. D., & Gannon-Rowley, T. (2002). Assessing 'neighborhood effects': Social processes and new direction in research. Annual Review of Sociology, 28, 443–478.

Sampson, R. J., & Raudenbush, S. W. (1999). Systematic social observation of public spaces: A new look at disorder in urban neighborhoods. American Journal of Sociology, 105, 603–651.

Sampson, R. J., & Raudenbush, S. W. (2004). Seeing disorder: Neighborhood stigma and the social construction of 'Broken Windows'. Social Psychology Quarterly, 67, 319–342.

Sampson, R. J., Raudenbush, S. W., & Earls, F. (1997). Neighborhoods and violent crime: A multilevel study of collective efficacy. Science, 277, 918–924.

Santiago, A. M., Galster, G. C., Kaiser, A. A., Roman, A. H. S.-S., Grace, R. A., & Linn, A. T. W. (2010). Low-income homeownership: Does it necessarily mean sacrificing neighborhood quality to buy a home? Journal of Urban Affairs, 32, 171–198.

Scott, J. C. (1990). Domination and the arts of resistance: Hidden transcripts. New Haven: Yale University Press.

Skogan, W. G. (2008). Broken windows: Why-and How -We Should Take Them Seriously. Criminology and Public Policy, 7(2), 195–201.

Skogan, W. G. (2012). Disorder and Crime. In Brandon C. Welsh & David P. Farrington (Eds.), The Oxford handbook of crime prevention (pp. 173–188). New York: Oxford University Press.

Small, M. L. (2004). Villa victoria: The transformation of social capital in a Boston barrio. Chicago: University of Chicago Press.

Steenbergen, M. R., & Jones, B. S. (2002). Modeling multilevel data structures. American Journal of Political Science, 46, 218–237.

Taylor, R. B. (2001). Breaking away from broken windows. Boulder, CO: Westview Press.

Verba, S., Schlozman, K. L., & Brady, H. (1995). Voice and equality. Cambridge: Harvard University Press.

Veysey, B. M., & Messner, S. F. (1999). Further testing of social disorganization theory: An Elaboration of Sampson and Groves's ''Community Structure and Crime''. Journal of Research in Crime and Delinquency, 36, 156–174.

Wandersman, A., Jakubs, J. F., & Giamartino, G. A. (1981). Participation in block organizations. Journal of Community Action, 1, 40–48.

Weden, M. M., Carpiano, R. M., & Robert, S. A. (2008). Subjective and objective neighborhood characteristics and adult health. Social Science and Medicine, 66(6), 1256–1270.

Wilson, J. Q., & Kelling, G. (1982). The police and neighborhood safety: Broken windows. The Atlantic Monthly, 127, 29–38.
Acknowledgments
This research was made possible by funding from the Ford Foundation and the University of Chicago. Special thanks go to Cathy J. Cohen, Michael C. Dawson, Christopher A. Bail, Jon C. Rogowski and the helpful participants of the American Politics Workshop at the University of Chicago. I also owe a tremendous debt to the editors and anonymous reviewers at Political Behavior for their valuable insights and comments. All remaining errors are my own.
About this article
Cite this article
Michener, J. Neighborhood Disorder and Local Participation: Examining the Political Relevance of "Broken Windows". Polit Behav 35, 777–806 (2013). https://doi.org/10.1007/s11109-012-9217-x
Published:

Issue Date:

DOI: https://doi.org/10.1007/s11109-012-9217-x
Keywords
Perceptions

Neighborhood

Political participation

Broken windows

Disorder

Objective context

Subjective context

Community engagement

Local politics