Abstract
Network Slicing appears as one of the enabling technologies for 5G networks to accommodate services with different requirements and availability. The present work seizes the use of network slicing and focuses on the deployment and maintenance of services which are sensitive to latency constraints. For this purpose, the design and use of a VNF latency sensor are presented, considering its aggregation to the internal chain of services and the retrieval of latency data from the sensor. In this way, and by making use of such data, the expected service performance can be guaranteed. A multi-level orchestration and control architecture is then introduced to provide all the required functionalities for this mechanism. In order to assess this method experimentally, an emulated multi-segment testbed, considering specific 5G network segments (i.e., Access, Metro and Core), is used. The experimental results demonstrate the correct latency sensing of a particular slice and the process of service maintenance through the triggering of proper network actuations such as path reconfiguration or slice reallocation.
Access options
Buy single article
Instant access to the full article PDF.
US$ 39.95
Tax calculation will be finalised during checkout.
Subscribe to journal
Immediate online access to all issues from 2019. Subscription will auto renew annually.
US$ 79
Tax calculation will be finalised during checkout.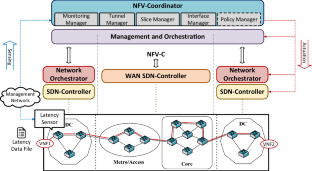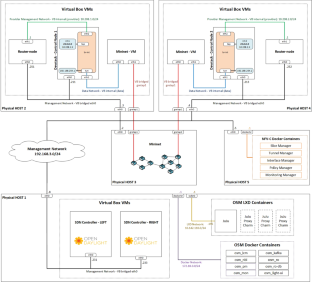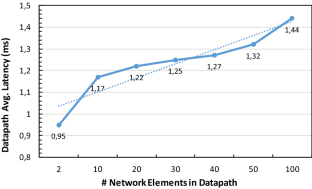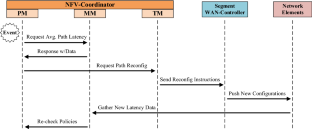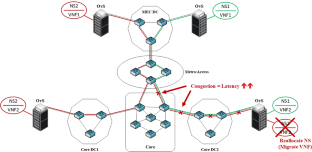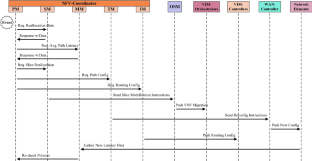 References
1.

NGMN Alliance 5G White Paper, Version 1.0, February 2015

2.

ETSI GS NFV-MAN 001 V1.1.1, December 2014

3.

ONF TR-526: Applying SDN architecture to network slicing, Issue 1, April 2016

4.

G-PPP 5G Architecture White Paper, Version 2.0, December 2017

5.

Moreno-Muro, F.J., et al.: Latency-aware optimization of service chain allocation with joint VNF instantiation and SDN metro network control. In: 2018 ECOC, Italy, pp. 1–3 (2018)

6.

Fichera, S., et al.: Latency-aware resource orchestration in SDN-based packet over optical flexi-grid transport networks. IEEE/OSA JOCN 11(4), B83–B96 (2019)

7.

Szczerban, M., et al.: Real-time control for deterministic and dynamic networks. In: 2019 European Conference on Optical Communication (ECOC), Dublin (Ireland), pp. 1–3 (2019)

8.

Montero, R., et al.: End-to-end network slicing in support of latency-sensitive 5G services. In: 2019 ONDM, Athens (Greece), 13–16 May 2019

9.

Neagoe, T., et al.: NTP versus PTP in computer networks clock synchronization. In: 2006 IEEE International Symposium on Industrial Electronics, Montreal, pp. 317–362 (2006)

10.

Pagès, A., et al.: Dynamic service reallocation in NFV-based transport WDM optical networks. In: 2018 Photonics in Switching and Computing (PSC), Limassol, Cyprus (2018)

11.

GPP TR 28.801: Study on management and orchestration of network slicing for next generation network, Version 15.1.0, January 2018

12.

Open Source MANO. https://osm.etsi.org

13.

OpenDaylight. https://www.opendaylight.org

14.

OpenStack. https://www.openstack.org

15.

Mininet. https://mininet.org

16.

iPerf Measurement Tool. https://iperf.fr/

17.

Montero, R., et al.: Actuation framework for 5G-enabled network slices with QoE/QoS guarantees. In: 2019 ICTON, Angers, France, 2019, pp. 1–4 (2019)

18.

Khải, N.T., et al.: Optimising virtual network functions migrations: a flexible multi-step approach. In: 2019 IEEE NetSoft, Paris, France, pp. 188–192 (2019)

19.

Sugisono, K., et al.: Migration for VNF instances forming service chain. In: 2018 IEEE 7th International Conference on Cloud Networking (CloudNet), Tokyo, pp. 1–3 (2018)
Acknowledgements
This work has been supported by the H2020 5GPPP SLICENET Project (H2020-ICT-2016-2/761913) and the Spanish Government through Project ALLIANCE-B (TEC2017-90034-C2-2-R) with FEDER contribution.
Additional information
Publisher's Note
Springer Nature remains neutral with regard to jurisdictional claims in published maps and institutional affiliations.
About this article
Cite this article
Montero, R., Agraz, F., Pagès, A. et al. Real-time maintenance of latency-sensitive 5G services through network slicing. Photon Netw Commun 40, 221–232 (2020). https://doi.org/10.1007/s11107-020-00897-6
Received:

Accepted:

Published:

Issue Date:
Keywords
5G

Network slicing

Slice composition

Service chaining

Latency sensor

Optical networks

Actuations