Biocomposite (or bioceramic) materials have become very popular, especially for replacing some human bone parts, such as hip joints, knee joints, and producing implants for dentistry and others. It is supposed that cladding coatings with hydroxyapatite (HA) on a metallic substrate could be a good solution for implants. Production of laser cladding coatings using pure HA powder and titanium substrate is investigated.
Access options
Buy single article
Instant access to the full article PDF.
USD 39.95
Price includes VAT (USA)
Tax calculation will be finalised during checkout.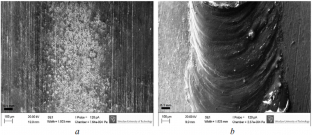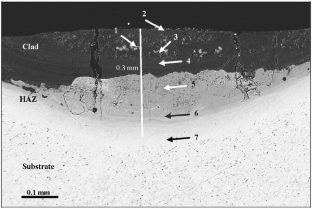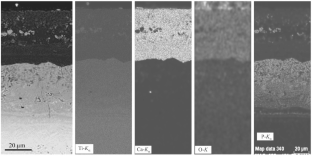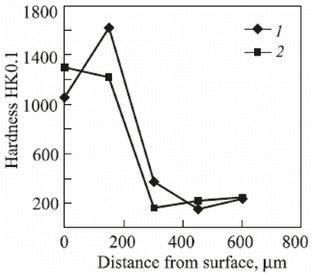 References
1.

M. Roy, B. V. Krishna, A. Bandyopadhyay, et al., "Laser processing of bioactive tricalcium phosphate coating on titanium for load-bearing implants," Acta Biomater., 4, 324–333 (2008).

2.

J. Sieniawski and W. Ziaja, Titanium Alloys – Advances in Properties Control, InTech (2013) p. 156.

3.

S. V. Dorozhkin, "Bioceramics based on calcium orthophosphates (Review)," Glass and Ceramics, 64, Nos. 11–12, 442–447 (2007).

4.

Y. Yang, K.H. Kim, and J. L. Ong, "A review on calcium phosphate coatings produced using a sputtering process — an alternative to plasma spraying," Biomaterials, 26, 327–337 (2005).

5.

S. V. Dorozhkin, "Calcium orthophosphates as bioceramics: State of the art, J. Funct. Biomater., 1, 22–107 (2010).

6.

V. Braic, M. Braic, M. Balaceanu, et al., "(Zr,Ti)CN coatings as potential candidates for biomedical applications," Surf. Coat. Technol., 206, No. 4, 604–609 (2011).

7.

S. R. Paital and N. B. Dahotre, "Calcium phosphate coatings for bio-implant applications: Materials, performance factors, and methodologies, "Mater. Sci. Engin.: R: Reports, 66, No. 1–3, 1–70 (2009).

8.

R. Comesaña, F. Quintero, F. Lusquiños, et al., "Laser cladding of bioactive glass coatings," Acta Biomater., 6, 953–961, (2010).

9.

C. Ergun, R. Doremus, and W. Lanford, "Hydroxylapatite and titanium: Interfacial reactions," J. Biomed. Mater. Res., 65A, 336–343 (2003).

10.

H. Okamoto, "O–Ti (Oxygen–Titanium), Supplemental Literature Review: Section III," JPEDAV, 32, 473–474 (2011).

11.

H. Okamoto, "P–Ti (Phosphorus–Titanium)," JPEDAV, 28, No. 6, 587 (2007).

12.

ASM, Alloy Phase Diagrams, ASM Handbook, ASM International (1992) p. 512.

13.

F. Lusquinos, A. de Carlos, J. Pou, et al., "Calcium phosphate coatings obtained by Nd : YAG laser cladding: Physicochemical and biologic properties," J. Biomed. Mater. Res. Part A, 64A, No. 4, 630–637 (2003).

14.

F. Lusquinos, J. Pou, J. L. Arias, et al., "Alloying of hydroxyapatite onto Ti–6Al–4V by high power laser irradiation," J. Mater. Sci., 13, 601–605 (2002).

15.

Molar Mass, Molecular Weight and Elemental Composition Calculator, http://www.webqc.org/mmcalc.php

16.

K. Tonsuaadu, K. A. Gross, L. Pluduma, and M. Veiderma, "A review on the thermal stability of calcium apatites," J. Therm. Anal. Calorim., 110, 647–659 (2012
Acknowledgements
This research was financially supported by the project "LasTech – Laser technologies for manufacturing functional 3D and surface structures" (contract number POIG.01.03.01-02-160/09; co-funded by the European Regional Development Fund).
Additional information
Published in Poroshkovaya Metallurgiya, Vol. 54, Nos. 5–6 (503), pp. 85–91, 2015.
About this article
Cite this article
Smolina, I., Szymczyk, P., Chlebus, E. et al. Composite Laser-Clad Coating on Titanium Substrate Using Pure Hydroxyapatite Powder. Powder Metall Met Ceram 54, 318–323 (2015). https://doi.org/10.1007/s11106-015-9716-5
Received:

Published:

Issue Date:
Keywords
composite
biocomposite
laser cladding
hydroxyapatite
implant