Abstract
Auxin plays crucial roles in modulating various aspects of plant growth and development throughout the plant life cycle. At the molecular level, auxin rapidly upregulates the expression of many genes, including those belong to three primary auxin-responsive (PAR) gene families. Small auxin-up RNA (SAUR) family is the largest among the three PAR gene families and contains 81 genes; however, molecular and physiological functions of most of them are yet to be discovered. Recently, we showed that the ectopic expression of SAUR53 causes hyper-elongation of cells and organs and alters apical hook development in Arabidopsis. Here we show that SAUR53 and its three close homologs, SAUR42, SAUR52, and SAUR69, physically interact with calmodulin (CaM) through their N-terminal CaM-binding domains. Additionally, seedlings of all four SAUR overexpression (SAUR-OX) transgenic lines are less sensitive to CaM inhibitor mediated inhibition of primary root elongation. We also show that CaM inhibitors accelerate the apical hook opening in dark-grown, wild-type seedlings, similar to dark-grown SAUR53-OX seedlings. Collectively, our present work reveals molecular and physiological relationships between SAURs and CaM proteins.
Access options
Buy single article
Instant access to the full article PDF.
US$ 39.95
Tax calculation will be finalised during checkout.
Subscribe to journal
Immediate online access to all issues from 2019. Subscription will auto renew annually.
US$ 79
Tax calculation will be finalised during checkout.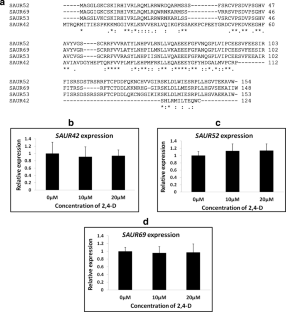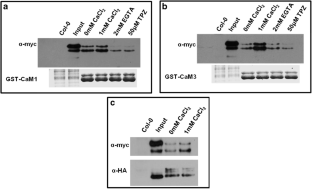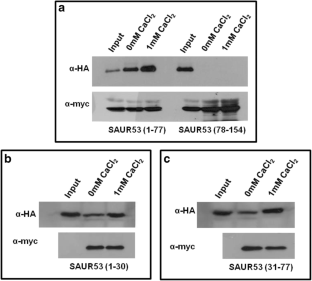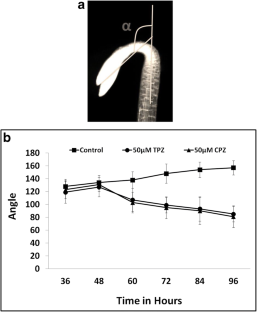 References
Chae K, Isaacs CG, Reeves PH, Maloney GS, Muday GK, Nagpal P, Reed JW (2012) Arabidopsis SMALL AUXIN UP RNA63 promotes hypocotyl and stamen filament elongation. Plant J 71:684–697

Chen Y, Hao X, Cao J (2014) Small auxin upregulated RNA (SAUR) gene family in maize: identification, evolution, and its phylogenetic comparison with Arabidopsis, rice, and sorghum. J Integr Plant Biol 56:133–150

Chiasson D, Ekengren SK, Martin GB, Dobney SL, Snedden WA (2005) Calmodulin-like proteins from Arabidopsis and tomato are involved in host defense against Pseudomonas syringaepv. Tomato. Plant Mol Biol 58:887–897

Clough SJ, Bent AF (1998) Floral dip: a simplified method for agrobacterium- mediated transformation of Arabidopsis thaliana. Plant J 16:735–743

Figueroa M, González Mdel C, Rodríguez-Sotres R, Sosa-Peinado A, González-Andrade M, Cerda-García-Rojas CM, Mata R (2009) Calmodulin inhibitors from the fungus Emericella sp. Bioorg Med Chem 17:2167–2174

Fischer C, Kugler A, Hoth S, Dietrich P (2013) An IQ domain mediates the interaction with calmodulin in a plant cyclic nucleotide- gated channel. Plant Cell Physiol 54:573–584

Hagen G, Guilfoyle T (2002) Auxin-responsive gene expression: genes, promoter and regulatory factors. Plant Mol Biol 49:373–385

Han HJ, Park HC, Byun HJ, Lee SM, Kim HS, Yun DJ, Cho MJ, Chung WS (2012) The transcriptional repressor activity of ASYMMETRIC LEAVES1 is inhibited by direct interaction with calmodulin in Arabidopsis. Plant Cell Environ 35:1969–1982

Hepler PK (2005) Calcium: a central regulator of plant growth and development. Plant Cell 17:2142–2155

Hou K, Wu W, Gan SS (2013) SAUR36, a small auxin up RNA gene, is involved in the promotion of leaf senescence in Arabidopsis. Plant Physiol 161:1002–1009

Jain M, Tyagi AK, Khurana JP (2006) Genome-wide analysis, evolutionary expansion, and expression of early auxin-responsive SAUR gene family in rice (Oryza sativa). Genomics 88:360–371

Jayaweera T, Siriwardana C, Dharmasiri S, Quint M, Gray WM, Dharmasiri N (2014) Alternative splicing of Arabidopsis IBR5 pre-mRNA generates two IBR5 isoforms with distinct and overlapping functions. PLoS One 9:e102301

Kant S, Rothstein S (2009) Auxin-responsive SAUR39 gene modulates auxin level in rice. Plant Signal Behav 4:1174–1175

Kathare PK, Cioffi TJ, Dharmasiri N, Dharmasiri S (2017) Auxin. In: eLS. Wiley, Chichester

Kathare PK, Dharmasiri S, Dharmasiri N (2018) SAUR53 regulates organ elongation and apical hook development in Arabidopsis. Plant Signal Behav 13:e1514896

Kim MC, Chung WS, Yun DJ, Cho MJ (2009) Calcium and calmodulin-mediated regulation of gene expression in plants. Mol Plant 2:13–21

Knauss S, Rohrmeier T, Lehle L (2003) The auxin-induced maize gene ZmSAUR2 encodes a short-lived nuclear protein expressed in elongating tissues. J Biol Chem 278:23936–23943

Kodaira KS, Qin F, Tran LS, Maruyama K, Kidokoro S, Fujita Y, Shinozaki K, Yamaguchi-Shinozaki K (2011) Arabidopsis Cys2/His2 zinc-finger proteins AZF1 and AZF2 negatively regulate abscisic acid-repressive and auxin-inducible genes under abiotic stress conditions. Plant Physiol 157:742–756

Kong Y, Zhu Y, Gao C, She W, Lin W, Chen Y, Han N, Bian H, Zhu M, Wang J (2013) Tissue-specific expression of SMALL AUXIN UP RNA41 differentially regulates cell expansion and root meristem patterning in Arabidopsis. Plant Cell Physiol 54:609–621

Kushwaha R, Singh A, Chattopadhyay S (2008) Calmodulin7 plays an important role as transcriptional regulator in Arabidopsis seedling development. Plant Cell 20:1747–1759

Kwak SH, Lee SH (1997) The requirements for Ca2+, protein phosphorylation, and dephosphorylation for ethylene signal transduction in Pisum sativum L. Plant Cell Physiol 38:1142–1149

Li ZG, Chen HW, Li QT, Tao JJ, Bian XH, Ma B, Zhang WK, Chen SY, Zhang JS (2015) Three SAUR proteins SAUR76, SAUR77 and SAUR78 promote plant growth in Arabidopsis. Scientific Reports 5 (1)

Paponov IA, Paponov M, Teale W, Menges M, Chakrabortee S, Murray JAH, Palme K (2008) Comprehensive Transcriptome Analysis of Auxin Responses in Arabidopsis. Molecular Plant 1 (2):321-337

Park J, Kim Y, Yoon H, Park C (2007) Functional characterisation of a small auxin-up RNA gene in apical hook development in Arabidopsis. Plant Sci 172:150–157

Perochon A, Aldon D, Galaud JP, Ranty B (2011) Calmodulin and calmodulin-like proteins in plant calcium signaling. Biochimie 93:2048–2053

Petruzzelli L, Sturaro M, Mainieri D, Leubner-Metzger G (2003) Calcium requirement for ethylene-dependent responses involving 1-aminocyclopropane-1-carboxylic acid oxidase in radicle tissues of germinated pea seeds. Plant Cell Environ 26:661–671

Popescu SC, Popescu GV, Bachan S, Zhang Z, Seay M, Gerstein M, Snyder M, Dinesh-Kumar SP (2007) Differential binding of calmodulin-related proteins to their targets revealed through high-density Arabidopsis protein microarrays. Proc Natl Acad Sci U S A A104:4730–4735

Raghothama KG, Mizrahi Y, Poovaiah BW (1985) Effect of calmodulin antagonists on auxin-induced elongation. Plant Physiol 79:28–33

Ranty B, Aldon D, Galaud JP (2006) Plant calmodulins and calmodulin-related proteins: multifaceted relays to decode calcium signals. Plant Signal Behav 1:96–104

Reddy VS, Ali GS, Reddy AS (2002) Genes encoding calmodulin-binding proteins in the Arabidopsis genome. J Biol Chem 277:9840–9852

Ren H, Gray WM (2015) SAUR proteins as effectors of hormonal and environmental signals in plant growth. Mol Plant 8:1153–1164

Santner A, Calderon-Villalobos LI, Estelle M (2009) Plant hormones are versatile chemical regulators of plant growth. Nat Chem Biol 5:301–307

Singla B, Chugh A, Khurana JP, Khurana P (2006) An early auxin-responsive aux/IAA gene from wheat (Triticum aestivum) is induced by epibrassinolide and differentially regulated by light and calcium. J Exp Bot 57:4059–4070

Spartz AK, Lee SH, Wenger JP, Gonzalez N, Itoh H, Inzé D, Peer WA, Murphy AS, Overvoorde P, Gray WM (2012) The SAUR19 subfamily of SMALL AUXIN UP RNA genes promote cell expansion. Plant J 70:978–990

Webb AA, Larman MG, Montgomery LT, Taylor JE, Hetherington AM (2001) The role of calcium in ABA-induced gene expression and stomatal movements. Plant J 26:351–362

Yang T, Poovaiah BW (2000) Molecular and biochemical evidence for the involvement of calcium/calmodulin in auxin action. J Biol Chem 275:3137–3143

Zhu SY, Yu XC, Wang XJ, Zhao R, Li Y, Fan RC, Shang Y, Du SY, Wang XF, Wu FQ, Xu YH, Zhang XY, Zhang DP (2007) Two calcium-dependent protein kinases, CPK4 and CPK11, regulate abscisic acid signal transduction in Arabidopsis. Plant Cell 19:3019–3036
Funding
This research was supported by NSF CAREER grant IOS 0845305 (to N.D), Research Enhancement Grant from Texas State University (to N.D. and S.D.), one-time grant 90000525 (to ND), and the Texas State University Doctoral Research Support Fellowship (to PK).
Additional information
Publisher's Note
Springer Nature remains neutral with regard to jurisdictional claims in published maps and institutional affiliations.
Key Message
SAUR53 and its homologs interact with calmodulin (CaM) through their N-terminal CaM-binding domains. SAUR-CaM interaction possibly plays a role in early developmental events involving cell elongation/expansion.
Electronic supplementary material
About this article
Cite this article
Kathare, P.K., Dharmasiri, S., Arellano, I. et al. Interaction of SAUR53 and Its Close Homologs with Calmodulin May Play a Role in Early Development in Arabidopsis. Plant Mol Biol Rep 38, 343–351 (2020). https://doi.org/10.1007/s11105-020-01199-x
Keywords
Auxin

SAUR

Apical hook development

Calcium

Calmodulin