Abstract
Previously, we cloned the full sequence of masson pine (Pinus massoniana) phosphate transporter gene (PmPT1) from a phosphorus (Pi) deficiency tolerant strain. To further verify whether PmPT1 presumably function in angiosperms, i.e. tobacco, as well as to generate the new germplasm with high tolerance to Pi deficiency, currently, this gene was transferred into tobacco (Nicotiana tabacum) through Agrobacterium-mediated method. PmPT1 chiefly expressed in the roots of the transgenic plants, and considerably promoted the expression of two endogenous phosphate transporter genes of tobacco (NtPT1 and NtPT2) irrespectively of Pi status. Under low Pi conditions, the total P contents of the roots and shoots increased by 33.3% and 25.5%, respectively in L7, and by 30.7% and 23.9%, respectively in L18 in comparison with those of the wild type (WT). Also, the inorganic phosphorus (Pi) content of whole plants in L7 and L18 increased by 42.9% and 42.3%, respectively compared to the WT. The dry weight, contents of chlorophyll, soluble sugar and soluble protein, as well as the activities of peroxidase (POD), superoxide dismutase (SOD) and catalase (CAT) were significantly elevated, conversely the MDA accumulation was obviously decreased in transgenic lines compared to the WT. Therefore, PmPT1, a phosphate transporter gene of Pht1 family from masson pine might function in tobacco and two overexpressed-PmPT1 transgenic lines substantially enhanced the tolerance of the transgenic tobacco to low-P stress, which was at least chiefly ascribed to the improvement of P accumulation and oxidant alleviation.
This is a preview of subscription content, log in to check access.
Access options
Buy single article
Instant access to the full article PDF.
US$ 39.95
Price includes VAT for USA
Subscribe to journal
Immediate online access to all issues from 2019. Subscription will auto renew annually.
US$ 99
This is the net price. Taxes to be calculated in checkout.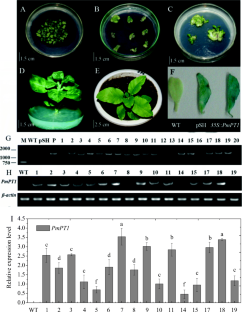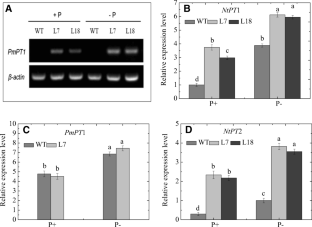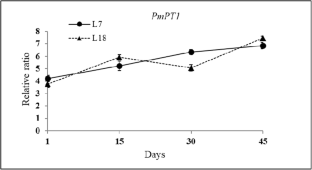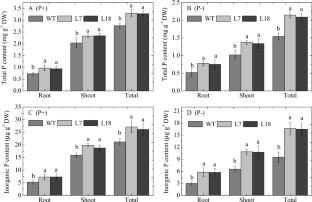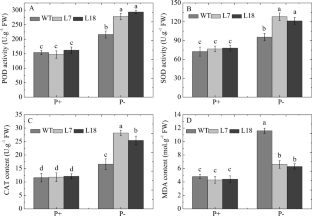 Acknowledgements
The project was supported by grants from National Key R & D Plan, P. R. China (2017YFD060030304), the Provincial Fundation of Guizhou Province, P. R. China (2019-1014), as well as the Opening Foundation of Key Laboratory of Educational Ministry (2018-474).
Ethics declarations
Conflict of Interest
The authors declared that no conflicts of interest to this work. We declare that we do not have any commercial or associative interest that represents a conflict of interest in connection with the work submitted.
Additional information
Publisher's Note
Springer Nature remains neutral with regard to jurisdictional claims in published maps and institutional affiliations.
Key message
A masson pine phosphate transporter gene (PmPT1) was further transferred into tobacco using the Agrobacterium-mediated method. The transgenic plantlets were able to exhibit confers tolerance enhancement to Pi deficiency, which was at least chiefly ascribed to the improvement of expression of phosphate transporter genes, P accumulation and oxidant alleviation.
About this article
Cite this article
Zhang, T., Hong, Y. & Wen, X. Over-Expression of Masson Pine PmPT1 Gene in Transgenic Tobacco Confers Tolerance Enhancement to Pi Deficiency by Ameliorating P Level and the Antioxidants. Plant Mol Biol Rep 38, 238–249 (2020). https://doi.org/10.1007/s11105-019-01170-5
Keywords
PmPT1

Genetic transformation

Tobacco

Low-phosphorus stress

Antioxidant