Abstract
Until now, only a few genetic and physical maps had been constructed for durum wheat, mostly from the gene pools of only few geographic regions. The Fertile Crescent, particularly southeastern Turkey, is thought to be the primary center of wheat domestication and diversity. In spite of the importance of the genetic diversity from this area, a severe lack of information on the genetic structure of the durum wheat gene pool from this region is evident. For example, thus far, no efforts have been made to understand the genetic structure of the Anatolian durum wheat gene pool, despite its importance in durum wheat breeding. This study aimed to provide a new insight into the genetic structure of the durum wheat from Anatolia. The present study represents the first genetic linkage map of durum wheat from Anatolia, containing one famous Turkish local cultivar Kunduru-1149. The genetic linkage map was constructed using a population of 141 recombinant inbred lines (RILs) derived from a cross between the Turkish cultivar Kunduru-1149 and ICARDA cultivar Cham1. Linkage analysis resulted in a final linkage map spanning 4853.8 cM, which comprised 395 polymorphic marker loci (213 simple sequence repeats [SSRs], 146 amplified fragment length polymorphisms [AFLPs], and 36 seed storage proteins [SSPs]). The detected loci were distributed over 15 linkage groups on 14 whole chromosomes of durum wheat. Most of the markers (70.7 %) used in this map segregated according to Mendelian laws. This linkage map represents a key starting point toward understanding the genome structure of Anatolian durum wheat to genetically evaluate important agromorphological and qualitative characteristics.
Access options
Buy single article
Instant access to the full article PDF.
US$ 39.95
Tax calculation will be finalised during checkout.
Subscribe to journal
Immediate online access to all issues from 2019. Subscription will auto renew annually.
US$ 79
Tax calculation will be finalised during checkout.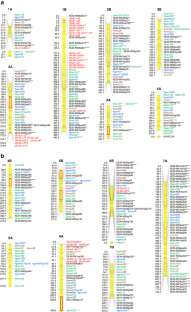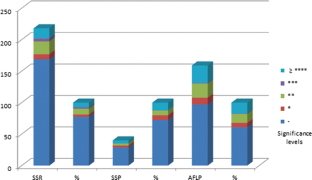 References
Ahn S, Tanksley SD (1993) Comparative linkage maps of the rice and maize genomes. Proc Natl Acad Sci 90(17):7980–7984

Altintaş S, Toklu F, Kafkas S, Kilian B, Brandolini A, Özkan H (2008) Estimating genetic diversity in durum and bread wheat cultivars from Turkey using AFLP and SAMPL markers. Plant Breed 127:9–14

Alvarez JB, Martin A, Martin LM (1999) Allelic variation of the D-prolamin subunits encoded at the Hch genomein a collection of primary hexaploid Tritordium. Theor Appl Genet 99:296–299

Andeden EE, Baloch FS, Derya M, Kilian B, Özkan H (2013) iPBS-Retrotransposons-based genetic diversity and relationship among wild annual Cicer species. J Plant Biochem Biotechnol 22(4):453–466

Andeden EE, Yediay FE, Baloch FS, Shaaf S, Kilian B, Nachit M, Özkan H (2011) Distribution of vernalization and photoperiod genes (Vrn-A1, Vrn-B1, Vrn-D1, Vrn-B3, Ppd-D1) in Turkish bread wheat cultivars and landraces. Cereal Res Commun 39(3):352–364

Baloch FS, Kurt C, Arıoğlu H, Özkan H (2010) Assaying of diversity among soybean (Glycin max (L.) Merr.) and peanut (Arachis hypogaea L.) genotypes at DNA level. Turk J Agric For 34:285–301

Blanco A, Bellom MP, Cenci A, De Giovanni C, D'ovidio R, Iacono E, Laddomada B, Pagnotta M, Porceddu E, Sciancalepore A, Simeone R, Tanzarella O (1998) A genetic linkage map of durum wheat. Theor Appl Genet 97:721–728

Chantret N, Salseb J, Sabotc F, Rahmand S, Bellecb A, Laubinc B, Duboise I, Dossate C, Sourdillec P, Joudrierf P, Gautierf MF, Cattolicoe L, Beckertc M, Aubourgb S, Weissenbachg J, Cabocheb M, Bernardc M, Leroyc P, Chalhoub C (2005) Molecular Basis of Evolutionary Events That Shaped the Hardness Locus in Diploid and Polyploid Wheat Species (Triticum and Aegilops) The Plant Cell 17:1033–1045

Chen M, Wei C, Qi J, Chen X, Su J, Li A, Tao A, Wu W (2011) Genetic linkage map construction for Kenaf using SRAP, ISSR and RAPD markers. Plant Breed 130:679–687

Cömertpay G, Baloch FS, Kilian B, Ülger AC, Özkan H (2012) Diversity Assessment of Turkish Maize Landraces Based on Fluorescent Labelled SSR Markers. Plant Mol Biol Rep 30:261–274

Elias EM, Manthey FA (2005) End products: present and future uses. In: Royo C, Nachit MM, Di Fonzo N, Araus JL, Pfeiffer WH, Slafer GA (eds) Durum wheat breeding: current approaches and future strategies, vol 1. Food Products Press, an Imprint of The Haworth Press Inc, New York, London, Oxford, pp 63–85

Ellegren H (2004) Microsatellites: Simple Sequences with complex evolution. Nature reviews genetics 5

Elouafi I, Nachit MM (2004) A genetic linkage map of the durum x Triticum dicoccoides backcross population based on SSRs and AFLP markers and QTL analysis for milling traits. Theor Appl Genet 1083:401–413

Elouafi I, Nachit MM, Martin LM (2001) Identification of a microsatellite on chromosome 7b showing a strong linkage with yellow pigment in durum wheat Triticum turgidum L. var. durum. Hereditas 135:255–261

Eujayl I, Sorrells M, Baum M, Wolters P, Powell W (2002) Isolation of EST-derived microsatellite markers for genotyping the A and B genomes of wheat. Theor Appl Genet 104:399–407

FAOSTAT (2011) http://faostat.fao.org/

Foolad MR, Arulsekar S, Becerra V, Bliss FA (1995) A genetic map of Prunus based on an interspecific cross between peach and almond. Theor Appl Genet 91:262–269

Gupta PK, Balyan HS, Edwards KJ, Isaac P, Korzun V, Röder M, Gautier MF, Joudrier P, Schlatter AR, Dubcovsky J, Pena RC, Khairallah M, Penner G, Hayden MJ, Sharp P, Keller B, Wang RCC, Hardouin JP, Jack P, Leroy P (2002) Genetic mapping of 66 new microsatellite (SSR) loci in bread wheat. Theor Appl Genet 105:413–422

Heun M, Kennedy AE, Anderson JA, Lapitan NLV, Sorrells ME, Tanksley SD (1991) Construction of a restriction fragment length polymorphism map for Barley Hordeum vulgare. Genome 34:437–447

International Triticeae Mapping Initiative (ITMI) (1994) Wheat Mapping Workshop. In: McGuire PE, Qualset CO (eds) Proc 4th Poblic Workshop. USA, San Diego California

Ishikawa S, Abe T, Kuramata M, Yamaguchi M, Andohttp://www.ncbi.nlm.nih.gov/pubmed/?term=AndoT%5Bauth%5D T, Yamamoto T, Yano M (2010) A major quantitative trait locus for increasing cadmium-specific concentration in rice grain is located on the short arm of chromosome 7. J Exp Bot 61(3): 923–934

Kilian B, Özkan H, Pozzi C, Salamini F (2009) Domestication of the Triticeae in the fertile crescent. In: Feuillet C, Muehlbauer G (eds) Genetics and genomics of the Triticeae. Plant genetics and genomics: Crops and models 7, 81–119

Korzun V, Roder MS, Wendehake K, Pasqualone A, Lotti C, Ganal MW, Blanco A (1999) Integration of dinucleotide microsatellites from hexaploid bread wheat into a genetic linkage map of durum wheat. Theor Appl Genet 98:1202–1207

Kosambi DD (1944) The estimation of map distances from recombination values. Ann Eugen 12:172–175

Lander E, Green P, Abrahamson J, Barlow A, Daly MJ, Lincoln SE, Newburg L (1987) MAPMAKER: an interactive computer package for constructing primary genetic linkage maps of experimental and natural population. Genomics 1:174–181

Lin Z, He D, Zhang X, Nie Y, Guo X, Feng C, McD Stewart J (2005) Linkage map construction and mapping QTL for cotton fiber quality using SRAP, SSR and RAPD. Plant Breed 124:180–187

Liu YG, Tsunewaki K (1991) Restriction fragment length polymorphism analysis of wheat. II. Linkage maps of the RFLP sites in common wheat. Jap J Genet 66:617–633

Lotti C, Salvi S, Pasqualone A, Tuberosa R, Blanco A (2000) Integration of AFLP markers into an RFLP-based map of durum wheat. Plant Breed 119:393–401

Maccaferri M, Sanguineti MC, Corneti S, Araus O, Ben JA, Salem M, Deambrogio JBE, Del Moral G, Demontis A, El-Ahmed A, Maalouf F, Machlab H, Martos V, Moragues M, Motawaj J, Nachit M, Nserallah N, Ouabbou H, Royo C, Slama A, Tuberosa R (2008) Quantitative trait loci for grain yield and adaptation of durum wheat Triticum durum Desf. across a wide range of water availability. Genetics 178:289–511

Mantovani P, Maccaferri M, Sanguineti MC, Tuberosa R, Catizone I, Wenzl P, Thomson B, Carling J, Huttner E, De Ambrogio E, Kilian A (2008) An integrated DArT-SSR linkage map of durum wheat. Mol Breeding 22:629–648

Marone D, Laido G, Gadaleta A, Colasuonno P, Ficco DBM, Giancaspro A, Giove S, Panio G, Russo MA, Vita PD, Cattivelli L, Papa R, Blanco N, Mastrangelo AM (2012) A high-density consensus map of A and B wheat genomes. Theor Appl Genet 125:1619–1638

Mcintosh RA, Yamazaki Y, Devos KM, Dubcovsky J, Rogers WJ, Appels R (2003) Catalogue of gene symbols for wheat. In: Pogna N.E., Romano M., Pogna E., Galterio G. eds Proceedings of the 10th International Wheat Genetics Symposium. Instituto Sperimentale per la Cerealicoltura, Rome, Paestum, Italy, http://wheat.pw.usda.gov/ggpages/wgc/2000upd.html

Nachit M (1994) Wheat Breeding at CIMMYT: Commemorating 50 Yearsı of Research in Mexico for Global Wheat Improvement, Editors: S. Rajaram and G.P. Hettel, 84–86

Nachit MM (1998) Durum breeding research to improve dry-land productivity in the Mediterranean region. In: Rao SC, Ryan J, et al. eds. SEWANA durum research network. ICARDA editions, 1–15

Nachit MM, Baum M, Impiglia A, Ketata H (1995a) Studies on some grain quality traits in durum wheat grown in Mediterranean environments. Proc. Seminar on Durum Wheat Quality in the Mediterranean regions, Zargoza. Options Méditérr 22:181–188

Nachit MM, Asbati A, Azrak A, Rbeiz N, Alsaleh A (1995b) Durum breeding research to improve dry land productivity in the Mediterranean region. Cereal improvement program. Ann Report 1995:95–96

Nachit MM, Elouafi I, Pagnotta MA, Alsaleh A, Lacono E, Labhilili M, Asbati A, Azrak M, Hazzam H, Benscher D, Khairallah M, Ribaut JM, Tanzarella OM, Porceddu E, Sorrels ME (2001) Molecular linkage map for an intraspecific recombinant inbred population of durum wheat Triticum turgidum L. var. durum. Theor Appl Genet 102:177–186

Nakagarha M (1986) Geographic distribution of gametophyte genes in wide crosses of rice cultivars. In: Rice genetics. Proc Int Rice Genet Symp IRRI, Manila, the Philippines, 73–82

Özkan H, Brandolini A, Schahfer-Pregl R, Salamini F (2002) AFLP analysis of a collection of tetraploid wheats indicates the origin of emmer and hard wheat domestication in Southeast Turkey. Mol Biol Evol 1910:1797–1801

Özkan H, Kafkas S, Ozer MS, Brandolini A (2005) Genetic relationship among South-East Turkey wild barley population and sampling strategies of Hordeum spontaneum. Theor Appl Genet 112:12–20

Özkan H, Tuna M, Kilian B, Mori N, Ohta S (2010a) Genome size variation in diploid and tetraploid wild wheats. AoB Plants 2010:1–11. doi:10.1093/aobpla/plq015

Özkan H, Willcox G, Graner A, Salamini F, Kilian B (2010b) Geographic distribution and domestication of wild emmer wheat (Triticum dicoccoides). Genet Resour Crop Evol 58:11–53

Patil RM, Oak MD, Tamhankar SA, Sourdille P, Rao VS (2008) Mapping and validation of a major QTL for yellow pigment content on 7AL in durum wheat Triticum turgidum L. ssp. durum. Mol Breeding 21:485–496

Patil RM, Oak MD, Tamhankar SA, Rao VS (2009) Molecular mapping of QTLs for gluten strength as measured by sedimentation volume and mixograph in durum wheat Triticum turgidum L. ssp durum. J Cereal Sci 49:378–386

Payne PI, Holt LM, Law CN (1981) Structural and genetical studies on the high molecular subunits of wheat glutenin. Part I. Allelic variation in subunits amongst varieties of wheat. (Triticum aestivum). Theor Appl Genet 60:229–236

Payne PI, Holt L, Jackson E, Law CN (1984) Wheat storage proteins: their genetics and their potential for manipulation by plant breeding. Philos Trans R Soc Lond 304:359–371

Peleg Z, Saranga Y, Suprunova T, Ronin Y, Röder MS, Kilian A, Korol AB, Fahima T (2008) High-density genetic map of durum wheat x wild emmer wheat based on SSR and DArT markers. Theor Appl Genet 117:103–115

Pozniak CJ, Knox RE, Clarke FR, Clarke JM (2007) Identification of QTL and association of a phytoene synthase gene with endosperm colour in durum wheat. Theor Appl Genet 114:525–537

Röder MS, Korzun V, Wendehake K, Plaschke J, Tixer MH, Leroy P, Ganal MW (1998) A microsatellite map of wheat. Genetics 149:2007–2023

Sapirstein HD, Bushuk W (1995) Computer aided analysis of gliadins electrophoregrams. I. Improvement of precision of relative mobility determination by using a three reference band standardization. Cereal Chem 62:372–376

Semagn K, Bjornstad A, Skinnes H, Maroy A, Tarkegne Y, William M (2006) Distribution of DArT, AFLP and SSR markers in genetic linkage map of doubled-haploid hexaplaoid wheat population. Genome 49:545–555

Singh K, Ghai M, Garg M, Chhuneja P, Kaur P, Schnurbusch T, Keller B, Dhaliwal HS (2007) An integrated molecular linkage map of diploid wheat based on a Triticum boeoticum x T. monococcum RIL population. Theor Appl Genet 115:301–312

Somers DJ, Peter I, Keith E (2004) A high-density wheat microsatellite consensus map for bread wheat Triticum aestivum L. Theor Appl Genet 109:1105–1114

Song QJ, Shi JR, Singh S, Fickus EW, Costa JM, Lewis J, Gill BS, Ward R, Cregan PB (2005) Development and mapping of microsatellite (SSR) markers in wheat. Theor Appl Genet 110(3):550–560

Sourdille P, Cadalen T, Guyomarcih H, Snape JW, Perretant MR, Charmet G, Boeuf C, Bernard S, Bernard M (2003) An update of the Courtot-Chinese Spring intervarietal molecular marker linkage map for the QTL detection of agronomic traits in wheat. Theor Appl Genet 106:530–538

Sourdille P, Singh S, Cadalen T, Brown-Guedira G, Gay G, Qi L, Gill BS, Dufour P, Murigneux A, Bernard M (2004) Microsatellite-based deletion mapping system for the establishment of genetic map—physical map relationships in wheat. Funct Integr Genomics 4:12–25

Tanksley SD (1984) Linkage relationships and chromosomal locations of enzyme-coding genes in pepper, Capsicum annum. Chromosoma 89:52–360

Tkachuk R, Metlish VG (1980) Wheat cultivar identification by high voltage gel electrophoresis. Annales de Technologie Agricole 292:207–212

Trebbi D, Maccaferri M, Heer P, Sorensen A, Giuliani S, Salvi S, Sanguineti MC, Massi A, Vossen E, Tuberosa R (2011) High-throughput SNP discovery and genotyping in durum wheat Triticum durum Desf. Theor Appl Genet 123:555–569

Vaissayre L, Ardisson M, Borries C, Santoni S, David J, Roumet P (2012) Elite durum wheat genetic map and recombination rate variation in a multiparental connected design. Euphytica. doi:10.1007/s10681-012-0627

Vos P, Hogers R, Bleekers M, Reijans T, Lee TVD, Hornes M, Frijters A, Pot J, Peleman J, Kuiper M, Zabeau M (1995) AFLP: a new technique for DNA fingerprinting. Nucleic Acids Res 23:4407–4414

Waines JG (1973) Proc. 4th Int. Wheat Genet. Symp., Columbia, Mo. 873

Wendel JF, Wessler SR (2000) Retrotransposon-mediated genome evolution on a local ecological scale. Proc Natl Acad Sci USA 97:6250–6252

Yediay FE, Andeden EE, Baloch FS, Börner A, Kilian B, Özkan H (2011) The allelic state at the major semi-dwarfing genes in a panel of Turkish bread wheat cultivars and landraces. Plant Genetic Resources, Characterization and Utilization 9(03):423–429

Zabeau M, Vos P (1993) Selective restriction fragment amplification: a general method for DNA fingerprinting. European Patent Office, publication 0 534 858 A1, bulletin 93/13

Zhang W, Chao S, Manthey F, Chicaiza O, Brevis JC, Echenique V, Dubcovsky J (2008) QTL analysis of pasta quality using a composite microsatellite and SNP map of durum wheat. Theor Appl Genet 117:1361–1377

Zhang L, Luo JT, Hao M, Zhang LQ, Yuan ZW, Yan ZH, Liu YX, Zhang B, Liu BL, Liu CL, Zhang HG, Zheng YL, Liu D (2012) Genetic map of Triticum turgidum based on a hexaploid wheat population without genetic recombination for D genome. BMC Genet 13:69
Acknowledgments
This paper is part of Msc thesis of Ahmad Alsaleh.
About this article
Cite this article
Alsaleh, A., Baloch, F.S., Derya, M. et al. Genetic Linkage Map of Anatolian Durum Wheat Derived from a Cross of Kunduru-1149 × Cham1. Plant Mol Biol Rep 33, 209–220 (2015). https://doi.org/10.1007/s11105-014-0749-6
Keywords
Genetic linkage map

Durum wheat

SSR

AFLP

SSP

Turkey