Abstract
A resistance gene analog (RGA)-derived sequence-characterized amplified region (SCAR) marker was successfully developed based on sequence homology with disease resistance genes of an AFLP molecular marker tightly linked to the Rl adg gene of Solanum tuberosum ssp. andigena. The new marker was designated as 'RGASC850' (RGA-derived SCAR) based on the size of the amplified fragment. 'RGASC850' could be efficiently used for monitoring introgression of Rl adg against backgrounds of improved gene pools with low likelihood of identifying false positives due to recombination. This SCAR proved to be highly predictive of Rl adg -based resistance, as it did not amplify potato leafroll virus (PLRV) resistance sources other than andigena, and thus would be useful in developing cultivars with complementary sources of resistance to PLRV. In addition, a cleaved amplified polymorphic sequence (CAPS) marker based on 'RGASC850' was developed capable of distinguishing genotypes carrying Rl adg . This CAPS marker would be useful for screening breeding populations derived from wide crosses, and confirming presence of the Rl adg gene in those parents amplifying the 'RGASC850' marker.
Access options
Buy single article
Instant access to the full article PDF.
US$ 39.95
Tax calculation will be finalised during checkout.
Subscribe to journal
Immediate online access to all issues from 2019. Subscription will auto renew annually.
US$ 79
Tax calculation will be finalised during checkout.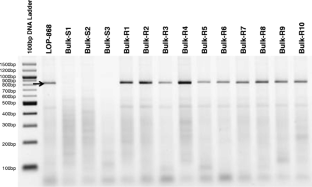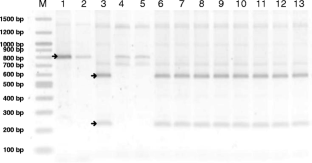 References
Acquisition Distribution Unit (2008) Catalog of potato varieties. International Potato Center (CIP), Lima, Perú

Altschul SF, Gish W, Miller W, Myers EW, Lipman DJ (1990) Basic local alignment search tool. J Mol Biol 215:403–410

Bakker E, Prins P, Borm T, van der Vossen E, Uenk G, Arens M, de Boer J, van Eck H, Muskens M, Vossen J, van der Linden G, van Ham R, Klein-Lankhorst R, Visser R, Smant G, Bakker J, Goverse A (2011) A genome wide genetic map of NB-LRR disease resistance loci in potato. Theor Appl Genet 123:493–508

Ballvora A, Ercolano MR, Weiss J, Meksem K, Bormann CA, Oberhagemann P, Salamini F, Gebhardt C (2002) The R1 gene for potato resistance to late blight (Phytophthora infestans) belongs to the leucine zipper/NBS/LRR class of plant resistance genes. Plant J 30(3):361–371

Ballvora A, Jocker A, Viehover P, Ishihara H, Paal J, Meksem K, Bruggmann R, Schoof H, Weisshaar B, Gerbhardt C (2007) Comparative sequence analysis of Solanum and Arabidopsis in a hot spot for pathogen resistance on potato chromosome V reveals a patchwork of conserved and rapidly evolving genome segments. BMC Genomics 8:112. doi:10.1186/1471- 2164-8-112

Barker H, Waterhouse PM (1999) The development of resistance to luteoviruses mediated by host genes and pathogen-derived transgenes. In: Smith HG, Barker H (eds) The Luteoviridae. CABI Publishing, Wallingford, UK, pp 169–210

Barker H, Reavy B, Kumar A, Webster KD, Mayo MA (1992) Restricted virus multiplication in potatoes transformed with the coat protein gene of potato leafroll luteovirus: similarities with a type of host gene-mediated resistance. Ann Appl Biol 120:55–64

Beekman AGB (1987) Breeding for resistance. In: de Bokx JA, van der Want JPH (eds) Viruses of potatoes and seed-potato production. Pudoc, Wageningen, The Neatherlands, pp 162–170

Bonierbale M, Amorós W, Landeo J (2003) Improved resistance and quality in potatoes for the tropics. In: Proceedings of the XXVI International Horticultural Congress August 11–17. Toronto, Canada. Acta Horticult 619:15–22

Brown CR (1979) General combining ability for PLRV resistance in andigena germplasm. Am Pot J 56:456

Brown CR, Thomas TE (1994) Resistance to potato leafroll virus derived from Solanum chacoense: characterization and inheritance. Euphytica 74:51–57

Brown CR, Corsini D, Pavek J, Thomas PE (1997) Heritability of field resistance to potato leafroll virus in cultivated potato. Plant Breed 116:585–588

Brugmans B, van der Hulst RGM, Visser RGF, Lindhout P, van Eck HJ (2003) A new versatile method for the successful conversion of AFLP markers into simple single locus markers. Nucleic Acids Res 31(10):e55

Chavez R, Brown CR, Iwanaga M (1988) Transfer of resistance to PLRV titer buildup from Solanum etuberosum to a tuber-bearing Solanum gene pool. Theor Appl Genet 76:129–135

Chuquillanqui C, Jones RAC (1980) A rapid technique for assessing the resistance of families of potato seedlings to potato leaf roll virus. Potato Res 23:121–128

CIP (2000) Molecular biology laboratory protocols: plant genotyping. In: Herrera MDR, Ghislain M, Zhang D (eds) Crop Improvement and Genetic Resources Department Training Manual, 3rd edn. International Potato Center (CIP), Lima, Peru

Davidson TMW (1973) Assessing resistance to leafroll in potato seedlings. Potato Res 16:99–108

Dziewonska M, Was M (1994) Diploid genotype DW.84-1457 highly resistant to potato leafroll virus (PLRV). Potato Res 37:217–224

Flis B, Hennig J, Strzelczyk-Zyta D, Gebhardt C, Marczewski W (2005) The Ry-fsto gene from Solanum stoloniferum for extreme resistant to potato virus Y maps to potato chromosome XII and is diagnosed by PCR marker GP122718 in PVY resistant potato cultivars. Mol Breed 15:95–101

Gebhardt C, Bellin D, Henselewski H, Lehmann W, Schwarzfischer J, Valkonen JPT (2006) Marker-assisted combination of major genes for pathogen resistance in potato. Theor Appl Genet 112:1458–1464

Ghislain M, Zhang D, Herrera MR (1999) Molecular biology laboratory protocols: plant genotyping training manual, 2nd edn. International Potato Center (CIP), Lima

Hackett CA, Luo ZW (2003) TetraploidMap: construction of a linkage map in autotetraploid species. J Hered 94(4):358–359

Hämäläinen JH, Watanabe KN, Valkonen JPT, Arihara A, Plaisted RL, Pehu E, Miller L, Slack SA (1997) Mapping and marker-assisted selection for a gene for extreme resistance to potato virus Y. Theor Appl Genet 94:192–197

Hawkes JG (1990) The potato evolution, biodiversity, and genetic resources. Belhaven Press, London (UK)

Huamán Z (1995) Técnicas citológicas para determinar el número cromosómico y la fertilidad de las papas. Guía de Investigación CIP 10. Centro Internacional de la Papa, Lima, p 18

Huarte MA, Butzonitch IP, Mendiburo AO (1990) Mejoramiento para resistencia a virus en el programa argentino de papa. In: Hidalgo OA, Rincón H (eds) Avances en el mejoramiento genético de la papa en los países del cono sur. Centro Internacional de la Papa, Lima, Perú, pp 85–93

Jansky S (2000) Breeding for disease resistance in potato. Plant Breed Rev 19:69–155

Kasai K, Morikawa Y, Sorri VA, Valkonen JPT, Gebhardt C, Watanabe KN (2000) Development of SCAR markers to the PVY resistance gene Ryadg based on a common feature of plant disease resistance genes. Genome 43:1–8

Kelley KB, Whitworth JL, Novy RG (2009) Mapping of the potato leafroll virus resistance gene, Rlretb, from Solanum etuberosum identifies interchromosomal translocations among its E-genome chromosomes 4 and 9 relative to the A-genome of Solanum L. sect. Petota. Mol Breed 23:489–500

Kelly JD (1995) Use of random amplified polymorphic DNA markers in breeding for major gene resistance to plant pathogen. HortSci 30:461–465

Larkin M, Blackshields G, Brown N, Chenna R, McGettigan P, McWilliam H et al (2007) Clustal W and Clustal X version 2.0. Bioinformatics 23(21):2947–2948

Leister D, Ballvora A, Salamini F, Gebhardt C (1996) A PCR-based approach for isolating pathogen resistance genes from potato with potential for wide application in plants. Nat Genet 14:421429

Leonards-Schippers C, Gieffers W, Schafer-Pregl R, Ritter E, Knapp SJ, Salamini F, Gebhardt C (1994) Quantitative resistance to Phytophthora infestans in potato: a case study for QTL mapping in an allogamous plant species. Genetics 137(1):67–77, PMID:7914505

Marczewski W, Flis B, Syller J, Schäfer-Pregl R, Gebhardt C (2001) A major quantitative trait locus for resistance to potato leafroll virus is located in a resistance hotspot of potato chromosome XI and is tightly linked to N-gene-like markers. Mol Plant-Microbe Interact 14(12):1420–1425

Marczewski W, Flis B, Syller J, Strzelczyk-Zyta D, Hennig J, Gebhardt C (2004) Two allelic or tightly linked genetic factors at the PLRV.4 locus on potato chromosome XI control resistance to potato leafroll virus accumulation. Theor Appl Genet 109:1604–1609

Meyers BC, Dickerman AW, Michelmore RW, Sivaramakrishnan S, Sobral B, Young ND (1999) Plant disease resistance genes encode members of an ancient and diverse protein family within the nucleotide-binding superfamily. Plant J 20:317–332

Michelmore RW, Paran I, Kesseli RV (1991) Identification of markers linked to disease-resistance genes by bulked segregant analysis: a rapid method to detect markers in specific genomic regions by using segregating populations. Proc Nat Acad Sci USA 88:9828–9832

Mihovilovich E, Alarcón L, Pérez AL, Alvarado J, Arellano C, Bonierbale M (2007) High levels of heritable resistance to potato leafroll virus (PLRV) in Solanum tuberosum subsp. andigena. Crop Sci 47:1091–1103

Muñoz FJ, Plaisted RL, Thurston HD (1975) Resistance to potato virus Y in Solanum tuberosum ssp. andigena. Am Pot J 52:107–115

Novy RG, Gillen AM, Whitworth JL (2007) Characterization of the expression and inheritance of potato leafroll virus (PLRV) and potato virus Y (PVY) resistance in three generations of germplasm derivedfrom Solanum etuberosum. Theor Appl Genet 114:1161–1172

Oberhagemann P, Chatot-Balandras C, Schafer-Pregl R, Wegener D, Palomino C, Salamini F, Bonnel E, Gebhardt C (1999) A genetic analysis of quantitative resistance to late blight in potato: towards marker-assisted selection. Mol Breed 5:399–415

Ortiz R (2001) The state of the use of potato genetic diversity. In: Cooper HD, Spillane C, Hodgkin T (eds) Broadening the genetic base of crop production. CABI Publishing, Wallingford, pp 181–200

Rozen S, Skaletsky HJ (2000) Primer3 on the WWW for general users and for biologist programmers. In: Krawetz S, Misener S (eds) Bioinformatics Methods and Protocols: Methods in Molecular Biology. Humana Press, Totowa, NJ, pp 365–386

Solomon-Blackburn RM, Barker H (1993) Resistance to potato, leafroll luteovirus can be greatly improved by combining two independent types of heritable resistance. Ann Appl Biol 122:329–336

Solomon-Blackburn RM, Barker H (2001) Breeding virus-resistant potatoes (Solanum tuberosum): a review of traditional and molecular approaches. Heredity 86:17–35

Solomon-Blackburn RM, Mackay GR, Brown J (1994) An evaluation of seedling progeny tests for resistance to potato leafroll virus in potato. J Agric Sci 122:231–239

Sorri VA, Watanabe KN, Valkonen JPT (1999) Predicted kinase-3a motif of a resistance gene analogue as a unique marker for virus resistance. Theor Appl Genet 99:164–170

Syller J (1996) Potato leafroll virus (PLRV): its transmission and control. Integr Pest Manag Rev 1:217–227

Taliansky M, Mayo MA, Barker H (2003) Potato leafroll virus: a classic pathogen shows some new tricks. Mol Plant Pathol 4(2):81–89

Tarn TR, Tai GCC (1983) Tuberosum x Tuberosum and Tuberosum x Andigena potato hybrids: comparison of families and parents, and breeding strategies for andigena potatoes in long day temperate environments. Theor Appl Genet 57:39–46

Timmerman-Vaughan GM, Frew TJ, Weerden NF (2000) Characterization and linkage mapping of R-gene analogous DNA sequences in pea (Pisum sativum L). Theor Appl Genet 101:241–247

Trognitz BR, Bonierbale M, Landeo JA, Forbes G, Bradshaw JE, Mackay GR, Waugh R, Huarte MA Colon L (2001) Improving potato resistance to disease under the Global Initiative on Late Blight. In: Cooper HD, Spillane C, Hodgkin T (eds). Broadening the genetic base of crop production. CABI/FAO/IPGRI, 385–398

Upadhya MD, Cabello R (1999) Interaction of maternal clones of potato (Solanum tuberosum) with pollinator clones of S. phureja for induced parthenogenesis. In: Impact on a changing world. Program Report 1997–98. International Potato Center, Lima, Perú, pp 179–184

Velásquez AC, Mihovilovich E, Bonierbale M (2007) Genetic characterization and mapping of major gene resistance to potato leafroll virus in Solanum tuberosum ssp. andigena. Theor Appl Genet 114(6):1051–1058

Watanabe KN, Orrillo M (1993) An alternative pretreatment method for mitotic chromosome observation in potatoes. Am Potato J 70:543–548
Acknowledgments
The authors thank Mr. Juan Huaccachi for his excellent technical assistance.
About this article
Cite this article
Mihovilovich, E., Aponte, M., Lindqvist-Kreuze, H. et al. An RGA-Derived SCAR Marker Linked to PLRV Resistance from Solanum tuberosum ssp. andigena . Plant Mol Biol Rep 32, 117–128 (2014). https://doi.org/10.1007/s11105-013-0629-5
Keywords
Solanum tuberosum ssp. andigena

PLRV resistance

Marker-assisted selection

SCAR

CAPS

Resistance gene analog