Abstract
An efficient protocol for in-gel digestion of Coomassie-stained protein spots has been established for mass analysis by matrix-assisted laser desorption/ionization-mass spectrometry (MS) and for tandem mass spectrometry (MS/MS). Identification of Vigna mungo leaf proteome from two-dimensional gel electrophoresis was done employing the protocol. About 300 proteins spots were consistently detected in three replicate gels. Optimization of the destaining process, digestion using 25 ng/μl trypsin in 20 μl trypsin buffer, and omission of peptide extraction step significantly increased the number of matched peptides and sequence coverage. Reliable characterization of 109 proteins by MS as well as tandem sequencing by MS/MS (PRIDE Accession no. 15318) suggests the potential application of the modified protocol for high throughput proteome analysis to unravel disputes in characterization of plant proteins in fundamental or applied research.
Access options
Buy single article
Instant access to the full article PDF.
USD 39.95
Price excludes VAT (USA)
Tax calculation will be finalised during checkout.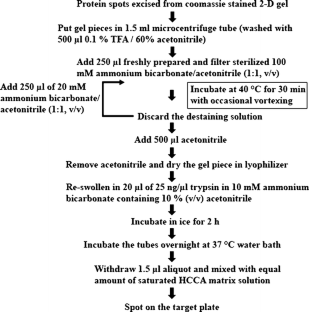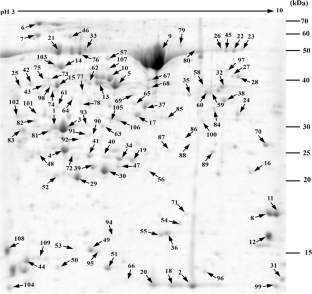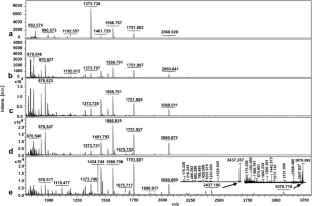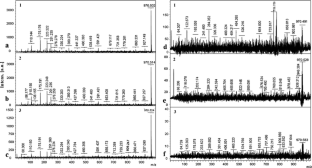 References
Aghaei K, Ali AE, Setsuko K (2008) Proteome analysis of potato under salt stress. J Proteome Res 7:4858–4868

Basak J, Kundagrami S, Ghosh TK, Pal A (2005) Development of yellow mosaic virus (YMV) resistance linked DNA marker in Vigna mungo from populations segregating for YMV-reaction. Mol Breed 14:375–383

Basha SM, Roberts RM (1981) The glycoproteins of plant seeds: analysis by two-dimensional polyacrylamide gel electrophoresis and by their lectin-binding properties. Plant Physiol 67:936–939

Basha SM, Katam R, Vasanthaiah H, Matta F (2009) Proteome analysis of muscadine grape leaves. Int J Wine Res 1:1–13

Bradford MM (1976) A rapid and sensitive method for quantification of proteins utilizing the principle of protein dye binding. Anal Biochem 72:248–254

Ding C, You J, Liu Z, Rehmani IA, Wang S, Li G, Wang O, Ding Y (2011) Proteomic analysis of low nitrogen stress-responsive proteins in roots of rice. Plant Mol Biol Rep 29:618–625

Emanuelsson O, Brunak S, Heijne G, Nielsen H (2007) Locating proteins in the cell using TargetP, SignalP and related tools. Nat Protoc 2:953–971

Granvogl B, Ploscher M, Eichacker LA (2007) Sample preparation by in-gel digestion for mass spectrometry-based proteomics. Anal Bioanal Chem 389:991–1002

Hashiguchi A, Sakata K, Komatsu S (2009) Proteome analysis of early-stage soybean seedlings under flooding stress. J Proteome Res 8:2058–2069

Havlis J, Thomas H, Sebela M, Shevchenko A (2003) Fast-response proteomics by accelerated in-gel digestion of proteins. Anal Chem 75:1300–1306

Isaacson T, Damasceno CMB, Saravanan RS, He Y, Catala C, Saladie M, Rose JKC (2006) Sample extraction techniques for enhanced proteomic analysis of plant tissues. Nat Protoc 1:769–774

Kong F, Mao S, Jiang J, Wang J, Fang X, Wang Y (2011) Proteomic changes in newly synthesized Brassica napus allotetraploids and their early generations. Plant Mol Biol Rep 29:927–935

Kumarathasan P, Mohottalage S, Goegan P, Vincent R (2005) An optimized protein in-gel digest method for reliable proteome characterization by MALDI-TOF-MS analysis. Anal Biochem 346:85–89

Kundagrami S, Basak J, Maiti S, Kundu A, Das B, Ghosh TK, Pal A (2009) Agronomic, genetic and molecular characterization of MYMIV tolerant mutant lines of Vigna mungo. Int J Plant Breed Genet 3:1–10

Kundu S, Chakraborty D, Pal A (2011) Proteomic analysis of salicylic acid induced resistance to Mungbean Yellow Mosaic India Virus in Vigna mungo. J Proteomics 74:337–349

Lin H, Tseng L (2010) DBCP: a web server for disulfide bonding connectivity pattern prediction without the prior knowledge of the bonding state of cysteines. Nucleic Acids Res 38(suppl 2):W503–W507

Shen S, Yuxiang J, Kuang T (2003) Proteomics approach to identify wound-response related proteins from rice leaf sheath. Proteomics 3:527–535

Shevchenko A, Tomas H, Havlis J, Olsen JV, Mann M (2007) In-gel digestion for mass spectrometric characterization of proteins and proteomes. Nat Protoc 1:2856–2860

Speicher KD, Kolbas O, Harper S, Speicher DW (2000) Systematic analysis of peptide recoveries from in-gel digestions for protein identifications in proteome studies. J Biomol Tech 11:74–86

Yin H, Yan F, Ji J, Li Y, Wang R, Xu C (2012) Proteomic analysis of Arabidopsis thaliana leaves infested by tobacco whitefly Bemisia tabaci (Gennadius) B biotype. Plant Mol Biol Rep 30:379–390

Zhou G, Yang LT, Li YR, Zou CL, Huang LP, Qiu LH, Huang X, Srivastava MK (2012) Proteomic analysis of osmotic stress-responsive proteins in sugarcane leaves. Plant Mol Biol Rep 30:349–359
Acknowledgments
The authors thank the Department of Biotechnology, India, for the financial assistance (BT/01/COE/06/03) and research fellowships to D.C. and S.K., and the Director, Bose Institute, for providing lab facilities. The proteomic facilities provided by DST through IRHPA project (IR/SO/LF02/2002) and SERC project (SR/SO/PS-58/05) are also thankfully acknowledged.
Additional information
Subrata Kundu and Dipjyoti Chakraborty contributed equally to this paper.
Electronic Supplementary Materials
Below is the link to the electronic supplementary material.
About this article
Cite this article
Kundu, S., Chakraborty, D., Das, K. et al. An Efficient In-gel Digestion Protocol for Mass Spectral Analysis by MALDI-TOF-MS and MS/MS and Its Use for Proteomic Analysis of Vigna mungo Leaves. Plant Mol Biol Rep 31, 47–54 (2013). https://doi.org/10.1007/s11105-012-0475-x
Published:

Issue Date:

DOI: https://doi.org/10.1007/s11105-012-0475-x
Keywords