Abstract
The transcriptional activator protein gene, the AC4 gene and the common region sequences of Mungbean yellow mosaic virus were cloned in hairpin RNA (hpRNA) cassettes in Agrobacterium binary vectors. Of the 33 transgenic tobacco plants generated by transformation with five different binary plasmids with three hpRNA constructs, only 12 transgenic plants had the intact T-DNAs which comprised the selectable marker gene (SMG) and the complete hpRNA gene. Fourteen plants harboured the SMG part of the T-DNA but lacked the hpRNA part. Seven plants had the SMG but had only truncated hpRNA genes. Ten of the 12 plants with the complete hpRNA genes also had many additional truncated T-DNA copies. Southern blot analysis of the AC4 hpRNA-transformed plants with the bar and AC4 probes, which flanked left and right T-DNA borders, respectively, revealed that the bar gene portion was intact in seven out of eight plants, whereas the AC4 hpRNA portion was truncated in seven out of eight plants. Our findings revealed that the T-DNAs with hpRNA genes were highly prone for deletions in transgenic plants.
Access options
Buy single article
Instant access to the full article PDF.
USD 39.95
Price includes VAT (USA)
Tax calculation will be finalised during checkout.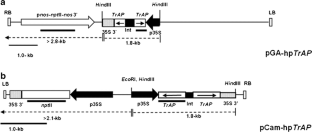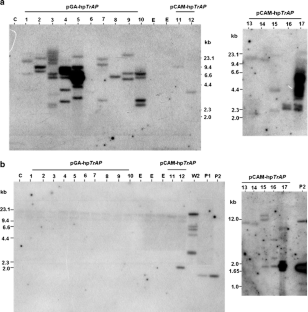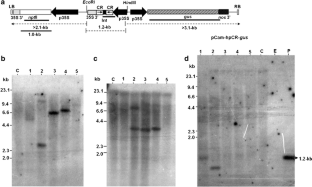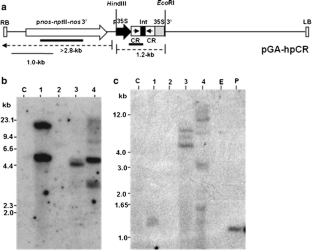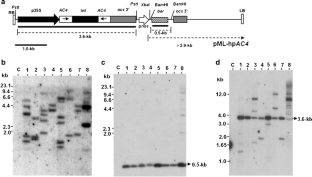 References
An G, Watson BD, Stachel S, Gordon MP, Nester EW (1985) New cloning vehicles for transformation of higher plants. EMBO J 4:277–284

Barton KA, Whiteley HR, Yang NS (1987) Bacillus thuringiensis δ-endotoxin expressed in transgenic Nicotiana tabacum provides resistance to Lepidopteran insects. Plant Physiol 85:1103–1109. doi:10.1104/pp.85.4.1103

Bhullar S, Datta S, Burma PK (2011) Delayed trans-inactivation of synthetic domain A 35S promoters by "Tobacco 271 Locus" due to reduced sequence homology. Plant Mol Biol Rep 29:1–11. doi:10.1007/s11105-010-0202-4

Brunaud V, Balzergue S, Dubreucq B, Aubourg S, Samson F, Chauvin S, Bechtold N, Cruaud C, DeRose R, Pelletier G, Lepiniec L, Caboche M, Lecharny A (2002) T-DNA integration into the Arabidopsis genome depends on sequences of pre-insertion sites. EMBO Rep 3:1152–1157. doi:10.1093/embo-reports/kvf237

Cardoso SC, Mendes BJM, Boscariol-Camargo RL, Christiano RSC, Bergamin Filho A, Vieira MLC, Mendes BMJ, Mourão Filho FAA (2010) Transgenic sweet orange (Citrus sinensis L. Osbeck) expressing the attacin A gene for resistance to Xanthomonas citri subsp. citri. Plant Mol Biol Rep 28:185–192. doi:10.1007/s11105-009-0141-0

Cazzonelli CI, Velten J (2004) Analysis of RNA-mediated gene silencing using a new vector (pKNOCKOUT) and an in planta Agrobacterium transient expression system. Plant Mol Biol Rep 22:347–359. doi:10.1007/BF02772678

Deblaere R, Bytebier B, De Greve H, Deboeck F, Schell J, Van Montagu M, Leemans J (1985) Efficient octopine Ti plasmid-derived vectors for Agrobacterium-mediated gene transfer to plants. Nucleic Acid Res 13:4777–4788. doi:10.1093/nar/13.13.4777

Fladung M (1999) Gene stability in transgenic aspen (Populus) I. Flanking DNA sequences and T-DNA structure. Mol Gen Genet 260:574–581. doi:10.1007/s004380050931

Gelvin SB (2003) Agrobacterium-mediated plant transformation: the biology behind the "gene-jockeying" tool. Microbiol Mol Biol Rev 67:16–37. doi:10.1128/MMBR.67.1.16-37.2003

Gheysen G, Villarroel R, Van Montagu M (1991) Illegitimate recombination in plants: a model for T-DNA integration. Genes Dev 5:287–297. doi:10.1101/gad.5.2.287

Gleave AP (1992) A versatile binary vector system with a T-DNA organisational structure conducive to efficient integration of cloned DNA into the plant genome. Plant Mol Biol 20:1203–1207. doi:10.1007/BF00028910

Goodall GJ, Filipowicz W (1989) The AU-rich sequences present in the introns of plant nuclear pre-mRNAs are required for splicing. Cell 58:473–483. doi:10.1016/0092-8674(89)90428-5

Hanisch ten Cate CH, Loonen AEHM, Ottaviani MP, Ennik L, van Eldik G, Stiekema WJ (1990) Frequent spontaneous deletions of Ri T-DNA in Agrobacterium rhizogenes transformed potato roots and regenerated plants. Plant Mol Biol 14:735–741. doi:10.1007/BF00016506

Herman L, Jacobs A, Van Montagu M, Depicker A (1990) Plant chromosome/marker gene fusion assay for study of normal and truncated T-DNA integration events. Mol Gen Genet 224:248–256. doi:10.1007/BF00271558

Hood EE, Gelvin SB, Melchers LS, Hoekema A (1993) New Agrobacterium helper plasmids for gene transfer to plants. Transgenic Res 2:208–218. doi:10.1007/BF01977351

Kato H, Xie G, Sato Y, Imai R (2010) Isolation of anther-specific gene promoters suitable for transgene expression in rice. Plant Mol Biol Rep 28:381–387. doi:10.1007/s11105-009-0162-8

Komari T, Hiei Y, Saito Y, Murai N, Kumashiro T (1996) Vectors carrying two separate T-DNAs for co-transformation of higher plants mediated by Agrobacterium tumefaciens and segregation of transformants free from selection markers. Plant J 10:165–174. doi:10.1046/j.1365-313X.1996.10010165.x

Kumpatla SP, Chandrasekharan MB, Iyer LM, Li G, Hall TC (1998) Genome intruder scanning and modulation systems and transgene silencing. Trends Plant Sci 3:97–104. doi:10.1016/S1360-1385(97)01194-1

Lee MK, Kim HS, Kim SH, Park YD (2004) T-DNA integration patterns in transgenic tobacco plants. J Plant Biol 47:179–186. doi:10.1007/BF03030506

Mayerhofer R, Koncz-Kalman Z, Nawrath C, Bakkeren G, Crameri A, Angelis K, Redei GP, Schell J, Hohn B, Koncz C (1991) T-DNA integration: a mode of illegitimate recombination in plants. EMBO J 10:697–704

Pelczar P, Kalck V, Gomez D, Hohn B (2004) Agrobacterium proteins VirD2 and VirE2 mediate precise integration of synthetic T-DNA complexes in mammalian cells. EMBO Rep 5:632–637. doi:10.1038/sj.embor.7400165

Pooggin MM, Shivaprasad PV, Veluthambi K, Hohn T (2003) RNAi targeting of DNA virus in plants. Nat Biotechnol 21:131–132. doi:10.1038/nbt0203-131b

Qiao F, Zhao KJ (2011) The influence of RNAi targeting of OsGA20ox2 gene on plant height in rice. Plant Mol Biol Rep. doi:10.1007/s11105-011-0309-2

Rajeswaran R, Sunitha S, Shivaprasad PV, Pooggin MM, Hohn T, Veluthambi K (2007) The Mungbean yellow mosaic begomovirus transcriptional activator protein transactivates the viral promoter-driven transgene and causes toxicity in transgenic tobacco. Mol Plant Microbe Interact 20:1545–1554. doi:10.1094/MPMI-20-12-1545

Ramanathan V, Veluthambi K (1996) Analysis of octopine left border-directed transfer from Agrobacterium to plants. J Biosci 21:45–56

Risseeuw E, Franke-van Dijk MEI, Hooykaas PJJ (1997) Gene targeting and instability of Agrobacterium T-DNA loci in the plant genome. Plant J 11:717–728. doi:10.1046/j.1365-313X.1997.11040717.x

Romano E, Soares A, Proite K, Neiva S, Grossi M, Faria JC, Rech EL, Aragao FJL (2005) Transgene elimination in genetically modified dry bean and soybean lines. Genet Mol Res 4:177–184

Sarma KS, Sunilkumar G, Balamani V, Veluthambi K (1995) GUS activity and generation of transformed shoot buds are highly correlated in Agrobacterium-transformed tobacco. Plant Mol Biol Rep 13:377–382. doi:10.1007/BF02669194

Shah JM, Veluthambi K (2010) DIANTHIN, a negative selection marker in tobacco, is non-toxic in transgenic rice and confers sheath blight resistance. Biol Plant 54:443–450. doi:10.1007/s10535-010-0080-5

Spielmann A, Simpson RB (1986) T-DNA structure in transgenic tobacco plants with multiple independent integration sites. Mol Gen Genet 205:34–41. doi:10.1007/BF02428030

Sridevi G, Parameswari C, Sabapathi N, Raghupathy V, Veluthambi K (2008) Combined expression of chitinase and β-1, 3-glucanase genes in indica rice (Oryza sativa L.) enhances resistance against Rhizoctonia solani. Plant Sci 175:283–290. doi:10.1016/j.plantsci.2008.04.011

Srivastava V, Vasil V, Vasil IK (1996) Molecular characterization of the fate of transgenes in transformed wheat (Triticum aestivum L.). Theor Appl Genet 92:1031–1037. doi:10.1007/BF00224045

Terada R, Asao H, Iida S (2004) A large-scale Agrobacterium-mediated transformation procedure with a strong positive-negative selection for gene targeting in rice (Oryza sativa L.). Plant Cell Rep 22:653–659. doi:10.1007/s00299-003-0752-0

Tinland B, Schoumacher F, Gloeckler V, Bravo-Angel AM, Hohn B (1995) The Agrobacterium tumefaciens virulence D2 protein is responsible for precise integration of T-DNA into the plant genome. EMBO J 14:3585–3595

Topfer R, Matzeit V, Gronenborn B, Schell J, Steinbiss HH (1987) A set of plant expression vectors for transcriptional and translational fusions. Nucleic Acid Res 15:5890. doi:10.1093/nar/15.14.5890

Viswanathan A, Kuriakose B, Bharadwaj S, Thomas G (2011) Expression of aprotinin in anther causes male sterility in tobacco var Petit havana. Plant Mol Biol Rep. doi:10.1007/s11105-011-0288-3

Wang X, Dong J, Liu Y, Gao H (2010) A novel dehydration-responsive element-binding protein from Caragana korshinskii is involved in the response to multiple abiotic stresses and enhances stress tolerance in transgenic tobacco. Plant Mol Biol Rep 28:664–675. doi:10.1007/s11105-010-0196-y

Wesley SV, Helliwell CA, Smith NA, Wang MB, Rouse DT, Liu Q, Gooding PS, Singh SP, Abbott D, Stoutjesdijk PA, Robinson SP, Gleave AP, Green AG, Waterhouse PM (2001) Construct design for efficient, effective and high-throughput gene silencing in plants. Plant J 27:581–590. doi:10.1046/j.1365-313X.2001.01105.x

Yang Y, Singer SD, Liu Z (2011) Petunia AGAMOUS enhancer-derived chimeric promoters specify a carpel-, stamen-, and petal-specific expression pattern sufficient for engineering male and female sterility in tobacco. Plant Mol Biol Rep 29:162–170. doi:10.1007/s11105-010-0215-z

Yao MC, Fuller P, Xi X (2003) Programmed DNA deletion as an RNA-guided system of genome defense. Science 6:1581–1584. doi:10.1126/science.1084737

Yin Z, Wang GL (2000) Evidence of multiple complex patterns of T-DNA integration into the rice genome. Theor Appl Genet 100:461–470. doi:10.1007/s001220050060

Zhang LY, Zhang YY, Chen RG, Zhang JH, Wang TT, Li HX, Ye ZB (2010) Ectopic expression of the tomato Mi-1 gene confers resistance to root knot nematodes in lettuce (Lactuca sativa). Plant Mol Biol Rep 28:204–211. doi:10.1007/s11105-009-0143-y

Zhang Y, Li H, Shu W, Zhang C, Zhang W, Ye Z (2011) Suppressed expression of ascorbate oxidase gene promotes ascorbic acid accumulation in tomato fruit. Plant Mol Biol Rep. doi:10.1007/s11105-010-0271-4

Zupan J, Muth TR, Draper O, Zambryski P (2000) The transfer of DNA from Agrobacterium tumefaciens into plants: a feast of fundamental insights. Plant J 23:11–28. doi:10.1046/j.1365-313x.2000.00808.x
Acknowledgements
The authors thank Dr. Thomas Hohn (University of Basel, Switzerland) for the hpCR and hpTrAP cassettes. Ms. Bridget Jeyatha is acknowledged for the construction of pGA-hpCR. We acknowledge the research support from the Department of Biotechnology, Government of India and University Grants Commission, Government of India. S. Sunitha and P. V. Shivaprasad acknowledge the Council for Scientific and Industrial Research, Government of India for their research fellowships.
About this article
Cite this article
Sunitha, S., Shivaprasad, P.V., Sujata, K. et al. High Frequency of T-DNA Deletions in Transgenic Plants Transformed with Intron-Containing Hairpin RNA Genes. Plant Mol Biol Rep 30, 158–167 (2012). https://doi.org/10.1007/s11105-011-0327-0
Keywords
hpRNA genes

MYMV-AC4

MYMV-CR

MYMV-TrAP

T-DNA truncation