Abstract
Current methods for molecular fingerprinting of cassava (Manihot esculenta Crantz) have limited throughput or are costly, thus preventing the characterization of large germplasm collections such as those held by the International Agricultural Research Centers or National Research Institutions, which comprise hundreds to thousands of accessions. Here, we report the development of a fluorescence-based multiplex simple sequence repeat (SSR) marker kit that enables accurate and cost-effective cassava fingerprinting. The kit comprises 16 SSR markers assembled into five multiplex panels and was tested on 21 cassava cultivars alongside one accession of Manihot epruinosa, a wild relative. A total of 68 alleles were detected with, on average, 4.25 alleles per locus and a polymorphism information content of 0.53. The marker kit reported here is comparable to previously published amplified fragment length polymorphism and SSR marker systems in terms of discriminating power and informativeness while offering significant advantages in speed and cost of marker analysis. Previous molecular genetic diversity studies have suggested that cassava germplasm collections contain duplicate entries based on the occurrence of identical genetic profiles. Using the newly developed microsatellite kit, three out of six putative duplicate accessions could be readily differentiated, showing that these are distinct genotypes. The relevance of these findings with respect to the characterization and management of large cassava germplasm collections is discussed.
Access options
Buy single article
Instant access to the full article PDF.
US$ 39.95
Tax calculation will be finalised during checkout.
Subscribe to journal
Immediate online access to all issues from 2019. Subscription will auto renew annually.
US$ 79
Tax calculation will be finalised during checkout.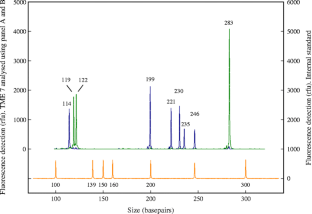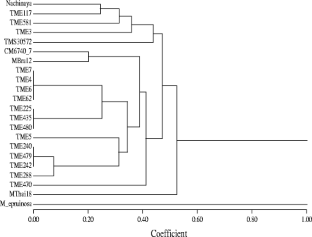 References
Agarwal M, Shrivastava N, Padh H (2008) Advances in molecular marker techniques and their applications in plant sciences. Plant Cell Rep 27:617–631. doi:10.1007/s00299-008-0507-z

Beeching JR, Marmey P, Gavalda MC, Noirot M, Haysom HR, Hughes MA, Charrier A (1993) An assessment of genetic diversity within a collection of cassava (Manihot esculenta Crantz) germplasm using molecular markers. Ann Bot 72:515–520

Botstein D, White RL, Skolnick M, Davis RW (1980) Construction of a genetic-linkage map in man using restriction fragment length polymorphisms. Am J Hum Genet 32:314–331

Campoy JA, Martinez-Gomez P, Ruiz D, Rees J, Celton JM (2010) Developing microsatellite multiplex and megaplex PCR systems for high-throughput characterization of breeding progenies and linkage maps spanning the apricot (Prunus armeniaca L.) genome. Plant Mol Biol Rept 28:560–568. doi:10.1007/s11105-010-0186-0

Chavarriaga-Aguirre P, Maya MM, Tohme J, Duque MC, Iglesias C, Bonierbale MW, Kresovich S, Kochert G (1999) Using microsatellites, isozymes and AFLPs to evaluate genetic diversity and redundancy in the cassava core collection and to assess the usefulness of DNA-based markers to maintain germplasm collections. Mol Breed 5:263–273. doi:10.1023/A:1009627231450

Dellaporta SL, Wood J, Hicks JB (1983) A plant DNA minipreparation: version II. Plant Mol Biol Rept 1:19–21. doi:10.1007/BF02712670

Dixon AGO, Bandyopadhyay R, Coyne D, Ferguson M, Shaun R, Ferris B, Hanna R, Hughes J, Ingelbrecht I, Legg J, Mahungu N, Manyong VMD, Neuenschwander P, Whyte J, Hartmann P, Ortiz R (2003) Cassava: from poor farmers' crop to pacesetter of African rural development. Chron Hortic 43:8–15

Fregene M, Bernal A, Duque M, Dixon A, Tohme J (2000) AFLP analysis of African cassava (Manihot esculenta Crantz) germplasm resistant to the cassava mosaic disease (CMD). Theor Appl Genet 100:678–685. doi:10.1007/s001220051339

Hall A, Ballantyne J (2003) The development of an 18-locus Y-STR system for forensic casework. Anal Bioanal Chem 376:1234–1246. doi:10.1007/s00216-003-2039-2

Henegariu O, Heerema NA, Dlouhy SR, Vance GH, Vogt PH (1997) Multiplex PCR: critical parameters and step-by-step protocol. Biotech 23:504–511

Hurtado P, Ospina C, Marin J, Buitrago C, Castelblanco W, Correa A et al (2008) Assessment of the diversity in global cassava genetic resources based on simple sequence repeat (SSR) markers. In: Fauquet CM (ed) Cassava: meeting the challenges of the new millennium. Proceedings of the first scientific meeting of the global cassava partnership, Ghent, Belgium. Institute of Plant Biotechnology for Developing Countries, Ghent University, Ghent, 1p

Kawuki RS, Ferguson M, Labuschagne M, Herselman L, Kim DJ (2009) Identification, characterisation and application of single nucleotide polymorphisms for diversity assessment in cassava (Manihot esculenta Crantz). Mol Breed 23:669–684. doi:10.1007/s11032-009-9264-0

Koo B, Pardey PG, Wright BD (2003) The economic costs of conserving genetic resources at the CGIAR centres. Agric Econ 29:287–297. doi:10.1016/S0169-5150(03)00056-2

Lerceteau-Kohler E, Weiss S (2006) Development of a multiplex PCR microsatellite assay in brown trout Salmo trutta, and its potential application for the genus. Aquac 258:641–645. doi:10.1016/j.aquaculture.2006.04.028

Lokko Y, Dixon A, Offei S, Danquah E, Fregene M (2006) Assessment of genetic diversity among African cassava Manihot esculenta Crantz accessions resistant to the cassava mosaic virus disease using SSR markers. Genet Resour Crop Evol 53:1441–1453. doi:10.1007/s10722-005-6841-x

Lokko Y, Anderson JV, Rudd S, Raji A, Horvath D, Mikel MA, Kim R, Liu L, Hernandez A, Dixon AGO, Ingelbrecht IL (2007) Characterization of an 18, 166 EST dataset for cassava (Manihot esculenta Crantz) enriched for drought-responsive genes. Plant Cell Rep 26:1605–1618. doi:10.1007/s00299-007-0378-8

Lopez C, Jorge V, Piegu B, Mba C, Cortes D, Restrepo S, Soto M, Laudie M, Berger C, Cooke R, Delseny M, Tohme J, Verdier V (2004) A unigene catalogue of 5700 expressed genes in cassava. Plant Mol Biol 56:541–554. doi:10.1007/s11103-004-0123-4

Merdinoglu D, Butterlin G, Bevilacqua L, Chiquet V, Dam-Blondon AF, Decroocq S (2005) Development and characterization of a large set of microsatellite markers in grapevine (Vitis vinifera L.) suitable for multiplex PCR. Mol Breed 15:349–366. doi:10.1007/s11032-004-7651-0

Moon CD, Tapper BA, Scott B (1999) Identification of Epichloë endophytes in planta by a microsatellite-based PCR fingerprinting assay with automated analysis. Appl Environ Microbiol 65:1268–1279

Motilal LA, Zhang D, Umaharan P, Mischke S, Boccara M, Pinney S (2009) Increasing accuracy and throughput in large-scale microsatellite fingerprinting of cacao field germplasm collections. Trop Plant Biol 2:23–37. doi:10.1007/s12042-008-9016-z

Moyib OK, Odunola OA, Dixon AGO (2007) SSR markers reveal genetic variation between improved cassava cultivars and landraces within a collection of Nigerian cassava germplasm. Afr J Biotechnol 6:2666–2674

Nei M (1972) Genetic distance between populations. Am Nat 106:283–292. doi:10.1086/282771

Nweke FI, Spencer DSC, Lynam JK (2002) The cassava transformation. Africa's best kept secret. Michigan State University, East Lansing

Olsen KM (2004) SNPs, SSRs and inferences on cassava's origin. Plant Mol Biol 56:517–526. doi:10.1007/s11103-004-5043-9

Peakall R, Smouse PE (2006) GENALEX 6: genetic analysis in Excel. Population genetic software for teaching and research. Mol Ecol Notes 6:288–295. doi:10.1111/j.1471-8286.2005.01155.x

Raji AAJ, Anderson JV, Kolade OA, Ugwu CD, Dixon AGO, Ingelbrecht IL (2009a) Gene-based microsatellites for cassava (Manihot esculenta Crantz): prevalence, polymorphisms, and cross-taxa utility. BMC Plant Biol 9:118. doi:10.1186/1471-2229-9-118

Raji AAJ, Fawole I, Gedil M, Dixon AGO (2009b) Genetic differentiation analysis of African cassava (Manihot esculenta) landraces and elite germplasm using amplified fragment length polymorphism and simple sequence repeat markers. Ann Appl Biol 155:187–199. doi:10.1111/j.1744-7348.2009.00329.x

Xia L, Peng KM, Yang SY, Wenzl P, de Vicente MC, Fregene M, Kilian A (2005) DArT for high-throughput genotyping of cassava (Manihot esculenta) and its wild relatives. Theor Appl Genet 110:1092–1098. doi:10.1007/s00122-005-1937-4

Zacarias AM, Botha AM, Labuschagne MT, Benesi IRM (2004) Characterization and genetic distance analysis of cassava (Manihot esculenta Crantz) germplasm from Mozambique using RAPD fingerprinting. Euphytica 138:49–53. doi:10.1023/B:EUPH.0000047057.05642.74
Acknowledgements
The authors are grateful to Mr. B Odeseye and Ms. T Adenigba for excellent technical assistance and to Mrs. J Plancarte for help with figures and tables. Mr. TC de Bang acknowledges Dansk Agronomforening for a travel grant and Mr. G Backes and Mr. J Orabi for assistance with the GeneMapper software in Copenhagen, Denmark.
About this article
Cite this article
de Bang, T.C., Raji, A.A. & Ingelbrecht, I.L. A Multiplex Microsatellite Marker Kit for Diversity Assessment of Large Cassava (Manihot esculenta Crantz) Germplasm Collections. Plant Mol Biol Rep 29, 655–662 (2011). https://doi.org/10.1007/s11105-010-0273-2
Keywords
Cassava

Diversity analysis

Manihot esculenta Crantz

Microsatellite primers

Multiplex PCR