Abstract
Purpose
Parasitic plants are important drivers of plant communities and even ecosystems through parasitic plant-host interactions, but little is known about parasitism effects on host belowground soil resources and microbial communities.
Methods
We investigated the soil nutrients and the root-associated (root zone, rhizosphere, root endosphere and root nodule) bacterial communities of soybean (Glycine max) with different parasitism statuses (noninhibitory and inhibitory interactions) induced by plant dodder (Cuscuta chinensis) in soils from three different origins.
Results
Our results showed that inhibitory parasitism, rather than noninhibitory parasitism, significantly promoted soil multinutrient accumulation in the soybean root zone. Parasitism, especially inhibitory parasitism, increased the bacterial enrichment in the closely root-associated compartments (rhizosphere, root endosphere and root nodule) of soybean, including the rhizobial taxa. Additionally, the closely root-associated bacterial communities of soybean with inhibitory parasitism had higher soil environmental sensitivity than that of other soybeans, especially the nodule community to soil nitrate nitrogen. Network analysis indicated that inhibitory parasitism led to higher complexity and instability of the closely root-associated bacterial communities. Structural equation model showed that the effects of root zone community and key soil factor on the positive associations of the closely root-associated bacterial communities varied with parasitism status.
Conclusions
These results provide important perspectives for understanding the effects of parasitic plant-host interactions on the dynamics of host belowground microbial communities and soil nutrient cycling in agricultural and natural ecosystems.
Access options
Buy single article
Instant access to the full article PDF.
USD 39.95
Price excludes VAT (USA)
Tax calculation will be finalised during checkout.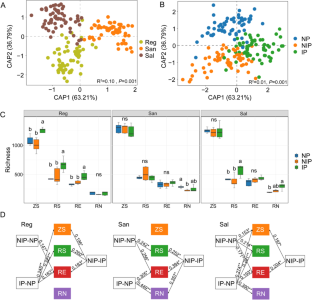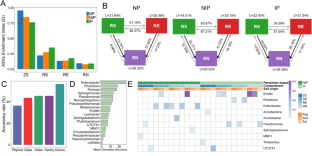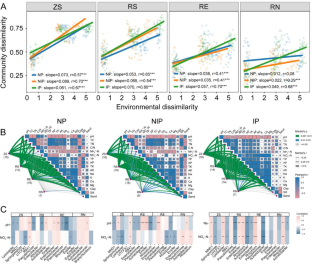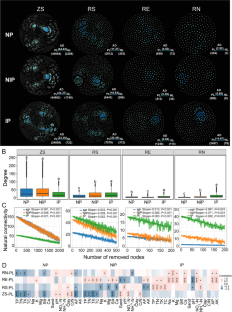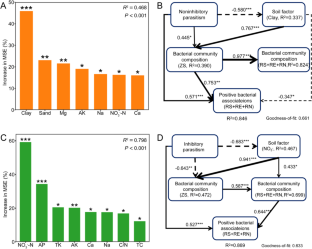 References
Al-Rowaily SL, Al-Nomari GS, Assaeed AM, Facelli JM, Dar BM, El-Bana MI, Abd-ElGawad AM (2020) Infection by Plicosepalus curviflorus mistletoe affects the nutritional elements of Acacia species and soil nutrient recycling in an arid rangeland. Plant Ecol 221:1017–1028

Archer E (2018) RfPermute: Estimate permutation p-Values for random forest importance metrics. Retrieved from https://CRAN.R-project.org/package=rfPermute. Accessed 11 Mar  2022

Bao S (2000) Soil and agricultural chemistry analysis. Chinese Agricultural Publisher, Beijing

Bardgett RD, Smith RS, Shiel RS, Peacock S, Simkin JM, Quirk H, Hobbs PJ (2006) Parasitic plants indirectly regulate below-ground properties in grassland ecosystems. Nature 439:969–972

Bastian M, Heymann S, Jacomy M (2009) Gephi: an open source software for exploring and manipulating networks. ICWSM 8:361–362

Berendsen RL, Pieterse CMJ, Bakker PAHM (2012) The rhizosphere microbiome and plant health. Trends Plant Sci 17:478–486

Bouwmeester HJ, Roux C, Lopez-Raez JA, Bécard G (2007) Rhizosphere communication of plants, parasitic plants and AM fungi. Trends Plant Sci 12:224–230

Brown SP, Grillo MA, Podowski JC, Heath KD (2020) Soil origin and plant genotype structure distinct microbiome compartments in the model legume Medicago truncatula. Microbiome 8:1–17

Callahan BJ, McMurdie PJ, Rosen MJ, Han AW, Johnson AJA, Holmes SP (2016) DADA2: high-resolution sample inference from Illumina amplicon data. Nat Methods 13:581–583

Carrión VJ, Perez-Jaramillo J, Cordovez V, Tracanna V, de Hollander M, Ruiz-Buck D, Mendes LW, van Ijcken WFJ, Gomez-Exposito R, Elsayed SS, Mohanraju P, Arifah A, van der Oost J, Paulson JN, Mendes R, van Wezel GP, Medema MH, Raaijmakers JM (2019) Pathogen-induced activation of disease-suppressive functions in the endophytic root microbiome. Science 366:606–612

Casadesús A, Munné-Bosch S (2021) Holoparasitic plant-host interactions and their impact on Mediterranean ecosystems. Plant Physiol 185:1325–1338

Changey F, Bagard M, Souleymane M, Lerch TZ (2018) Cascading effects of elevated ozone on wheat rhizosphere microbial communities depend on temperature and cultivar sensitivity. Environ Pollut 242:113–125

Christensen NM, Dörr I, Hansen M, van der Kooij TAW, Schulz A (2003) Development of Cuscuta species on a partially incompatible host: induction of xylem transfer cells. Protoplasma 220:131–142

Costello EK, Stagaman K, Dethlefsen L, Bohannan BJM, Relman DA (2012) The application of ecological theory toward an understanding of the human microbiome. Science 336:1255–1262

Coyte KZ, Schluter J, Foster KR (2015) The ecology of the microbiome: networks, competition, and stability. Science 350:663–666

Csardi G, Nepusz T (2006) The igraph software package for complex network research. Int J Complex Syst 1695:1–6

Delgado-Baquerizo M, Reich PB, Trivedi C, Eldridge DJ, Abades S, Alfaro FD, Bastida F, Berhe AA, Cutler NA, Gallardo A, García-Velázquez L, Hart SC, Hayes PE, He J, Hseu Z, Hu H, Kirchmair M, Neuhauser S, Pérez CA et al (2020) Multiple elements of soil biodiversity drive ecosystem functions across biomes. Nat Ecol Evol 4:210–220

Dinelli G, Bonetti A, Tibiletti E (1993) Photosynthetic and accessory pigments in Cuscuta campestris Yuncker and some host species. Weed Res 33:253–260

Edwards J, Johnson C, Santos-Medellín C, Lurie E, Podishetty NK, Bhatnagar S, Eisen JA, Sundaresan V (2015) Structure, variation, and assembly of the root-associated microbiomes of rice. Proc Natl Acad Sci U S A 112:911–920

Egamberdieva D, Berg G, Lindström K, Räsänen LA (2010) Co-inoculation of Pseudomonas spp. with Rhizobium improves growth and symbiotic performance of fodder galega (Galega orientalis lam.). Eur J Soil Biol 46:269–272

Eviner VT, Chapin IFS, Vaughn CE (2006) Seasonal variations in plant species effects on soil N and P dynamics. Ecology 87:974–986

Fan K, Weisenhorn P, Gilbert JA, Shi Y, Bai Y, Chu H (2018) Soil pH correlates with the co-occurrence and assemblage process of diazotrophic communities in rhizosphere and bulk soils of wheat fields. Soil Biol Biochem 121:185–192

Fortmann-Roe S (2015) Consistent and clear reporting of results from diverse modeling techniques: the A3 method. J Stat Softw 66:1–23

Gao F, Che X, Yu F, Li J (2019) Cascading effects of nitrogen, rhizobia and parasitism via a host plant. Flora 251:62–67

Goss-Souza D, Mendes LW, Borges CD, Baretta D, Tsai SM, Rodrigues JLM (2017) Soil microbial community dynamics and assembly under long-term land use change. FEMS Microbiol Ecol 93:109

Gourion B, Berrabah F, Ratet P, Stacey G (2015) Rhizobium-legume symbioses: the crucial role of plant immunity. Trends Plant Sci 20:186–194

Hartman K, Tringe SG (2019) Interactions between plants and soil shaping the root microbiome under abiotic stress. Biochem J 476:2705–2724

Hegenauer V, Körner M, Albert M (2017) Plants under stress by parasitic plants. Curr Opin Plant Biol 38:34–41

Hibberd JM, Dieter Jeschke W (2001) Solute flux into parasitic plants. J Exp Bot 52:2043–2049

Jeschke WD, Hilpert A (1997) Sink-stimulated photosynthesis and sink-dependent increase in nitrate uptake: nitrogen and carbon relations of the parasitic association Cuscuta reflexa-Ricinus communis. Plant Cell Environ 20:47–56

Jones CG, Lawton JH, Shachak M (1994) Organisms as ecosystem engineers. Ecosystem management. Oikos 69:373–386

Knights D, Kuczynski J, Charlson ES, Zaneveld J, Mozer MC, Collman RG, Bushman FD, Knight R, Kelley ST (2011) Bayesian community-wide culture-independent microbial source tracking. Nat Methods 8:761–763

Lin C, Xiuli X, Zhang J, Redmile-Gordon M, Guangsen N, Qingyun W (2019) Soil characteristics overwhelm cultivar effects on the structure and assembly of root-associated microbiomes of modern maize. Pedosphere 29:360–373

Liu F, Hewezi T, Lebeis SL, Pantalone V, Grewal PS, Staton ME (2019) Soil indigenous microbiome and plant genotypes cooperatively modify soybean rhizosphere microbiome assembly. BMC Microbiol 19:201

Louca S, Parfrey LW, Doebeli M (2016) Decoupling function and taxonomy in the global ocean microbiome. Science 353:1272–1277

Ma B, Wang H, Dsouza M, Lou J, He Y, Dai Z, Brookes PC, Xu J, Gilbert JA, Argonne National Lab. ANL AIUS (2016) Geographic patterns of co-occurrence network topological features for soil microbiota at continental scale in eastern China. The ISME J 10:1891–1901

Mirza BS, Mirza MS, Bano A, Malik KA (2007) Coinoculation of chickpea with Rhizobium isolates from roots and nodules and phytohormone-producing Enterobacter strains. Aust J Exp Agr 47:1008–1015

Oksanen J, Kindt R, Legendre P, O'Hara B, Stevens MHH, Oksanen MJ, Suggests M (2007) The vegan package. Community Ecol Packag 10:719

Poirier V, Roumet C, Munson AD (2018) The root of the matter: linking root traits and soil organic matter stabilization processes. Soil Biol Biochem 120:246–259

Press MC, Phoenix GK (2005) Impacts of parasitic plants on natural communities. New Phytol 166:737–751

Quast C, Pruesse E, Yilmaz P, Gerken J, Schweer T, Yarza P, Peplies J, Glöckner FO (2012) The SILVA ribosomal RNA gene database project: improved data processing and web-based tools. Nucleic Acids Res 41:590–596

Quested HM (2008) Parasitic plants-impacts on nutrient cycling. Plant Soil 311:269–272

Quested HM, Press MC, Callaghan TV, Cornelissen HJ (2002) The hemiparasitic angiosperm Bartsia alpina has the potential to accelerate decomposition in sub-arctic communities. Oecologia 130:88–95

Quested HM, Callaghan TV, Cornelissen JHC, Press MC (2005) The impact of hemiparasitic plant litter on decomposition: direct, seasonal and litter mixing effects. J Ecol 93:87–98

Robinson MD, McCarthy DJ, Smyth GK (2010) EdgeR: a Bioconductor package for differential expression analysis of digital gene expression data. Bioinformatics 26:139–140

Rolfe SA, Griffiths J, Ton J (2019) Crying out for help with root exudates: adaptive mechanisms by which stressed plants assemble health-promoting soil microbiomes. Curr Opin Microbiol 49:73–82

Rolli E, Marasco R, Vigani G, Ettoumi B, Mapelli F, Deangelis ML, Gandolfi C, Casati E, Previtali F, Gerbino R, Pierotti Cei F, Borin S, Sorlini C, Zocchi G, Daffonchio D (2015) Improved plant resistance to drought is promoted by the root-associated microbiome as a water stress-dependent trait. Environ Microbiol 17:316–331

Ryser P, Eek L (2000) Consequences of phenotypic plasticity vs. interspecific differences in leaf and root traits for acquisition of aboveground and belowground resources. Am J Bot 87:402–411

Sanchez G (2013) PLS path modeling with R. Berkeley: Trowchez Editions 383:551

Segata N, Izard J, Waldron L, Gevers D, Miropolsky L, Garrett WS, Huttenhower C (2011) Metagenomic biomarker discovery and explanation. Genome Biol 12:1–18

Shade A, Jones SE, Caporaso JG, Handelsman J, Knight R, Fierer N, Gilbert JA (2014) Conditionally rare taxa disproportionately contribute to temporal changes in microbial diversity. Mbio 5:1314–1371

Shen Y, Gilbert GS, Li W, Fang M, Lu H, Yu S (2019) Linking aboveground traits to root traits and local environment: implications of the plant economics spectrum. Front Plant Sci 10:1412

Song S, Lee J, Kang J, Ko J, Seo M, Woo K, Oh B, Nam M (2010) The growth and yield of soybean as affected by competitive density of Cuscuta pentagona. Korean J Weed Sci 30:390–395

Spallek T, Melnyk CW, Wakatake T, Zhang J, Sakamoto Y, Kiba T, Yoshida S, Matsunaga S, Sakakibara H, Shirasu K (2017) Interspecies hormonal control of host root morphology by parasitic plants. Proc Natl Acad Sci U S A 114:5283–5288

Streeter J, Wong PP (1988) Inhibition of legume nodule formation and N2 fixation by nitrate. Crit Rev Plant Sci 7:1–23

Sui X, Zhang T, Tian Y, Xue R, Li A (2019) A neglected alliance in battles against parasitic plants: arbuscular mycorrhizal and rhizobial symbioses alleviate damage to a legume host by root hemiparasitic Pedicularis species. New Phytol 221:470–481

Trivedi P, Leach JE, Tringe SG, Sa T, Singh BK (2020) Plant-microbiome interactions: from community assembly to plant health. Nat Rev Microbiol 18:607–621

Xiao X, Chen W, Zong L, Yang J, Jiao S, Lin Y, Wang E, Wei G (2017) Two cultivated legume plants reveal the enrichment process of the microbiome in the rhizocompartments. Mol Ecol 26:1641–1651

Xiong C, Zhu YG, Wang JT, Singh B, Han LL, Shen JP, Li PP, Wang GB, Wu CF, Ge AH, Zhang LM, He JZ (2021) Host selection shapes crop microbiome assembly and network complexity. New Phytol 229:1091–1104

Xu Y, Yokota A, Sanada H, Hisamatsu M, Araki M, Cho H, Morinaga T, Murooka Y (1994) Enterobacter cloacae A105, isolated from the surface of root nodules of Astragalus sinicus cv. Japan, stimulates nodulation by Rhizobium huakuii bv. Renge. J Ferment Bioeng 77:630–635

Xu Y, Ge Y, Song J, Rensing C (2020) Assembly of root-associated microbial community of typical rice cultivars in different soil types. Biol Fert Soils 56:249–260

Yu H, He W, Liu J, Miao S, Dong M (2009a) Native Cuscuta campestris restrains exotic Mikania micrantha and enhances soil resources beneficial to natives in the invaded communities. Biol Invasions 11:835–844

Yu H, Liu J, He W, Miao S, Dong M (2009b) Restraints on Mikania micrantha by Cuscuta campestris facilitates restoration of the disturbed ecosystems. Biodiversity (Nepean) 10:72–78
Acknowledgments
This study was supported by the National Natural Science Foundation of China (42177106 and 31870476).
Ethics declarations
Conflict of interest
The authors declare no conflicts of interest.
Additional information
Responsible Editor: Stefano Cesco.
Publisher's note
Springer Nature remains neutral with regard to jurisdictional claims in published maps and institutional affiliations.
Supplementary Information
Rights and permissions
Springer Nature or its licensor (e.g. a society or other partner) holds exclusive rights to this article under a publishing agreement with the author(s) or other rightsholder(s); author self-archiving of the accepted manuscript version of this article is solely governed by the terms of such publishing agreement and applicable law.
About this article
Cite this article
Luo, W., Li, Y., Jia, Y. et al. Positive response of host root-associated bacterial community and soil nutrients to inhibitory parasitism of dodder. Plant Soil (2023). https://doi.org/10.1007/s11104-023-05965-0
Received:

Accepted:

Published:

DOI: https://doi.org/10.1007/s11104-023-05965-0
Keywords
Holoparasitic plant-host interaction

Dodder

Legume

Microbiome

Nodule