Abstract
Aim
In agricultural basins, riparian buffers maintained along stream channels reduce nitrogen (N) concentrations in agricultural runoff, thereby improving water quality. Investigating the role of riparian vegetation in the related processes will provide insights into the mechanisms by which riparian zones retain soil N.
Methods
In our study, the proportion of plant N uptake, fine root (diameter < 1mm) biomass and fine root morphology at five soil depths (0-15, 15-30, 30-45, 45-60, and 60-75 cm) for Acorus calamus, Canna indica and Phragmites communis were measured in Taihu Lake Basin.
Results
The soil layer from which the majority of N was absorbed was 0-15 cm (50.8±1.0, 56.0±1.4 and 37.5±3.2% for A. calamus, C. indica, and P. communis, respectively). The N uptake from 45 to 75 cm for P. communis (21.2±2.2%) was significantly higher than A. calamus (14.9±0.7%) and C. indica (9.2±1.5%) (P < 0.05). Our results showed that N uptake was directly proportional to root morphological characteristics such as specific root surface area (SRA, P < 0.05) and specific root length (SRL, P < 0.01), but the relationships varied among species. Changes in environmental factors caused by soil depth strongly influenced some of the root morphological indicators (e.g., fine root biomass, mean diameter (D)).
Conclusions
Soil environmental factors and plant root morphology jointly influenced plant N uptake. During vegetation selections of the riparian restoration projects, plants with high SRL or SRA should be given priority due to their expected high capacity in N uptake. But cautions need to be taken as the positive relationships between SRL and SRA and plant N uptake may vary between plant species. Optimal selection of diverse species with complementary nutrient uptake strategies could maximize N uptake at various soil depths and overall N removal from agricultural runoff.
Access options
Buy single article
Instant access to the full article PDF.
USD 39.95
Price excludes VAT (USA)
Tax calculation will be finalised during checkout.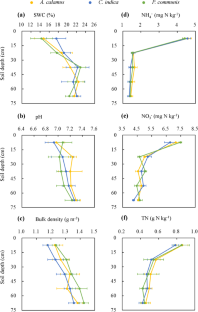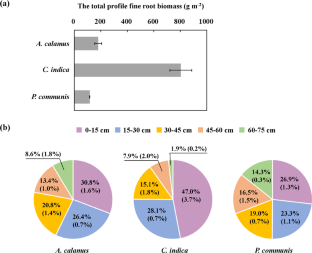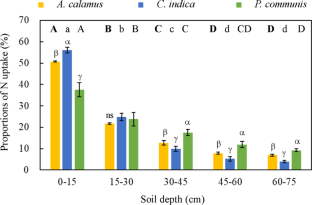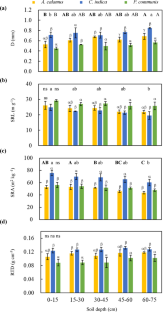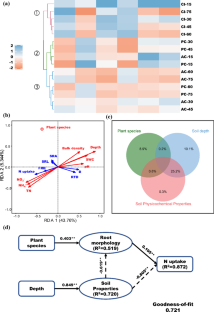 References
Allen SC, Jose S, Nair P, Brecke BJ, Nkedi-Kizza P, Ramsey CL (2004) Safety-net role of tree roots: evidence from a pecan (Carya illinoensis K. Koch)–cotton (Gossypium hirsutum L.) alley cropping system in the southern United States. For Ecol Manag 192:395–407. https://doi.org/10.1016/j.foreco.2004.02.009

Anderson T, Starmer W, Thorne M (2007) Bimodal Root Diameter Distributions in Serengeti Grasses Exhibit Plasticity in Response to Defoliation and Soil Texture: Implications for Nitrogen Uptake. Funct Ecol 21(1):50–60. http://www.jstor.org/stable/4139386

Barber SA (1995) Soil nutrient bioavailability: a mechanistic approach. Wiley, Hoboken

Bassirirad H (2006) Root system characteristics and control of nitrogen uptake. J Crop Improv 15:25–51. https://doi.org/10.1300/J411v15n02_02

BassiriRad H, Gutschick VP, Lussenhop J (2001) Root system adjustments: regulation of plant nutrient uptake and growth responses to elevated CO2. Oecologia 126:305–320

Beck-Nielsen D, Madsen TV (2001) Occurrence of vesicular–arbuscular mycorrhiza in aquatic macrophytes from lakes and streams. Aquat Bot 71:141–148. https://doi.org/10.1016/S0304-3770(01)00180-2

Bengough A (2003) Root growth and function in relation to soil structure, composition, and strength. Root Eecol 2003:151-171 (Springer, Berlin, Heidelberg). https://doi.org/10.1007/978-3-662-09784-7_6

Bergmann J, Weigelt A, van Der Plas F, Laughlin DC, Kuyper TW, Guerrero-Ramirez N, Valverde-Barrantes OJ, Bruelheide H, Freschet GT, Iversen CM (2020) The fungal collaboration gradient dominates the root economics space in plants. Sci Adv 6:eaba3756. https://doi.org/10.1126/sciadv.aba3756

Bingham I, Bengough A (2003) Morphological plasticity of wheat and barley roots in response to spatial variation in soil strength. Plant Soil 250:273–282. https://doi.org/10.1023/A:1022891519039

Birouste M, Zamora-Ledezma E, Bossard C, Pérez-Ramos IM, Roumet C (2014) Measurement of fine root tissue density: a comparison of three methods reveals the potential of root dry matter content. Plant Soil 374:299–313. https://doi.org/10.1007/s11104-013-1874-y

Børja I, De Wit HA, Steffenrem A, Majdi H (2008) Stand age and fine root biomass, distribution and morphology in a Norway spruce chronosequence in southeast Norway. Tree Physiol 28:773–784. https://doi.org/10.1093/treephys/28.5.773

Cain ML, Subler S, Evans JP, Fortin M-J (1999) Sampling spatial and temporal variation in soil nitrogen availability. Oecologia 118:397–404. https://doi.org/10.1007/s004420050741

Canadell J, Jackson R, Ehleringer J, Mooney H, Sala O, Schulze E-D (1996) Maximum rooting depth of vegetation types at the global scale. Oecologia 108:583–595. https://doi.org/10.1007/BF00329030

Chen W, Chen Z, He Q, Wang X, Wang C, Chen D, Lai Z (2007) Root growth of wetland plants with different root types. Acta Ecol Sin 27:450–457. https://doi.org/10.1016/S1872-2032(07)60017-1

Cheng X-Y, Chen W-Y, Gu B-H, Liu X-C, Chen F, Chen Z-H, Zhou X-Y, Li Y-X, Huang H, Chen Y-J (2009) Morphology, ecology, and contaminant removal efficiency of eight wetland plants with differing root systems. Hydrobiologia 623:77–85. https://doi.org/10.1007/s10750-008-9649-9

Claassen N, Steingrobe B (1999) Mechanistic simulation models for a better understanding of nutrient uptake from soil. Mineral Nutrition of Crops: Fundamental Mechanisms and Implications, 327–367

Comas L, Becker S, Cruz VMV, Byrne PF, Dierig DA (2013) Root traits contributing to plant productivity under drought. Front Plant Sci 4:442. https://doi.org/10.3389/fpls.2013.00442

Comas LH, Eissenstat DM (2004) Linking fine root traits to maximum potential growth rate among 11 mature temperate tree species. Funct Ecol 18:388–397. https://doi.org/10.1111/j.0269-8463.2004.00835.x

Craine J, Froehle J, Tilman D, Wedin D, Chapin I, FS (2001) The relationships among root and leaf traits of 76 grassland species and relative abundance along fertility and disturbance gradients. Oikos 93:274–285. https://doi.org/10.1034/j.1600-0706.2001.930210.x

Craine JM, Elmore AJ, Aidar MP, Bustamante M, Dawson TE, Hobbie EA, Kahmen A, Mack MC, McLauchlan KK, Michelsen A (2009) Global patterns of foliar nitrogen isotopes and their relationships with climate, mycorrhizal fungi, foliar nutrient concentrations, and nitrogen availability. New Phytol 183:980–992. https://doi.org/10.1111/j.1469-8137.2009.02917.x

Dai X, Xiao L, Jia D, Kong H, Wang Y, Li C, Zhang Y, He M (2014) Increased plant density of winter wheat can enhance nitrogen–uptake from deep soil. Plant Soil 384:141–152. https://doi.org/10.1007/s11104-014-2190-x

Douds DD, Johnson CR, Koch KE (1988) Carbon cost of the fungal symbiont relative to net leaf P accumulation in a split-root VA mycorrhizal symbiosis. Plant Physiol 86:491–496. https://doi.org/10.1104/pp.86.2.491

Eissenstat D, Wells C, Yanai R, Whitbeck J (2000) Building roots in a changing environment: implications for root longevity. New Phytol 147:33–42. doi:https://doi.org/10.1046/j.1469-8137.2000.00686.x

Eissenstat DM (1992) Costs and benefits of constructing roots of small diameter. J Plant Nutr 15:763–782. https://doi.org/10.1080/01904169209364361

Eissenstat DM, Yanai RD (1997) The ecology of root lifespan. Adv Ecol Res 27:1–60. https://doi.org/10.1016/S0065-2504(08)60005-7

Eriksen J (2009) Soil sulfur cycling in temperate agricultural systems. Adv Agron 102:55–89. https://doi.org/10.1016/S0065-2113(09)01002-5

Fan Y, Miguez-Macho G, Jobbágy EG, Jackson RB, Otero-Casal C (2017) Hydrologic regulation of plant rooting depth. Proc Natl Acad Sci 114:10572–10577. https://doi.org/10.1073/pnas.1712381114

Faure S, Cliquet JB, Thephany G, Boucaud J (1998) Nitrogen assimilation in Lolium perenne colonized by the arbuscular mycorrhizal fungus Glomus fasciculatum. New Phytol 138:411–417. https://doi.org/10.1046/j.1469-8137.1998.00127.x

Feng G, Zhang F, Li X, Tian C, Tang C, Rengel Z (2002) Uptake of nitrogen from indigenous soil pool by cotton plant inoculated with arbuscular mycorrhizal fungi. Commun Soil Sci Plant Anal 33:3825–3836. https://doi.org/10.1081/CSS-120015925

Fitter A (1976) Effects of nutrient supply and competition from other species on root growth of Lolium perenne in soil. Plant Soil 45:177–189. https://doi.org/10.1007/BF00011140

Fitter A (1985) Functional significance of root morphology and root system architecture. In: Fitter A (ed) Ecological Interactions in Soil. Blackwell Scientific Publications, Palo Alto, pp 87–107

Fitter A (1991) Characteristics and functions of root systems. In: Waisel Y, Eshel A, Kafkafi U, eds, Plant Roots: the Hidden Half. Marcel Dekker, New York, pp 3–32

Fitter A, Stickland T (1991) Architectural analysis of plant root systems 2. Influence of nutrient supply on architecture in contrasting plant species. New Phytol 118:383–389. https://doi.org/10.1111/j.1469-8137.1991.tb00019.x

Fransen B, de Kroon H, Berendse F (1998) Root morphological plasticity and nutrient acquisition of perennial grass species from habitats of different nutrient availability. Oecologia 115:351–358. https://doi.org/10.1007/s004420050527

Franklin H, Robinson B, Dickinson N (2019) Plants for nitrogen management in riparian zones: A proposed trait‐based framework to select effective species. Ecol Manag Restor 20(3):202–213. https://doi.org/10.1111/emr.12380

Freschet GT, Valverde-Barrantes OJ, Tucker CM, Craine JM, McCormack ML, Violle C, Fort F, Blackwood CB, Urban‐Mead KR, Iversen CM (2017) Climate, soil and plant functional types as drivers of global fine‐root trait variation. J Ecol 105:1182–1196. https://doi.org/10.1111/1365-2745.12769

Frey B, Schüepp H (1993) Acquisition of nitrogen by external hyphae of arbuscular mycorrhizal fungi associated with Zea mays L. New Phytol 124:221–230. https://doi.org/10.1111/j.1469-8137.1993.tb03811.x

George E, Marschner H, Jakobsen I (1995) Role of arbuscular mycorrhizal fungi in uptake of phosphorus and nitrogen from soil. Crit Rev Biotechnol 15:257–270. https://doi.org/10.3109/07388559509147412

Germon A, Laclau J-P, Robin A, Jourdan C (2020) Tamm Review: Deep fine roots in forest ecosystems: Why dig deeper? For Ecol Manag 466:118135. https://doi.org/10.1016/j.foreco.2020.118135

Goodman A, Ennos A (1999) The effects of soil bulk density on the morphology and anchorage mechanics of the root systems of sunflower and maize. Ann Bot 83:293–302. https://doi.org/10.1006/anbo.1998.0822

Guo DL, Mitchell RJ, Hendricks JJ (2004) Fine root branch orders respond differentially to carbon source-sink manipulations in a longleaf pine forest. Oecologia 140:450–457. https://doi.org/10.1007/s00442-004-1596-1

Hefting MM, Clement J-C, Bienkowski P, Dowrick D, Guenat C, Butturini A, Topa S, Pinay G, Verhoeven JT (2005) The role of vegetation and litter in the nitrogen dynamics of riparian buffer zones in Europe. Ecol Eng 24:465–482. https://doi.org/10.1016/j.ecoleng.2005.01.003

Hirano Y, Hijii N (1998) Effects of low pH and aluminum on root morphology of Japanese red cedar saplings. Environ Pollut 101:339–347. https://doi.org/10.1016/S0269-7491(98)00058-X

Hobbie EA, Högberg P (2012) Nitrogen isotopes link mycorrhizal fungi and plants to nitrogen dynamics. New Phytol 196:367–382. https://doi.org/10.1111/j.1469-8137.2012.04300.x

Hodge A (2004) The plastic plant: root responses to heterogeneous supplies of nutrients. New Phytol 162:9–24. https://doi.org/10.1111/j.1469-8137.2004.01015.x

Hu J, Inglett KS, Clark MW, Inglett PW, Reddy KR (2015) Nitrous oxide production and consumption by denitrification in a grassland: Effects of grazing and hydrology. Sci Total Environ 532:702–710. https://doi.org/10.1016/j.scitotenv.2015.06.036

Hu J, Inglett KS, Wright AL, Clark MW, Reddy KR (2020) Nitrous oxide dynamics during denitrification along a hydrological gradient of subtropical grasslands. Soil Use Manag 36:682–692. https://doi.org/10.1111/sum.12637

Hummel I, Vile D, Violle C, Devaux J, Ricci B, Blanchard A, Garnier É, Roumet C (2007) Relating root structure and anatomy to whole-plant functioning in 14 herbaceous Mediterranean species. New Phytol 173:313–321. https://doi.org/10.1111/j.1469-8137.2006.01912.x

Hutchings MJ, John EA, Wijesinghe DK (2003) Toward understanding the consequences of soil heterogeneity for plant populations and communities. Ecology 84:2322–2334. https://doi.org/10.1890/02-0290

Jackson R, Canadell J, Ehleringer JR, Mooney H, Sala O, Schulze ED (1996) A global analysis of root distributions for terrestrial biomes. Oecologia 108:389–411. https://doi.org/10.1007/BF00333714

Jobbagy EG, Jackson RB (2001) The distribution of soil nutrients with depth: global patterns and the imprint of plants. Biogeochemistry 53:51–77. https://doi.org/10.1023/A:1010760720215

Johnson HA, Biondini ME (2001) Root morphological plasticity and nitrogen uptake of 59 plant species from the Great Plains grasslands, USA. Basic Appl Ecol 2:127–143. https://doi.org/10.1078/1439-1791-00044

Jungk AO (2002) Dynamics of nutrient movement at the soil-root interface. Plant Roots. CRC Press. https://doi.org/10.1201/9780203909423-44

Kochsiek A, Tan S, Russo SE (2013) Fine root dynamics in relation to nutrients in oligotrophic Bornean rain forest soils. Plant Ecol 214:869–882. https://doi.org/10.1007/s11258-013-0215-9

Kou L, Guo D, Yang H, Gao W, Li S (2015) Growth, morphological traits and mycorrhizal colonization of fine roots respond differently to nitrogen addition in a slash pine plantation in subtropical China. Plant Soil 391:207–218. https://doi.org/10.1007/s11104-015-2420-x

Kraiser T, Gras DE, Gutiérrez AG, González B, Gutiérrez RA (2011) A holistic view of nitrogen acquisition in plants. J Exp Bot 62:1455–1466. https://doi.org/10.1093/jxb/erq425

Ladd J, Oades J, Amato M (1981) Distribution and recovery of nitrogen from legume residues decomposing in soils sown to wheat in the field. Soil Biol Biochem 13:251–256. https://doi.org/10.1016/0038-0717(81)90058-4

Lai W-L, Wang S-Q, Peng C-L, Chen Z-H (2011) Root features related to plant growth and nutrient removal of 35 wetland plants. Water Res 45:3941–3950. https://doi.org/10.1016/j.watres.2011.05.002

Lai W-L, Zhang Y, Chen Z-H (2012) Radial oxygen loss, photosynthesis, and nutrient removal of 35 wetland plants. Ecol Eng 39:24–30. https://doi.org/10.1016/j.ecoleng.2011.11.010

Lehmann J (2003) Subsoil root activity in tree-based cropping systems. Roots: The Dynamic Interface between Plants and the Earth, 319-331. https://doi.org/10.1007/978-94-017-2923-9_31

Li H, Ma Q, Li H, Zhang F, Rengel Z, Shen J (2014) Root morphological responses to localized nutrient supply differ among crop species with contrasting root traits. Plant Soil 376:151–163. https://doi.org/10.1007/s11104-013-1965-9

Liao M, Fillery IR, Palta JA (2004) Early vigorous growth is a major factor influencing nitrogen uptake in wheat. Funct Plant Biol 31:121–129. https://doi.org/10.1071/FP03060

Linn DM, Doran JW (1984) Effect of water-filled pore space on carbon dioxide and nitrous oxide production in tilled and nontilled soils. Soil Sci Soc Am J 48:1267–1272. https://doi.org/10.2136/sssaj1984.03615995004800060013x

Liu D, Fang Y, Tu Y, Pan Y (2014) Chemical method for nitrogen isotopic analysis of ammonium at natural abundance. Anal Chem 86:3787–3792. https://doi.org/10.1021/ac403756u

Lõhmus K, Oja T, Lasn R (1989) Specific root area: a soil characteristic. Plant Soil 119:245–249. https://doi.org/10.1007/BF02370415

Lu B, Qian J, Wang P, Wang C, Hu J, Li K, He X, Jin W (2020) Effect of perfluorooctanesulfonate (PFOS) on the rhizosphere soil nitrogen cycling of two riparian plants. Sci Total Environ 741:140494. https://doi.org/10.1016/j.scitotenv.2020.140494

Makkonen K, Helmisaari H-S (2001) Fine root biomass and production in Scots pine stands in relation to stand age. Tree Physiol 21:193–198. https://doi.org/10.1093/treephys/21.2-3.193

Materechera S, Dexter A, Alston AM (1991) Penetration of very strong soils by seedling roots of different plant species. Plant Soil 135:31–41. https://doi.org/10.1007/BF00014776

McCormack ML, Adams TS, Smithwick EA, Eissenstat DM (2012) Predicting fine root lifespan from plant functional traits in temperate trees. New Phytol 195:823–831. https://doi.org/10.1111/j.1469-8137.2012.04198.x

McCormack M, Dickie I, Eissenstat D, Fahey T, Fernandez C, Guo D, Zadworny M (2015) Redefining fine roots improves understanding of below‐ground contributions to terrestrial biosphere processes. New Phytologist 207(3):505–518. https://doi.org/10.1111/nph.13363

McCulley R, Jobbagy E, Pockman W, Jackson R (2004) Nutrient uptake as a contributing explanation for deep rooting in arid and semi-arid ecosystems. Oecologia 141:620–628. https://doi.org/10.1007/s00442-004-1687-z

Mei X-Q, Yang Y, Tam NF-Y, Wang Y-W, Li L (2014) Roles of root porosity, radial oxygen loss, Fe plaque formation on nutrient removal and tolerance of wetland plants to domestic wastewater. Water Res 50:147–159. https://doi.org/10.1016/j.watres.2013.12.004

Moroni M, Smethurst P, Holz G (2004) Indices of soil nitrogen availability in five Tasmanian Eucalyptus nitens plantations. Soil Res 42:719–725. https://doi.org/10.1071/SR03145

Mou P, Jones RH, Tan Z, Bao Z, Chen HJP (2013) Morphological and physiological plasticity of plant roots when nutrients are both spatially and temporally heterogeneous. Plant Soil 364:373–384. https://doi.org/10.1007/s11104-012-1336-y

Naiman RJ, Decamps H (1997) The ecology of interfaces: riparian zones. Annu Rev Ecol Syst 28:621–658. https://doi.org/10.1146/annurev.ecolsys.28.1.621

Naiman RJ, Decamps H, McClain ME (2010) Riparia: ecology, conservation, and management of streamside communities. Elsevier, Amsterdam

Noguchi K, Sakata T, Mizoguchi T, Takahashi M (2004) Estimation of the fine root biomass in a Japanese cedar (Cryptomeria japonica) plantation using minirhizotrons. J For Res 9:261–264. https://doi.org/10.1007/s10310-004-0079-x

Ostonen I, Helmisaari HS, Borken W, Tedersoo L, Kukumägi M, Bahram M, Lindroos AJ, Nöjd P, Uri V, Merilä P (2011) Fine root foraging strategies in N orway spruce forests across a European climate gradient. Glob Change Biol 17:3620–3632. https://doi.org/10.1111/j.1365-2486.2011.02501.x

Ostonen I, Püttsepp Ü, Biel C, Alberton O, Bakker M, Lõhmus K, Majdi H, Metcalfe D, Olsthoorn A, Pronk A (2007) Specific root length as an indicator of environmental change. Plant Biosyst 141:426–442. https://doi.org/10.1080/11263500701626069

Pastor-Pastor A, Vilela AE, González-Paleo L (2019) The root of the problem of perennials domestication: is selection for yield changing key root system traits required for ecological sustainability? Plant Soil 435:161–174. https://doi.org/10.1007/s11104-018-3885-1

Qian J, Jin W, Hu J, Wang P, Wang C, Lu B, Li K, He X, Tang S (2021) Stable isotope analyses of nitrogen source and preference for ammonium versus nitrate of riparian plants during the plant growing season in Taihu Lake Basin. Sci Total Environ 143029. https://doi.org/10.1016/j.scitotenv.2020.143029

Qian J, Zheng H, Wang P, Liao X, Wang C, Hou J, Ao Y, Shen M, Liu J, Li K (2017) Assessing the ecohydrological separation hypothesis and seasonal variations in water use by Ginkgo biloba L. in a subtropical riparian area. J Hydrol 553:486–500. https://doi.org/10.1016/j.jhydrol.2017.08.021

Reich PB (2014) The world-wide 'fast–slow' plant economics spectrum: a traits manifesto. J Ecol 102:275–301. https://doi.org/10.1111/1365-2745.12211

Ryser P (1996) The Importance of Tissue Density for Growth and Life Span of Leaves and Roots: A Comparison of Five Ecologically Contrasting Grasses. Funct Ecol 10(6):717–723. https://sci-hub.tw/10.2307/2390506

Ryser P (1998) Intra-and interspecific variation in root length, root turnover and the underlying parameters. Variation in Plant Growth. Backhuys Publishers, Leiden, pp 441–465

Ryser P (2006) The mysterious root length. Plant Soil 286:1–6. https://doi.org/10.1007/s11104-006-9096-1

Ryser P, Eek L (2000) Consequences of phenotypic plasticity vs. interspecific differences in leaf and root traits for acquisition of aboveground and belowground resources. Am J Bot 87:402–411. https://doi.org/10.2307/2656636

Senock R, Leuschner C (1999) Axial water flux dynamics in small diameter roots of a fast growing tropical tree. Plant Soil 208:57–71. https://doi.org/10.1023/A:1004494432610

Smith SE, Read DJ (2010) Mycorrhizal symbiosis. Academic, Cambridge

Smukler SM, Sánchez-Moreno S, Fonte S, Ferris H, Klonsky K, O'geen A, Scow K, Steenwerth K, Jackson L (2010) Biodiversity and multiple ecosystem functions in an organic farmscape. Agric Ecosyst Environ Pollut 139:80–97. https://doi.org/10.1016/j.agee.2010.07.004

Solly EF, Schöning I, Boch S, Kandeler E, Marhan S, Michalzik B, Müller J, Zscheischler J, Trumbore SE, Schrumpf M (2014) Factors controlling decomposition rates of fine root litter in temperate forests and grasslands. Plant Soil 382:203–218. https://doi.org/10.1007/s11104-014-2151-4

Sullivan WM, Jiang Z, Hull RJ (2000) Root morphology and its relationship with nitrate uptake in Kentucky bluegrass. Crop Sci 40:765–772. https://doi.org/10.2135/cropsci2000.403765x

Tobner CM, Paquette A, Messier C (2013) Interspecific coordination and intraspecific plasticity of fine root traits in North American temperate tree species. Front Plant Sci 4:242. https://doi.org/10.3389/fpls.2013.00242

Tu Y, Fang Y, Liu D, Pan Y (2016) Modifications to the azide method for nitrate isotope analysis. Rapid Commun Mass Spectrom 30:1213–1222. https://doi.org/10.1002/rcm.7551

Verry ES, Dolloff CA, Manning ME (2004) Riparian ecotone: A functional definition and delineation for resource assessment. Water Air Soil Pollut: Focus 4:67–94

Vought LB-M, Dahl J, Pedersen CL, Lacoursiere JO (1994) Nutrient Retention in Riparian Ecotones. Ambio 23(6):342–348. http://www.jstor.org/stable/4314234

Wahl S, Ryser P (2000) Root tissue structure is linked to ecological strategies of grasses. New Phytol 148:459–471. https://doi.org/10.1046/j.1469-8137.2000.00775.x

Wang H, Inukai Y, Yamauchi A (2006) Root development and nutrient uptake. CRC Crit Rev Plant Sci 25:279–301. https://doi.org/10.1080/07352680600709917

Wang L, Mou PP, Huang J, Wang J (2007) Spatial heterogeneity of soil nitrogen in a subtropical forest in China. Plant Soil 295:137–150. https://doi.org/10.1007/s11104-007-9271-z

Wang W, Wang Y, Hoch G, Wang Z, Gu J (2018) Linkage of root morphology to anatomy with increasing nitrogen availability in six temperate tree species. Plant Soil 425:189–200. https://doi.org/10.1007/s11104-018-3563-3

Wang X, Wang Q, Yang S, Zheng D, Wu C, Mannaerts C (2011) Evaluating nitrogen removal by vegetation uptake using satellite image time series in riparian catchments. Sci Total Environ 409:2567–2576

Wei H, Xu C, Ma L, Duan J, Jiang L, Ren J (2014) Effect of late-season fertilization on nutrient reserves and carbohydrate accumulation in bareroot Larix olgensis seedlings. J Plant Nutr 37:279–293. https://doi.org/10.1016/j.scitotenv.2011.03.023

Wirsel SG (2004) Homogenous stands of a wetland grass harbour diverse consortia of arbuscular mycorrhizal fungi. FEMS Microbiol Ecol 48:129–138. https://doi.org/10.1016/j.femsec.2004.01.006

Wright IJ, Reich PB, Westoby M, Ackerly DD, Baruch Z, Bongers F, Cavender-Bares J, Chapin T, Cornelissen JH, Diemer M (2004) The worldwide leaf economics spectrum. Nature 428:821–827. https://doi.org/10.1038/nature02403

Xu G, Li Z, Li P (2013) Fractal features of soil particle-size distribution and total soil nitrogen distribution in a typical watershed in the source area of the middle Dan River, China. CATENA 101:17–23. https://doi.org/10.1016/j.catena.2012.09.013

Yang J, Huang J, Pan Q, Tang J, Han X (2004) Long-term impacts of land-use change on dynamics of tropical soil carbon and nitrogen pools. J Environ Sci 16:256–261

Yu P, White PJ, Hochholdinger F, Li C (2014a) Phenotypic plasticity of the maize root system in response to heterogeneous nitrogen availability. Planta 240:667–678. https://doi.org/10.1007/s00425-014-2150-y

Yu S, Chen W, He X, Liu Z, Huang Y (2014) Biomass accumulation and nutrient uptake of 16 riparian woody plant species in Northeast China. J For Res 25:773–778. https://doi.org/10.1007/s11676-014-0524-4

Zhou S-L, Wu Y-C, Wang Z-M, Lu L-Q, Wang R-Z (2008) The nitrate leached below maize root zone is available for deep-rooted wheat in winter wheat–summer maize rotation in the North China Plain. Environ Pollut 152:723–730. https://doi.org/10.1016/j.envpol.2007.06.047
Funding
This study was supported by the National Natural Science Foundation of China (No. 51779078), Postgraduate Research & Practice Innovation Program of College of Environment, the Six Talent Peaks Project in Jiangsu Province (No. JNHB-012), the National Major Projects of Water Pollution Control and Management Technology (No. 2017ZX07204003), and Priority Academic Program Development of Jiangsu Higher Education Institutions (PAPD).
Additional information
Responsible Editor: Amandine Erktan.
Publisher's note
Springer Nature remains neutral with regard to jurisdictional claims in published maps and institutional affiliations.
Supplementary Information
About this article
Cite this article
Lu, B., Qian, J., Hu, J. et al. The role of fine root morphology in nitrogen uptake by riparian plants. Plant Soil 472, 527–542 (2022). https://doi.org/10.1007/s11104-021-05270-8
Received:

Accepted:

Published:

Issue Date:

DOI: https://doi.org/10.1007/s11104-021-05270-8
Keywords
N isotope

Acorus calamus
Canna indica
Phragmites communis

Partial least squares path modeling