Abstract
Purpose
Cover crops can provide multiple agroecosystem services to crops produced in conservation agriculture systems. South African grain producers in the Mediterranean climate region are reluctant to integrate cover crops in rainfed systems since cover crops replace cash crops leading to financial losses. Using cover crops as fodder can help cover input costs, while providing a range of advantageous services to the cropping system. The aim of this study was to investigate how cover crop mixtures and the utilisation of cover crops affect soil quality, the quality and quantity of the mulch as well as wheat (Triticum aestivum L.) produced in the subsequent year.
Methods
A two-year study was conducted in the Western Cape Province of South Africa. In Year 1, diverse legume and cereal-based cover crop mixtures were partially grazed, cut and material removed for haymaking, or left unutilised as a mulch. In Year 2, spring wheat (Triticum aestivum L.) was planted to investigate the effects of cover crop mixtures and utilisation method on subsequent spring wheat yield.
Results
Cover crops used as hay or for grazing did not affect (P < 0.05) grain yield of wheat that followed in rotation. Legume-based cover crop mixtures increased (P < 0.05) wheat grain protein content regardless of utilisation method. Soil quality and nitrogen content improved (P < 0.05) when cover crops were grazed.
Conclusions
Cover cropping can be used by South African grain producers as an important agronomic tactic to improve system productivity and support sustainable intensification of rainfed cropping systems.
This is a preview of subscription content,
to check access.
Access this article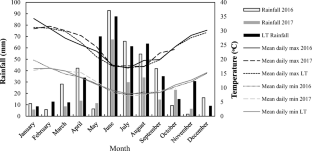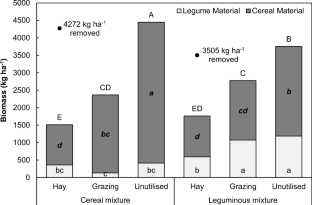 Similar content being viewed by others
References
Adhikari, K. N. (2019). Grain Legumes Play a Crucial Role for Sustainable Agriculture Development in Australia. Emerging Technologies Towards Agriculture, Food and Environment, 81.

Accatino F, Tonda A, Dross C, Léger F, Tichit M (2019) Trade-offs and synergies between livestock production and other ecosystem services. Agric Syst 168:58–72

Agenbag GA (2012) Growth, yield and grain protein content of wheat (Triticum aestivum L.) in response to nitrogen fertiliser rates, crop rotation and soil tillage. S Afr J Plant Soil 29(2):73–79

AgriLASA (2007) Method No. 6.1.1 for feeds and plants. In: Palic P, Claasens AS, Collier J, Loock A, DH (eds) Agrilasa Handbook of Feeds and Plant Analysis, 2nd ed. Agri Laboratory Association of South Africa, Pretoria

Andriarimalala JH, Rakotozandriny JDN, Andriamandroso ALH, Penot E, Naudin K, Dugué P, Tillard E, Decruyenaere V, Salgado P (2013) Creating synergies between conservation agriculture and cattle production in crop–livestock farms: a study case in the Lake Alaotra Region of Madagascar. Exp Agric 49(3):352–365

Becker F, MacLaren C, Brink CJ, Jacobs K, le Roux MR, Swanepoel PA (2020) High nitrogen rates do not increase canola yield and may affect soil bacterial functioning. Agron J 112(1):523–536

Bell LW, Moore AD, Kirkegaard JA (2014) Evolution in crop-livestock integration systems that improve farm productivity and environmental performance in Australia. Eur J Agron 57:10–20

Bell LW, Moore AD, Thomas DT (2018) Integrating diverse forage sources reduces feed gaps on mixed crop-livestock farms. Animal 12(9):1967–1980

Blanco-Canqui H, Jasa PJ (2019) Do grass and legume cover crops improve soil properties in the long term? SSSA J 83(4):1181–1187

Blanco-Canqui H, Shaver TM, Lindquist JL, Shapiro CA, Elmore RW et al (2015) Cover crops and ecosystem services: Insights from studies in temperate soils. Agron J 107(6):2449–2474

Crookes D, Strauss JA, Blignaut J (2017) The effect of rainfall variability on sustainable wheat production under no-till farming systems in the Swartland region, South Africa. Afr J Agric Resour Econ 12(1):62–84

de Andrade Bonetti J, Anghinoni I, Gubiani PI, Cecagno D, de Moraes MT (2019) Impact of a long-term crop-livestock system on the physical and hydraulic properties of an Oxisol. Soil Till Res 186:280–291

de Faccio Carvalho PC, Anghinoni I, de Moraes A, de Souza ED, Sulc RM, et al (2010) Managing grazing animals to achieve nutrient cycling and soil improvement in no-till integrated systems. Nutr Cycl Agroecosyst 88(2):259–273

Fageria NK, Baligar VC, Bailey. BA (2005) Role of cover crops in improving soil and row crop productivity. Commun Soil Sci Plant Anal 36(19–20):2733–2757

FERTASA (2016) Fertilization Handbook. Fertilizer Association of Southern Africa. FERTASA, Pretoria, pp 224

Fisher J, Tozer P, Abrecht D (2012) Livestock in no-till cropping systems - A story of trade-offs. Anim Prod Sci 52(4):197–214

Flower KC, Cordingley N, Ward PR, Weeks C (2012) Nitrogen, weed management and economics with cover crops in conservation agriculture in a Mediterranean climate. Field Crop Res 132:63–75

Gardner JC, Faulkner. DB (1991) Use of cover crops with integrated crop-livestock production systems. Integr. Crop Syst 11(11):185–198

Giller KE, Witter E, Corbeels M, Tittonell. P (2009) Conservation agriculture and smallholder farming in Africa: The heretics' view. Field Crop Res 114(1):23–34

Haarhoff SJ, Kotzé TN, Swanepoel PA (2020) A prospectus for sustainability of rainfed maize production systems in South Africa. Crop Sci 60(1):14–28

Haney RL, Haney EB, Smith DR, Harmel RD, White MJ (2018) The soil health tool - Theory and initial broad-scale application. Appl Soil Ecol 125:162–168

IUSS Working Group WRB (2006) IUSS Working Group WRB World Reference Base for Soil Resources 2006 FAO, Rome ,2006 World Soil Resources Reports No.103

MacLaren C, Storkey J, Strauss JA, Swanepoel PA, Dehnen-Schmutz K (2019a) Livestock in diverse cropping systems improve weed management and sustain yields whilst reducing inputs. J Appl Ecol 56:144–156

MacLaren C, Swanepoel PA, Bennett J, Wright J, Dehnen-Schmutz K (2019b) Cover crop biomass production is more important than diversity for weed suppression. Crop Sci 59(2):733–748

MacLaren C, Labuschagne J, Swanepoel PA (2021) Tillage practices affect weeds differently in monoculture vs. crop rotation. Soil Tillage Res 205:104795

Non-Affiliated Soil Analysis Work Committee (1990) Handbook of Standard Soil Testing Methods for Advisory Purposes. Soil Science Society of South Africa, Pretoria

Pittelkow CM, Linquist BA, Lundy ME, Liang X, van Groenigen KJ, Lee J, van Gestel N, Six J, Ventereae RT, Kessel C (2015) When does no-till yield more? A global meta-analysis. Field Crop Res 183:156–168

Ranaivoson L, Naudin K, Ripoche A, Affholder F, Rabeharisoa L, Corbeels M (2017) Agro-ecological functions of crop residues under conservation agriculture. A review. Agron Sustain Dev 37(4):26

Rugare JT, Pieterse PJ, Mabasa S (2019) Effect of short-term maize–cover crop rotations on weed emergence, biomass and species composition under conservation agriculture. S Afr J Plant Soil 36(5):329–337

Shahbaz M, Kuzyakov Y, Sanaullah M, Heitkamp F, Zelenev V, Kumar A, Blagodatskaya E (2017) Microbial decomposition of soil organic matter is mediated by quality and quantity of crop residues: mechanisms and thresholds. Biology Fertil Soil 53(3):287–301

Shelton RE, Jacobsen KL, McCulley RL (2018) Cover crops and fertilization alter nitrogen loss in organic and conventional conservation agriculture systems. Front Plant Sci 8:2260

Swanepoel PA, Agenbag GA, Strauss JA (2018) Considering soil quality when comparing disc and tine seed-drill openers for establishing wheat. South Afr J Plant Soil 35(4):317–320

Swanepoel PA, Labuschagne J, Hardy MB (2016) Historical development and future perspective of conservation agriculture practices in crop-pasture rotation systems in the Mediterranean region of South Africa. In: Kyriazopoulos P, Lopez-Francos A, Porqueddu A, Sklavou C (eds) Ecosyst. Serv. socio-economic benefits Mediterr. grasslands. Zaragoza, Spain. CIHEAM Options Méditerranéennes, Series A 114:75–78

Swanepoel PA, Le Roux PJG, Agenbag GA, Strauss JA, MacLaren C (2019) Seed-drill opener type and crop residue load affect canola establishment, but only residue load affects yield. Agron J 111(4):1658–1665

TIBCO Software Inc. (2017) Statistica (data analysis software system), version 13. TIBCO Software, Palo Alto, CA, USA.

Ward PR, Flower KC, Cordingley N, Weeks C, Micin. SF (2012) Soil water balance with cover crops and conservation agriculture in a Mediterranean climate. Field Crop Res 132:33–39

Zhao J, Yang Y, Zhang K, Jeong J, Zeng Z, Zang H (2020) Does crop rotation yield more in China? A meta-analysis. Field Crop Res 245:107659
Acknowledgements
The Western Cape Department of Agriculture and Stellenbosch University are acknowledged for funding the project. Dr Stephano Haarhoff is thanked for critically evaluating the manuscript prior to submission.
Ethics declarations
Conflict of interest
The authors declare no conflicts of interest.
Additional information
Responsible Editor: Peter Christie.
Publisher's note
Springer Nature remains neutral with regard to jurisdictional claims in published maps and institutional affiliations.
About this article
Cite this article
Smit, E.H., Strauss, J.A. & Swanepoel, P.A. Utilisation of cover crops: implications for conservation agriculture systems in a mediterranean climate region of South Africa. Plant Soil 462, 207–218 (2021). https://doi.org/10.1007/s11104-021-04864-6
Received:

Revised:

Accepted:

Published:

Issue Date:

DOI: https://doi.org/10.1007/s11104-021-04864-6
Keywords