Abstract
Aims
Crops can change their traits in relation to resource and competitive environments during domestication. However, experimental evidence for the competitiveness of old versus new grain cultivars under different resource availability or competition pressure remains rare.
Methods
We used two experiments to examine competitiveness and magnitude of responses to soil fertility of two spring wheat cultivars. We manipulated root competition by growing plants with plastic or mesh partitions. Soil resources (i.e. nutrients and water) were added by using nutrient solutions with low or high frequency. Biomass, individual height and tiller number were measured when individuals reached maturity.
Results
The old Monkhead had greater growth redundancy (i.e. growth of resource-acquiring organs did not necessarily increase seed production) than the new 92–46. However, 92–46 had lower sensitivity in response to soil resource availability than Monkhead. Monkhead individuals allocated more resources to roots at the expense of seed production in the presence of root competition with 92–46 relative to the absence of root competition, reflecting a greater competitiveness in Monkhead. In contrast, 92–46 refrained from growing more roots in competition with Monkhead, and it may develop a more conservative strategy.
Conclusions
Our results show wheat crops can fall into the growth redundancy, and the magnitude was greater in the old cultivar Monkhead due to higher competitiveness than the new 92–46. Our findings underlie the importance of experimental test for competitiveness between old and new crop cultivars and highlight crop breeding should select cultivars with low individual competitiveness and high population performance.
This is a preview of subscription content, log in to check access.
Access options
Buy single article
Instant access to the full article PDF.
US$ 39.95
Tax calculation will be finalised during checkout.
Subscribe to journal
Immediate online access to all issues from 2019. Subscription will auto renew annually.
US$ 199
Tax calculation will be finalised during checkout.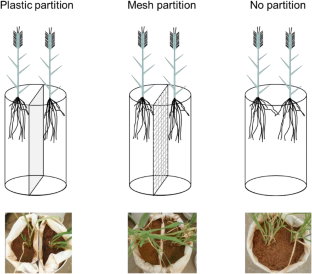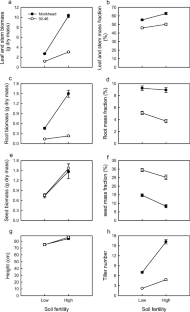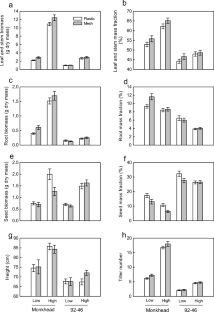 References
Denison RF (2012) Darwinian agriculture: how understanding evolution can improve agriculture, Hardcover ed. Princeton University Press, Princeton

Denison RF, Kiers ET, West SA (2003) Darwinian agriculture: when can humans find solutions beyond the reach of natural selection? Q Rev Biol 78:145–168. https://doi.org/10.1086/374951

Diaz S, Hodgson JG, Thompson K et al (2004) The plant traits that drive ecosystems: evidence from three continents. J Veg Sci 15:295–304. https://doi.org/10.1111/j.1654-1103.2004.tb02266.x

Donald CM (1968) The breeding of crop ideotypes. Euphytica 17:385–403. https://doi.org/10.1007/BF00056241

Dudley SA, File AL (2007) Kin recognition in an annual plant. Biol Lett 3:435–438. https://doi.org/10.1098/rsbl.2007.0232

Fang S, Clark RT, Zheng Y, Iyer-Pascuzzi AS, Weitz JS, Kochian LV, Edelsbrunner H, Liao H, Benfey PN (2013) Genotypic recognition and spatial responses by rice roots. Proc Natl Acad Sci 110:2670–2675. https://doi.org/10.1073/pnas.1222821110

Godfray HCJ, Beddington JR, Crute IR, Haddad L, Lawrence D, Muir JF, Pretty J, Robinson S, Thomas SM, Toulmin C (2010) Food security: the challenge of feeding 9 billion people. Science 327:812–818. https://doi.org/10.1126/science.1185383

Guo H, Weiner J, Mazer SJ et al (2012) Reproductive allometry in Pedicularis species changes with elevation. J Ecol 100:452–458. https://doi.org/10.1111/j.1365-2745.2011.01884.x

Hardin G (1968) The tragedy of the commons. Science 162:1243–1248

Hess L, De Kroon H (2007) Effects of rooting volume and nutrient availability as an alternative explanation for root self/non-self discrimination. J Ecol 95:241–251. https://doi.org/10.1111/j.1365-2745.2006.01204.x

Jennings PR, de Jesus J (1968) Studies on competition in rice I. competition in mixtures of varieties. Evolution 22:119–124. https://doi.org/10.1111/j.1558-5646.1968.tb03455.x

Li H, Zhang D-Y (1999) Morphological characteristics and growth redundancy of spring wheat root system in semi arid regions. Chin J App Ecol 10:26–30

Maire V, Gross N, da Silveira PL et al (2009) Trade-off between root nitrogen acquisition and shoot nitrogen utilization across 13 co-occurring pasture grass species. Funct Ecol 23:668–679. https://doi.org/10.1111/j.1365-2435.2009.01557.x

Montazeaud G, Rousset F, Fort F, Violle C, Fréville H, Gandon S (2020) Farming plant cooperation in crops. Proc R Soc B 287:20191290. https://doi.org/10.1098/rspb.2019.1290

Quinn G, Keough M (2002) Experimental design and data analysis for biologists. Cambridge University Press, New York

R Core Team (2019) A language and environment for statistical computing. R Foundation for Statistical Computing, Vienna http://www.R-project.org

Reich PB (2014) The world-wide 'fast-slow' plant economics spectrum: a traits manifesto. J Ecol 102:275–301. https://doi.org/10.1111/1365-2745.12211

Roucou A, Violle C, Fort F et al (2018) Shifts in plant functional strategies over the course of wheat domestication. J Appl Ecol 55:25–37. https://doi.org/10.1111/1365-2664.13029

Schenk HJ (2006) Root competition: beyond resource depletion. J Ecol 94:725–739. https://doi.org/10.1111/j.1365-2745.2006.01124.x

Semchenko M, Hutchings MJ, John EA (2007) Challenging the tragedy of the commons in root competition: confounding effects of neighbour presence and substrate volume. J Ecol 95:252–260. https://doi.org/10.1111/j.1365-2745.2007.01210.x

Semchenko M, Saar S, Lepik A (2017) Intraspecific genetic diversity modulates plant-soil feedback and nutrient cycling. New Phytol 216:90–98. https://doi.org/10.1111/nph.14653

Semchenko M, Zobel K (2005) The effect of breeding on allometry and phenotypic plasticity in four varieties of oat (Avena sativa L.). Field Crop Res 93:151–168. https://doi.org/10.1016/j.fcr.2004.09.019

Song L, Zhang D-W, Li F-M et al (2010) Drought stress: soil water availability alters the inter- and intra-cultivar competition of three spring wheat cultivars bred in different eras. J Agron Crop Sci 196:323–335. https://doi.org/10.1111/j.1439-037X.2010.00419.x

Wang P, Weiner J, Cahill JF et al (2014) Shoot competition, root competition and reproductive allocation in Chenopodium acuminatum. J Ecol 102:1688–1696. https://doi.org/10.1111/1365-2745.12313

Weiner J (2019) Looking in the wrong direction for higher-yielding crop genotypes. Trends Plant Sci 24:927–933. https://doi.org/10.1016/j.tplants.2019.07.001

Weiner J, Andersen SB, Wille WK-M et al (2010) Evolutionary agroecology: the potential for cooperative, high density, weed-suppressing cereals. Evol Appl 3:473–479. https://doi.org/10.1111/j.1752-4571.2010.00144.x

Weiner J, Du Y-L, Zhang C et al (2017) Evolutionary agroecology: individual fitness and population yield in wheat (Triticum aestivum). Ecology 98:2261–2266. https://doi.org/10.1002/ecy.1934

Wooliver R, Pfennigwerth AA, Bailey JK, Schweitzer JA (2016) Plant functional constraints guide macroevolutionary trade-offs in competitive and conservative growth responses to nitrogen. Funct Ecol 30:1099–1108. https://doi.org/10.1111/1365-2435.12648

Wright IJ, Reich PB, Westoby M, Ackerly DD, Baruch Z, Bongers F, Cavender-Bares J, Chapin T, Cornelissen JH, Diemer M, Flexas J, Garnier E, Groom PK, Gulias J, Hikosaka K, Lamont BB, Lee T, Lee W, Lusk C, Midgley JJ, Navas ML, Niinemets U, Oleksyn J, Osada N, Poorter H, Poot P, Prior L, Pyankov VI, Roumet C, Thomas SC, Tjoelker MG, Veneklaas EJ, Villar R (2004) The worldwide leaf economics spectrum. Nature 428:821–827. https://doi.org/10.1038/nature02403

Zhai L, Xie R, Wang P et al (2016) Impact of recent breeding history on the competitiveness of Chinese maize hybrids. Field Crop Res 191:75–82. https://doi.org/10.1016/j.fcr.2016.02.017

Zhang D-Y, Sun G-J, Jiang X-H (1999) Donald's ideotype and growth redundancy: a game theoretical analysis. Field Crop Res 61:179–187. https://doi.org/10.1016/S0378-4290(98)00156-7

Zhu L, Zhang D-Y (2013) Donald's ideotype and growth redundancy: a pot experimental test using an old and a modern spring wheat cultivar. PLoS One 8:e70006. https://doi.org/10.1371/journal.pone.0070006
Acknowledgements
We thank Prof. Feng-Min Li for providing wheat seeds. This work was supported by the National Natural Science Foundation of China (31421063 and 41671040 to LZ and DYZ) and the '111' Program of Introducing Talents of Discipline to Universities (B13008 to DYZ).
Additional information
Publisher's note
Springer Nature remains neutral with regard to jurisdictional claims in published maps and institutional affiliations.
Responsible Editor: Amandine Erktan.
About this article
Cite this article
Zhu, L., Xi, N. & Zhang, DY. Lower sensitivity in responses to root competition and soil resource availability in a new wheat cultivar than in an old wheat landrace. Plant Soil 450, 557–565 (2020). https://doi.org/10.1007/s11104-020-04519-y
Received:

Accepted:

Published:

Issue Date:
Keywords
Competition

Crop production

Group selection

Growth redundancy

Trade-offs