Abstract
Aims
Numerous invasive plant species can increase soil nitrate (NO3−) by altering the nitrification process through plant-soil microbe interactions with ammonia-oxidizing archaea (AOA) and ammonia-oxidizing bacteria (AOB). We evaluated how the invasive species Microstegium vimineum influenced physico-chemical soil properties, inorganic nitrogen (N) cycling, and AOA and AOB abundances under various environmental conditions.
Methods
We paired 75 M. vimineum-invaded plots with 75 neighboring reference plots across forests, open fields, and forested wetlands within a state park in the Mid-Atlantic United States that has received high levels of N deposition. Soils were sampled for physico-chemical properties, NO3− and ammonium (NH4+) pools and availability, and AOA and AOB abundances.
Results
There were multiple soil impacts associated with M. vimineum across all ecosystems, most consistent were increased soil pH and increased NO3− pools. For other impacts, the directionality and effect sizes varied among ecosystems (e.g. NH4+ pools were 34% lower in forests, 35% lower in open fields, and 90% higher in wetlands relative to reference plots). Finally, forests had nearly all of impacts predicted by a pH-mediated nitrification plant-soil feedback.
Conclusion
This study highlights the ability of an invasive grass to alter N cycling and soil properties in forests, open fields, and wetlands that have received high N deposition. We also show how invader-mediated impacts to N cycling may be dependent on the context of the ecosystem being invaded, including its hydrology, ambient soil conditions, and substrate-availability.
Access options
Buy single article
Instant access to the full article PDF.
US$ 39.95
Tax calculation will be finalised during checkout.
Subscribe to journal
Immediate online access to all issues from 2019. Subscription will auto renew annually.
US$ 119
Tax calculation will be finalised during checkout.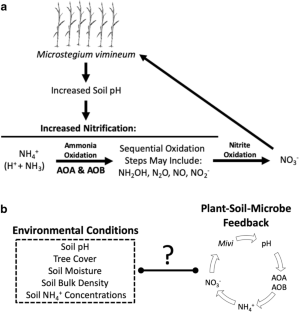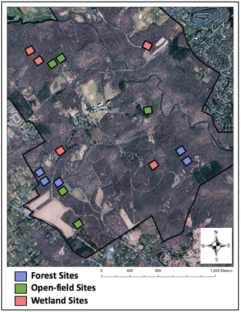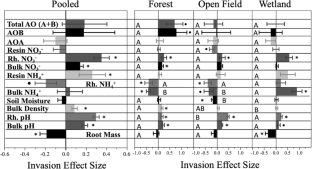 References
Aber J, McDowell W, Nadelhoffer K, Magill A, Berntson G, Kamakea M et al (1998) Nitrogen saturation in temperate forest ecosystems. BioScience:921–934

Adams SN, Engelhardt KA (2009) Diversity declines in Microstegium vimineum (Japanese stiltgrass) patches. Biol Conserv 142(5):1003–1010

Barreto CR, Morrissey EM, Wykoff DD, Chapman SK (2018) Co-occurring mangroves and salt marshes differ in microbial community composition. Wetlands, 1–12.

Bates D, Maechler M, Bolker B, Walker S, Christensen RHB, Singmann H, … Rcpp L (2015) Package 'lme4.' Convergence, 12(1)

Binkley D (1984) Ion exchange resin bags: factors affecting estimates of nitrogen availability. Soil Sci Soc Am J 48(5):1181–1184

Bradford MA, Wood SA, Maestre FT, Reynolds JF, Warren RJ (2012) Contingency in ecosystem but not plant community response to multiple global change factors. New Phytol 196(2):462–471. https://doi.org/10.1111/j.1469-8137.2012.04271.x

Bradley BA, Blumenthal DM, Wilcove DS, Ziska LH (2010) Predicting plant invasions in an era of global change. Trends Ecol Evol 25(5):310–318

Chapman SK, Devine KA, Curran C, Jones RO, Gilliam FS (2015) Impacts of soil nitrogen and carbon additions on Forest understory communities with a long nitrogen deposition history. Ecosystems:1–13

Cole PG, Weltzin JF (2004) Environmental correlates of the distribution and abundance of Microstegium vimineum, in East Tennessee. Southeast Nat 3(3):545–562. https://doi.org/10.1656/1528-7092(2004)003[0545:ECOTDA]2.0.CO;2

DeMeester JE, Richter D dB (2010) Differences in wetland nitrogen cycling between the invasive grass Microstegium vimineum and a diverse plant community. Ecol Appl 20(3):609–619. https://doi.org/10.1890/09-0283.1

Di HJ, Cameron KC, Podolyan A, Robinson A (2014) Effect of soil moisture status and a nitrification inhibitor, dicyandiamide, on ammonia oxidizer and denitrifier growth and nitrous oxide emissions in a grassland soil. Soil Biol Biochem 73:59–68

Dividson EA, Stark JM, Firestone MK (1990) Microbial production and consumpution of nitrate in an annual grassland. Ecology 71(5):1968–1975

Doane TA, Horwath WR (2003) Spectrophotometric determination of nitrate with a single reagent. Anal Lett 36(12):2713–2722

Drake DC (2011) Invasive legumes fix N2 at high rates in riparian areas of an N-saturated, agricultural catchment. J Ecol 99(2):515–523

Du E, de Vries W, Galloway JN, Hu X, Fang J (2014) Changes in wet nitrogen deposition in the United States between 1985 and 2012. Environ Res Lett 9(9):095004

Ehrenfeld JG (2003) Effects of exotic plant invasions on soil nutrient cycling processes. Ecosystems 6(6):503–523

Ehrenfeld JG (2010) Ecosystem consequences of biological invasions. Annu Rev Ecol Evol Syst 41:59–80

Ehrenfeld JG, Kourtev P, Huang W (2001) Changes in soil functions following invasions of exotic understory plants in deciduous forests. Ecol Appl 11(5):1287–1300

Fraterrigo JM, Strickland MS, Keiser AD, Bradford MA (2011) Nitrogen uptake and preference in a forest understory following invasion by an exotic grass. Oecologia 167(3):781–791

Gilliam FS (2006) Response of the herbaceous layer of forest ecosystems to excess nitrogen deposition. J Ecol 94(6):1176–1191

Goulding KW, Bailey NJ, Bradbury NJ, Hargreaves P, Howe M, Murphy DV et al (1998) Nitrogen deposition and its contribution to nitrogen cycling and associated soil processes. New Phytol 139(1):49–58

Horz H-P, Barbrook A, Field CB, Bohannan BJM (2004) Ammonia-oxidizing bacteria respond to multifactorial global change. Proc Natl Acad Sci U S A 101(42):15136–15141. https://doi.org/10.1073/pnas.0406616101

Isobe K, Koba K, Suwa Y, Ikutani J, Fang Y, Yoh M, Mo J, Otsuka S, Senoo K (2012) High abundance of ammonia-oxidizing archaea in acidified subtropical forest soils in southern China after long-term N deposition. FEMS Microbiol Ecol 80(1):193–203

Jones RO, Chapman SK (2011) The roles of biotic resistance and nitrogen deposition in regulating non-native understory plant diversity. Plant Soil 345(1–2):257–269. https://doi.org/10.1007/s11104-011-0778-y

Kourtev PS, Ehrenfeld JG, Huang WZ. (1998) Effects of exotic plant species on soil properties in hardwood forests of New Jersey. Water Air Soil Pollut Retrieved from http://agris.fao.org/agris-search/search.do?recordID=US201302935354

Kourtev PS, Ehrenfeld JG, Huang WZ (2002) Enzyme activities during litter decomposition of two exotic and two native plant species in hardwood forests of New Jersey. Soil Biol Biochem 34(9):1207–1218. https://doi.org/10.1016/S0038-0717(02)00057-3

Kourtev PS, Ehrenfeld JG, Häggblom M (2003) Experimental analysis of the effect of exotic and native plant species on the structure and function of soil microbial communities. Soil Biol Biochem 35(7):895–905

Kramer TD, Warren RJ, Tang Y, Bradford MA (2012) Grass invasions across a regional gradient are associated with declines in belowground carbon pools. Ecosystems 15(8):1271–1282. https://doi.org/10.1007/s10021-012-9583-6

Kuebbing SE, Nuñez MA, Simberloff D (2013) Current mismatch between research and conservation efforts: the need to study co-occurring invasive plant species. Biol Conserv 160:121–129

Kumschick S, Gaertner M, Vilà M, Essl F, Jeschke JM, Pyšek P et al (2014) Ecological impacts of alien species: quantification, scope, caveats, and recommendations. BioScience 65(1):55–63

Lee MR, Flory SL, Phillips RP (2012) Positive feedbacks to growth of an invasive grass through alteration of nitrogen cycling. Oecologia 170(2):457–465. https://doi.org/10.1007/s00442-012-2309-9

Leicht-Young SA, O'Donnell H, Latimer AM, Silander JA (2009) Effects of an invasive plant species, Celastrus orbiculatus, on soil composition and processes. Am Midl Nat 161(2):219–231. https://doi.org/10.1674/0003-0031-161.2.219

Liao C, Peng R, Luo Y, Zhou X, Wu X, Fang C, Chen J, Li B (2008) Altered ecosystem carbon and nitrogen cycles by plant invasion: a meta-analysis. New Phytol 177(3):706–714

Liu R, Hayden HL, Suter H, Hu H, Lam SK, He J et al (2017) The effect of temperature and moisture on the source of N 2 O and contributions from ammonia oxidizers in an agricultural soil. Biol Fertil Soils 53(1):141–152

Lüdecke MD (2019) Package 'sjstats'

McGrath DA, Binkley MA (2009) Microstegium vimineum invasion changes soil chemistry and microarthropod communities in Cumberland plateau forests. Southeast Nat 8(1):141–156. https://doi.org/10.1656/058.008.0113

McLeod ML, Cleveland CC, Lekberg Y, Maron JL, Philippot L, Bru D, Callaway RM (2016) Exotic invasive plants increase productivity, abundance of ammonia-oxidizing bacteria and nitrogen availability in intermountain grasslands. J Ecol 104(4):994–1002

Morrill LG, Dawson JE (1967) Patterns observed for the oxidation of ammonium to nitrate by soil organisms 1. Soil Sci Soc Am J 31(6):757–760

Nicol GW, Leininger S, Schleper C, Prosser JI (2008) The influence of soil pH on the diversity, abundance and transcriptional activity of ammonia oxidizing archaea and bacteria. Environ Microbiol 10(11):2966–2978

Paschke MW, Dawson JO, David MB (1989) Soil nitrogen mineralization in plantations ofJuglans nigra interplanted with actinorhizalElaeagnus umbellata orAlnus glutinosa. Plant Soil 118(1):33–42

Piper CL, Lamb EG, Siciliano SD (2015) Smooth brome changes gross soil nitrogen cycling processes during invasion of a rough fescue grassland. Plant Ecol 216(2):235–246. https://doi.org/10.1007/s11258-014-0431-y

Purkhold U, Pommerening-Röser A, Juretschko S, Schmid MC, Koops H-P, Wagner M (2000) Phylogeny of all recognized species of ammonia oxidizers based on comparative 16S rRNA and amoA sequence analysis: implications for molecular diversity surveys. Appl Environ Microbiol 66(12):5368–5382

R Core Team (2013) R: a language and environment for statistical computing

Rhoads AF, Block TA (2008) Ridley Creek State Park. Retrieved from http://ww.friendsofrcsp.org/activities/RCSPInvasives08.pdf

Rodrigues RR, Pineda RP, Barney JN, Nilsen ET, Barrett JE, Williams MA (2015) Plant invasions associated with change in root-zone microbial community structure and diversity. PLoS One 10(10):e0141424. https://doi.org/10.1371/journal.pone.0141424

Schepers JS, Raun W, Agronomy, A. S. of. (2008) Nitrogen in agricultural systems. ASA-CSSA-SSSA

Scherer HW (1993) Dynamics and availability of the non-exchangeable NH4-N—a review. Eur J Agron 2(3):149–160

Shannon-Firestone S, Reynolds HL, Phillips RP, Flory SL, Yannarell A (2015) The role of ammonium oxidizing communities in mediating effects of an invasive plant on soil nitrification. Soil Biol Biochem 90:266–274. https://doi.org/10.1016/j.soilbio.2015.07.017

Shultz CH (1999) The geology of Pennsylvania: Pennsylvania geological survey. Harrisburg, Pennsylvania

Sims GK, Ellsworth TR, Mulvaney RL (1995) Microscale determination of inorganic nitrogen in water and soil extracts. Commun Soil Sci Plant Anal 26(1–2):303–316

Sokol NW, Kuebbing SE, Bradford MA (2017) Impacts of an invasive plant are fundamentally altered by a co-occurring forest disturbance. Ecology 98(8):2133–2144. https://doi.org/10.1002/ecy.1906

Stark JM, Firestone MK (1995) Mechanisms for soil moisture effects on activity of nitrifying bacteria. Appl Environ Microbiol 61(1):218–221

Ste-Marie C, Paré D (1999) Soil, pH and N availability effects on net nitrification in the forest floors of a range of boreal forest stands. Soil Biol Biochem 31(11):1579–1589. https://doi.org/10.1016/S0038-0717(99)00086-3

Strickland MS, Devore JL, Maerz JC, Bradford MA (2010) Grass invasion of a hardwood forest is associated with declines in belowground carbon pools. Glob Chang Biol 16(4):1338–1350

Szukics U, Abell GCJ, Hödl V, Mitter B, Sessitsch A, Hackl E, Zechmeister-Boltenstern S (2010) Nitrifiers and denitrifiers respond rapidly to changed moisture and increasing temperature in a pristine forest soil. FEMS Microbiol Ecol 72(3):395–406. https://doi.org/10.1111/j.1574-6941.2010.00853.x

Tourna M, Freitag TE, Nicol GW, Prosser JI (2008) Growth, activity and temperature responses of ammonia-oxidizing archaea and bacteria in soil microcosms. Environ Microbiol 10(5):1357–1364

van der Putten WH, Bardgett RD, Bever JD, Bezemer TM, Casper BB, Fukami T et al (2013) Plant–soil feedbacks: the past, the present and future challenges. J Ecol 101(2):265–276

van der Putten WH, Bradford MA, Pernilla Brinkman E, van de Voorde TF, Veen GF (2016) Where, when and how plant–soil feedback matters in a changing world. Funct Ecol 30(7):1109–1121

Vilà M, Basnou C, Pyšek P, Josefsson M, Genovesi P, Gollasch S et al (2010) How well do we understand the impacts of alien species on ecosystem services? A pan-European, cross-taxa assessment. Front Ecol Environ 8(3):135–144

Warren RJ II, Wright JP, Bradford MA (2011) The putative niche requirements and landscape dynamics of Microstegium vimineum: an invasive Asian grass. Biol Invasions 13(2):471–483

Weatherburn MW (1967) Phenol-hypochlorite reaction for determination of ammonia. Anal Chem 39(8):971–974

Wei C, Yu Q, Bai E, Lü X, Li Q, Xia J, Kardol P, Liang W, Wang Z, Han X (2013) Nitrogen deposition weakens plant–microbe interactions in grassland ecosystems. Glob Chang Biol 19(12):3688–3697

Wolfe BE, Klironomos JN (2005) Breaking new ground: soil communities and exotic plant invasion. BioScience 55(6):477–487. https://doi.org/10.1641/0006-3568(2005)055[0477:BNGSCA]2.0.CO;2
Acknowledgements
We would like to thank Ridley Creek State Park for allowing us access to the property and the privilege to sample throughout the park (Permit #: 2016-40). We would also like to thank everyone who aided Rippel and Succi in field work, including: Tara Malanga, Drew Freed, Benjamin Gibbons, Ben Malone, Colin O'Mara, Frasier Green, Sean Lee, and Libby O'Brien. Revisions of this paper were greatly improved by anonymous reviewers, who provided extensive and useful feedback, as well Georgetown University's EEB Journal Club and Madeline Buhman.
Additional information
Publisher's note
Springer Nature remains neutral with regard to jurisdictional claims in published maps and institutional affiliations.
The original version of this article was revised due to incorrect format of table 2.
Responsible Editor: Elizabeth M Baggs.
Electronic supplementary material
About this article
Cite this article
Rippel, T.M., Iosue, C.L., Succi, P.J. et al. Comparing the impacts of an invasive grass on nitrogen cycling and ammonia-oxidizing prokaryotes in high-nitrogen forests, open fields, and wetlands. Plant Soil 449, 65–77 (2020). https://doi.org/10.1007/s11104-020-04458-8
Received:

Accepted:

Published:

Issue Date:
Keywords
Invasive species

Nitrogen cycling

Microstegium vimineum

Ammonia-oxidizing Archaea

Ammonia-oxidizing Bacteria