Abstract
Aims
Taking into account the relevance of biofortification of crop plants with selenium (Se) - an essential element for humans and animals -, this study assessed the effect of adding Se in the soil (as selenate) on: i) rice grains yield; ii) Se contents in polished rice grains; iii) physiological traits in rice leaves; and, iv) spatial distribution of Se and other elements in biofortified grains.
Methods
A field trial was conducted using five Se rates (12, 21, 38, 68, and 120 g ha−1). Physiologic and enzymatic evaluations were carried out in rice leaves. Rice grain yield and Se contents were assessed. Spatial distributions of Se and other elements were visualized mapping the biofortified rice grains with μXRF at Brazilian Synchrotron Light Source.
Results
Results showed that soil Se application was effective in producing rice grains with higher Se contents, yet no effects were verified on rice yield. Antioxidant enzyme activities and gas exchanges in rice leaves changed following the application of Se. The spatial distribution of different elements in biofortified grains varied, with Se being accumulated mainly in the rice endosperm.
Conclusion
Our results suggest that soil application of 47 and 36 g ha−1 of Se (as sodium selenate) may guarantee the production of rice grains with adequate Se levels for human consumption in Brazil and worldwide, respectively.
Access options
Buy single article
Instant access to the full article PDF.
USD 39.95
Price excludes VAT (USA)
Tax calculation will be finalised during checkout.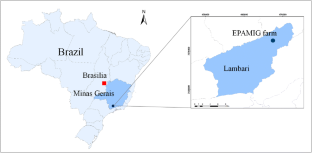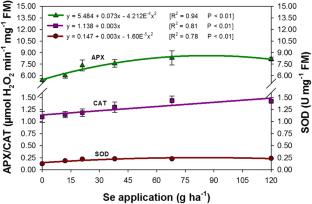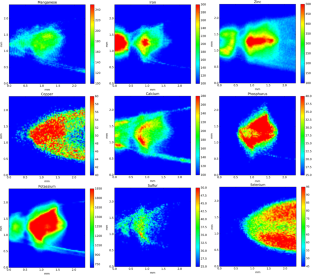 References
Ajwa HA, Bañuelos GS, Mayland HF (1998) Selenium uptake by plants from soils amended with inorganic and organic materials. J Environ Qual 27(5):1218–1227. https://doi.org/10.2134/jeq1998.00472425002700050029x

Alfthan G, Eurola M, Ekholm P, Venäläinend E, Rootd T, Korkalainend K, Hartikainenc H, Salminene P, Hietaniemib V, Aspilab P, Aroa A (2015) Effects of nationwide addition of selenium to fertilizers on foods, and animal and human health in Finland: from deficiency to optimal selenium status of the population. J Trace Elem Med Biol 31:142–147. https://doi.org/10.1016/j.jtemb.2014.04.009

Andrade FR, Silva GN, Guimarães KC, Barreto HBF, Souza KRD, Guilherme LRG, Faquin V, Reis AR (2018) Selenium protects rice plants from water deficit stress. Ecotox Environ Safe 164:562–570. https://doi.org/10.1016/j.ecoenv.2018.08.022

Araujo AM, Lessa JHL, Ferreira LA, Guilherme LRG, Lopes G (2018) Soil management and ionic strength on selenate retention in oxidic soils. Ciênc Agrotec 42(4):395–407. https://doi.org/10.1590/1413-70542018424007318

Biemelt S, Keetman U, Albrecht G (1998) Re-aeration following hypoxia or anoxia leads to activation of the antioxidative defense system in roots of wheat seedlings. Plant Physiol 116:651–658

Brasil. (2016) Ministério da Agricultura, Pecuária e Abastecimento Instrução normativa N° 46 DE 22 de novembro de 2016. Ficam estabelecidas as regras sobre definições, exigências, especificações, garantias, registro de produto, autorizações, embalagem, rotulagem, documentos fiscais, propagandas e tolerâncias dos fertilizantes minerais destinados à agricultura. Available in: http://www.agricultura.gov.br/assuntos/insumos-agropecuarios/insumos-agricolas/fertilizantes/legislacao/in-46-de-22-11-2016-fert-minerais-dou-7-12-16.pdf. Accessed 14 Feb 2019

Carey AM, Scheckel KG, Lombi E, Newville M, Choi Y, Norton GJ, Price AH, Meharg AA (2012) Grain accumulation of selenium species in rice (Oryza sativa L.). Environ Sci Technol 46:5557–5564. https://doi.org/10.1021/es203871j

Carvalho R, Furtini Neto AE, Santos CD, Fernandes LA, Curi N, Rodrigues DC (2001) Interações silício-fósforo em solos cultivados com eucalipto em casa de vegetação. Pesq Agropec Bras 36(3):557–565. https://doi.org/10.1590/S0100-204X2001000300022

Carvalho GS, Oliveira JR, Curi N, Schulze DG, Marques JJ (2019) Selenium and mercury in Brazilian Cerrado soils and their relationships with physical and chemical soil characteristics. Chemosphere 218:412–415. 10.1016/j

Ciccolini V, Pellegrino E, Coccina A, Fiaschi AI, Cerretani D, Sgherri C, Quartacci MF, Ercoli L (2017) Biofortification with Iron and zinc improves nutritional and nutraceutical properties of common wheat flour and bread. J Agric Food Chem 65(27):5443–5452. https://doi.org/10.1021/acs.jafc.7b01176

Combs GF Jr, Combs SB (1986) The role of selenium in nutrition. Academic Press, New York

Empresa Brasileira de Pesquisa Agropecuária – EMBRAPA, Manual de métodos de análise de solo (2017) Embrapa Solos, Brasília

Fairweather-Tait SJ, Bao Y, Broadley MR, Collings R, Ford D, Hesketh JE, Hurst R (2011) Selenium in human health and disease. Antioxid Redox Signal 14(7):1337–1383. https://doi.org/10.1089/ars.2010.3275

FAO/AMIS (2019) View and compare. Available in http://statistics.amis-outlook.org/data/index.html#COMPARE. Accessed 24 Feb 2019

Feng R, Wei C, Tud S (2013) The roles of selenium in protecting plants against abiotic stresses. Environ Exp Bot 87:58–68. https://doi.org/10.1016/j.envexpbot.2012.09.002

Ferreira DF (2011) Sisvar: a computer statistical analysis system. Ciênc Agrotec 35(6):1039–1042. https://doi.org/10.1590/S1413-70542011000600001

Gabos MB, Alleoni LRF, Abreu CA (2014) Background levels of selenium in some selected Brazilian tropical soils. J. Geochem Explor 145:35–39

Giannopolitis CN, Ries SK (1977) Superoxide dismutases: I. occurrence in higher plants. Plant Physiol 59:309–314. https://doi.org/10.1104/pp.59.2.309

Haug A, Graham RD, Christophersen OA, Lyons GH (2007) How to use the world's scarce selenium resources efficiently to increase the selenium concentration in food. Microb Ecol Health Dis 19:209–228. https://doi.org/10.1080/08910600701698986

Havir EA, McHale NA (1987) Biochemical and developmental characterization of multiple forms of catalase in tobacco leaves. Plant Physiol 84(2):450–455. https://doi.org/10.1104/pp.84.2.450

Jiang C, Zu C, Lu D, Zheng Q, Shen J, Wang H, Li D (2017) Effect of exogenous selenium supply on photosynthesis, Na+ accumulation and antioxidative capacity of maize (Zea mays L.) under salinity stress. Sci Rep 7:42039. https://doi.org/10.1038/srep42039

Jones GD, Droz B, Greve P, Gottschalk P, Poffet D, McGrath SP, Seneviratne SI, Smith P, Winkel LH (2017) Selenium deficiency risk predicted to increase under future climate change. Proc Natl Acad Sci 11:2848–2853. https://doi.org/10.1073/pnas.1611576114

Kipp AP, Strohm D, Brigelius-Flohé R, Schomburg L, Bechthold A, Leschik-Bonnet E, Heseker H, German Nutrition Society (DGE) (2015) Revised reference values for selenium intake. J Trace Elem Med Biol 32:195–199. https://doi.org/10.1016/j.jtemb.2015.07.005

Lessa JHL, Araujo AM, Silva GNT, Guilherme LRG, Lopes G (2016) Adsorption-desorption reactions of selenium (VI) in tropical cultivated and uncultivated soils under Cerrado biome. Chemosphere 164:271–277. https://doi.org/10.1016/j.chemosphere.2016.08.106

Lopes A, Ávila FW, Guilherme LRG (2017) Selenium behavior in the soil environment and its implication for human health. Ciênc Agrotec 41(6):605–615. https://doi.org/10.1590/1413-70542017416000517

Losi ME, Frankenberger WT Jr (1997) Reduction of selenium oxyanions by Enterobacter cloacae strain SLD1a-1: isolation and growth of the bacterium and its expulsion of selenium particles. Appl Environ Microbiol 63(8):3079–3084

Lu L, Tian S, Liao H, Zhang J, Yang X, Labavitch JM, Chen W (2013) Analysis of metal element distributions in rice (Oryza sativa L.) seeds and relocation during germination based on X-ray fluorescence imaging of Zn, Fe, K, ca, and Mn. PLoS One 8:e57360. https://doi.org/10.1371/journal.pone.0057360

Lucca P, Poletti S, Sautter C (2006) Genetic engineering approaches to enrich rice with iron and vitamin a. Physiol Plant 126(3):291–303. https://doi.org/10.1111/j.1399-3054.2006.00609.x

Marschner H (1986) Mineral nutrition of higher plants. Academic Press Inc., London

Mayland HF (1994) Selenium in plant and animal nutrition. In: Frankenberger WT, Benson S (eds) Selenium in the environment. Marcel-Dekker, New York, pp 29–47

Meng F, Wei Y, Yang X (2005) Iron content and bioavailability in rice. J Trace Elem Med Biol 18:333–338. https://doi.org/10.1016/j.jtemb.2005.02.008

Moulick D, Santra SC, Ghosh D (2018) Effect of selenium induced seed priming on arsenic accumulation in rice plant and subsequent transmission in human food chain. Ecotoxicol Environ Saf 152:67–77. https://doi.org/10.1016/j.ecoenv.2018.01.037

Nakano Y, Asada K (1981) Hydrogen peroxide is scavenged by ascorbate-specific peroxidase in spinach chloroplasts. Plant Cell Physiol 22:867–880. https://doi.org/10.1093/oxfordjournals.pcp.a076232

Natasha, Shahid M, Niazi NK, Sana K, Murtaza B, Bibi I, Rashid MI (2018) A critical review of selenium biogeochemical behavior in soil-plant system with an inference to human health. Environ Pollut 234:915–934. https://doi.org/10.1016/j.envpol.2017.12.019

Nawaz F, Ahmad R, Ashraf MY, Waraich EA, Khan SZ (2015) Effect of selenium foliar spray on physiological and biochemical processes and chemical constituents of wheat under drought stress. Ecotoxicol Environ Saf 113:191–200. https://doi.org/10.1016/j.ecoenv.2014.12.003

Nawaz F, Naeem M, Ashraf MY, Tahir MN, Zulfiqar B, Salahuddin M, Shabbir RN, Aslam M (2016) Selenium supplementation affects physiological and biochemical processes to improve fodder yield and quality of maize (Zea mays L.) under water deficit conditions. Front. Plant Sci 7:1438. https://doi.org/10.3389/fpls.2016.01438

Proietti P, Nasini L, Del Buono D, D'Amato R, Tedeschini E, Businelli D (2013) Selenium protects olive (Olea europaea L.) from drought stress. Sci Hortic 164:165–171. https://doi.org/10.1016/j.scienta.2013.09.034

Ramos SJ, Faquin V, Guilherme LRG, Castro EM, Ávila FW, Carvalho GS, Bastos CEA, Oliveira C (2010) Selenium biofortification and antioxidant activity in lettuce plants fed with selenate and selenite. Plant Soil Environ 56(12):584–588

Reis A, El-Ramady H, Santos EF, Gratão PL, Schomburg L (2017) Overview of selenium deficiency and toxicity worldwide: affected areas, selenium-related health issues, and case studies. In: De Kok LJ, Hakesford MJ (eds) Plant ecophysiology. Springer, Gewerbestrasse, pp 209–230

Reis HPG, Barcelos JPQ, Junior EF, Santos EF, Silva VM, Moraes MF, Putti FF, Reis AR (2018) Agronomic biofortification of upland rice with selenium and nitrogen and its relation to grain quality. J Cereal Sci 79:508–515. https://doi.org/10.1016/j.jcs.2018.01.004

Saha U, Fayiga A, Sonon L (2017) Selenium in the soil-plant environment: a review. Int J Appl Agric Sci 3(1):1–18. https://doi.org/10.11648/j.ijaas.20170301.11

SEAPA (2017) Arroz, dados de Minas Gerais. Available in http://www.agricultura.mg.gov.br/images/Arq_Relatorios/Agricultura/2017/Mar/perfil_arroz_mar_2017.pdf. Accessed 24 Feb 2019

Soares AA, Reis MS, Cornélio VMO, Soares PC, Costa Júnior GT, Guedes JM, Leite NA, Souza MA, Dias FP (2008) Novas Cultivares, BRSMG Caravera: cultivar de arroz para terras altas. Pesq Agropec Bras 43(7):937–940. https://doi.org/10.1590/S0100-204X2008000700020

Solé VA, Papillon E, Cotte M, Walter P, Susini JA (2007) A multiplatform code for the analysis of energy-dispersive X-ray fluorescence spectra. Spectrochimica Acta Part B: Atom Spectrosc 62(1):63–68. https://doi.org/10.1016/j.sab.2006.12.002

USEPA (2007) Microwave assisted acid digestion of sediments sludge, soils, and oils. EPA SW 846:3051A

White PJ (2016) Selenium accumulation by plants. Ann Bot 117:217–235. https://doi.org/10.1093/aob/mcv180

White PJ, Broadley MR (2009) Biofortification of crops with seven mineral elements often lacking in human diets - iron, zinc, copper, calcium, magnesium, selenium and iodine. New Phytol 182:49–84. https://doi.org/10.1111/j.1469-8137.2008.02738.x

Williams PN, Lombi E, Sun GX, Scheckel K, Zhu YG, Feng X, Meharg AA (2009) Selenium characterization in the global Rice supply chain. Environ Sci Technol 43(15):6024–6030

Yao XQ, Chu JZ, Ba CJ (2010) Antioxidant responses of wheat seedlings to exogenous selenium supply under enhanced ultraviolet-B. Biol Trace Elem Res 136:96–105. https://doi.org/10.1007/s12011-009-8520-9

Zhu Z, Chen Y, Shi GQ, Zhang X (2017) Selenium delays tomato fruit ripening by inhibiting ethylene biosynthesis and enhancing the antioxidant defense system. Food Chem 219:179–184. https://doi.org/10.1016/j.foodchem.2016.09.138
Acknowledgements
The authors thank the Coordination for the Improvement of Higher Education Personnel (CAPES) – Finance Code 001; Brazilian National Council for Scientific and Technological Development (CNPq); and Foundation for Support Research of the State of Minas Gerais (FAPEMIG) for financial support. Also, we are grateful to the Agricultural Research Company of Minas Gerais - Experimental Field of Lambari (EPAMIG-SUL), the Brazilian Synchrotron Light Source for providing beamtime (Proposal 20170792) and Dr. C.A. Perez for assistance during beamtime.
Additional information
Responsible Editor: Philip John White.
Publisher's note
Springer Nature remains neutral with regard to jurisdictional claims in published maps and institutional affiliations.
About this article
Cite this article
de Lima Lessa, J.H., Araujo, A.M., Ferreira, L.A. et al. Agronomic biofortification of rice (Oryza sativa L.) with selenium and its effect on element distributions in biofortified grains. Plant Soil 444, 331–342 (2019). https://doi.org/10.1007/s11104-019-04275-8
Received:

Accepted:

Published:

Issue Date:

DOI: https://doi.org/10.1007/s11104-019-04275-8
Keywords