Abstract
Aims
We examined the influence of inoculation with five species/strains of diazotrophic bacteria on the modulation of two enzymes involved in the assimilation of N and on the soluble N fractions in the sugarcane varieties RB867515 (adapted for low fertility soils) and IACSP95-5000 (adapted for medium to high fertility soils) under high- (3 mM) and low (0.3 mM)-N conditions in hydroponic cultivation for 59 days.
Methods
The sugarcane plants were produced in three steps to obtain the hydroponic cultivation: the supply of 3 mM N for 30 days (first harvest), N depletion for 72 h (second harvest), and cultivation in high- and low-N conditions over 26 days (final harvest). Inoculation was performed by immersion of the minisetts in a diluted solution of five diazotrophic bacteria. After the final harvest, plants were divided into roots and shoots to assess their dry weight and N, P, and K accumulation.
Results
The variety played an important role in the interaction with diazotrophs, each showing distinct behavior in the activity of their N-assimilation enzymes. The nitrate reductase activity (NRa—EC 1.7.1.1) was increased in var. RB867515 by 26% in the shoots and by 48% in the roots after 72 h under N depletion, while var. IACSP95-5000 showed a reduced enzymatic activity in the roots (by 62%) but not in the shoots. Under high-N conditions, the inoculated IACSP95-5000 plants showed 31% higher glutamine synthetase activity (GSa—EC 6.31.2) compared with 19% in RB867515. Under low-N conditions, the GSas were 21% and 16% higher in the inoculated RB867515 and IACSP95-5000 plants, respectively, compared with that of the control. The content of nitrogen in the form of nitrate (N-nitrate) confirmed these varietal differences, but the soluble sugar content did not.
Conclusions
The varieties utilized N sources differently, and inoculation modified the activity of two N-assimilation enzymes as well as the biomass accumulation, with the highest improvement seen in the low fertility-adapted variety RB867515; it showed a greater response to inoculation compared with that of the high fertility-adapted variety IACSP95-5000, with an increase in biomass and nutrient accumulation (N, P, K), especially when cultivated under low-N conditions. This suggests that the best response to inoculation with diazotrophs will be achieved using low fertility-adapted sugarcane varieties under low-N conditions.
This is a preview of subscription content, log in to check access.
Access options
Buy single article
Instant access to the full article PDF.
US$ 39.95
Price includes VAT for USA
Subscribe to journal
Immediate online access to all issues from 2019. Subscription will auto renew annually.
US$ 199
This is the net price. Taxes to be calculated in checkout.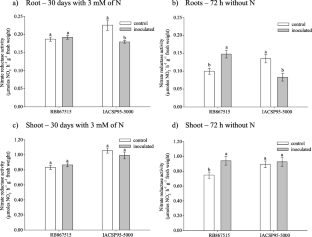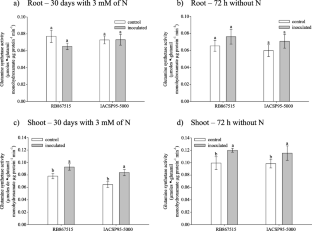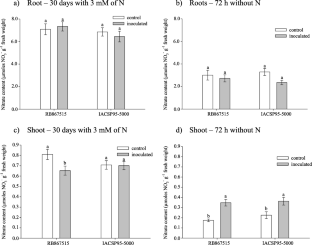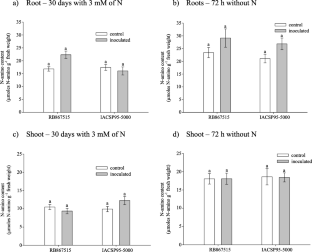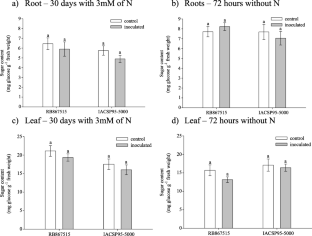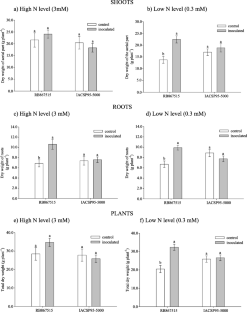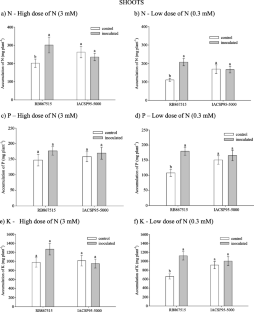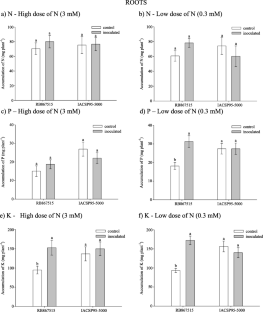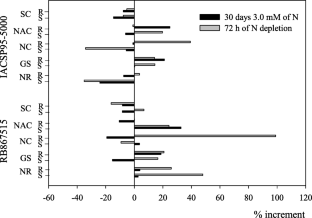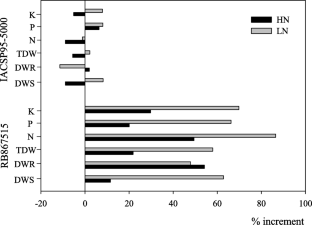 References
Aliasgharzad N, Heydaryan Z, Sarikhani MR (2014) Azospirillum inoculation alters nitrate reductase activity and nitrate uptake in wheat plant under water deficit conditions. Int J Adv Sci Eng Infor Technol 4:94–98. https://doi.org/10.18517/ijaseit.4.4.422

Alvarez M, Vidal EA, Gutiérrez RA (2012) Integration of local and systemic signaling pathways for plant N responses. Curr Opin Plant Biol 15:185–191. https://doi.org/10.1016/j.pbi.2012.03.009

Alves GC, Videira SS, Urquiaga S, Reis VM (2015) Differential plant growth promotion and nitrogen fixation in two genotypes of maize by several Herbaspirillum inoculants. Plant Soil 387:307–321. https://doi.org/10.1007/s11104-014-2295-2

Baldani JI, Baldani VLD, Seldin L, Döbereiner J (1986) Characterization of Herbaspirillum seropedicae gen. nov. sp. nov. a root associated nitrogen fixing bacterium. Int J Syst Bacteriol 36:86–93. https://doi.org/10.1099/00207713-36-1-86

Baldani JI, Pot B, Kirchhof G, Falsen E, Baldani VLD, Olivares FL, Hoste B, Kersters K, Hartman A, Gillis M, Döbereiner J (1996) Emended description of Herbaspirillum; inclusion of [Pseudomonas] rubrisubalbicans, a mild plant pathogen, as Herbaspirillum rubrisubalbicans and classification of a group of clinical isolates (EF group 1) as Herbaspirillum species 3. Int J Syst Bacteriol 46:802–810

Baldani JI, Reis VM, Videira SS, Boddey LH, Baldani VLD (2014) The art of isolating nitrogen-fixing bacteria from non-leguminous plants using N-free semi-solid media: a practical guide for microbiologists. Plant Soil 384:413–431. https://doi.org/10.1007/s11104-014-2186-6

Bastian F, Cohen A, Piccoli P, Luna V, Baraldi R, Bottini R (1998) Production of indole-3-acetic acid and gibberellins A1 and A3 by Acetobacter diazotrophicus and Herbaspirillum seropedicae in chemically defined culture media. Plant Growth Regul 24:7–11. https://doi.org/10.1023/A:100

Bernard SM, Habash DZ (2009) The importance of cytosolic glutamine synthetase in nitrogen assimilation and recycling. New Phytol 182:608–620. https://doi.org/10.1111/j.1469-8137.2009.02823.x

Cantarella H, Trivelin PCO, Vitti AC (2007) Nitrogênio e enxofre na cultura da cana-de-açúcar. In: Yamada T, Abdalla SRS, Vitti GC (eds) Nitrogênio e enxofre na agricultura brasileira. IPNI, Piracicaba, pp 355–412

Cassán F, Vanderleyden J, Spaepen S (2014) Physiological and agronomical aspects of phytohormone production by model plant-bacteria-promoting rhizobacteria (PGPR) belonging to the genus Azospirillum. J Plant Growth Regul 33:440–459. https://doi.org/10.1007/s00344-013-9362-4

Cavalcante VA, Döbereiner J (1988) A new acid tolerant nitrogen- fixing bacterium associated with sugarcane. Plant Soil 108:23–31

Costa C, Dwyer LM, Zhou X, Dutilleul P, Hamel C, Reid LM, Smith D (2002) Root morphology by contrasting maize genotypes. Agron J 94:96–101

Crespo J, Boiardi J, Luna M (2011) Mineral phosphate solubilization activity of Gluconacetobacter diazotrophicus under P-limitation and plant root environment. Agricult Sci 2:16–22. https://doi.org/10.1590/S0100-204X2003001200003

da Silva JM, dos Santos TMC, de Albuquerque LS, Montaldo YC, de Oliveira JUL, da Silva SGM, Nascimento MS, Teixeira RRO (2015) Potential of the endophytic bacteria Herbaspirillum spp. and Bacillus spp. to promote sugarcane growth. AJCS 9:754–760 http://www.cropj.com/silva_9_8_2015_754_760.pdf

Donato VMTS, Andrade AG, Souza ES, França JGE (2003) Metabolismo de plantas de cana-de-açúcar cultivadas in vitro sob diferentes concentrações de nitrogênio. Pesq agrop bras 38:1373–1379 http://www.scielo.br/pdf/pab/v38n12/a03v38n12.pdf

Dong M, Yang Z, Cheng G, Peng L, Xu Q, Xu J (2018) Diversity of the bacterial microbiome in the roots of four Saccharum species: S. spontaneum, S. robustum, S. barberi, and S. officinarum. Front in Microbiol 9:267. https://doi.org/10.3389/fmicb.2018.00267

Euclydes R (2004) Sistema para análises estatísticas (SAEG 9.0). Funarbe, Viçosa

Fernandes MS, Rossiello OP (1995) Mineral nitrogen plant physiology and plant nutrition. Crit Rev Plant Sci 14:111–148

Ferreira D (2010) Sisvar: versão 5.3. Lavras: UFLA

Fortes C, Trivelin PCO, Vitti AC, Otto R, Franco HCJ, Forini CE (2013) Stalk and sucrose yield in response to nitrogen fertilization of sugarcane under reduced tillage. Pes agrop bras 48:88–96. https://doi.org/10.1590/S0100-204X2013000100012

Franco HCJ, Otto R, Faroni CE, Vitti AC, Oliveira ECA, Trivelin PCO (2010) Nitrogen in sugarcane derived from fertiliser under Brazilian field conditions. Field Crops Res 121:29–41. https://doi.org/10.1016/j.fcr.2010.11.011

Fuentes-Ramirez LE, Jiménez-Salgado T, Abarca-Ocampo IR, Caballero-Mellado J (1993) Acetobacter diazotrophicus, an indole acetic acid producing bacterium isolated from sugarcane cultivars of Mexico. Plant Soil 154:145–150. https://doi.org/10.1007/BF00

Harper D, Ryan P (2001) PAST: paleontological statistics software package for education and data analysis. Palaeontol Electron 4:1–9 https://palaeo-electronica.org/2001_1/past/past.pdf

Hoagland DR, Arnold DI (1950) The water-culture method for growing plants without soil. Circular Number 347. California Agricultural Experiment Station

James EK, Reis VM, Olivares FL, Baldani JI, Döbereiner J (1994) Infection of sugar cane by the nitrogen-fixing bacterium Acetobacter diazotrophicus. J Exp Bot 45:757–766

James EK, Olivares FL, Baldani JI, Dobereiner J (1997) Herbaspirillum, an endophytic diazotroph colonizing vascular tissue in leaves of Sorghum bicolor L. Moench J Exp Bot 48:785–797

James EK, Olivares FL (1998) Infection and colonization of sugarcane and other graminaceous plants by endophytic diazotrophs. Crit Rev Plant Sci 17:77–119. https://doi.org/10.1080/07352689891304195

Jaworski EG (1971) Nitrate reductase assay in intact plant tissues. Bioch Biophys Res Com 43:1274–1279. https://doi.org/10.1016/S0006-291X(71)80010-4

Landell MGA, Campana MP, Figueiredo P, Xavier MA, Anjos IA, Dinardo-Miranda LL, Scarpari MS, Garcia JC, Bidóia MA, Silva DN, Mendonça JR, Kanthack RAD, Campos MF, Brancalião SR, Petri RH, Miguel PEM (2012) Sistema de multiplicação de cana-de-açúcar com uso de mudas pré-brotadas (MPB), oriundas de gemas individualizadas, Campinas: Instituto Agronomico/ Fundação IAC (Boletim 109). 22p. http://www.udop.com.br/ebiblio/pagina/arquivos/2013_sistema_multiplicacao_cana_com_mudas_pre_brotadas.pdf

Lea PG, Miflin BJ (2010) Nitrogen assimilation and its relevance to crop improvement. Annu Plant Rev 42:1–40. https://doi.org/10.1002/9781444328608.ch1

Lin SY, Hameed A, Shen FT, Liu YC, Hsu YH, Shahina M, Lai WA, Young CC (2014) Description of Niveispirillum fermenti gen. nov., sp. nov., isolated from a fermentor in Taiwan, transfer of Azospirillum irakense 1989 as Niveispirillum irakense comb. nov., and reclassification of Azospirillum amazonense 1983 as Nitrospirillum amazonense gen. nov. Anton Leeuw 105:1149–1162. https://doi.org/10.1007/s10482-014-0176-6

Magalhães FM, Baldani JI, Souto SM, Kuykendall JR, Döbereiner J (1983) A new acid-tolerant Azospirillum species. Anais Acad Bras Ciên 55:417–430 https://link.springer.com/content/pdf/10.1007%2FBF02370096.pdf

Manter DK, Delgado JA, Holm DG, Stong RA (2010) Pyrosequencing reveals a highly diverse and cultivar-specific bacterial endophyte community in potato roots. Microb Ecol 60:157–166. https://doi.org/10.1007/s00248-010-9658-x

Masclaux-Daubresse C, Daniel-Vedele F, Dechorgnat J, Chardon F, Gaufichon L, Suzuki A (2010) Nitrogen uptake, assimilation and remobilization in plants: challenges for sustainable and productive agriculture. Ann Bot 105:1141–1157. https://doi.org/10.1093/aob/mcq028

Miranda KM, Espey MG, Wink DA (2001) A rapid, simple spectrophotometric method for simultaneous detection of nitrate and nitrite. Nitric Oxide 5:67–71. https://doi.org/10.1006/niox.2000.0319

Mitchell L (1972) Microdetermination of nitrogen in plant & tissues. J AOAC 1:1–3

Nogueira EM, Vinagre F, Masuda HP, Vargas C, Pádua VLM, Silva FR, Santos RV, Baldani JI, Ferreira PCG, Hemerly AS (2001) Expression of sugarcane genes induced by inoculation with Gluconacetobacter diazotrophicus and Herbaspirillum rubrisubalbicans. Gen Mol Biol 24:199–206. https://doi.org/10.1590/S1415-47572001000100027

Oliveira ALM, Canuto EL, Urquiaga S, Reis VM, Baldani JI (2006) Yield of micropropagated sugarcane varieties in different soil types following inoculation with diazotrophic bacteria. Plant Soil 284:23–32. https://doi.org/10.1007/s11104-006-0025-0

Oren A, Garrity GM (2015) List of new names and new combinations previously effective, but not validly, published. Int J Syst Evol Microbiol 65:2017–2025

Partida-Martínez LP, Heil M (2011) Themicrobe-freeplant:fact or artifact? Front Plant Sci 2:100. https://doi.org/10.3389/fpls.2011.00100

Pereira-Defilippi L, Pereira EM, Silva FM, Moro GV (2017) Expressed sequence tags related to nitrogen metabolism in maize inoculated with Azospirillum brasilense. Genet Mol Res 16(2):gmr16029682

Purcino AAC, Paiva E, Silva MR, de ASRM (1996) Influence of Azospirillum inoculation and nitrogen supply on grain yield, and carbon- and nitrogen-assimilating enzymes in maize. J Plant Nut 9:1045–1060

Reis Junior FB, Machado CTT, Machado AT, Sodek L (2008) Inoculação de Azospirillum amazonense em dois genótipos de milho sob diferentes regimes de nitrogênio. Rev Bras Ciênc Solo 32:1139–1146 http://www.scielo.br/pdf/rbcs/v32n3/a22v32n3.pdf

Reis VM, Olivares FL, Döbereiner J (1994) Improved methodology for isolation of Acetobacter diazotrophicus and confirmation of its endophytic habitat. World J Microbiol Biotechnol 10:401–405. https://doi.org/10.1007/BF00144460

Reis VM, Estrada-de los Santos P, Tenorio-Salgado S, Vogel J, Stoffels M, Guyon S, Mavingui P, Baldani VL, Schmid M, Baldani JI, Balandreau J, Hartmann A, Caballero-Mellado J (2004) Burkholderia tropica sp. nov., a novel nitrogen-fixing, plant-associated bacterium. Int J Syst Evol Microbiol 54:2155–2162. https://doi.org/10.1099/ijs.0.02879-0

Ribaldo CM, Rondanini DP, Trinchero GD, Curá JA (2005) Effect of Herbaspirillum seropedicae inoculation on maize nitrogen metabolism. Maydica 51:481–485

RIDESA (2015) Rede Interinstitucional de Desenvolvimento do Setor Sucroenergético Censo Varietal Brasil 2015. https://www.ridesa.com.br/variedades. Accessed 30 April 2019

Robinson N, Fletcher A, Whan A, Critchley C, Von Wirén N, Lakshmanan P, Schmidt S (2007) Sugarcane genotypes differ in internal nitrogen use efficiency. Funct Plant Biol 34:1122–1129. https://doi.org/10.1071/FPO7183

Rodrigues E, Rodrigues L, de Oliveira A, Baldani V, Teixeira K, Urquiaga S, Reis V (2008) Azospirillum amazonense inoculation: effects on growth, yield and N2 fixation of rice (Oryza sativa L.). Plant Soil 302:249–261. https://doi.org/10.1007/s11104-007-9476-1

Sanguino A, Moraes VA, Casagrande M (2006) Curso de formação e condução de viveiros de mudas de cana-de-açúcar, vol 43

Santos CLR, Cazetta JO, Saran LM, Sanches A (2014) Otimização da análise da atividade da redutase do nitrato e sua caracterização em folhas de cana-de-açúcar. Pesq Agropec Bras 49:384–394. https://doi.org/10.1590/S0100-204X20140005000008

Santos SG, Ribeiro FS, Fonseca CS, Pereia W, Santos LA, Reis VM (2017) Development and nitrate reductase activity of sugarcane inoculated with five diazotrophic strains. Arch Microbiol 199:863–873. https://doi.org/10.1007/s00203-017-1357-2

Saravanan VS, Madhaiyan M, Thangaraju M (2007) Solubilization of zinc compounds by the diazotrophic, plant growth promoting bacterium Gluconacetobacter diazotrophicus. Chemosphere 66:1794–1798. https://doi.org/10.1016/j.chemosphere.2006.07.067

Sarruge JR, Haag HP (1974) Análises químicas em plantas. ESALQ/USP, Piracicaba. 56p

Schultz N, Morais RF, Silva JA, Baptista RB, Oliveira RP, Leite JM, Pereira W, Carneiro JB Jr, Alves BJR, Baldani JI, Boddey RM, Urquiaga S, Reis VM (2012) Avaliação agronômica de variedades de cana-de-açúcar inoculadas com bactérias diazotróficas e adubadas com nitrogênio. Pesq Agropec Bras 47:261–268. https://doi.org/10.1590/S0100-204X2012000200015

Schultz N, Silva JAD, Sousa JS, Monteiro RC, Oliveira RP, Chaves VA, Pereira W, Silva MF, Reis VM, Urquiaga S (2014) Inoculation of sugarcane with diazotrophic bacteria. Rev Bras Ciênc Solo 38:407–414. https://doi.org/10.1590/S0100-06832014000200005

Souza RSC, Okura VK, Armanhi JSL, Jorrín B, Lozano N, Silva MJ, González-Guerreiro M, Araújo LM, Verza NC, Bagheri HC, Imperial J, Arruda P (2016) Unlocking the bacterial and fungal community's assemblages of sugarcane microbiome. Sci Rep 6:28774. https://doi.org/10.1038/srep28774

Suman A, Singh P, Lal M (2013) Effects of diverse habitat biofertilizers on yield and nitrogen balance in plant–ratoon crop cycle of sugarcane in subtropics. Sugar Tech 15:36–43. https://doi.org/10.1007/s12355-012-0191-8

Thorburn PJ, Meier EA, Probert ME (2005) Modelling nitrogen dynamics in sugarcane systems: recent advances and applications. Field Crop Res 92:337–351. https://doi.org/10.1016/j.fcr.2005.01.016

Urquiaga S, Xavier R, Morais RF, Batista R, Schultz N, Leite JM, Resende A, Alves BJR, Boddey RM (2012) Evidence from field nitrogen balance and 15N natural abundance data of the contribution of biological N2 fixation to Brazilian sugarcane varieties. Plant Soil 356:5–21. https://doi.org/10.1007/s11104-011-1016-3

Vargas L, de Carvalho TLG, Ferreira PCG, Baldani VLD, Baldani JI, Hermerly A (2012) Early responses of rice (Oryza sativa L.) seedlings to inoculation with beneficial diazotrophic bacteria are dependent on plant and bacterial genotypes. Plant Soil 356:127–137. https://doi.org/10.1007/s11104-012-1274-8

Veith R, Komor E (1993) Regulation of growth, sucrose storage and ion content in sugarcane cells, measured with suspension cells in continuous culture grown under nitrogen, phosphorus or carbon limitation. J Plant Physiol 142:414–424. https://doi.org/10.1016/S0176-1617(11)81246-0

Verma DPS, Hirel B, Miao GH, Verma DPS (1993) Metabolic and developmental control of glutamine synthetase genes in legume and non-legume plants. In: Verma DPS (ed) Plant Gene Expression. CRC Press Inc., Boca Raton, FL, pp 443–458

Vinall K, Schmidt S, Brackin R, Lakshmanan P, Robinson N (2012) Amino acids are a nitrogen source for sugarcane. Funct Plant Biol 39:503–511. https://doi.org/10.1071/FP12042

von Wiren N, Gazzarrini S, Gojon A, Frommer WB (2000) The molecular physiology of ammonium uptake and retrieval. Curr Opin Plant Biol 3:254–261. https://doi.org/10.1016/S1369-5266(00)80074-6

Wagner D, Wiemann P, Huß K, Brandt U, Fleißner A, Tudzynski B (2013) A sensing role of the glutamine synthetase in the nitrogen regulation network in Fusarium fujikuroi. PLoS One 8(11):e80740. https://doi.org/10.1371/journal.pone.0080740

Wang J, Nayak S, Ming R (2013) Carbon portioning in sugarcane (Saccharum species). Front Plant Sci 4(201). https://doi.org/10.3389/fpls.2013.00201

Whan A, Robinson N, Lakshmanan P, Schmidt S, Aitken K (2010) A quantitative genetics approach to nitrogen use efficiency in sugarcane. Funct Plant Biol 37:448–454. https://doi.org/10.1071/FP09260

Yemm EW, Cocking EC (1955) The determination of aminoacid with ninhydrin. Analyst 80:209–213

Yemm EW, Willis AJ (1954) The estimation of carbohydrate in plants extracts by anthrone. Biochem J 57:508–514
Acknowledgments
The authors express their gratitude to the Coordination of Improvement of Higher Education Personnel - CAPES and the Foundation Carlos Chagas de Amparo à Pesquisa do Estado do Rio de Janeiro - FAPERJ for the fellowships and to the National Council of Scientific and Technological Development - CNPq [grant number INCT 456133/2014-2 and 470824/2013-1].
Funding
This work was supported by Newton Fund grant BB/N013476/1 "Understanding and Exploiting Biological Nitrogen Fixation for Improvement of Brazilian Agriculture", co-funded by the Biotechnology and Biological Sciences Research Council (BBSRC) and the Brazilian National Council for State Funding Agencies (CONFAP).
Ethics declarations
Conflict of interest
The authors declare that they have no conflict of interest.
Additional information
Publisher's note
Springer Nature remains neutral with regard to jurisdictional claims in published maps and institutional affiliations.
Responsible Editor: Euan K. James.
About this article
Cite this article
dos Santos, S.G., da Silva Ribeiro, F., Alves, G.C. et al. Inoculation with five diazotrophs alters nitrogen metabolism during the initial growth of sugarcane varieties with contrasting responses to added nitrogen. Plant Soil (2019). https://doi.org/10.1007/s11104-019-04101-1
Received:

Accepted:

Published:
Keywords
Diazotrophic bacteria

Saccharum sp.

Enzymatic activity

Nitrogen