Abstract
Aim
Quantification of total belowground carbon (C) input and allocation to various pools in rice–soil systems depending on plant age, chase period, and nitrogen (N) availability.
Methods
Rice plants with and without N fertilization were 13CO2 pulse labelled at tillering, elongation, heading, and filling stages and were destructively sampled after 6 h of labelling and at the final harvest. The allocation of C by rice was also generalized based on literature pertaining to 94 studies with respect to plant age and chase period.
Results
The C allocation in roots and soil strongly decreased with plant age. The literature review showed that C allocation to roots increased within the first 10 days of labelling and remained stable thereafter. Nitrogen fertilization had no effect on C allocation immediately after assimilation, but increased C remained belowground at 1.7-times that at final harvest. The total belowground net C input by one rice crop was 630–1080 kg C ha−1, including rhizodeposition of 160–330 kg C ha−1.
Conclusion
Multiple pulse labelling at various plant growth stages and taking multiple subsequent samples as well as nutrient availability should be considered for tracing C flows more accurately for precise C balance in rice paddy systems.
Access options
Buy single article
Instant access to the full article PDF.
US$ 39.95
Tax calculation will be finalised during checkout.
Subscribe to journal
Immediate online access to all issues from 2019. Subscription will auto renew annually.
US$ 119
Tax calculation will be finalised during checkout.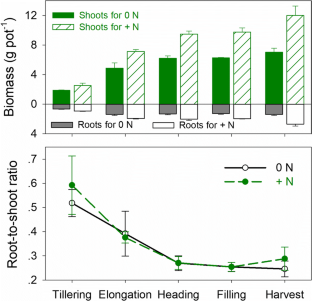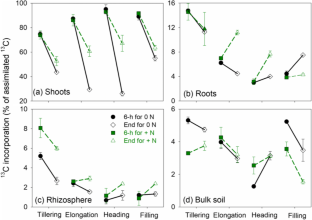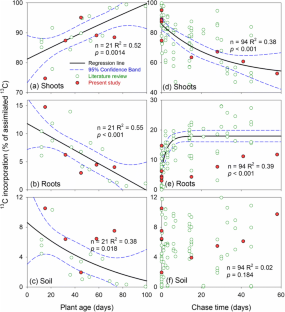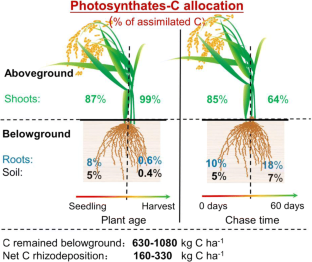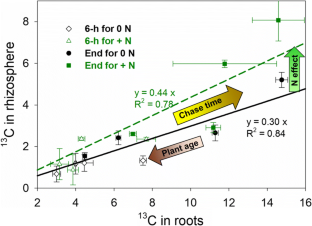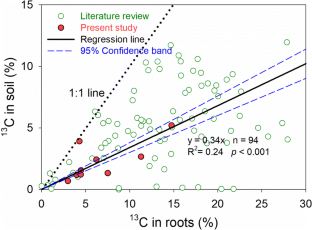 References
Atere CT, Ge T, Zhu Z, Tong C, Jones DL, Shibistova O, Guggenberger G, Wu J (2017) Rice rhizodeposition and carbon stabilisation in paddy soil are regulated via drying-rewetting cycles and nitrogen fertilisation. Biol Fertil Soils 53:407–417

Atere CT, Ge T, Zhu Z, Liu S, Huang X, Shibistova O, Guggenberger G, Wu J (2018) Assimilate allocation by rice and carbon stabilisation in soil: effect of water management and phosphorus fertilization. Plant Soil. https://doi.org/10.1007/s11104-018-03905-x

Bolinder MA, Janzen HH, Gregorich EG, Angers DA, VandenBygaart AJ (2007) An approach for estimating net primary productivity and annual carbon inputs to soil for common agricultural crops in Canada. Agric Ecosyst Environ 118:29–42

FAO (2016) Climate change, agriculture and food security. http://www.fao.org/3/a-i6030e.pdf

Farrar JF, Jones DL (2000) The control of carbon acquisition by roots. New Phytol 147:43–53

Ge T, Yuan H, Zhu H, Wu X, Nie S, Liu C, Tong C, Wu J, Brooks P (2012) Biological carbon assimilation and dynamics in a flooded rice - soil system. Soil Biol Biochem 48:39–46

Ge T, Liu C, Yuan H, Zhao Z, Wu X, Zhu Z, Brookes P, Wu J (2015) Tracking the photosynthesized carbon input into soil organic carbon pools in a rice soil fertilized with nitrogen. Plant Soil 392:17–25

Ge T, Li B, Zhu Z, Hu Y, Yuan H, Dorodnikov M, Jones DL, Wu J, Kuzyakov Y (2017) Rice rhizodeposition and its utilization by microbial groups depends on N fertilization. Biol Fertil Soils 53:37–48

Grulke NE, Andersen CP, Fenn ME, Miller PR (1998) Ozone exposure and nitrogen deposition lowers root biomass of ponderosa pine in the San Bernardino Mountains, California. Environ Pollut 103:63–73

He Y, Siemens J, Amelung W, Goldbach H, Wassmann R, Alberto MCR, Lücke A, Lehndorff E (2015) Carbon release from rice roots under paddy rice and maize-paddy rice cropping. Agric Ecosyst Environ 210:15–24

Jones DL, Hodge A, Kuzyakov Y (2004) Plant and mycorrhizal regulation of rhizodeposition. New Phytol 163:459–480

Jones DL, Nguyen C, Finlay RD (2009) Carbon flow in the rhizosphere: carbon trading at the soil-root interface. Plant Soil 321:5–33

Kimura M, Murase J, Lu Y (2004) Carbon cycling in rice field ecosystems in the context of input, decomposition and translocation of organic materials and the fates of their end products (CO2 and CH4). Soil Biol Biochem 36:1399–1416

Kögel-Knabner I, Amelung W, Cao Z, Fiedler S, Frenzel P, Jahn R, Kalbitz K, Kolbl A, Schloter M (2010) Biogeochemistry of paddy soils. Geoderma 157:1–14

Kuzyakov Y (2011) How to link soil C pools with CO2 fluxes? Biogeosciences 8:1523–1537

Kuzyakov Y, Domanski G (2000) Carbon input by plants into the soil. Review J Plant Nutr Soil Sci 163:421–431

Kuzyakov Y, Domanski G (2002) Model for rhizodeposition and CO2 efflux from planted soil and its validation by 14C pulse labelling of ryegrass. Plant Soil 239:87–102

Kuzyakov Y, Schneckenberger K (2004) Review of estimation of plant rhizodeposition and their contribution to soil organic matter formation. Arch Agron Soil Sci 50:115–132

Kuzyakov Y, Siniakina SV, Ruehlmann J, Domanski G, Stahr K (2002) Effect of nitrogen fertilisation on below-ground carbon allocation in lettuce. J Sci Food Agric 82:1432–1441

Lal R (2008) Sequestration of atmospheric CO2 in global carbon pools. Energy Environ Sci 1:86–100

Liang Q, Chen H, Gong Y, Fan M, Yang H, Lal R, Kuzyakov Y (2012) Effects of 15 years of manure and inorganic fertilizers on soil organic carbon fractions in a wheat-maize system in the North China plain. Nutr Cycl Agroecosystems 92:21–33

Liu Y, Ge T, Ye J, Liu S, Shibistova O, Wang P, Wang J, Li Y, Guggenberger G, Kuzyakov Y, Wu J (2019) Initial utilization of rhizodeposits with rice growth in paddy soils: rhizosphere and N fertilization effects. Geoderma 338:30–39

Lu Y, Watanabe A, Kimura M (2002) Input and distribution of photosynthesized carbon in a flooded rice soil. Glob Biogeochem Cycles 16:32–38

Luo Y, Zhu Z, Liu S, Peng P, Xu J, Brookes P, Ge T, Wu J (2018) Nitrogen fertilization increases rice rhizodeposition and its stabilization in soil aggregates and the humus fraction. Plant Soil 510:1–11

Nguyen C (2003) Rhizodeposition of organic C by plants: mechanisms and controls. Agron Sustain Dev 25:375–396

Pausch J, Kuzyakov Y (2018) Carbon input by roots into the soil: quantification of rhizodeposition from root to ecosystem scale. Glob Chang Biol 24:1–12

Pausch J, Tian J, Riederer M, Kuzyakov Y (2013) Estimation of rhizodeposition at field scale: upscaling of a 14C labeling study. Plant Soil 364:273–285

Phillips RP, Finzi AC, Bernhardt ES (2011) Enhanced root exudation induces microbial feedbacks to N cycling in a pine forest under long-term CO2 fumigation. Ecol Lett 14:187–194

Remus R, Augustin J (2016) Dynamic linking of 14C partitioning with shoot growth allows a precise determination of plant-derived C input to soil. Plant Soil 408:493–513

Remus R, Hüve K, Pörschmann J, Augustin J (2016) Determining the timepoint when 14C tracer accurately reflect photosynthate use in the plant-soil system. Plant Soil 408:457–474

Sanaullah M, Chabbi A, Rumpel C, Kuzyakov Y (2012) Carbon allocation in grassland communities under drought stress followed by 14C pulse labeling. Soil Biol Biochem 55:132–139

Schmitt A, Pausch J, Kuzyakov Y (2013) C and N allocation in soil under ryegrass and alfalfa estimated by 13C and 15N labelling. Plant Soil 368:581–590

Tian J, Pausch J, Fan M, Li X, Tang Q, Kuzyakov Y (2013a) Allocation and dynamics of assimilated carbon in rice-soil system depending on water management. Plant Soil 363:273–285

Tian J, Dippold M, Pausch J, Blagodatskaya E, Fan M, Li X, Kuzyakov Y (2013b) Microbial response to rhizodeposition depending on water regimes in paddy soils. Soil Biol Biochem 65:195–203

Wang J, Chapman SJ, Yao H (2016) Incorporation of 13C-labelled rice rhizodeposition into soil microbial communities under different fertilizer applications. Appl Soil Ecol 101:11–19

Watanabe A, Machida N, Takahashi K, Kitamura S, Kimura MT (2004) Flow of photosynthesized carbon from rice plants into the paddy soil ecosystem at different stages of rice growth. Plant Soil 258:151–160

Wei X, Razavi B, Hu Y, Xu X, Zhu Z, Liu Y, Kuzyakov K, Li Y, Wu J, Ge T (2019) C/P stoichiometry of dying rice root defines the spatial distribution and dynamics of enzyme activities in root-detritusphere. Biol Fertil Soils. https://doi.org/10.1007/s00374-019-01345-y

Wilson CH, Strickland MS, Hutchings JA, Bianchi TS, Flory SL (2018) Grazing enhances belowground carbon allocation, microbial biomass, and soil carbon in a subtropical grassland. Glob Chang Biol 24:2997–3009

Yu J, Hu F, Li H, Mi C (2008) Earthworm (Metaphire guillelmi) effects on rice photosynthates distribution in the plant-soil system. Biol Fertil Soils 44:641–647

Yuan H, Zhu Z, Liu S, Ge T, Jing H, Li B, Liu Q, Lynn M, Wu J, Kuzyakov Y (2016) Microbial utilization of rice root exudates: 13C labeling and PLFA composition. Biol Fertil Soils 50:615–627

Zang H, Yang X, Feng X, Qian X, Hu Y, Ren C, Zeng Z (2015) Rhizodeposition of nitrogen and carbon by mungbean (Vigna radiata L.) and its contribution to intercropped oats (Avena nuda L.). PLoS One. https://doi.org/10.1371/journal.pone.0121132

Zang H, Wang J, Kuzyakov Y (2016) N fertilization decreases soil organic matter decomposition in the rhizosphere. Appl Soil Ecol 108:47–53

Zang H, Blagodatskaya E, Wang J, Xu X, Kuzyakov Y (2017) Nitrogen fertilization increases rhizodeposit incorporation into microbial biomass and reduces soil organic matter losses. Biol Fertil Soils 53:419–429

Zang H, Blagodatskaya E, Wen Y, Xu X, Kuzyakov Y (2018) Carbon sequestration and turnover in soil under the energy crop Miscanthus: repeated 13C natural abundance approach and literature synthesis. GCB Bioenergy 10:262–271. https://doi.org/10.1111/gcbb.12485

Zhao Z, Ge T, Gunina A, Li Y, Zhu Z, Peng P, Wu J, Kuzyakov Y (2018) Carbon and nitrogen availability in paddy soil affects rice photosynthate allocation, microbial community composition, and priming: combining continuous 13C labeling with PLFA analysis. Plant and Soil. https://doi.org/10.1007/s11104-018-3873-5

Zhu Z, Zeng G, Ge T, Hu Y, Tong C, Shibistova O, He X, Wang J, Guggenberger G, Wu J (2016) Fate of rice shoot and root residues, rhizodeposits, and microbe-assimilated carbon in paddy soil – part 1: decomposition and priming effect. Biogeosciences 13:4481–4489

Zhu Z, Ge T, Xiao M, Yuan H, Wang T, Liu S, Atere CT, Wu J, Kuzyakov Y (2017a) Belowground carbon allocation and dynamics under rice cultivation depends on soil organic matter content. Plant Soil 410:247–258

Zhu Z, Ge T, Hu Y, Zhou P, Wang T, Shibistova O, Guggenberger G, Su Y, Wu J (2017b) Fate of rice shoot and root residues, rhizodeposits, and microbial assimilated carbon in paddy soil-part 2: turnover and microbial utilization. Plant Soil 416:243–257

Zhu Z, Ge T, Liu S, Hu Y, Ye R, Xiao M, Tong C, Kuzyakov Y, Wu J (2018) Rice rhizodeposits affect organic matter priming in paddy soil: the role of N fertilization and plant growth for enzyme activities, CO2 and CH4 emissions. Soil Biol Biochem 116:369–377
Acknowledgements
This study was supported by the National Key Research and Development Program of China (2016YFE0101100), the National Natural Science Foundation of China (41430860, 41671292 and 41761134095), the Youth Innovation Team Project of the Institute of Subtropical Agriculture, Chinese Academy of Sciences (2017QNCXTD_GTD) and Hunan Province Base for Scientific and Technological Innovation Cooperation (2018WK4012). We thank the Public Service Technology Center, Institute of Subtropical Agriculture and Chinese Academy of Sciences for technical assistance. We thank Soil Science Consulting (https://soilscicon.wordpress.com) for help the paper preparation
Additional information
Publisher's note
Springer Nature remains neutral with regard to jurisdictional claims in published maps and institutional affiliations.
Responsible Editor: Feike A. Dijkstra.
Electronic supplementary material
About this article
Cite this article
Zang, H., Xiao, M., Wang, Y. et al. Allocation of assimilated carbon in paddies depending on rice age, chase period and N fertilization: Experiment with 13CO2 labelling and literature synthesis. Plant Soil 445, 113–123 (2019). https://doi.org/10.1007/s11104-019-03995-1
Received:

Accepted:

Published:

Issue Date:
Keywords
Belowground carbon allocation

Carbon cycle

Rhizodeposition

Pulse labelling

Paddy system

Land use