Abstract
Background and aims
Studies on the aboveground growth and traits of plants suggest that plants exhibit faster growth with greater plasticity in leaf traits to adapt to changing environments. However, our knowledge of belowground growth and trait responses and associated root foraging strategies, under competition remains limited.
Methods
Using an understory species-addition experiment, we investigated the responses of function-based root (absorptive fine roots [AFRs] vs. transport fine roots [TFRs]) growth, mycorrhizal association, and order-based root traits (morphological, architectural, and chemical traits) of Pinus massoniana (native species) and Pinus elliottii (exotic species), which are the dominant coniferous tree species in subtropical China.
Results
Higher understory-species diversity increased the biomass of AFRs, but not TFRs and total fine roots (AFRs plus TFRs) of both species. Higher diversity increased the biomass ratio of the AFRs and TFRs of P. elliottii, indicating a tradeoff in plant carbon investment between the two functional root modules for P. elliottii. Higher diversity increased the total root length of P. massoniana, but did not affect that of P. elliottii. Increased species diversity decreased the ectomycorrhizal colonization rate of P. massoniana, but increased that of P. elliottii. Increased species diversity altered the branching-related traits (increased branching ratio and intensity), but did not affect the morphological (diameter, specific root length, and root tissue density) or chemical traits across the root orders of either species.
Conclusions
Our findings indicate that P. elliottii employed dual root foraging strategies (growth and mycorrhizal strategies) and had a cost-benefit tradeoff between AFR and TFR construction. In comparison, P. massoniana only accelerated root growth under competition. These results facilitate a better understanding of the root foraging strategies of plants and the rapid adaptation of exotic species in novel environments.
Access options
Buy single article
Instant access to the full article PDF.
US$ 39.95
Tax calculation will be finalised during checkout.
Subscribe to journal
Immediate online access to all issues from 2019. Subscription will auto renew annually.
US$ 119
Tax calculation will be finalised during checkout.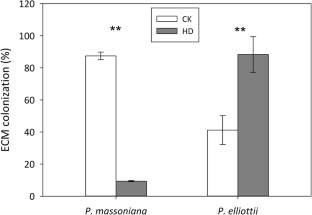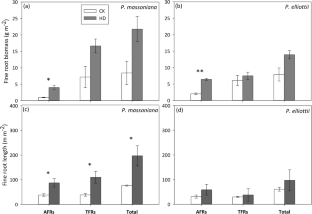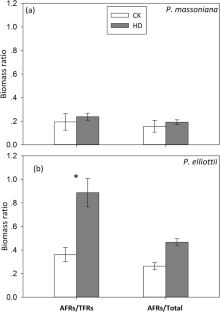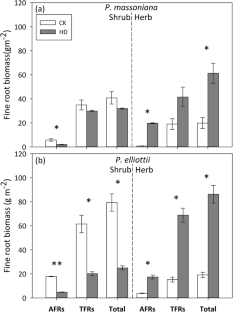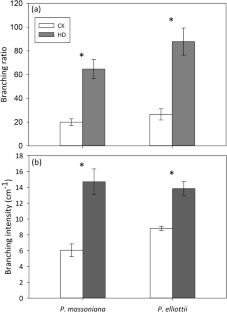 Acknowledgements
This research is financially supported by the National Natural Science Foundation of China (No. 31730014; 31670635; 31700379). The authors acknowledge the contributions of the anonymous reviewers.
Additional information
Publisher's Note
Springer Nature remains neutral with regard to jurisdictional claims in published maps and institutional affiliations.
Responsible Editor: Thom W. Kuyper.
Electronic supplementary material
About this article
Cite this article
Yan, H., Kou, L., Wang, H. et al. Contrasting root foraging strategies of two subtropical coniferous forests under an increased diversity of understory species. Plant Soil 436, 427–438 (2019). https://doi.org/10.1007/s11104-019-03936-y
Received:

Accepted:

Published:

Issue Date:
Keywords
Absorptive fine roots

Branching order

Competition

Environmental plasticity

Foraging strategy

Root traits