Abstract
Aim
This study examined presence and persistence of the gray mold pathogen Botrytis cinerea in organic field soils and the dual effect of different organic soil amendments on soil fertility and survival of Botrytis cinerea – one of the most important broad-host-range plant pathogens in the world.
Methods
Field soil was collected and assayed for two consecutive years from an organic farm in Maryland to determine baseline levels of B. cinerea inoculum. Then a controlled environment study was conducted in triplicate, where laboratory-reared B. cinerea survival structures (sclerotia) were buried in potted mixtures of field soil containing compost and chitin amendments and assessed over time for viability, fragmentation, and colonization by microbes antagonistic to B. cinerea growth. A one-year in-situ field trial was also conducted to evaluate dual effects of different combinations of soil amendment and cover crop treatments on pathogen persistence and soil fertility as they would occur in an organic grower's field, under winter and summer conditions.
Results
Surveys revealed that the selected organic farm sustained high levels of soil-borne B. cinerea inoculum, with up to 1200 B. cinerea propagules per gram of soil, and field studies demonstrated that the fungus could persist for both a five-month over-winter (2–24% of sclerotia viable) and a five-month over-summer period (0–1% of sclerotia viable) in-situ. In general, compost and cover crop treatments increased persistence of the fungus compared to fallow (control) treatments in both controlled environment and field trials. On the other hand, application of chitin (crushed crab shells) facilitated fragmentation and mortality of sclerotia. Compost and chitin applications resulted in a two- to three-fold increase in recovery of sclerotia-associated microbial antagonists, while the addition of dwarf essex rape (Brassica napus) significantly reduced recovery compared to the control. In both the winter and summer field studies, all compost treatments significantly increased soil N, P, and pH, but the combined treatment of compost, chitin, and cover crop had the greatest increase in soil fertility. Based on molecular analysis, putative bacterial antagonists recovered from non-viable sclerotia included species of Bacillus, Paenibacillus, Stenotrophomonas, and Lactobacillus – all of which have been previously described to inhibit B. cinerea growth.
Conclusions
Overall, our studies indicate that organic strategies to co-manage B. cinerea and soil fertility can be optimized by adding chitin to composted amendments.
Access options
Buy single article
Instant access to the full article PDF.
US$ 39.95
Tax calculation will be finalised during checkout.
Subscribe to journal
Immediate online access to all issues from 2019. Subscription will auto renew annually.
US$ 119
Tax calculation will be finalised during checkout.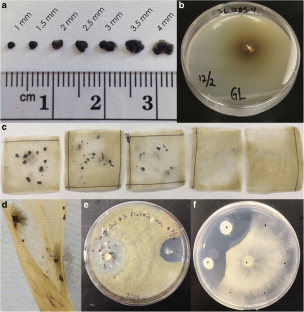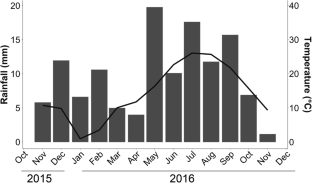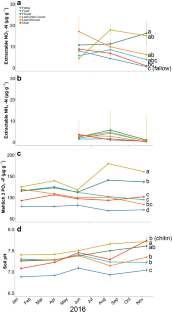 References
Agrios GN (2005) Plant diseases caused by fungi. In: plant pathology, 5th edn. Elsevier Academic Press, Burlington, MA, p 556

Andrews JH (1990) Biological control in the phyllosphere: realistic goal or false hope? Can J Plant Pathol 12(3):300–307

Araujo AE, Maffia LA, Mizubuti ESG, Alfenas AC, Capdeville GD, Grossi JAS (2005) Survival of Botrytis cinerea as mycelium in rose crop debris and as sclerotia in soil. Fitopatol Bras 30(5):516–521

Bates D, Maechler M, Bolker B (2014) Lme4: linear mixed-effects models using Eigen and S4. http://lme4.r-forge.r-project.org/

Battany MC, Grismer ME (2000) Rainfall runoff and erosion in Napa valley vineyards: effects of slope, cover and surface roughness. Hydrol Process 14:1289–1304

Bell AA, Hubbard JC, Liu L, Davis RM, Subbarao KV (1998) Effects of chitin and chitosan on the incidence and severity of fusarium yellows of celery. Plant Dis 82(3):322–328

Berlanger I, Powelson ML (2000) Verticillium wilt. The Plant Health Instructor. https://doi.org/10.1094/PHI-I-2000-0801-01

Burr TJ, Pearson RC, Schwarz MR (1985) Botrytis fruit rot. Small fruit IPM disease identification sheet no. 1, New York state agricultural Experiment Station, Geneva, New York

Chaparro JM, Sheflin AM, Manter DK, Vivanco JM (2012) Manipulating the soil microbiome to increase soil health and plant fertility. Biol Fertil Soils 48:489–499

Chirinda N, Olesen JE, Porter JR, Schjønning P (2010) Soil properties, crop production, and greenhouse gas emissions from organic and inorganic fertilizer-based arable cropping systems. Agric Ecosyst Environ 139:584–594

Clark MS, Horwath WR, Shennan C, Scow KM (1998) Changes in soil chemical properties resulting from organic and low-input farming practices. Agron J 90:662–671

Clark MS, Horwath WR, Shennan C, Scow KM, Lantni WT, Ferris H (1999) Nitrogen, weeds and water as yield limiting factors in conventional low-input, and organic tomato systems. Agric Ecosyst Environ 73:257–270

Coley-Smith JR, Cooke RC (1971) Survival and germination of fungal sclerotia. Annu Rev Phytopathol 9:65–92

Core Team R (2016) R: a language and environment for statistical computing. R Foundation for Statistical Computing, Vienna, Austria https://www.R-project.org/

Coventry E, Noble R, Mead A, Whipps JM (2005) Suppression of Allium white rot (Sclerotium cepivorum) in different soils using vegetable wastes. Eur J Plant Pathol 111:101–112

Cretoiu MS, Korthals GW, Visser JHM, Dirk van Elsas J (2013) Chitin amendment increases soil suppressiveness toward plant pathogens and modules the actinobacterial and oxalobacteraceal communities in an experimental agricultural field. Appl Environ Microbiol 79(17):5291–5301

Daugaard H (1999) Cultural methods for controlling Botrytis cinerea Pers. in strawberry. Biol Agric Hortic 16:351–361

Drinkwater LE, Letourneau DK, Workneh F, van Bruggen AHC, Shennan C (1995) Fundamental differences between conventional and organic tomato agroecosystems in California. Ecol Appl 5:1098–1112

Duan JN, Huang H, Luo J, Zhai F, An D (2014) The control efficacy of Paenibacillus peoriae BC-39 to tomato gray mold and its bioantisepsis-preservation on tomato fruits. Acta Phys Sin 41:61–66

Dutta BK, Isaac I (1979) Effects of organic amendments to soil on the rhizosphere microflora of antirrhinum infected with Verticillium dahliae Kleb. Plant Soil 53:99–103

Elad Y, Stewart A (2007) Microbial control of Botrytis spp. In: Elad Y, Williamson B, Tudzynski P, Delen N (eds) Botrytis: Biology. Pathology and Control. Springer, The Netherlands, pp 223–241

Erental A, Dickman MB, Yarden O (2008) Sclerotial development in Sclerotinia sclerotiorum: awakening molecular analysis of a "dormant" structure. Fungal Biol Rev 22(1):6–16

Feaga JB, Selker JS, Dick RP, Hemphill DD (2010) Long-term nitrate leaching under vegetable production with cover crops in the Pacific northwest. Soil Sci Soc Am J 74(1):186–195

Fließach A, Mäder P (2000) Microbial biomass and size-density fractions differ between soils of organic and conventional agricultural systems. Soil Biol Biochem 32:757–768

Fließach A, Oberholzer HR, Gunst L, Mäder P (2007) Soil organic matter and biological soil quality indicators after 21 years of organic and conventional farming. Agric Ecosyst Environ 118:273–284

Fox J (2005) The R commander: a basic statistics graphical user Interface to R. J Stat Softw 14(9):1–42

Fox GE, Wisotzkey JD, Jurtshuk P Jr (1992) How close is close: 16S rRNA sequence identity may not be sufficient to guarantee species identity. Int J Syst Bacteriol 42(1):166–170

Gardes M, White TJ, Fortin JA, Bruns TD, Taylor JW (1991) Identification of indigenous and introduced symbiotic fungi in ectomycorrhizae by amplification of nuclear and mitochondrial ribosomal DNA. Can J Bot 69:180–190

Gee GW, Bauder JW (1986) Particle-size analysis. In: Klute A (ed) Methods of soil analysis, part 1. Physical and Mineralogical Methods. Soil Science Society of America, Madison, pp 383–411

Hadar Y, Papadopoulou KK (2012) Suppressive composts: microbial ecology links between abiotic environments and healthy plants. Annu Rev Phytopathol 50:133–153

Hallman J, Rodríguez-Kábana R, Kloepper JW (1999) Chitin-mediated changes in bacterial communities of the soil, rhizosphere and within roots of cotton in relation to nematode control. Soil Biol Biochem 31(4):551–560

Handley D, Pritts M (1996) Strawberry production guide. NRAES-88

Hang NTT, Oh S, Kim GH, Hur J, Koh YJ (2005) Bacillus subtilis S1-0210 as a biocontrol agent against Botrytis cinerea in strawberries. J Plant Pathol 21(1):59–63

Hannusch DJ, Boland GJ (1996) Interactions of air temperature, relative humidity and biological control agents on grey mold of bean. Eur J Plant Pathol 102(2):133–142

Hartz TK, Johnstone PR, Miyae EM, Davis RM (2005) Mustard cover crops are ineffective in suppressing soilborne disease or improving processing tomato yield. HortScience 40(7):2016–2019

Heffer Link V, Johnson KB (2007) White Mold. The Plant Health Instructor. https://doi.org/10.1094/PHI-I-2007-0809-01

Heinrich A, Smith R, Cahn M (2014) Winter-killed cereal rye cover crop influence on nitrate leaching in intensive vegetable production systems. HortTechnology 24:502–511

Helbig J (2001) Biological control of Botrytis cinerea Pers. ex Fr. In strawberry by Paenibacillus polymyxa (isolate 18191). J Phytopathol 149:265–273

Henis Y, Chet I (1968) The effect of nitrogenous amendments on the germinability of sclerotia of Sclerotium rolfsii and on their accompanying microflora. Phytopathology 58:209–211

Hooks CR, Wang KH, Fallon D (2006) An ally in the war against nematode pests: using sunn hemp as a cover crop to suppress root-knot nematodes. University of Hawaii at Manoa. Cooperative extension service. PD-32

Hsiang T, Chastagner GA (1992) Production and viability of sclerotia from fungicide-resistant and fungicide-sensitive isolates of Botrytis cinerea, B. elliptica, and B. tulipae. Plant Pathol 41:600–605

Inderbitzin P, Ward J, Barbella A, Solares N, Izyumin D, Burman P, Chellemi DO, Subbarao KV (2018) Soil microbiomes associated with verticillium wilt-suppressive broccoli and chitin amendments are enriched with potential biocontrol agents. Phytopathology 108(1):31–43

Kirkegaard J, Sarwar M (1998) Biofumigation potential of brassicas. I Variation in glucosinolate profiles of diverse field-grown brassicas. Plant Soil 201(1):71–89

Kishore GK, Pande S (2007) Chitin-supplemented foliar application of chitinolytic Bacillus cereus reduces severity of Botrytis gray mold disease in chickpea under controlled conditions. Lett Appl Microiol 44(1):98–105

Koivunen EE, Swett CS (2017) Evaluation of organic and conventional fungicides for the control of Botrytis fruit rot in strawberry, 2016. Plant Dis Manag Rep 11:SMF020

Larkin RP (2014) Soil health paradigms and implications for disease management. Annu Rev Phytopathol 4(53):199–221

Larkin RP, Halloran JM (2014) Management effects of disease-suppressive rotation crops on potato yield and soilborne disease and their economic implications in potato production. Am J Potato Res 91(5):429–439

Liebig MA, Doran JW (1999) Impact of organic production practices on soil quality indicators. J Environ Qual 28:1601–1609

Lloyd M (2013) Microbial suppression of soilborne diseases in strawberries. Phytopathology 103(6):S85–S86

Lloyd M, Gordon T (2016) Growing for the future: collective action, land stewardship and soilborne pathogens in California strawberry production. Calif Agric 70(3):101–103

Malik RK, Green TH, Brown GF, Mays D (2000) Use of cover crops in short rotation hardwood plantations to control erosion. Biomass Bioenergy 18:479–487

Mila AL, Yang XB (2007) Effects of fluctuating soil temperature and water potential on sclerotia germination and apothecial production of Sclerotinia sclerotiorum. Plant Dis 92(1):78–82

Mitchell R, Alexander M (1962) Microbiological processes associated with the use of chitin for biological control. Soil Sci Soc Am J 26(6):556–558

Mullen J (2001) Southern blight, southern stem blight, White mold The Plant Health Instructor : https://doi.org/10.1094/PHI-I-2001-0104-01

Muramoto J, Gliessman SR, Koike ST, Shennan C, Bull CT, Klonsky K, Swezey S (2014) Integrated biological and cultural practices can reduce crop rotation period of organic strawberries. Agroecol Sust Food 38(5):603–631

Newhook FJ (1951) Microbiological control of Botrytis cinerea Pers. I The role of pH changes and bacterial antagonism. Ann App Biol 38(1):169–184

Paplomatas EJ, Tjamos SE, Malandrakis AA, Kafka AL, Zouvelou SV (2005) Evaluation of compost amendments for suppressiveness against Verticillium wilt of eggplant and study of action using a novel Arabidopsis pathosystem. Eur J Plant Pathol 112:183–189

Reganold JP, Palmer AS, Lockhart JC, Macgregor AN (1993) Soil quality and financial performance on biodynamic and conventional farms in New Zealand. Science 260:344–349

Reicosky DC, Forcella F (1998) Cover crops and soil quality interactions in agroecosystems. J Soil Water Conserv 53:224–229

Relman DA (1993) Universal bacterial 16S rRNA amplification and sequencing. In: Diagnostic Molecular Biology. Principles and Applications. Mayo Foundation Rochester, MN, pp 489–495

Rodríguez-Kábana R (1986) Organic and inorganic nitrogen amendments to soil as nematode suppressants. J Nematol 18(2):129–135

Rodríguez-Kábana R, Morgan-Jones G, Chet I (1987) Biological control of nematodes: soil amendments and microbial antagonists. Plant Soil 100:237–247

Ruocco M, Woo S, Vinale F, Lanzuise S, Lorito M (2011) Identified difficulties and conditions for field success of biocontrol. In: Nicot PC (ed) classical and augmentative biological control against diseases and pests: critical status analysis and review of factors influencing their success. IOBC-WPRS, pp 45-57

Sainju UM, Whitehead WF, Singh BP (2005) Carbon accumulation in cotton, sorghum, and underlying soil as influenced by tillage, cover crops, and nitrogen fertilization. Plant Soil 273:219–234

Sarwar M, Kirkegaard JA, Wong PTW, Desmarchelier JM (1998) Biofumigation potential of brassicas. III In vitro toxicity of isothiocyanates to soil-borne fungal pathogens. Plant Soil 201(1):103–112

Scott JC, Gordon TR, Kirkpatrick SC, Koike ST, Matheron ME, Ochoa OE, Truco MJ, Michelmore RW (2012) Crop rotation and genetic resistance reduce risk of damage from fusarium wilt in lettuce. Calif Agric 66(1):20–24

Seigies AT, Pritts M (2006) Cover crop rotations alter soil microbiology and reduce replant disorders in strawberry. HortScience 41:1303–1308

Stapleton JJ, Duncan RA (1998) Soil disinfestation with cruciferous amendments and sublethal heating: effects on Meliodogyne incognita, Sclerotium rolfsii and Pythium ultimum. Plant Pathol 47:737–742

Steenwerth K, Belina KM (2008) Cover crops enhance soil organic matter, carbon dynamics and microbiological function in a vineyard agroecosystem. Appl Soil Ecol 40:359–369

Sumner DR, Threadgill ED, Smittle DA, Phatak SC, Johnson AW (1986) Conservation tillage and vegetable diseases. Plant Dis 70(10):906–911

Thomas AC, Kotze JM, Matthee FN (1983) Development of a technique for the recovery of soilborne sclerotia of Botrytis cinerea. Phytopathology 73(10):1735–1737

Ulacio-Osorio D, Zavaleta-Mejia E, Marinez-Garza A, Pedroza-Sandoval A (2006) Strategies for management of Sclerotium cepivorum Berk. In garlic. J Plant Pathol 88:253–261

Weller DM (1988) Biological control of soilborne plant pathogens in the rhizosphere with bacteria. Annu Rev Phytopathol 26:379–407

White TJ, Bruns T, Lee S, Taylor J (1990) Amplification and direct sequencing of fungal ribosomal RNA genes for phylogenetics. In: PCR protocols: a guide to methods and applications. Academic Press, New York, pp 315–322

Zhang Z, Yuen GY (2000) The role of chitinase production by Stenotrophomonas maltophilia strain C3 in biological control of Bipolaris sorokiniana. Phytopathology 90(4):384–389

Zuberer DA, Kenerley CM, Jeger MG (1988) Populations of bacteria and actinomycetes associated with sclerotia of Phymatotrichum omnivorum buried in Houston black clay. Plant Soil 112:69–76
Acknowledgements
This research was funded by two sequential grants from the North American Strawberry Growers Association (NASGA). We thank the members of the Berry Pathology and Agroecology Labs at the University of Maryland for their help in the field and lab. We are also grateful to Michael Newell and the rest of the Wye Research Station crew. Finally, we thank our collaborating Maryland growers, who have always been receptive to our visits and recommendations, and who ultimately were the inspiration for this research project.
Additional information
Responsible Editor: Matthew G. Bakker.
Electronic supplementary material
About this article
Cite this article
Koivunen, E.E., Tully, K.L. & Swett, C.L. Co-managing soil and plant pathogens: effects of organic amendments on soil fertility and fungal pathogen survival. Plant Soil 432, 171–189 (2018). https://doi.org/10.1007/s11104-018-3779-2
Received:

Accepted:

Published:

Issue Date:
Keywords
Botrytis cinerea

Compost

Cover crops

Sclerotia

Soil amendments