Abstract
Background and aims
Plant diversity – ecosystem processes relationships are essential to our understanding of ecosystem functioning. We aimed at disentangling the nature of such relationships in a mesotrophic grassland that was highly heterogeneous with regards to nutrient availability.
Methods
Rather than targeting primary productivity, like most existing reports do, we focused our study on belowground ecosystem processes. We tested three, largely mutually exclusive, hypotheses of ecosystem processes relationships: the redundancy hypothesis, the insurance hypothesis and the centrifugal model hypothesis. We sampled the grassland twice within a single plant growing season in a spatially explicit way and assayed the soil for nitrification, urease activity, relative bacterial activity and a microbial community profile based on respiration while we simultaneously assessed plant diversity.
Results
Results supported the centrifugal model. We justify the lack of support for the other two hypotheses on the basis of having conducted an observational study in an environmentally heterogeneous site.
Conclusions
The centrifugal model hypothesis appears to be a very good predictive model for explaining diversity in observational, heterogeneous studies. The specific study represents one of the few observational studies that consider measures of ecosystem functioning other than primary productivity.
This is a preview of subscription content, log in to check access.
Access options
Buy single article
Instant access to the full article PDF.
US$ 39.95
Price includes VAT for USA
Subscribe to journal
Immediate online access to all issues from 2019. Subscription will auto renew annually.
US$ 199
This is the net price. Taxes to be calculated in checkout.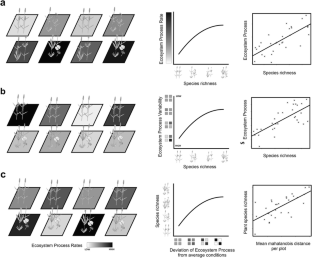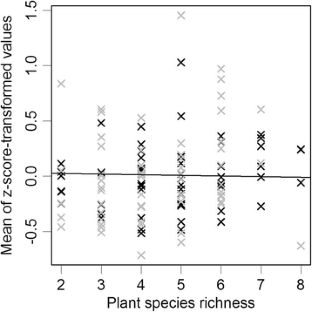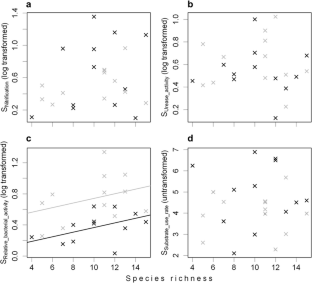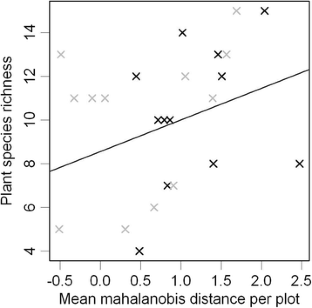 References
Adler PB, Seabloom EW, Borer ET, Hillebrand H, Hautier Y, Hector A, Harpole WS, O'Halloran LR, Grace JB, Anderson TM, Bakker JD, Biederman LA, Brown CS, Buckley YM, Calabrese LB, Chu CJ, Cleland EE, Collins SL, Cottingham KL, Crawley MJ, Damschen EI, Davies KF, DeCrappeo NM, Fay PA, Firn J, Frater P, Gasarch EI, Gruner DS, Hagenah N, Lambers JHR, Humphries H, Jin VL, Kay AD, Kirkman KP, Klein JA, Knops JMH, La Pierre KJ, Lambrinos JG, Li W, MacDougall AS, McCulley RL, Melbourne BA, Mitchell CE, Moore JL, Morgan JW, Mortensen B, Orrock JL, Prober SM, Pyke DA, Risch AC, Schuetz M, Smith MD, Stevens CJ, Sullivan LL, Wang G, Wragg PD, Wright JP, Yang LH (2011) Productivity is a poor predictor of plant species richness. Science 333:1750–1753

Beck TH (1979) Die Nitrifikation in Böden (Sammelreferat). J Plant Nutr Soil Sci 142:299–309

Byrnes JEK, Gampfeldt L, Isbell F, Lefcheck JS, Griffin JN, Hector A, Cardinale BJ, Hooper DU, Dee LE, Duffy JE (2014) Investigating the relationship between biodiversity and ecosystem multifunctionality: challenges and solutions. Methods Ecol Evol 5:111–124

Campbell CD, Chapman SJ, Cameron CM, Davidson MS, Potts JM (2003) A rapid microtiter plate method to measure carbon dioxide evolved from carbon substrate amendments so as to determine the physiological profiles of soil microbial communities by using whole soil. Appl Environ Microbiol 69:3593–3599

Chapin FS III, Walker BH, Hobbs RJ, Hooper DU, Lawton JH, Sala OE, Tilman D (1997) Biotic control over the functioning of ecosystems. Science 277:500–504

de Boer W, Folman LB, Summerbell RC, Boddy L (2005) Living in a fungal world: impact of fungi on soil bacterial niche development. FEMS Microbiol Rev 29:795e811

Doak DF, Bigger D, Harding EK, Marvier MA, O'Malley RE, Thomson D (1998) The statistical inevitability of stability-diversity relationships in community ecology. Am Nat 151:264–276

Fagotti DSL, Miyauchi MYH, Oliveira AG, Santinoni IA, Eberhardt DN, Nimtz A, Ribeiro RA, Paula AM, Queiroz CAS, Andrade G, Zangaro W, Nogueira MA (2012) Gradients in N-cycling attributes along forestry and agricultural land-use systems are indicative of soil capacity for N supply. Soil Use Manag 28:292–298

Fornara DA, Tilman D (2009) Ecological mechanisms associated with the positive diversity–productivity relationship in an N-limited grassland. Ecology 90:408–418

Fridley JD (2001) The influence of species diversity on ecosystem productivity: how, where and why? Oikos 93:514–526

Hector A, Schmid B, Beierkuhnlein C, Caldeira MC, Diemer M, Dimitrakopoulos PG, Finn JA, Freitas H, Giller PS, Good J, Harris R, Hogberg P, Huss-Danell K, Joshi J, Jumpponen A, Korner C, Leadley PW, Loreau M, Minns A, Mulder CPH, O'Donovan G, Otway SJ, Pereira JS, Prinz A, Read DJ, Scherer-Lorenzen M, Schulze ED, Siamantziouras ASD, Spehn EM, Terry AC, Troumbis AY, Woodward FI, Yachi S, Lawton JH (1999) Plant diversity and productivity experiments in European grasslands. Science 286:1123–1127

Hector A, Joshi J, Scherer-Lorenzen M, Schmid B, Spehn EM, Wacker L, Weilenmann M, Bazeley-White E, Beierkuhnlein C, Caldeira MC, Dimitrakopoulos PG, Finn JA, Huss-Danell K, Jumpponen A, Leadley PW, Loreau M, Mulder CPH, Neßhöver C, Palmborg C, Read DJ, Siamantziouras SD, Terry AC, Troumbis AY (2007) Biodiversity and ecosystem functioning: reconciling the results of experimental and observational studies. Funct Ecol 21:998–1002

Hooper DU, Chapin FS III, Ewel JJ, Hector A, Inchausti P, Lavorel S, Lawton JH, Lawton JH, Lodge DM, Loreau M, Naeem S, Schmid B, Setälä H, Symstad AJ, Vendermeer J, Wardle DA (2005) Effects of biodiversity on ecosystem functioning: a consensus of current knowledge. Ecol Monogr 75:3–35

Horn S, Hempel S, Ristow M, Rillig MC, Kowarik I, Caruso T (2015) Plant community assembly at small scales: spatial versus environmental factors in a central European grassland. Acta Oecol 63:56–62

Isbell F, Calcagno V, Hector A, Connolly J, Stanley Harpole W, Reich PB, Scherer-Lorenzen M, Schmid B, Tilman D, van Ruijven J, Weigelt A, Wilsey BJ, Zavaleta ES, Loreau M (2011) High plant diversity is needed to maintain ecosystem services. Nature 477:199–196

Ives AR, Hughes JB (2002) General relationships between species diversity and stability in competitive systems. Am Nat 159:388–395

Jiang L, Wan SQ, Li LH (2009) Species diversity and productivity: why do results of diversity-manipulation experiments differ from natural patterns? J Ecol 97:603–608

Kahmen A, Perner J, Andorff V, Weisser W, Buchmann N (2005) Effects of plant diversity, community composition and environmental parameters in montane European grasslands. Oecologia 142:605–615

Kandeler E, Gerber H (1988) Short-term assay of soil urease activity using colorimetric determination of ammonium. Biol Fertil Soils 6:68–72

Kang SH, Mills AL (2004) Soil bacterial community structure changes following disturbance of the overlying plant community. Soil Sci 169:55–65

Keddy PA (1990) Competitive hierarchies and centrifugal organization in plant communities. In: Grace J, Tilman D (eds) Perspectives on plant competition. Academic Press, San Diego, pp 266–290

Keddy PA, MacLellan P (1990) Centrifugal organization in forests. Oikos 59:75–84

Kreyling J, Beierkuhnlein C, Ellis L, Jentsch A (2008) Invasibility of grassland and heath communities exposed to extreme weather events - additive effects of diversity resistance and fluctuating physical environment. Oikos 117:1542–4554

Loreau M, de Mazancourt C (2013) Biodiversity and ecosystem stability: a synthesis of underlying mechanisms. Ecol Lett 16:106–115

Loreau M, Mouquet N (1999) Immigration and maintainance of local species diversity. Am Nat 154:427–440

MacArthur RH (1955) Fluctuations of animal populations and a measure of community stability. Ecology 36:533–535

Mace GM, Norris K, Fitter AH (2012) Biodiversity and ecosystem services: a multilayered relationship. Trends Ecol Evol 27:19–26

May RM (1972) Will a large complex system be stable? Nature 238:413–414

McNaughton SJ (1977) Diversity and stability of ecological communities - comment on role of empirism in ecology. Am Nat 111:515–525

Mokany K, Asj J, Roxburgh S (2008) Functional identity is more important than diversity in influencing ecosystem processes in a temperate native grassland. J Ecol 96:884–893

Oberdorfer EP (2001) Pflanzensoziologische Exkursionsflora für Deutschland und angrenzende Gebiete, 8th edn. Ulmer, Stuttgart

Odum EP (1953) Fundamentals of ecology. W. B. Saunders, Philadelphia

Penny KI (1996) Appropriate critical values when testing for a single multivariate outlier by using the Mahalanobis distance. Appl Stat 45:73–81

Pimm SL (1982) Food webs. Chapman & Hall, London

Pinheiro J, Bates D, DebRoy S, Sarkar D, R Development Core Team (2013) nlme: linear and nonlinear mixed effects models. R package version 3.1-108

R Development Core Team (2012) R: a language and environment for statistical computing. R Foundation for Statistical Computing, Vienna

Reiss J, Bridle JR, Montoya JM, Woodward G (2009) Emerging horizons in biodiversity and ecosystem functioning research. Trends Ecol Evol 24:505–514

Romanuk TN, Kolasa J (2002) Environmental variability alters the relationship between richness and variability of community abundances in aquatic rock pool microcosms. Ecoscience 9:55–62

Rosenzweig ML, Abramsky Z (1986) Centrifugal community organization. Oikos 46:339–348

Rousk J, Brookes PC, Baath E (2009) Contrasting soil pH effects on fungal and bacterial growth suggest functional redundancy in carbon mineralization. Appl Environ Microbiol 75:1589–1596

Schulze ED, Mooney HA (1993) Biodiversity and ecosystem function. Springer-Verlag, Berlin

Tetard-Jones C, Kertesz MA, Gallois P, Preziosi RF (2007) Genotype-by-genotype interactions modified by a third species in a plant-insect system. Am Nat 170:492–499

Thompson K, Askew AP, Grime JP, Dunnett NP, Willis AJ (2005) Biodiversity, ecosystem function and plant traits in mature and immature plant communities. Funct Ecol 19:355–358

Tilman D, Downing JA (1994) Biodiversity and stability in grasslands. Nature 367:363–365.

Tilman D, Lehman CL, Bristow CE (1998) Diversity-stability relationships: statistical inevitability or ecological consequence? Am Nat 151:277–282

Tilman D, Reich PB, Knops JMH (2006) Biodiversity and ecosystem stability in a decade-long grassland experiment. Nature 441:629–632

Tilman D, van Ruijven J, Weigelt A, Wilsey BJ, Zavaleta ES, Loreau M (2011) High plant diversity is needed to maintain ecosystem services. Nature 477:199–202

Valone TJ, Hoffman CD (2003) Population stability is higher in more diverse annual plant communities. Ecol Lett 6:90–95

Vogel A, Eisenhauer N, Weigelt A, Scherer-Lorenzen M (2013) Plant diversity does not buffer drought effects on early-stage litter mass loss rates and microbial properties. Glob Chang Biol 19:2795–2803

Yachi S, Loreau M (1999) Biodiversity and ecosystem productivity in a fluctuating environment: the insurance hypothesis. Proc Natl Acad Sci U S A 96:1463–1468
Acknowledgements
The project was funded by the Dahlem Center of Plant Sciences. We would like to thank Erik Verbruggen, Stefanie Maaß and Daniel Daphi for technical assistance.
Additional information
Responsible Editor: François Teste.
About this article
Cite this article
Caruso, T., Hammer, E.C., Hempel, S. et al. Assessing soil ecosystem processes – biodiversity relationships in a nature reserve in Central Europe. Plant Soil 424, 491–501 (2018). https://doi.org/10.1007/s11104-017-3557-6
Received:

Accepted:

Published:

Issue Date:
Keywords
The centrifugal model hypothesis

Diversity-productivity relationships

Ecosystem functioning

The insurance hypothesis

The redundancy hypothesis