Abstract
Aims
The responses of functional structures in plant communities to global change drivers is predicted to be driven by both species turnover and intraspecific trait variability (ITV). However, the relative importance of those two drivers is not well-known, which retards our ability to predict the functional changes of plant community under global change scenarios. We hypothesized that ITV rather than species turnover would drive the nutritional responses of plant community at the initial stage after nitrogen and water enrichment.
Methods
We measured community weighted means (CWM) and non-weighted means (CM) of foliar N and P concentrations and N:P ratio in a temperate steppe after two years factorial N and water addition. Species composition and nutrition traits of each species were recorded in each plot.
Results
The impacts of N addition on community level nutrition traits were highly dependent on water conditions, as indicated by significant interactive effects between N and water addition. Nitrogen addition significantly increased CWM of foliar N, but only under ambient water condition. Water addition decreased CWM of foliar P and increased that of N:P. Consistent with our hypothesis, communities responded to both N and water addition after two years treatments mainly through ITV.
Conclusions
Our results highlight the importance of ITV in driving short-term responses of community functional composition to the increases of nitrogen and water availability in the temperate steppe. The existence of interactive effects of N and water addition would make it more difficult to predict the impacts of N deposition on plant-mediated biogeochemical cycling under the scenarios of precipitation regime changes than previously assumed.
Access options
Buy single article
Instant access to the full article PDF.
US$ 39.95
Tax calculation will be finalised during checkout.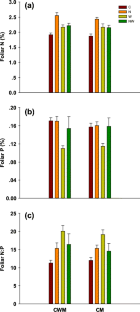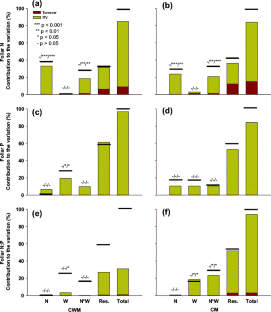 References
Ackerly DD (2003) Community assembly, niche conservatism, and adaptive evolution in changing environments. Int J Plant Sci 164:S165–S184

Albert CH, Grassein F, Schurr FM, Vieilledent G, Violle C (2011) When and how should intraspecific variability be considered in trait-based plant ecology? Perspect Plant Ecol 13:217–225

Austin AT, Zanne AE (2015) Whether in life or in death: fresh perspectives on how plants affect biogeochemical cycling. J Ecol 103:1367–1371

Blanes MC, Emmett BA, Vinegla B, Carreira JA (2012) Alleviation of P limitation makes tree roots competitive for N against microbes in a N-saturated conifer forest: a test through P fertilization and N-15 labelling. Soil Biol Biochem 48:51–59

Bolnick DI, Amarasekare P, Araujo MS, Burger R, Levine JM, Novak M, Rudolf VHW, Schreiber SJ, Urban MC, Vasseur DA (2011) Why intraspecific trait variation matters in community ecology. Trends Ecol Evol 26:183–192

Cornelissen JHC, Lavorel S, Garnier E, Diaz S, Buchmann N, Gurvich DE, Reich PB, ter Steege H, Morgan HD, van der Heijden MGA, Pausas JG, Poorter H (2003) A handbook of protocols for standardised and easy measurement of plant functional traits worldwide. Aust J Bot 51:335–380

Galloway JN, Dentener FJ, Capone DG, Boyer EW, Howarth RW, Seitzinger SP, Asner GP, Cleveland CC, Green PA, Holland EA, Karl DM, Michaels AF, Porter JH, Townsend AR, Vorosmarty CJ (2004) Nitrogen cycles: past, present, and future. Biogeochemistry 70:153–226

Henry HAL, Chiariello NR, Vitousek PM, Mooney HA, Field CB (2006) Interactive effects of fire, elevated carbon dioxide, nitrogen deposition, and precipitation on a California annual grassland. Ecosystems 9:1066–1075

Hobbie SE (2015) Plant species effects on nutrient cycling: revisiting litter feedbacks. Trends Ecol Evol 30:357–363

IPCC (2013) Summary for Polocymakers. In: Stocker TF (ed) Climate change 2013: the physical science basis contribution of working group I to the fifth assessment report of the intergovernmental panel on climate change. Cambridge University Press, Cambridge

Jung V, Albert CH, Violle C, Kunstler G, Loucougaray G, Spiegelberger T (2014) Intraspecific trait variability mediates the response of subalpine grassland communities to extreme drought events. J Ecol 102:45–53

Katabuchi M, Wright SJ, Swenson NG, Feeley KJ, Condit R, Hubbell SP, Davies SJ (2017) Constrasting outcomes of species- and community-level analyses of the temporal consistency of functional composition. Ecology 98:2273–2280

Kichenin E, Wardle DA, Peltzer DA, Morse CW, Freschet GT (2013) Contrasting effects of plant inter- and intraspecific variation on community-level trait measures along an environmental gradient. Funct Ecol 27:1254–1261

Lavorel S, Garnier E (2002) Predicting changes in community composition and ecosystem functioning from plant traits: revisiting the holy grail. Funct Ecol 16:545–556

Leps J, de Bello F, Smilauer P, Dolezal J (2011) Community trait response to environment: disentangling species turnover vs intraspecific trait variability effects. Ecography 34:856–863

Lü XT, Kong DL, Pan QM, Simmons ME, Han XG (2012) Nitrogen and water availability interact to affect leaf stoichiometry in a semi-arid grassland. Oecologia 168:301–310

Lü XT, Dijkstra FA, Kong DL, Wang ZW, Han XG (2014) Plant nitrogen uptake drives responses of productivity to nitrogen and water addition in a grassland. Sci Rep-Uk 4

Mariotte P, Canarini A, Dijkstra FA (2017) Stoichiometric N:P flexibility and mycorrhizal symbiosis favour plant resistance against drought. J Ecol 105:958–967

Mason NWH, Richardson SJ, Peltzer DA, de Bello F, Wardle DA, Allen RB (2012) Changes in coexistence mechanisms along a long-term soil chronosequence revealed by functional trait diversity. J Ecol 100:678–689

Menge DNL, Field CB (2007) Simulated global changes alter phosphorus demand in annual grassland. Glob Change Biol 13:2582–2591

Morecroft MD, Sellers EK, Lee JA (1994) An experimental investigation into the effects of atmospheric nitrogen deposition on 2 Seminatural grasslands. J Ecol 82:475–483

Novotny AM, Schade JD, Hobbie SE, Kay AD, Kyle M, Reich PB, Elser JJ (2007) Stoichiometric response of nitrogen-fixing and non-fixing dicots to manipulations of CO2, nitrogen, and diversity. Oecologia 151:687–696

R Core Team (2013) R: a language and environment for statistical computing. R Foundation for Statistical Computing, Vienna, Austria

Ren HY, ZW X, Isbell F, Huang JH, Han XG, Wan SQ, Chen SP, Wang RZ, Zeng DH, Jiang Y, Fang YT (2017) Exacerbated nitrogen limitation ends transient stimulation of grassland productivity by increased precipitation. Ecol Monogr 87:457–469

Sardans J, Penuelas J (2012) The role of plants in the effects of global change on nutrient availability and stoichiometry in the plant-soil system. Plant Physiol 160:1741–1761

Sardans J, Grau O, Chen HYH, Janssens IA, Ciais P, Piao S, Penuelas J (2017) Changes in nutrient concentrations of leaves and roots in response to global change factors. Glob Chang Biol 23:3849–3856

Siefert A, Violle C, Chalmandrier L, Albert CH, Taudiere A, Fajardo A, Aarssen LW, Baraloto C, Carlucci MB, Cianciaruso MV, Dantas VD, de Bello F, Duarte LDS, Fonseca CR, Freschet GT, Gaucherand S, Gross N, Hikosaka K, Jackson B, Jung V, Kamiyama C, Katabuchi M, Kembel SW, Kichenin E, Kraft NJB, Lagerstrom A, Le Bagousse-Pinguet Y, Li YZ, Mason N, Messier J, Nakashizuka T, McC Overton J, Peltzer DA, Perez-Ramos IM, Pillar VD, Prentice HC, Richardson S, Sasaki T, Schamp BS, Schob C, Shipley B, Sundqvist M, Sykes MT, Vandewalle M, Wardle DA (2015) A global meta-analysis of the relative extent of intraspecific trait variation in plant communities. Ecol Lett 18:1406–1419

Smith MD, Knapp AK, Collins SL (2009) A framework for assessing ecosystem dynamics in response to chronic resource alterations induced by global change. Ecology 90:3279–3289

Suding KN, Lavorel S, Chapin FS, Cornelissen JHC, Diaz S, Garnier E, Goldberg D, Hooper DU, Jackson ST, Navas ML (2008) Scaling environmental change through the community-level: a trait-based response-and-effect framework for plants. Glob Chang Biol 14:1125–1140

Sun Y, Ding YH (2010) A projection of future changes in summer precipitation and monsoon in East Asia. Science in China Earth Science 53:284–300

Violle C, Navas ML, Vile D, Kazakou E, Fortunel C, Hummel I, Garnier E (2007) Let the concept of trait be functional. Oikos 116:882–892

Violle C, Enquist BJ, McGill BJ, Jiang L, Albert CH, Hulshof C, Jung V, Messier J (2012) The return of the variance: intraspecific variability in community ecology. Trends Ecol Evol 27:244–252

Vitousek PM, Porder S, Houlton BZ, Chadwick OA (2010) Terrestrial phosphorus limitation: mechanisms, implications, and nitrogen-phosphorus interactions. Ecol Appl 20:5–15

Volf M, Redmond C, Albert AJ, Le Bagousse-Pinguet Y, Biella P, Gotzenberger L, Hrazsky Z, Janecek S, Klimesova J, Leps J, Sebelikova L, Vlasata T, de Bello F (2016) Effects of long- and short-term management on the functional structure of meadows through species turnover and intraspecific trait variability. Oecologia 180:941–950

Zhang YH, Feng JC, Isbell F, Lü XT, Han XG (2015) Productivity depends more on the rate than the frequency of N addition in a temperate grassland. Sci Rep-Uk 5

Zuo XA, Yue XY, Lv P, Yu Q, Chen M, Zhang J, Luo YQ, Wang SK, Zhang J (2017) Contrasting effects of plant inter- and intraspecific variation on community trait responses to restoration of a sandy grassland ecosystem. Ecol Evol 7:1125–1134
Acknowledgements
We acknowledge the staff of the Inner Mongolia Grassland Ecosystem Research Station (IMGERS) for their support. This work was supported by the National Basic Research Program of China (2016YFC0500601 and 2015CB150802), National Natural Science Foundation of China (31770503 and 31470505), Strategic Priority Research Program of the Chinese Academy of Sciences (XDB15010403), Youth Innovation Promotion Association CAS (2014174), and the Key Research Program from CAS (QYZDB-SSW-DQC006 and KFZD-SW-305-002).
Additional information
Responsible Editor: Harry Olde Venterink
Electronic supplementary material
About this article
Cite this article
Lü, XT., Hu, YY., Zhang, HY. et al. Intraspecific variation drives community-level stoichiometric responses to nitrogen and water enrichment in a temperate steppe. Plant Soil 423, 307–315 (2018). https://doi.org/10.1007/s11104-017-3519-z
Received:

Accepted:

Published:

Issue Date:
Keywords
Ecological stoichiometry

Interspecific and intraspecific variation

Leaf chemical traits

Nitrogen deposition

Plant community structure

Plant functional traits

Precipitation regime