Abstract
Aims
The restoration of vegetation in the rocky desertified areas of karst plateaus is a major problem for present-day ecological studies. The aim of this study was to determine the effects of vegetation restoration on the distribution and accumulation of trace elements in rhizosphere and non-rhizosphere soils.
Methods
Four representative areas containing the plants Coriaria nepalensis Wall., Pinus armandii Franch., Elaeagnus pungens Thunb., and Cotoneaster hissaricus Pojark. were selected within a vegetation restoration area in the Karst Plateau of Caohai County, Guizhou Province, China. Soils were sampled using a grid method to measure the total contents of the trace elements iron (Fe), manganese (Mn), copper (Cu), and zinc (Zn) in rhizosphere and non-rhizosphere soils.
Results
The representative area containing Elaeagnus displayed the greatest amount of accumulation in the rhizosphere of both total and available trace elements, except for total Zn. Representative areas of the rhizosphere with other types of vegetation showed accumulation of only some of the trace elements studied. All types of vegetation were associated with the bioenrichment of available trace elements in both rhizosphere and non-rhizosphere soils, except for available Cu in areas associated with Cotoneaster.
Conclusions
Representative areas containing Pinus displayed the greatest degree of bioenrichment for both total and available trace elements in both rhizosphere and non-rhizosphere soils.
Access options
Buy single article
Instant access to the full article PDF.
US$ 39.95
Tax calculation will be finalised during checkout.
Subscribe to journal
Immediate online access to all issues from 2019. Subscription will auto renew annually.
US$ 119
Tax calculation will be finalised during checkout.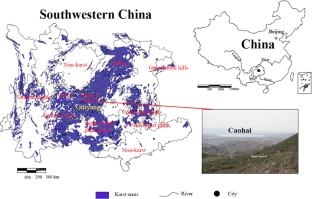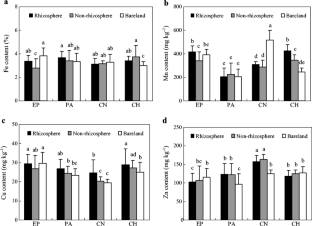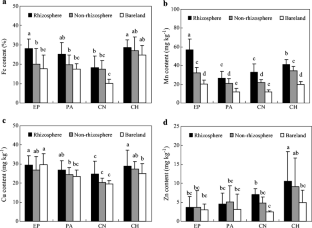 References
An Y, Xue J, Wu Y, Hu H (2013) The contents and availability of soil microelements in different types of plantations in karst mountainous site. Journal of Nanjing Forestry University (Natural Sciences Edition) 37(3):65–70 (in Chinese)

Auler AS, Smart PL (2003) The influence of bedrock-derived acidity in the development of surface and underground karst: evidence from the Precambrian carbonates of semi-arid northeastern Brazil. Earth Surface Processes & Landforms 28:157–168

Avci H, Deveci T (2013) Assessment of trace element concentrations in soil and plants from cropland irrigated with wastewater. Ecotoxicology & Environmental Safety 98(3):283–291

Bai XY, Wang SJ, Xiong KN (2013) Assessing spatial-temporal evolution processes of karst rocky desertification land: indications for restoration strategies. Land Degrad Dev 24(1):7–56

Bertin C, Yang X, Weston LA (2003) The role of root exudates and allelochemicals in the rhizosphere. Plant Soil 256(1):7–83

Bou Kheir R, Abdallah C, Khawlie M (2008) Assessing soil erosion in Mediterranean karst landscapes of Lebanon using remote sensing and GIS. Eng Geol 99:39–254

Brown ME (2010) Plant growth substances produced by micro-organisms of soil and rhizosphere. J Appl Microbiol 35(3):43–451

Cerdà A (1997a) Seasonal changes of the infiltration rates in a Mediterranean scrubland on limestone. J Hydrol 198(1–4):209–225

Cerdà A (1997b) The effect of patchy distribution of Stipa Tenacissima L. on runoff and erosion. J Arid Environ 36(1):37–51

Chen B, Shan XQ, Qian J (1996) Bioavailability index for quantitative evaluation of plant availability of extractable soil trace elements. Plant Soil 186(2):75–283

Chen C, Yang F, Liu H, Yao H, Song G (2013) Effects and evaluation of soil trace elements after grassland converted into cropland in Guizhou karst area. Transactions of the Chinese Society of Agricultural Engineering 29(7):230–237

Chen YM, Wang MK, Zhuang SY, Chiang PN (2006) Chemical and physical properties of rhizosphere and bulk soils of three tea plants cultivated in Ultisols. Geoderma 136(1–2):378–387

Dai Q, Peng X, Yang Z, Zhao L (2017b) Runoff and erosion processes on bare slopes in the karst rocky desertification area. Catena 152:218–226

Dai Q, Peng X, Zhao L, Shao H, Yang Z (2017a) Effects of underground pore fissures on soil erosion and sediment yield on karst slopes. Land Degradation & Development doi. doi:10.1002/ldr.2711

Huang PM, Gobran GR (2005) Biogeochemistry of trace elements in the rhizosphere. Elsevier, Amsterdam

Iepure S, Feurdean A, Bădăluţă C, Nagavciuc V, Perşoiu A (2015) Pattern of richness and distribution of groundwater Copepoda (Cyclopoida: Harpacticoida) and Ostracoda in Romania: an evolutionary perspective. Biol J Linn Soc 119(3):593–608

Institute of Soil Science of Chinese Academy of Sciences (1978) Soil chemical and physical analysis. Shanghai Science and Technology Press, Shanghai (in Chinese)

Jiang Z, Lian Y, Qin X (2014) Rocky desertification in Southwest China: impacts, causes, and restoration. Earth Sci Rev 132(3):1–12

Kabatapendias A, Pendias HK (1984) Trace elements in soils and plants. CRC Press:951–974

Kateb HE, Zhang H, Zhang P, Mosandl R (2013) Soil erosion and surface runoff on different vegetation covers and slope gradients: a field experiment in southern Shaanxi Province, China. Catena 105(5):1–10

Keesstra SD (2007) Impact of natural reforestation on floodplain sedimentation in the Dragonja basin, SW Slovenia. Earth Surface Processes & Landforms 32(1):49–65

Keesstra SD, Bouma J, Wallinga J, Tittonell P, Smith P, Cerdà A, Montanarella L, Quinton JN, Pachepsky Y, van der Putten WH, Bardgett RD, Moolenaar S, Mol G, Jansen B, Fresco LO (2016a) The significance of soils and soil science towards realization of the United Nations sustainable development goals. Soil 2:111–128

Keesstra S, Pereira P, Novara A, Brevik EC, Azorin-Molina C, Parras-Alcántara L, Jordán A, Cerdà A (2016b) Effects of soil management techniques on soil water erosion in apricot orchards. Sci Total Environ 551:357–366

Kokot S, King G, Keller HR, Massart DL (1992) Microwave digestion: an analysis of procedures. Anal Chim Acta 259(2):267–279

Kopittke PM, Menzies NW (2004) Effect of Mn deficiency and legume inoculation on rhizosphere pH in highly alkaline soils. Plant Soil 262(1):13–21

Korb JE, Johnson NC, Covington WW (2004) Slash pile burning effects on soil biotic and chemical properties and plant establishment: recommendations for amelioration. Restor Ecol 12(1):52–62

Kuss HM (1992) Applications of microwave digestion technique for elemental analyses. Anal Bioanal Chem 343(9):788–793

Liao C, Liu Y, Hu B, Yan Z, Zhou X (2004) Atlas analyses of karst land rocky desertification and ecological rehabilitation model.Transactions of the. Chinese Society of Agricultural Engineering (Transactions of the CSAE) 20(6):266–271

Liu Z (1991) Agricultural chemistry of microelements. Agriculture Press, Beijiang (in Chinese)

Long J, Li J, Jiang X, Deng Q, Li Y (2006) Effects of different recover and restoration measures on soil quality in karst rocky desertification region. Chin J Appl Ecol 17(4):615–619 (in Chinese)

Luster J, Göttlein A, Nowack B, Sarret G (2009) Sampling, defining, characterising and modeling the rhizosphere—the soil science tool box. Plant Soil 321(1):457–482

Meier U (2010) A note on the power of Fisher's least significant difference procedure. Pharm Stat 4:253–263

Mol G, Keesstra S (2012) Soil science in a changing world. Curr Opin Environ Sustain 4(5):473–477

Naoki M, Junta Y, Takashi K (2000) Effect of plant growth on the distribution and forms of soil nutrients in the rhizosphere. Soil Science and Plant Nutrition 46(2):439–447

Pardo-Igúzquiza E, Dowd PA, Xu C, Durán-Valsero JJ (2012) Stochastic simulation of karst conduit networks. Adv Water Resour 35:141–150

Peng X, Dai Q, Li C, Yuan Y, Zhao L (2017) Effect of simulated rainfall intensities and underground pore fissure degrees on soil nutrient loss from slope farmlands in karst region. Transactions of the Chinese Society of Agricultural Engineering (Transactions of the CSAE) 33(2):131–140 (in Chinese)

Pérez-Sirvent C, Martínez-Sánchez MJ, García-Lorenzo ML, Molina J, Tudela ML (2009) Geochemical background levels of zinc, cadmium and mercury in anthropically influenced soils located in a semi-arid zone (SE, Spain). Geoderma 148(3–4):307–317

Quevauviller P, Lachica M, Barahona E, Gomez A, Rauret G, Ure A, Muntau H (1998) Certified reference material for the quality control of EDTA- and DTPA-extractable trace metal contents in calcareous soil (CRM 600). Anal Bioanal Chem 360(5):505–511

Sandroni V, Smith CMM, Donovan A (2003) Microwave digestion of sediment, soils and urban particulate matter for trace metal analysis. Talanta 60(4):15–723

Trček B, Šajn R (2010) Distribution of trace elements in a karst environment. In: Andreo B, Carrasco F, Valsero JJD et al (eds) Advances in research in karst media. Springer Berlin Heidelberg, Berlin, pp 281–286

Trujillo-González JM, Torres-Mora MA, Keesstra S, Brevik EC, Jiménez-Ballesta R (2016) Heavy metal accumulation related to population density in road dust samples taken from urban sites under different land uses. Sci Total Environ 553:636–642

Wang SJ, Liu QM, Zhang DF (2004) Karst rocky desertification in southwestern China: geomorphology, landuse, impact and rehabilitation. Land Degrad Dev 15(2):115–121

Wang Z, Shan XQ, Zhang S (2002) Comparison between fractionation and bioavailability of trace elements in rhizosphere and bulk soils. Chemosphere 46(8):1163–1171

Yang H, Lu M, Cao J (2015) Trace elements of the soil–plant systems in subtropical karst and clasolite areas in Guilin, Guangxi, China. Environmental Earth Sciences 73(10):6259–6269

Zhou P, Luukkanen O, Tokola T, Nieminen J (2008) Effect of vegetation cover on soil erosion in a mountainous watershed. Catena 75(3):319–325
Acknowledgments
This work was supported by the project of National Key Research and Development Program of China (2016YFC0502604), the National Natural Science Foundation of China (NO. 41671275, 41461057), the Major Project of Guizhou Province (Qian Ke He Major Project [2016]3022), and the Application Foundation Major Project of Guizhou Province (Qian Ke He JZ [2014] 2002).
Additional information
Responsible Editor: Peter Christie
About this article
Cite this article
Peng, X., Dai, Q., Ding, G. et al. Distribution and accumulation of trace elements in rhizosphere and non-rhizosphere soils on a karst plateau after vegetation restoration. Plant Soil 420, 49–60 (2017). https://doi.org/10.1007/s11104-017-3363-1
Received:

Accepted:

Published:

Issue Date:
Keywords
Trace elements

Accumulation

Rhizosphere

Vegetation restoration

Karst plateau