Abstract
Background and aims
The adaptation of plants to land ecosystems involves complex rhizosphere interactions between organic matter and microbial communities. Border cells (BC) constitute the first living boundary in plant-soil ecosystems and play an important role in environmental sensing and signaling in response to different biotic and abiotic conditions. In this study, we evaluate the effect of humic acid on the release of BCs and its impact on the colonization of Herbaspirillum seropedicae at maize root tips.
Methods
Maize seedlings (1.0 ± 0.05 cm root length) were immersed for 48 h in solutions with different concentrations of humic acid (0, 12, 42, 143 and 500 mg L−1). Light and scanning electron microscopy were used to evaluate the structural interaction between border cells and H. seropedicae at the root tips.
Results
The release of BCs from root tips was significantly increased by humic acid (HA) application and exhibited a bell-shaped dose-response curve; the highest release of BCs occurred at 143 mg HA L−1 and was confirmed by microscopy. The colonization of roots by H. seropedicae strain RAM10 (tagged with green fluorescent protein, GFP) was monitored by epifluorescence microscopy with and without exogenous humic acid (143 mg L−1). Increased BC release resulted in a high density of diazotrophic bacteria at root tips, and bacteria sometimes aggregated with mucilage and humic acid particles, thus enhancing their viability. Increased BC numbers in response to humic acid might explain previous studies showing a concomitant increase in H. seropedicae populations in the rhizosphere, rhizoplane, and endosphere of grasses.
Conclusions
The population of H. seropedicae strain RAM10 colonizing root caps and BCs increased in response to exogenous humic acids.
This is a preview of subscription content, log in to check access.
Access options
Buy single article
Instant access to the full article PDF.
US$ 39.95
Price includes VAT for USA
Subscribe to journal
Immediate online access to all issues from 2019. Subscription will auto renew annually.
US$ 199
This is the net price. Taxes to be calculated in checkout.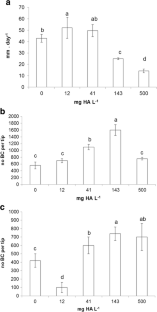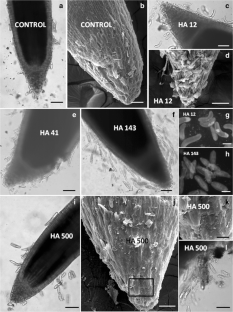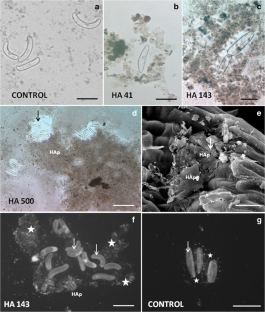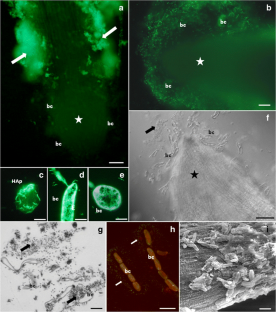 References
Asli S, Neumann PM (2010) Rhizosphere humic acid interacts with root cell walls to reduce hydraulic conductivity and plant development. Plant Soil 336:313–322. doi:10.1007/s11104-010-0483-2

Baldani J, Baldani V, Seldin L, Döbereiner J (1986) Characterization of Herbaspirillum seropedicae gen. Nov., sp. nov., a root-associated nitrogen-fixing bacterium. Int J Syst Evol Microbiol 36:86–93

Baldotto LEB, Olivares FL, Bressan-Smith R (2011) Structural interaction between GFP-labeled diazotrophic endophytic bacterium Herbaspirillum seropedicae RAM10 and pineapple plantlets' Vitória'. Braz J Microbiol 42:114–125

Brigham LA, Woo H-H, Nicoll SM, Hawes MC (1995) Differential expression of proteins and mRNAs from border cells and root tips of pea. Plant Physiol 109:457–463

Canellas LP, Olivares FL, Okorokova-Façanha AL, Façanha AR (2002) Humic acids isolated from earthworm compost enhance root elongation, lateral root emergence, and plasma membrane H+−ATPase activity in maize roots. Plant Physiol 130:1951–1957

Canellas LP, Teixeira Junior LRL, Dobbss LB, Silva CA, Medici LO, Zandonadi DB, Façanha AR (2008) Humic acids crossinteractions with root and organic acids. Ann Appl Biol 153(2):157–166. doi:10.1111/j.1744-7348.2008.00249.x

Canellas LP et al (2011) Probing the hormonal activity of fractionated molecular humic components in tomato auxin mutants. Ann Appl Biol 159:202–211. doi:10.1111/j.1744-7348.2011.00487.x

Canellas LP et al (2013) A combination of humic substances and Herbaspirillum seropedicae inoculation enhances the growth of maize (Zea mays L.) Plant Soil 366(1):119–132. doi:10.1007/s11104-012-1382-5

Carletti P et al (2008) Protein expression changes in maize roots in response to humic substances. J Chem Ecol 34:804. doi:10.1007/s10886-008-9477-4

Curlango-Rivera G, Duclos DV, Ebolo JJ, Hawes MC (2010) Transient exposure of root tips to primary and secondary metabolites: impact on root growth and production of border cells. Plant Soil 332:267–275. doi:10.1007/s11104-010-0291-8

Driouich A et al. (2012) Unity is strength: the power of border cells and border-like cells in relation with plant defense. In: Secretions and Exudates in Biological Systems. Springer, pp 91–107

Elbeltagy A et al (2001) Endophytic colonization and in planta nitrogen fixation by a Herbaspirillum sp. isolated from wild Rice species. Appl Environ Microbiol 67:5285–5293. doi:10.1128/aem.67.11.5285-5293.2001

Hawes M, Brigham L (1992) Impact of root border cells on microbial populations in the rhizosphere. Adv Plant Pathol 8:119–148

Hawes MC, Lin H-J (1990) Correlation of pectolytic enzyme activity with the programmed release of cells from root caps of pea (Pisum sativum). Plant Physiol 94:1855–1859

Hawes M, Brigham L, Wen F, Woo H, Zhu Y (1998) Function of root border cells in plant health: pioneers 1 in the rhizosphere. Annu Rev Phytopathol 36:311–327

Hawes MC, Gunawardena U, Miyasaka S, Zhao X (2000) The role of root border cells in plant defense. Trends Plant Sci 5:128–133. doi:10.1016/S1360-1385(00)01556-9

Hawes MC, Curlango-Rivera G, Xiong Z, Kessler JO (2012) Roles of root border cells in plant defense and regulation of rhizosphere microbial populations by extracellular DNA 'trapping'. Plant Soil 355:1–16. doi:10.1007/s11104-012-1218-3

Humphris SN et al (2005) Root cap influences root colonisation by Pseudomonas fluorescens SBW25 on maize. FEMS Microbiol Ecol 54:123–130. doi:10.1016/j.femsec.2005.03.005

James EK, Olivares FL (1998) Infection and colonization of sugar cane and other Graminaceous plants by endophytic Diazotrophs. Crit Rev Plant Sci 17:77–119. doi:10.1080/07352689891304195

James E, Reis V, Olivares F, Baldani J, Döbereiner J (1994) Infection of sugar cane by the nitrogen-fixing bacterium Acetobacter diazotrophicus. J Exp Bot 45:757–766

James E, Olivares F, Baldani J, Döbereiner J (1997) Herbaspirillum, an endophytic diazotroph colonizing vascular tissue 3Sorghum bicolor L. Moench. J Exp Bot 48:785–798

James EK et al (2002) Infection and colonization of rice seedlings by the plant growth-promoting bacterium Herbaspirillum seropedicae Z67. Mol Plant-Microbe Interact 15:894–906

Monteiro RA et al (2008) Early colonization pattern of maize (Zea mays L. Poales, Poaceae) roots by Herbaspirillum seropedicae (Burkholderiales, Oxalobacteraceae). Genet Mol Biol 31:932–937

Mora V, Baigorri R, Bacaicoa E, Zamarreño AM, García-Mina JM (2012) The humic acid-induced changes in the root concentration of nitric oxide, IAA and ethylene do not explain the changes in root architecture caused by humic acid in cucumber. Environ Exp Bot 76:24–32. doi:10.1016/j.envexpbot.2011.10.001

Nardi S, Carletti P, Pizzeghello D, Muscolo A (2009) Biological activities of humic substances. In: Senesi N, Xing B, Huang PM (eds) Biophysico-chemical processes involving natural nonliving organic matter in environmental systems. John Wiley & Sons, Inc., Hoboken. doi:10.1002/9780470494950.ch8

Njoloma JP, Oota M, Saeki Y, Akao S (2005) Detection of gfp expression from gfp-labelled bacteria spot inoculated onto sugarcane tissues. Afr J Biotechnol 4:1372–1377

Olivares F, James E, Baldani J, Döbereiner J (1997) Infection of mottled stripe disease-susceptible and resistant sugar cane varieties by the endophytic diazotroph. Herbaspirilium New Phytologist 135:723–737

Pan J-W, Zhu M-Y, Peng H-Z, Wang L-L (2002) Developmental regulation and biological functions of root border cells in higher plants ACTA BOTANICA SINICA-CHINESE EDITION 44:1–8

Piccolo A (1996) Humic substances in terrestrial ecosystems. Elsevier, Amsterdam, 675 pp

Piccolo A (2002) The supramolecular structure of humic substances: a novel understanding of humus chemistry and implications in soil science. Adv Agron 75:57–134

Piccolo A (2012) The nature of soil organic matter and innovative soil managements to fight global changes and maintain agricultural productivity. In: Piccolo A (ed) Carbon sequestration in agricultural soils: a multidisciplinary approach to innovative methods. Springer Berlin Heidelberg, Berlin, pp 1–19. doi:10.1007/978-3-642-23385-2_1

Piccolo A, Spaccini R, Nieder R, Richter J (2004) Sequestration of a biologically labile organic carbon in soils by humified organic matter. Clim Chang 67:329–343

Puglisi E et al (2008) Carbon deposition in soil rhizosphere following amendments with compost and its soluble fractions, as evaluated by combined soil–plant rhizobox and reporter gene systems. Chemosphere 73:1292–1299. doi:10.1016/j.chemosphere.2008.07.008

Puglisi E et al (2009) Effects of a humic acid and its size-fractions on the bacterial community of soil rhizosphere under maize (Zea mays L.) Chemosphere 77:829–837. doi:10.1016/j.chemosphere.2009.07.077

Puglisi E et al (2013) Rhizosphere microbial diversity as influenced by humic substance amendments and chemical composition of rhizodeposits. J Geochem Explor 129:82–94. doi:10.1016/j.gexplo.2012.10.006

Quaggiotti S, Ruperti B, Pizzeghello D, Francioso O, Tugnoli V, Nardi S (2004) Effect of low molecular size humic substances on nitrate uptake and expression of genes involved in nitrate transport in maize (Zea mays L.) J Exp Bot 55:803–813

Roncato-Maccari LD et al (2003) Root colonization, systemic spreading and contribution of Herbaspirillum seropedicae to growth of rice seedling. Symbiosis 35:261–270

Silva LG, Miguens FC, Olivares FL (2003) Herbaspirillum seropedicae and sugarcane endophytic interaction investigated by using high pressure freezing electron microscopy. Braz J Microbiol 34:69–71

Spaccini R, Piccolo A, Haberhauer G, Gerzabek M (2000) Transformation of organic matter from maize residues into labile and humic fractions of three European soils as revealed by 13C distribution and CPMAS-NMR spectra. Eur J Soil Sci 51:583–594

Spaccini R, Piccolo A, Conte P, Haberhauer G, Gerzabek M (2002) Increased soil organic carbon sequestration through hydrophobic protection by humic substances. Soil Biol Biochem 34:1839–1851

Stephenson MB, Hawes MC (1994) Correlation of pectin methylesterase activity in root caps of pea with root border cell separation. Plant Physiol 106:739–745

Trevisan S, Botton A, Vaccaro S, Vezzaro A, Quaggiotti S, Nardi S (2011) Humic substances affect Arabidopsis physiology by altering the expression of genes involved in primary metabolism, growth and development. Environ Exp Bot 74:45–55. doi:10.1016/j.envexpbot.2011.04.017

Wen F, Zhu Y, Hawes MC (1999) Effect of pectin methylesterase gene expression on pea root development. Plant Cell 11:1129–1140

Willemsen V et al (2008) The NAC domain transcription factors FEZ and SOMBRERO control the orientation of cell division plane in Arabidopsis root stem cells. Dev Cell 15:913–922

Zandonadi DB, Canellas LP, Façanha AR (2007) Indolacetic and humic acids induce lateral root development through a concerted plasmalemma and tonoplast H+ pumps activation. Planta 225:1583–1595. doi:10.1007/s00425-006-0454-2

Zhu Y, Pierson LS III, Hawes MC (1997) Induction of microbial genes for pathogenesis and symbiosis by chemicals from root border cells. Plant Physiol 115:1691–1698
Acknowledgements
FAPERJ, CNPq, National Institute of Science and Technology for Biological Nitrogen Fixation, IFS, OWCP for financial support. Prof Rose Adele from Paraná Federal University that kindly provided the bacteria strain linked with gfp protein and Daniele Frade that collaborated with some the epifluorescent micrographs of the bacteria-humic acid interaction. The post-doctoral stage of LPC at ECW was possible due to Science without Border program of CNPq, Brazil.
Additional information
Responsible Editor: Birgit Mitter.
About this article
Cite this article
Canellas, L.P., Olivares, F.L. Production of border cells and colonization of maize root tips by Herbaspirillum seropedicae are modulated by humic acid. Plant Soil 417, 403–413 (2017). https://doi.org/10.1007/s11104-017-3267-0
Received:

Accepted:

Published:

Issue Date:
Keywords
Root tip

Humic substances

Nitrogen-fixing bacteria

Plant-bacteria interactions

Plant growth-promoting bacteria