Mechanisms of plant response to salt and drought stress and their alteration by rhizobacteria
Abstract
Background
Soil salinity and drought are an enormous worldwide problem for agriculture, horticulture and silviculture. The initial responses of plants to drought and salinity are similar; both are attributed to water deficit which inhibits plant growth and development.
Scope
In this review, an overview of the major physiological and biochemical changes that occur in plants as a consequence of salt and drought stress is presented. In addition, the role of beneficial plant growth-promoting bacteria in ameliorating many of the deleterious consequences of salt and drought stress is discussed. Mechanisms used by plant growth-promoting bacteria to ameliorate the effects of these stresses include the production of cytokinin, indoleacetic acid, ACC deaminase, abscisic acid, trehalose, volatile organic compounds, and exopolysaccharides.
Conclusion
Given the fundamental understanding of many of the mechanisms operating in plant-bacterial interactions, it is expected that the practical use of beneficial bacteria in agriculture, horticulture and silviculture will grow dramatically in the coming years.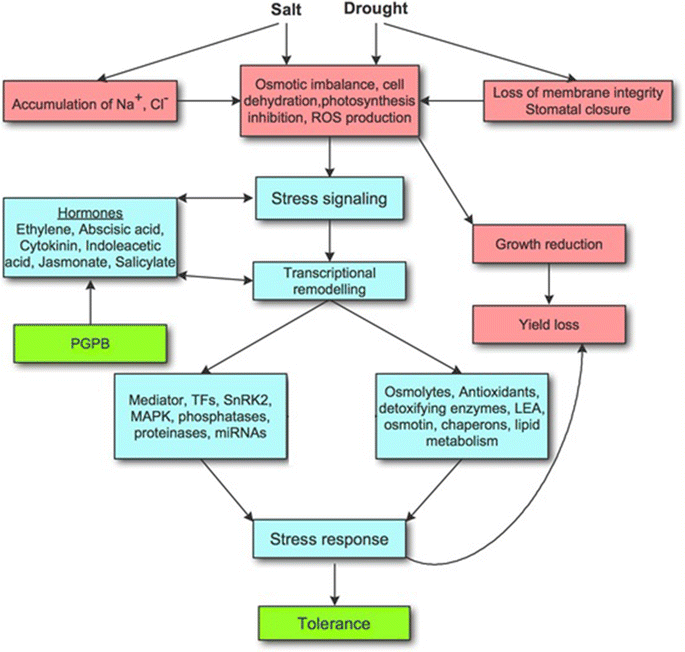 Keywords
Drought stress 
Plant growth-promoting bacteria 
PGPB 
Salt stress 
Copyright information
© Springer International Publishing Switzerland 2016