Abstract
Background and aims
Long distance signals in xylem from roots to leaves are important in plant response to drought stress. Abscisic acid (ABA) plays a key role in drought signaling in plants but apoplastic pH may modulate its effect by distributing ABA into various compartments in leaves. We aimed to reveal the dynamics of changes in sap pH and its relationships with the transport of inorganic and organic ions in eight herbaceous plant species under continuously declining soil water content. We tested several hypotheses related to the mechanism of pH changes in xylem.
Methods
We used a pressure chamber to collect xylem sap and to measure of leaf/stem water potential at various stages of soil drying. We measured pH and concentrations of the most abundant inorganic (NO3 −, SO4 2−, PO4 3− and Cl−) and organic (malate and citrate) anions in xylem sap.
Results
Species differed considerably in the dynamics of pH changes in xylem in drying soil. Changes in xylem sap pH during drying did not relate to the nitrogen assimilation strategy but may be affected by sap flow rate. Simultaneous changes in the concentrations of inorganic and organic anions were highly species-specific.
Conclusions
High variability among species in the observed relationships in response to drought indicates that comparisons among different studies and the generalization of results should be made with caution.
Access options
Buy single article
Instant access to the full article PDF.
USD 39.95
Price excludes VAT (USA)
Tax calculation will be finalised during checkout.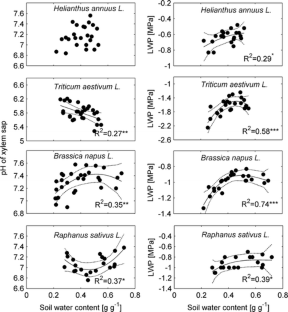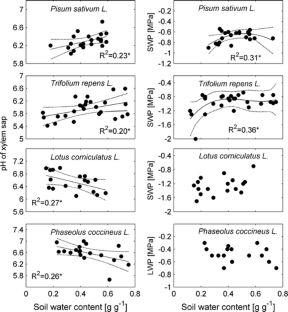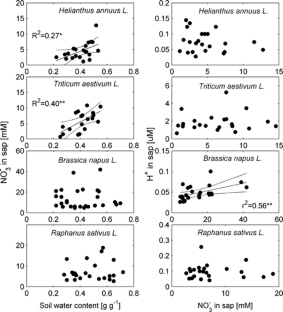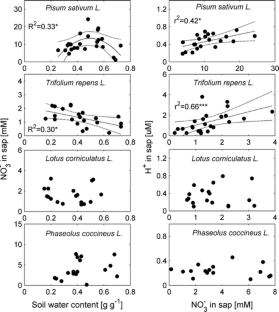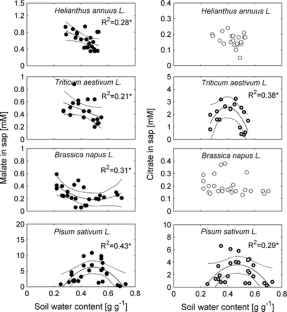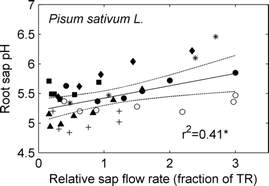 Abbreviations
SWP:

Stem water potential

LWP:

Leaf water potential

SWC:

Soil water content

TR:

Transpiration rate
References
Adam G, Duncan H (2001) Development of a sensitive and rapid method for the measurement of total microbial activity using fluorescein diacetate (FDA) in a range of soils. Soil Biol Biochem 33:943–951

Alves G, Ameglio T, Guilliot A, Fleurat-Lessard P, Lacointe A, Sakr S, Petel G, Julien J-L (2004) Winter variation in xylem sap pH of walnut trees: involvement of plasma membrane H+-ATPase of vessel-associated cells. Tree Physiol 24:99–105

Andrews M (1986) The partitioning of nitrate assimilation between root and shoot of higher plants. Plant Cell Environ 9:511–519

Azedo-Silva J, Osorio J, Fonseca F, Correia MJ (2004) Effects of soil drying and subsequent re-watering on the activity of nitrate reductase in roots and leaves of Helianthus annuus. Funct Plant Biol 31:611–621

Bacon MA, Wilkinson S, Davies WJ (1998) pH-regulated leaf cell expansion in droughted plants is abscisic acid dependent. Plant Physiol 118:1507–1515

Bahrun A, Jensen CR, Asch F, Mogensen VO (2002) Drought-induced changes in xylem pH, ionic composition, and ABA concentration act as early signals in field-grown maize (L.). J Exp Bot 53:251–263

Beis A, Zotos A, Patakas A (2009) Influence of sampling time and sap extraction methodology on xylem pH values in two grapevine varieties grown under drought conditions. Environ Exp Bot 67:305–311

Boyer JS (1967) Leaf water potentials measured with a pressure chamber. Plant Physiol 42:133–137

Cataldo DA, Haroon M, Schrader LE, Youngs VL (1975) Rapid colorimetric determination of nitrate in plant tissue by nitration of salicylic acid. Commun Soil Sci Plan 6(1):71–80

Davies WJ, Kudoyarova G, Hartung W (2005) Long-distance ABA signaling and its relation to other signaling pathways in the detection of soil drying and the mediation of the plant's response to drought. J Plant Growth Regul 24(4):285–295

Felle HH (2001) pH: signal and messenger in plant cells. Plant Biol 3:577–591

Felle HH (2005) pH regulation in anoxic plants. Ann Bot-London 96:519–532

Felle HH, Hanstein S, Steinmeyer R, Hedrich R (2000) Dynamics of ionic activities in the apoplast of the sub-stomatal cavity of intact Vicia faba leaves during stomatal closure evoked by ABA and darkness. Plant J 24:297–304

Fromard L, Babin V, Fleurat-Lessard P, Fromont J-C, Serrano R, Bonnemain J-L (1995) Control of vascular sap pH by the vessel-associated cells in woody species. Plant Physiol 108:913–918

Geilfus CM, Muhling KH (2012) Transient alkalinization in the leaf apoplast of Vicia faba L. Depends on NaCl stress intensity: an in situ ratio imaging study. Plant Cell Environ 35:578–587

Geilfus CM, Mithoefer A, Ludwig-Mueller J, Zoerb C, Muehling KH (2015) Chloride-inducible transient apoplastic alkalinizations induce stomata closure by controlling abscisic acid distribution between leaf apoplast and guard cells in salt-stressed Vicia faba. New Phytol 208:803–816

Gerendas J, Schurr U (1999) Physicochemical aspects of ion relations and pH regulation in plants - a quantitative approach. J Exp Bot 50(336):1101–1114

Gollan T, Schurr U, Schulze ED (1992) Stomatal response to drying soil in relation to changes in the xylem sap composition of Helianthus annuus. I. The concentration of cations, anions, amino acids in, and pH of, the xylem sap. Plant Cell Environ 15(5):551–559

Goodger JQD, Sharp RE, Marsh EL, Schachtman DP (2005) Relationships between xylem sap constituents and leaf conductance of well-watered and water-stressed maize across three xylem sap sampling techniques. J Exp Bot 56(419):2389–2400

Hartung W, Radin JW (1989) Abscisic acid in the mesophyll apoplast and in the root xylem sap of water-stressed plants: the significance of pH gradients. Curr T Pl B 8:110–124

Haynes RJ (1990) Active ion uptake and maintenance of cation-anion balance: a critical examination of their role in regulating rhizosphere pH. Plant Soil 126:247–264

Hinsinger P, Plassard C, Tang C, Jaillard B (2003) Origins of root-mediated pH changes in the rhizosphere and their responses to environmental constraints: a review. Plant Soil 248:43–59

Jia W, Davies WJ (2007) Modification of leaf apoplastic pH in relation to stomatal sensitivity to root-sourced abscisic acid signals. Plant Physiol 143(1):68–77

Kirkby EA, Armstrong MJ (1980) Nitrate uptake by roots as regulated by nitrate assimilation in the shoot of castor oil plants. Plant Physiol 65(2):286–290

Korovetska H, Novak O, Juza O, Gloser V (2014) Signalling mechanisms involved in the response of two varieties of Humulus lupulus L. To soil drying: I. Changes in xylem sap pH and the concentrations of abscisic acid and anions. Plant Soil 380(1–2):375–387

Larsson M (1992) Translocation of nitrogen in osmotically stressed wheat seedlings. Plant Cell Environ 15:447–453

Li B, Feng Z, Xie M, Sun M, Zhao Y, Liang L, Liu G, Zhang J, Jia W (2011) Modulation of the root-sourced ABA signal along its way to the shoot in Vitis riparia x Vitis labrusca under water deficit. J Exp Bot 62:1731–1741

Lips SH (1997) The role of inorganic nitrogen ions in plant adaptation processes. Russ J Plant Physiol 44(4):421–431

Lopez-Millan AF, Morales F, Abadia A, Abadia J (2000) Effects of iron deficiency on the composition of the leaf apoplastic fluid and xylem sap in sugar beet. Implications for iron and carbon transport. Plant Physiol 124:873–884

Luttge U, Pfeifer T, Fischer-Schliebs E, Ratajczak R (2000) The role of vacuolar malate-transport capacity in crassulacean acid metabolism and nitrate nutrition. Higher malate-transport capacity in ice plant after crassulacean acid metabolism-induction and in tobacco under nitrate nutrition. Plant Physiol 124:1335–1347

Munns R, King RW (1988) Abscisic-acid is not the only stomatal inhibitor in the transpiration stream of wheat plants. Plant Physiol 88:703–708

Patonnier MP, Peltier JP, Marigo G (1999) Drought-induced increase in xylem malate and mannitol concentrations and closure of Fraxinus excelsior L. Stomata. J Exp Bot 50(336):1223–1229

Peuke A, Rennenberg H (2004) Carbon, nitrogen, phosphorus, and Sulphur concentration and partitioning in beech ecotypes (Fagus sylvatica L.): phosphorus most affected by drought. Trees-Struct Funct 18:639–648

Ren H, Wei K, Jia W, Davies WJ, Zhang J (2007) Modulation of root signals in relation to stomatal sensitivity to root-sourced abscisic acid in drought-affected plants. J Integr Plant Biol 49(10):1410–1420

Rodrigues ML, Santos TP, Rodrigues AP, De Souza CR, Lopes CM, Maroco JP, Pereira JS, Chaves MM (2008) Hydraulic and chemical signalling in the regulation of stomatal conductance and plant water use in field grapevines growing under deficit irrigation. Funct Plant Biol 35(7):565–579

Roelfsema MRG, Hedrich R (2002) Studying guard cells in the intact plant: modulation of stomatal movement by apoplastic factors. New Phytol 153:425–431

Sauter A, Davies WJ, Hartung W (2001) The long-distance abscisic acid signal in the droughted plant: the fate of the hormone on its way from root to shoot. J Exp Bot 52(363):1991–1997

Schell J (1997) Interdependence of pH, malate concentration, and calcium and magnesium concentrations in the xylem sap of beech roots. Tree Physiol 17:479–483

Schurr U, Gollan T, Schulze ED (1992) Stomatal response to drying soil in relation to changes in the xylem sap composition of Helianthus annuus. II. Stomatal sensitivity to abscisic acid imported from the xylem sap. Plant Cell Environ 15:561–567

Sharp RG, Davies WJ (2009) Variability among species in the apoplastic pH signalling response to drying soils. J Exp Bot 60(15):4363–4370

Sobeih WY, Dodd IC, Bacon MA, Grierson D, Davies WJ (2004) Long-distance signals regulating stomatal conductance and leaf growth in tomato (Lycopersicon esculentum) plants subjected to partial root-zone drying. J Exp Bot 55(407):2353–2363

Starck Z (2006) Role of conducting systems in the transduction of long-distance stress signals. Acta Physiol Plant 28:289–301

Steiner AA (1961) A universal method for preparing nutrient solutions of a certain desired composition. Plant Soil 15:134–154

Wallace W (1986) Distribution of nitrate assimilation between the root and shoot of legumes and a comparison with wheat. Physiol Plant 66:630–636

Wang YS, Liu FL, Jensen CR (2012) Comparative effects of deficit irrigation and alternate partial root-zone irrigation on xylem pH, ABA and ionic concentrations in tomatoes. J Exp Bot 63:1907–1917

Wilkinson S (1999) pH as a stress signal. Plant Growth Regul 29(1–2):87–99

Wilkinson S, Davies WJ (2002) ABA-based chemical signalling: the co-ordination of responses to stress in plants. Plant Cell Environ 25(2):195–210

Wilkinson S, Davies WJ (2008) Manipulation of the apoplastic pH of intact plants mimics stomatal and growth responses to water availability and microclimatic variation. J Exp Bot 59(3):619–631

Wilkinson S, Bacon MA, Davies WJ (2007) Nitrate signalling to stomata and growing leaves: interactions with soil drying, ABA and xylem sap pH in maize. J Exp Bot 58:1705–1716

Wutscher HK, McDonald RE (1986) Mineral elements and organic acids in branch and root xylem sap of healthy and blight-affected sweet orange trees. J Am Soc Hortic Sci 111:426–429
Acknowledgments
We would like to thank Helena Steigerová, Hana Moskalyková, and Oldřich Jůza for their excellent technical assistance and prof. Ian Dodd for valuable comments and suggestions to the manuscript. We are also grateful to Masaryk University for its financial support of the postdoctoral stay of Anna Isabel Martin. V.G. and W.D. were supported by an International Joint Project of the Royal Society.
Additional information
Responsible Editor: Ian Dodd.
About this article
Cite this article
Gloser, V., Korovetska, H., Martín-Vertedor, A.I. et al. The dynamics of xylem sap pH under drought: a universal response in herbs?. Plant Soil 409, 259–272 (2016). https://doi.org/10.1007/s11104-016-2962-6
Received:

Accepted:

Published:

Issue Date:

DOI: https://doi.org/10.1007/s11104-016-2962-6
Keywords
Soil drying

Xylem sap

Nitrate

Malate