Abstract
Background and aims
The rhizospheric Bacillus subtilis PTA-271 (271) and endophytic Pseudomonas fluorescens PTA-CT2 (CT2) and Pantoea agglomerans PTA-AF2 (AF2) bacteria are able to induce systemic resistance (ISR) in grapevine against B. cinerea, but ISR markers and their costs remained unknown in vineyards. In this study, we investigated the relationship between the effectiveness of single and binary combinations of selected bacteria to induce ISR and their ability to trigger phytoalexin accumulation, as a potential marker for disease resistance, in leaves and berries, as well as their impact on grape yield in vineyards.
Methods
Grapevine plants were treated during 2006 in two vineyards by drenching soil with single or binary mixtures of bacteria. Induced resistance against B. cinerea was evaluated and stilbenic phytoalexins were analyzed by HPLC in both leaves and berries. Grape yield was also assessed as number and weight of clusters at ripening.
Results
Both single and mixtures of bacteria were effective in reducing gray mold severity in the leaves and berries in vineyards. Disease control was accompanied by a significant accumulation of stilbenic phytoalexins, trans-resveratrol and ε-viniferin, in both leaves and berries in the bacterized plants. δ-Viniferin also accumulated, but only in berries of the treated plants. Reduction of disease symptoms and accumulation of resveratrol and viniferins were higher in the plants treated with single CT2 compared to AF2 and 271. Treatment of grapevine plants with binary mixtures of these isolates resulted in a significant performance of CT2+AF2 in leaves and CT2+271 in berries. On the other hand, bacterial treatments did not show any negative effect on grape yield.
Conclusions
These results revealed the efficacy of CT2 alone or in combination with AF2 or with 271 in triggering grapevine resistance against B. cinerea and enhancing systemic accumulation of resveratrol and viniferins, without compromising grape yield.
Access options
Buy single article
Instant access to the full article PDF.
US$ 39.95
Tax calculation will be finalised during checkout.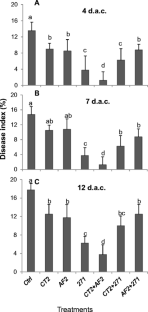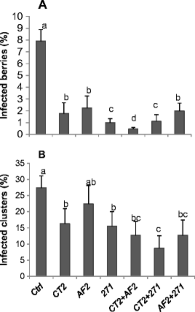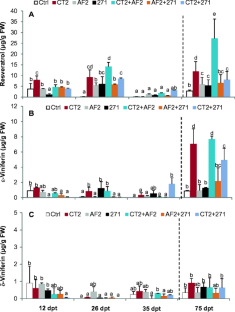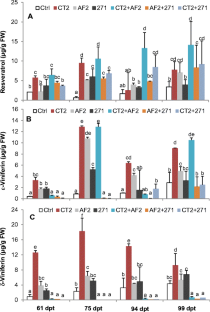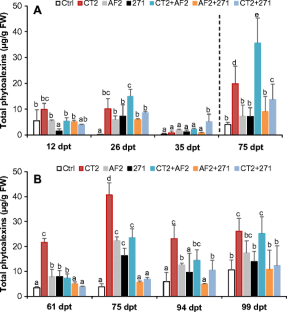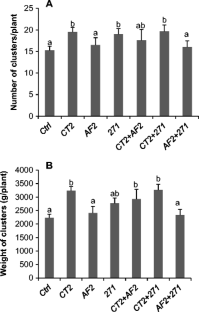 Abbreviations
ISR:

Induced systemic resistance

MAMPs:

Microbial associated molecular patterns
References
Adrian M, Jeandet P, Bessis R, Joubert JM (1996) Induction of phytoalexin (resveratrol) synthesis in grapevine leaves treated with aluminum chloride (AlCl3). J Agric Food Chem 44:1978–1981

Adrian M, Jeandet P, Veneau J, Weston LA, Bessis R (1997) Biological activity of resveratrol, a stilbenic compound from grapevines, against Botrytis cinerea, the causal agent for gray mold. J Chem Ecol 23:1689–1702

Ahn P, Lee SW, Suh SC (2007) Rhizobacteria-induced priming in Arabidospsis is dependent on ethylene, jasmonic acid, and NPR1. Mol Plant-Microbe Interact 20:759–768

Aziz A, Poinssot B, Daire X, Adrian M, Bézier A, Lambert B, Joubert J-M, Pugin A (2003) Laminarin elicits defense responses in grapevine and induces protection against Botrytis cinerea and Plasmopara viticola. Mol Plant-Microbe Interact 16:1118–1128

Aziz A, Trotel-Aziz P, Dhuicq L, Jeandet P, Couderchet M, Vernet G (2006) Chitosan oligomers and copper sulfate induce grapevine defense reactions and resistance to gray mold and downy mildew. Phytopathology 96:1188–1194

Bakker PAHM, Pieterse CMJ, Van Loon LC (2007) Induced systemic resistance by fluorescent Pseudomonas spp. Phytopathology 97:239–243

Benhamou N, Bélanger RR (1998) Induction of systemic resistance to Pythium damping-off in cucumber plants by benzothiadiazole: ultrastructure and cytochemistry of the host response. Plant J 14:13–21

Bharathi R, Vivekananthan R, Harish S, Ramanathan A, Samiyappan R (2004) Rhizobacteria-based bio-formulations for the management of fruit rot infection in chillies. Crop Prot 23:835–843

Chong J, Poutaraud A, Hugueney P (2009) Metabolism and roles of stilbenes in plants. Plant Sci 177:143–155

Compant S, Reiter B, Sessitsch A, Nowak J, Clement C, Aït Barka E (2005) Endophytic colonization of Vitis vinifera L. by plant growth-promoting bacterium Burkholderia sp. strain PsJN. Appl Environ Microbiol 71:1685–1693

Conrath U, Pieterse CM, Mauch-Mani B (2002) Priming in plant-pathogen interactions. Trends Plant Sci 7:210–216

Conrath U, Beckers GJM, Flors V, García-Agustín P, Jakab G, Mauch F, Newman M A, Pieterse CMJ, Poinssot B, Pozo MJ, Pugin A, Schaffrath U, Ton J, Wendehenne D, Zimmerli L, Mauch-Mani B. (2006) Priming: Getting ready for battle. Mol. Plant-Microbe Interact. 19:1062--107

Coutos-Thevenot P, Poinssot B, Bonomelli A, Yean H, Breda C, Buffard D, Esnault R, Hain R, Boulay M (2001) In vitro tolerance to Botrytis cinerea of grapevine 41B rootstock in transgenic plants expressing the stilbene synthase Vst1 gene under the control of a pathogen-inducible PR 10 promoter. J Exp Bot 52:901–910

De Vleesschauwer D, Höfte M (2009) Rhizobacteria-induced systemic resistance. In: van Loon LC (ed) Plant innate immunity. Academic Press/Elsevier Science, London, pp 223–281

De Vleesschauwer D, Cornelis P, Höfte M (2006) Redox-active pyocyanin secreted by Pseudomonas aeruginosa 7NSK2 triggers systemic resistance to Magnaporthe grisea but enhances Rhizoctonia solani susceptibility in rice. Mol Plant Microbe Interact 19:1406–1419

Dubreuil-Maurizi C, Trouvelot S, Frettinger P, Pugin A, Wendehenne D, Poinssot B (2010) Beta-aminobutyric acid primes an NADPH oxidase-dependent reactive oxygen species production during grapevine-triggered immunity. Mol Plant Microbe Interact 23:1012–1021

Dufour MC, Lambert C, Bouscaut J, Merillon JM, Corio-Costet MF (2013) Benzothiadiazole-primed defence responses and enhanced differential expression of defence genes in Vitis vinifera infected with biotrophic pathogens Erysiphe necator and Plasmopara viticola. Plant Pathol 62:370–382

Durrant WE, Dong X (2004) Systemic acquired resistance. Annu Rev Phytopathol 42:185–209

Gruau C, Trotel-Aziz P, Villaume S, Rabenoelina F, Clément C, Baillieul F, Aziz A (2015) Pseudomonas fluorescens PTA-CT2 triggers local and systemic immune response against Botrytis cinerea in grapevine. Mol Plant-Microbe Interact 28:1117–1129

Hamiduzzaman MM, Jakab G, Barnavon L, Neuhaus JM, Mauch-Mani B (2005) β-aminobutyric acid-induced resistance against downy mildew in grapevine acts through the potentiation of callose formation and jasmonic acid signaling. Mol Plant-Microbe Interact 18:819–829

Hatmi S, Gruau C, Trotel-Aziz P, Villaume S, Rabenoelina F, Baillieul F, Clément C, Ferchichi A, Aziz A (2015) Drought stress tolerance in grapevine involves activation of polyamine oxidation contributing to improved immune response and low susceptibility to Botrytis cinerea. J Exp Bot 66:775–787

Iavicoli A, Boutet E, Buchala A, Metraux JP (2003) Induced systemic resistance in Arabidopsis thaliana in response to root inoculation with Pseudomonas fluorescens CHA0. Mol Plant-Microbe Interact 16:851–858

Jeandet P, Bessis R, Gautheron B (1991) The production of resveratrol (3,5,4′-trihydroxystilbene) by grape berries in different developmental stages. Am J Enol Viticult 42:41–46

Jeandet P, Delaunois B, Conreux A, Donnez D, Nuzzo V, Cordelier S, Clément C, Courot E (2010) Biosynthesis, metabolism, molecular engineering and biological functions of stilbene phytoalexins in plants. BioFactors 36:331–341

Jeandet P, Hébrard C, Deville MA, Cordelier S, Dorey S, Aziz A, Crouzet J (2014) Deciphering the role of phytoalexins in plant microorganism interactions and human health. Molecules 19:18033–18056

King EO, Ward MK, Raney DE (1954) Two simple media for the demonstration of phycocyanin and fluorescin. J Lab Clin Med 44:301–307

Langcake P, Pryce RJ (1976) The production of resveratrol by Vitis vinifera and other members of the Vitaceae as a response to infection or injury. Physiol Plant Pathol 9:77–86

Lugtenberg B, Kamilova F (2009) Plant-growth-promoting rhizobacteria. Annu Rev Microbiol 63:541–556

Magnin-Robert M, Trotel-Aziz P, Quantinet D, Biagianti S, Aziz A (2007) Biological control of Botrytis cinerea by selected grapevine-associated bacteria and stimulation of chitinase and β-1,3 glucanase activities under field conditions. Eur J Plant Pathol 118:43–57

Magnin-Robert M, Quantinet D, Couderchet M, Aziz A, Trotel-Aziz P (2013) Differential induction of grapevine resistance and defense reactions against Botrytis cinerea by bacterial mixtures in vineyards. BioControl 58:117–131

Meziane H, Van der Sluis I, Van Loon LC, Höfte M, Bakker PAHM (2005) Determinants of Pseudomonas putida WCS358 involved in inducing systemic resistance in plants. Mol Plant Pathol 6:177–185

Nandakumar R, Babu S, Viswanathan R, Sheela J, Raguchander T, Samiyappan R (2001) A new bio-formulation containing plant growth promoting rhizobacterial mixture for the management of sheath blight and enhanced grain yield in rice. BioControl 46:493–510

Perazzolli M, Roatti B, Bozza E, Pertot I (2011) Trichoderma harzianum T39 induces resistance against downy mildew by priming for defense without costs for grapevine. Biol Control 58:74–82

Pezet R, Perret C, Jean-Denis JB, Tabacchi R, Gindro K, Viret O (2003) ε-Viniferin, a resveratrol dehydrodimer: one of the major stilbenes synthesized by stressed grapevine leaves. J Agric Food Chem 51:5488–5492

Pieterse CM, van Wees SC, Hoffland E, van Pelt JA, van Loon LC (1996) Systemic resistance in Arabidopsis induced by biocontrol bacteria is independent of salicylic acid accumulation and pathogenesis-related gene expression. Plant Cell 8:1225–1237

Pineda A, Zheng SJ, van Loon JJA, Pieterse CM, Dicke M (2010) Helping plants to deal with insects: the role of beneficial soil-borne microbes. Trends Plant Sci 15:507–514

Stockwell VO, Johnson KB, Sugar D, Loper JE (2010) Control of fire blight by Pseudomonas fluorescens A506 and Pantoea vagans C9-1 applied as single strains and mixed inocula. Phytopathology 100:1330–1339

Thilagavathi R, Saravanakumar D, Ragupathi N, Samiyappan R (2007) A combination of biocontrol agents improves the management of dry root rot (Macrophomina phaseolina) in greengram. Phytopathol Mediterr 46:157–167

Trotel-Aziz P, Couderchet M, Biagianti S, Aziz A (2008) Characterization of new bacterial biocontrol agents Acinetobacter, Bacillus, Pantoea and Pseudomonas spp. mediating grapevine resistance against Botrytis cinerea. Environ Exp Bot 64:21–32

Trouvelot S, Varnier AL, Allegre M et al (2008) A β-1,3 glucan sulfate induces resistance in grapevine against Plasmopara viticola through priming of defense responses, including HR-like cell death. Mol Plant-Microbe Interact 21:232–243

Van der Ent S, Van Wees SC, Pieterse CM (2009) Jasmonate signaling in plant interactions with resistance-inducing beneficial microbes. Phytochemistry 70:1581–1588

Van Hulten M, Pelser M, van Loon LC, Pieterse CM, Ton J (2006) Costs and benefits of priming for defense in Arabidopsis. Proc Natl Acad Sci U S A 103:5602–5607

Van Loon LC, Bakker PA, Pieterse CM (1998) Systemic resistance induced by rhizosphere bacteria. Annu Rev Phytopathol 36:453–483

Verhagen BW, Glazebrook J, Zhu T, Chang HS, van Loon LC, Pieterse CM (2004) The transcriptome of rhizobacteria-induced systemic resistance in Arabidopsis. Mol Plant Microbe Interact 17:895–908

Verhagen BWM, Trotel-Aziz P, Couderchet M, Höfte M, Aziz A (2010) Pseudomonas spp.-induced systemic resistance to Botrytis cinerea is associated with induction and priming of defense responses in grapevine. J Exp Bot 61:249–260

Verhagen BWM, Trotel-Aziz P, Jeandet P, Baillieul F, Aziz A (2011) Improved resistance against Botrytis cinerea by grapevine-associated bacteria that induce a prime oxidative burst and phytoalexin production. Phytopathology 101:768–777

Walters DR, Heil M (2007) Costs and trade-offs associated with induced resistance. Physiol Mol Plant Pathol 71:3–17

Yedidia I, Shoresh M, Kerem Z, Benhamou N, Kapulnik Y, Chet I (2003) Concomitant induction of systemic resistance to Pseudomonas syringae pv. lachrymans in Cucumber by Trichoderma asperellum (T-203) and accumulation of phytoalexins. Appl Environ Microbiol 69:7343–7353
Acknowledgments
This research was supported by the Vineal Project funded by the Champagne-Ardenne Region and the City of Reims.
Additional information
Responsible Editor: Stéphane Compant.
Electronic supplementary material
Below is the link to the electronic supplementary material.
About this article
Cite this article
Aziz, A., Verhagen, B., Magnin-Robert, M. et al. Effectiveness of beneficial bacteria to promote systemic resistance of grapevine to gray mold as related to phytoalexin production in vineyards. Plant Soil 405, 141–153 (2016). https://doi.org/10.1007/s11104-015-2783-z
Received:

Accepted:

Published:

Issue Date:
Keywords
Induced resistance

Phytoalexins

Bacterial mixtures

Vitis vinifera

Yield