Abstract
Aims
Root herbivory incurs fitness costs, but herbivory by nematodes can additionally increase nutrient availability mediated by enhanced root exudation and soil microbial activity and change plant susceptibility to aboveground herbivores due to systemic changes in plant defence. We hypothesized that such positive indirect effects may outweigh the negative direct effects of root herbivory by nematodes on plant performance.
Methods
We tested the effects of transient (3 weeks) and continuous (11 weeks) belowground herbivory by root-knot nematodes (Meloidogyne incognita) on the biomass, nitrogen levels, and reproductive output of Nicotiana attenuata, and its interaction with a specialist aboveground herbivore (Manduca sexta) in a greenhouse study.
Results
Continuous nematode herbivory caused an increase in shoot biomass and enhanced nitrogen levels in roots, shoots and seeds, but reduced the reproductive output of N. attenuata. Short-term, transient nematode herbivory had no effects. Feeding by the aboveground herbivore reduced reproductive output and increased seed nitrogen content. Nicotine levels in leaves and the plant interaction with M. sexta were not influenced by nematode herbivory.
Conclusion
In summary, only continuous nematode herbivory indirectly increased nitrogen availability and caused resource sequestration to the shoots; however, this effect was not strong enough to outweigh the direct fitness costs of nematode herbivory.
Access options
Buy single article
Instant access to the full article PDF.
US$ 39.95
Tax calculation will be finalised during checkout.
Subscribe to journal
Immediate online access to all issues from 2019. Subscription will auto renew annually.
US$ 119
Tax calculation will be finalised during checkout.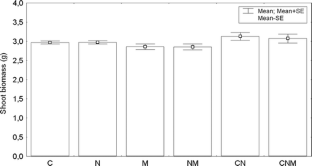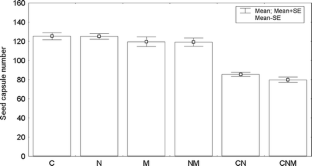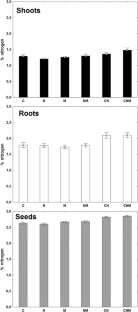 References
Baldwin IT (1988) Short-term damage-induced increases in tobacco alkaloids protect plants. Oecologia 75:367–370

Baldwin IT (1989) Mechanism of damage-induced alkaloid production in wild tobacco. J Chem Ecol 15:1661–1680

Baldwin IT, Halitschke R, Kessler A, Schittko U (2001) Merging molecular and ecological approaches in plant–insect interactions. Curr Opin Plant Biol 4:351–358

Bardgett RD, Cook R, Yeates GW, Denton CS (1999) The influence of nematodes on below-ground processes in grassland ecosystems. Plant Soil 212:23–33

Castagnone-Sereno P, Danchin EGJ, Perfus-Barbeoch L, Abad P (2013) Diversity and evolution of root-knot nematodes, genus meloidogyne: new insights from the genomic era. Annu Rev Phytopathol 51:203–220

Davis EL, Rich JR (1987) Nicotine content of tobacco roots and toxicity to Meloidogyne incognita. J Nematol 19:23–29

Denton CS, Bardgett RD, Cook R, Hobbs PJ (1999) Low amounts of root herbivory positively influence the rhizosphere microbial community in a temperate grassland soil. Soil Biol Biochem 31:155–165

Johnson SN, Clark KE, Hartley SE, Jones TH, McKenzie SW, Koricheva J (2012) Aboveground-belowground herbivore interactions. Ecology 93:2208–2215

Johnson SN, Mitchell C, McNicol JW, Thompson J, Karley AJ (2013) Downstairs drivers - root herbivores shape communities of above-ground herbivores and natural enemies via changes in plant nutrients. J Anim Ecol 82:1021–1030

Kahl J, Siemens DH, Aerts RJ, Gabler R, Kuhnemann F, Preston CA, Baldwin IT (2000) Herbivore-induced ethylene suppresses a direct defense but not a putative indirect defense against an adapted herbivore. Planta 210:336–342

Keinänen M, Oldham NJ, Baldwin IT (2001) Rapid HPLC screening of jasmonate-induced increases in tobacco alkaloids, phenolics, and diterpene glycosides in nicotiana attenuata. J Agric Food Chem 49:3553–3558

Kaplan I, Halitschke R, Kessler A, Sardanelli S, Denno RF (2008a) Constitutive and induced defences to herbivory in above- and belowground plant tissues. Ecology 89:392–402

Kaplan I, Halitschke R, Kessler A, Kessler A, Rehill BR, Sardanelli S, Denno RF (2008b) Physiological integration of roots and shoots in plant defense strategies links above- and belowground herbivory. Ecol Lett 11:841–851

Kaplan I, Halitschke R, Kessler A, Sardanelli S, Denno RF (2008c) Effects of plant vascular architecture on aboveground–belowground-induced responses to foliar and root herbivores on Nicotiana tabacum. J Chem Ecol 34:1349–1359

Kaplan I, Sardanelli S, Denno RF (2009) Field evidence for indirect interactions between foliar-feeding insect and root-feeding nematode communities on Nicotiana tabacum. Ecol Entomol 34:262–270

Krügel T, Lim M, Gase K, Halitschke R, Baldwin IT (2002) Agrobacterium-mediated transformation of nicotiana attenuata, a model ecological expression system. Chemoecol 12:177–183

Mathur V, Ganta S, Raaijmakers CE, Reddy AS, Vet LEM, van Dam NM (2011) Temporal dynamics of herbivore-induced responses in Brassica juncea and their effect on generalist and specialist herbivores. Entomol Experiment Appl 139:215–225

McCloud ES, Baldwin IT (1997) Herbivory and caterpillar regurgitants amplify the wound-induced increases in jasmonic acid but not nicotine in nicotiana sylvestris. Planta 203:430–435

Mithöfer A, Boland W (2008) Recognition of herbivory-associated molecular patterns. Plant Physiol 146:825–831

Orians CM, Thorn A, Gómez S (2011) Herbivore-induced resource sequestration in plants: why Bother? Oecologia 167:1–9

Patil J, Miller AJ, Gaur HS (2013) Effect of nitrogen supply form on the invasion of rice roots by the root-knot nematode, meloidogyne graminicola. Nematology 15:483–492

Rasmann S, De Vos M, Castell CL, Tian D, Halitschke R, Sun JY, Agrawal AA, Felton GW, Jander G (2012) Herbivory in the previous generation primes plants for enhanced insect resistance. Plant Physiol 158:854–863

Sasser JN, Freckman DW (1987) A world perspective on nematology: the role of society. Pages 7–14 in. Vistas on Nematology. J.A. Veech and D.W. Dickson, eds. Society of nematologists, Hyattsville, MD, USA

Schwachtje J, Minchin PEH, Jahnke S, van Dongen JT, Schittko U, Baldwin IT (2006) SNF1-related kinases allow plants to tolerate herbivory by allocating carbon to roots. Proc Natl Acad Sci U S A 103:12935–12940

Soler R, Schaper SV, Bezemer TM, Cortersero AM, Hoffmeister TS, van der Putten WH, Vet LEM, Harvey JA (2009) Influence of presence and spatial arrangement of belowground insects on host-plant selection of aboveground insects: a field study. Ecol Entomol 34:339–345

Soler R, Erb M, Kaplan I (2013) Long distance root–shoot signalling in plant–insect community interactions. Trends Plant Sci 18:149–156

Steppuhn A, Gase K, Krock B, Halitschke R, Baldwin IT (2004) Nicotine's defensive function in nature. PLoS Biol 2:e217

Steppuhn A, Baldwin IT (2007) Resistance management in a native plant: nicotine prevents herbivores from compensating for plant protease inhibitors. Ecol Lett 10:499–511

Thaler JS, Stout MJ, Karban R, Duffey S (2001) Jasmonate-mediated induced plant resistance affects a community of herbivores. Ecol Entomol 26:312–324

van Dam NM, Hadwich K, Baldwin IT (2000) Induced responses in nicotiana attenuata affect behavior and growth of the specialist herbivore manduca sexta. Oecologia 122:371–379

van Dam NM, Raaijmakers CE, van der Putten WH (2005) Root herbivory reduces growth and survival of the shoot feeding specialist pieris rapae on brassica nigra. Entomol Exp Appl 115:161–170

van Dam NM, Heil M (2011) Multitrophic interactions below and above ground: en route to the next level. J Ecol 99:77–88

Voelckel C, Krügel T, Gase K, Heidrich N, van Dam NM, Winz R, Baldwin IT (2001) Anti-sense expression of putrescine N-methyltransferase confirms defensive role of nicotine in nicotiana sylvestris against manduca sexta. Chemoecology 11:121–126

Wang M, Biere A, van der Putten WH, Bezemer TM (2014) Sequential effects of root and foliar herbivory on aboveground and belowground induced plant defense responses and insect performance. Oecologia 175:187–198

Wink M, Theile V (2002) Alkaloid tolerance in manduca sexta and phylogenetically related sphingids (Lepidoptera : sphingidae). Chemoecol 12:29–46

Winz RA, Baldwin IT (2001) Molecular interactions between the specialist herbivore manduca sexta (Lepidoptera, sphingidae) and its natural host nicotiana attenuata. IV. Insect-induced ethylene reduces jasmonate-induced nicotine accumulation by regulating putrescine N-methyltransferase transcripts. Plant Physiol 125:2189–2202

Wondafrash M, van Dam NM, Tytgat TOG (2013) Plant systemic induced responses mediate interactions between root parasitic nematodes and aboveground herbivorous insects. Front Plant Sci 4:87

Wurst S, van Dam NM, Monroy F, Biere A, van der Putten WH (2008) Intraspecific variation in plant defense alters effects of root herbivores on leaf chemistry and aboveground herbivore damage. J Chem Ecol 34:1360–1367

Yeates GW, Saggar S, Denton CS, Mercer CF (1998) Impact of clover cyst nematode (heterodera trifolii) infection on soil microbial activity in the rhizosphere of white clover (trifolium repens) – a pulse-labelling experiment. Nematologica 44:81–90

Zavala JA, Patankar AG, Gase K, Baldwin IT (2004) Constitutive and inducible trypsin proteinase inhibitor production incurs large fitness costs in nicotiana attenuata. Proc Natl Acad Sci U S A 101:1607–1612
Acknowledgments
We wish to thank Anke Steppuhn and Michèle Bandoly for providing N. attenuata seeds and for their advice and help with nicotine measurements. The diligent technical assistance of Monika Fünning, Anne Plank and Cynthia Kienzle is also gratefully acknowledged. This study was funded by the Deutsche Forschungsgemeinschaft (Collaborative Research Centre 973 "Priming and Memory of Organismic Responses to Stress" – Project B3).
Additional information
Responsible Editor: Juha Mikola.
About this article
Cite this article
Schöning, C., Wurst, S. Positive effects of root-knot nematodes (Meloidogyne incognita) on nitrogen availability do not outweigh their negative effects on fitness in Nicotiana attenuata . Plant Soil 400, 381–390 (2016). https://doi.org/10.1007/s11104-015-2738-4
Received:

Accepted:

Published:

Issue Date:
Keywords
Root exudation

Resource allocation

Root herbivory