Abstract
Background and Aims
Abandoned lands are increasingly used to establish fast-growing tree plantations, and are often rapidly colonized by a high density of herbaceous undergrowth. These weeds are generally removed since they compete with trees for resources, in particular soil nutrients. However, mixing herbaceous litter with the litter of planted trees could also stimulate the activity of decomposers and associated nutrient release due to an increase of litter quality (lower C:N ratio), plant diversity (more diverse litter traits) and water holding capacity. The objective was to determine the impact of herbaceous litter on the litter decomposition process of white spruce and hybrid poplar litters alone or in mixtures.
Methods
Litter mass loss rate, nutrient release and decomposer communities were monitored on single and mixed-species litters using litterbags during two years in three plantations types (hybrid poplar, white spruce and mixed plantations). Litters within mixtures were separated by species to identify species-specific responses of leaf mass loss.
Results
N release of all litter types increased with the presence of herbaceous litter. This finding could be linked to the greater abundance of decomposers and fungal biomass brought about by the herbaceous litter. Addition of herbaceous litter had no effect on spruce litter mass loss but had positive effects on poplar and mixed spruce/poplar litter mass loss. Abundance of fungi and mites was more affected by litter quality, whereas the abundance of collembola was more affected by the diversity of resources than by litter quality.
Conclusions
In these 10-year plantations with poplar, increased litter mass loss for poplar and mixed litters and N release associated to the presence of herbaceous litter showed that weeds may change soil C sequestration and N cycling.
Access options
Buy single article
Instant access to the full article PDF.
US$ 39.95
Tax calculation will be finalised during checkout.
Subscribe to journal
Immediate online access to all issues from 2019. Subscription will auto renew annually.
US$ 119
Tax calculation will be finalised during checkout.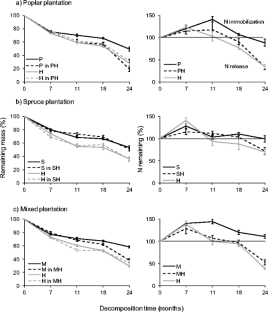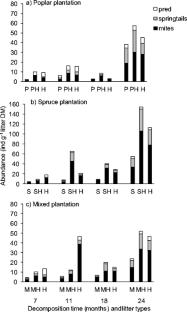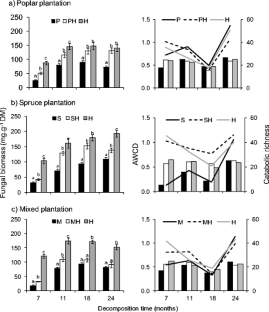 References
Aerts R (1997) Climate, leaf litter chemistry and leaf litter decomposition in terrestrial ecosystems: a triangular relationship. Oikos 79:439–449

Allison SD, Lu Y, Weihe C, Goulden ML, Martiny AC, Treseder KK, Martiny JBH (2013) Microbial abundance and composition influence litter decomposition response to environmental change. Ecology 94:714–725

Barantal S, Roy J, Fromin N, Schimann H, Hättenschwiler S (2011) Long-term presence of tree species but not chemical diversity affect litter mixture effects on decomposition in a neotropical rainforest. Oecologia 167:241–252. doi:10.1007/s00442-011-1966-4

Berg B, McClaugherty C (2008) Plant litter decomposition, humus formation, carbon sequestration, 2nd edn. Springer, Berlin Heidelberg

Berglund SL, Ågren GI (2012) When will litter mixtures decompose faster or slower than individual litters? A model for two litters. Oikos 121:1112–1120. doi:10.1111/j.1600-0706.2011.19787.x

Berlese A (1905) Apparicchio per raccogliere presto ed in gran numero di piccoli artropodi. Redia 2:85–89

Blagodatsky S, Blagodatskaya E, Yuyukina T, Kuzyakov Y (2010) Model of apparent and real priming effects: linking microbial activity with soil organic matter decomposition. Soil Biol Biochem 42:1275–1283. doi:10.1016/j.soilbio.2010.04.005

Bonanomi G, Capodilupo M, Incerti G, Mazzoleni S (2014) Nitrogen transfer in litter mixture enhances decomposition rate, temperature sensitivity, and C quality changes. Plant Soil 381:307–321. doi:10.1007/s11104-014-2119-4

Chang SX, Weetman GF, Preston CM (1996) Understory competition effect on tree growth and biomass allocation on a coastal old-growth forest cutover site in British Columbia. For Ecol Manag 83:1–11. doi:10.1016/0378-1127(96)03707-3

Chapman K, Whittaker JB, Heal OW (1988) Metabolic and faunal activity in litters of tree mixtures compared with pure stands. Agric Ecosyst Environ 24:33–40. doi:10.1016/0167-8809(88)90054-0

Chomel M (2014) Sylviculture intensive en région boréale: impact de la mixité des essences sur le processus de décomposition des litières et le stockage de carbone. Ph.D. Thesis. Université du Québec en Abitibi-Témiscamingue - Université Aix Marseille

Chomel M, DesRochers A, Baldy V, Larchevêque M, Gauquelin T (2014a) Non-additive effects of mixing hybrid poplar and white spruce on aboveground and soil carbon storage in boreal plantations. For Ecol Manag 328:292–299. doi:10.1016/j.foreco.2014.05.048

Chomel M et al (2014b) Secondary metabolites of Pinus halepensis alter decomposer organisms and litter decomposition during afforestation of abandoned agricultural zones. J Ecol 102:411–424

Chomel M, Larchevêque M, DesRochers A, Baldy V (2014c) Home field advantage of litter decomposition in pure and mixed plantations under boreal climate. Submitted

Chomel M, Guittonny-Larchevêque M, DesRochers A, Baldy V (2015) Home field advantage of litter decomposition in pure and mixed plantations under boreal climate. Ecosystems 1–15 doi:10.1007/s10021-015-9880-y

Coineau Y (1974) Introduction à l'étude des microarthropodes du sol et ses annexes

Coleman DC, Crossley DA Jr, Hendrix PF (2004) Fundamentals of soil ecology, 2nd edn. Elsevier Academic Press, San Diego

Coll L, Messier C, Delagrange S, Berninger F (2007) Growth, allocation and leaf gas exchanges of hybrid poplar plants in their establishment phase on previously forested sites: effect of different vegetation management techniques. Ann For Sci 64:275–285. doi:10.1051/forest:2007005

Collison EJ, Riutta T, Slade EM (2013) Macrofauna assemblage composition and soil moisture interact to affect soil ecosystem functions. Acta Oecol 47:30–36. doi:10.1016/j.actao.2012.12.002

David JF, Gillon D (2002) Annual feeding rate of the millipede Glomeris marginata on holm oak (Quercus flex) leaf litter under Mediterranean conditions. Pedobiologia 46:42–52. doi:10.1078/0031-4056-00112

De Deyn GB, Cornelissen JHC, Bardgett RD (2008) Plant functional traits and soil carbon sequestration in contrasting biomes. Ecol Lett 11:516–531. doi:10.1111/j.1461-0248.2008.01164.x

Dickmann DI, Isebrands JG, Eckenwalder JE, Richardson J (2001) Poplar culture in North America. NRC Research Press, Ottawa

Fornara DA, Tilman D (2008) Plant functional composition influences rates of soil carbon and nitrogen accumulation. J Ecol 96:314–322. doi:10.1111/j.1365-2745.2007.01345.x

Gachet S, Leduc A, Bergeron Y, Nguyen-Xuan T, Tremblay F (2007) Understory vegetation of boreal tree plantations: differences in relation to previous land use and natural forests. For Ecol Manag 242:49–57. doi:10.1016/j.foreco.2007.01.037

Garland JL (1996) Analytical approaches to the characterization of samples of microbial communities using patterns of potential C source utilization. Soil Biol Biochem 28:213–221. doi:10.1016/0038-0717(95)00112-3

Garland JL, Mills AL (1991) Classification and characterization of heterotrophic microbial communities on the basis of patterns of community-level sole-carbon-source utilization. Appl Environ Microbiol 57:2351–2359

Gartner TB, Cardon ZG (2004) Decomposition dynamics in mixed-species leaf litter. Oikos 104:230–246

Gessner MO, Chauvet E (1993) Ergosterol-to-biomass conversion factors for aquatic hyphomycetes. Appl Environ Microbiol 59:502–507

Gessner MO, Schmitt AL (1996) Use of solid-phase extraction to determine ergosterol concentrations in plant tissue colonized by fungi. Appl Environ Microbiol 62:415–419

Gisin H (1960) Collembolen fauna Europas. Museum d'Histoire naturelle, Genève

Hättenschwiler S, Jorgensen HB (2010) Carbon quality rather than stoichiometry controls litter decomposition in a tropical rain forest. J Ecol 98:754–763. doi:10.1111/j.1365-2745.2010.01671.x

Hättenschwiler S, Vitousek P (2000) The role of polyphenols in terrestrial ecosystem nutrient cycling. Trends Ecol Evol 15:238–243

Hättenschwiler S, Tiunov A, Scheu S (2005) Biodiversity and litter decomposition in terrestrial ecosystems. Annu Rev Ecol Evol Syst 36:191–218

Hoepting MK, Wagner RG, McLaughlin J, Pitt DG (2011) Timing and duration of herbaceous vegetation control in northern conifer plantations: 15th-year tree growth and soil nutrient effects. For Chron 87:398–413

Hoorens B, Aerts R, Stroetenga M (2002) Litter quality and interactive effects in litter mixtures: more negative interactions under elevated CO2? J Ecol 90:1009–1016

Jonsson M, Wardle DA (2008) Context dependency of litter-mixing effects on decomposition and nutrient release across a long-term chronosequence. Oikos 117:1674–1682. doi:10.1111/j.1600-0706.2008.16810.x

Kainulainen P, Holopainen JK (2002) Concentrations of secondary compounds in Scots pine needles at different stages of decomposition. Soil Biol Biochem 34:37–42

Kardol P, Reynolds WN, Norby RJ, Classen AT (2011) Climate change effects on soil microarthropod abundance and community structure. Appl Soil Ecol 47:37–44. doi:10.1016/j.apsoil.2010.11.001

Kuzyakov Y, Friedel JK, Stahr K (2000) Review of mechanisms and quantification of priming effects. Soil Biol Biochem 32:1485–1498. doi:10.1016/s0038-0717(00)00084-5

Labrecque M, Teodorescu TI, Babeux P, Cogliastro A, Daigle S (1994) Impact of herbaceous competition and drainage conditions on the early productivity of willows under short-rotation intensive culture. Can J For Res 24:493–501. doi:10.1139/x94-066

Lecerf A, Marie G, Kominoski JS, LeRoy CJ, Bernadet C, Swan CM (2011) Incubation time, functional litter diversity, and habitat characteristics predict litter-mixing effects on decomposition. Ecology 92:160–169. doi:10.1890/10-0315.1

Lieffers VJ, Armstrong GW, Stadt KJ, Marenholtz EH (2008) Forest regeneration standards: are they limiting management options for Alberta's boreal mixedwoods? For Chron 84:76–82

Marigo G (1973) Sur une méthode de fractionnement et d'estimation des composés phénoliques chez les végétaux. Analytica 2:106–110

McLauchlan K (2006) The nature and longevity of agricultural impacts on soil carbon and nutrients: a review. Ecosystems 9:1364–1382. doi:10.1007/s10021-005-0135-1

McMillan R, Quideau SA, MacKenzie MD, Biryukova O (2007) Nitrogen mineralization and microbial activity in oil sands reclaimed boreal forest soils. J Environ Qual 36:1470–1478. doi:10.2134/jew2006.0530

Meier CL, Bowman WD (2008) Links between plant litter chemistry, species diversity, and below-ground ecosystem function. Proc Natl Acad Sci U S A 105:19780–19785

Milcu A, Partsch S, Langel R, Scheu S (2006) The response of decomposers (earthworms, springtails and microorganisms) to variations in species and functional group diversity of plants. Oikos 112:513–524. doi:10.1111/j.0030-1299.2006.14292.x

Nilsson MC, Wardle DA (2005) Understory vegetation as a forest ecosystem driver: evidence from the northern Swedish boreal forest. Front Ecol Environ 3:421–428. doi:10.1890/1540-9295(2005)003[0421:uvaafe]2.0.co;2

Pinheiro J, Bates D, DebRoy S, Sarkar D, the R Core team (2014) nlme: linear and nonlinear mixed effects models. R package version 3.1-115. http://CRAN.R-project.org/package=nlme

Preston-Mafham J, Boddy L, Randerson PF (2002) Analysis of microbial community functional diversity using sole-carbon-source utilisation profiles—a critique. FEMS Microbiol Ecol 42:1–14

R Development Core Team (2008) R: a language and environment for statistical computing. R Foundation for Statistical Computing, Vienna, Austria

Rey Benayas J, Martins A, Nicolau J, Schulz J (2007) Abandonment of agricultural land: an overview of drivers and consequences. CAB Reviews 2:1–14. doi:10.1079/pavsnnr20072057

Ruzicka S, Edgerton D, Norman M, Hill T (2000) The utility of ergosterol as a bioindicator of fungi in temperate soils. Soil Biol Biochem 32:989–1005

Scheu S, Simmerling F (2004) Growth and reproduction of fungal feeding Collembola as affected by fungal species, melanin and mixed diets. Oecologia 139:347–353. doi:10.1007/s00442-004-1513-7

Shultz BJ, Lensing JR, Wise DH (2006) Effects of altered precipitation and wolf spiders on the density and activity of forest-floor Collembola. Pedobiologia 50:43–50. doi:10.1016/j.pedobi.2005.10.001

Soo T, Tullus A, Tullus H, Roosaluste E (2009) Floristic diversity responses in young hybrid aspen plantations to land-use history and site preparation treatments. For Ecol Manag 257:858–867. doi:10.1016/j.foreco.2008.10.018

Stefanowicz A (2006) The biology plates technique as a tool in ecological studies of microbial communities. Pol J Environ Stud 15:669–676

Swift MJ, Heal OW, Anderson JM (1979) Decomposition in terrestrial ecosystems. Blackwell Scientific, Oxford

Vouligny C, Gariépy S (2008) Abandoned farmland in Quebec—status and development options. Agriculture and Agri-Food Canada, Ottawa

Wardle DA, Bonner KI, Nicholson KS (1997) Biodiversity and plant litter: experimental evidence which does not support the view that enhanced species richness improves ecosystem function. Oikos 79:247–258

Weih M (2004) Intensive short rotation forestry in boreal climates: present and future perspectives. Can J For Res 34:1369–1378. doi:10.1139/x04-090

Weih M, Karacic A, Munkert H, Verwijst T, Diekmann M (2003) Influence of young poplar stands on floristic diversity in agricultural landscapes (Sweden). Basic Appl Ecol 4:149–156. doi:10.1078/1439-1791-00157

Wise DH, Schaefer M (1994) Decomposition of leaf litter in a mull beech forest—comparison between canopy and herbaceous species. Pedobiologia 38:269–288

Xiong YM, Xia HX, Li ZA, Cai XA, Fu SL (2008) Impacts of litter and understory removal on soil properties in a subtropical Acacia mangium plantation in China. Plant Soil 304:179–188. doi:10.1007/s11104-007-9536-6

Zhang DQ, Hui DF, Luo YQ, Zhou GY (2008) Rates of litter decomposition in terrestrial ecosystems: global patterns and controlling factors. J Plant Ecol 1:85–93

Zhao J, Wan SZ, Zhang CL, Liu ZF, Zhou LX, Fu SL (2014) Contributions of understory and/or overstory vegetations to soil microbial PLFA and nematode diversities in eucalyptus monocultures PLos One 9. doi:10.1371/journal.pone.0085513
Acknowledgments
We thank Line Blackburn for field assistance, Caroline Lecareux and Germain Bougnou for chemical analysis, and Sophie Gachet for the herbaceous species identification. This study was supported by the Natural Sciences and Engineering Research Council of Canada (NSERC-CRSNG) through a Collaborative and Research Development grant awarded to Annie DesRochers. We also thank the CRSNG-UQAT-UQAM Industrial Chair in Sustainable Forest Management, the Quebec Intensive Silviculture Network and the CEF for additional support.
Compliance with ethical standards
The source of funding was a Collaborative and Research Development grant supported by the Natural Sciences and Engineering Research Council of Canada (NSERC-CRSNG). There is no conflict of interest. The research did not involved human participants neither animals.
Additional information
Responsible Editor: Fernando T. Maestre.
Electronic supplementary material
Below is the link to the electronic supplementary material.
Results of statistical analysis (lme) to test the effects of litter type, mixture effect and decomposition time and their interactions on litter mass loss in their respective plantations. (DOCX 13 kb)
Results of statistical analysis (lme) to test the effects of litter type, decomposition time and their interactions on ergosterol content, and mesofauna abundance (springtails, mites and predators). (DOCX 21 kb)
About this article
Cite this article
Chomel, M., Guittonny-Larchevêque, M., DesRochers, A. et al. Effect of mixing herbaceous litter with tree litters on decomposition and N release in boreal plantations. Plant Soil 398, 229–241 (2016). https://doi.org/10.1007/s11104-015-2648-5
Received:

Accepted:

Published:

Issue Date:
Keyword
Grasses

Mixed plantation

Hybrid poplar

White spruce

Decomposers

Mesofauna

Microorganism

Intensive silviculture