Abstract
Background and aims
Alkaline soils, characterized by high pH, are representative of degraded regions throughout the world. Studying germination in relation to alkalinity can contribute to understanding how species cope with such conditions. Although the effects of pH have been widely studied, it is unknown whether germination response to pH gradients created with buffer solutions is representative of the conditions experienced in alkaline soils. Our aims were to (1) determine if high pH gives an accurate assessment of the effects of alkaline soils on germination, and (2) identify the inhibitory factors for germination in alkaline soils.
Methods
Using Leymus chinensis seeds, germination was tested over a gradient of pH solutions prepared using Tris (50 mM and 100 mM) and H2O buffers and eight germination media prepared from non-alkaline and alkaline soils with different pH and electrical conductivities (EC). Additionally, solutions of 10–100 mM NaCl, Na2SO4, Na2CO3 and NaHCO3 were used to determine the main ions inhibiting seed germination.
Results
H2O-buffered pH had no effect on seed germination, and seed germination was much lower at all pH levels in 50 mM Tris–HCl solutions (pH 7.0–10.35) than in the H2O control (pH 7.05). No seeds germinated in 100 mM Tris–HCl buffers irrespective of the pH. In alkaline germination media (pH 10.04–10.61), high germination was obtained only at low EC. The rank order of the inhibitory effect of salts was Na2CO3 > NaHCO3 > NaCl > Na2SO4.
Conclusions
Buffer solutions used to simulate alkaline environments did not provide a reliable indicator of the effects of alkaline soils on seed germination. High pH of alkaline soil had no negative effects, and results suggest that salt composition and concentration, especially CO3 2− and HCO3 −, are key inhibitors.
Access options
Buy single article
Instant access to the full article PDF.
US$ 39.95
Tax calculation will be finalised during checkout.
Subscribe to journal
Immediate online access to all issues from 2019. Subscription will auto renew annually.
US$ 119
Tax calculation will be finalised during checkout.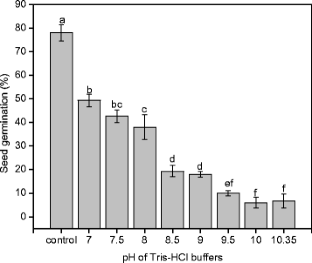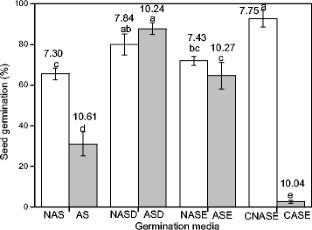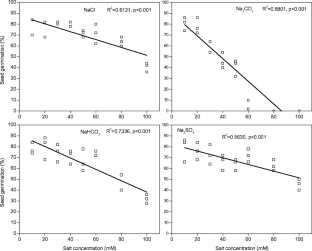 References
Baskin CC, Baskin JM (2014) Seeds: ecology, biogeography, and evolution of dormancy and germination. Elsevier/Academic Press, San Diego, pp 17–18

Basto S, Dorca-Fornell C, Thompson K, Rees M (2013) Effect of pH buffer solutions on seed germination of Hypericum pulchrum, Campanula rotundifolia and Scabiosa columbaria. Seed Sci Technol 41:298–302

Chachalis D, Reddy KN (2000) Factors affecting Campsis radicans seed germination and seedling emergence. Weed Sci 48:212–216

Chauhan BS, Gill G, Preston C (2006) Influence of environmental factors on seed germination and seedling emergence of rigid ryegrass (Lolium rigidum). Weed Sci 54:1004–1012

Chejara VK, Kristiansen P, Whalley RDB, Sindel BM, Nadolny C (2008) Factors affecting germination of coolatai grass (Hyparrhenia hirta). Weed Sci 56:543–548

Chi CM, Wang ZC (2010) Characterizing salt-affected soils of songnen plain using saturated paste and 1:5 soil-to-water extraction methods. Arid Land Res Manage 24:1–11

Chi CM, Zhao CW, Sun XJ, Wang ZC (2012) Reclamation of saline-sodic soil properties and improvement of rice (Oryza sativa L.) growth and yield using desulfurized gypsum in the west of Songnen Plain, northeast China. Geoderma 187–188:24–30

Ding X, Tian C, Zhang S, Song J, Zhang F, Mi G, Feng G (2010) Effects of NO3−-N on the growth and salinity tolerance of Tamarix laxa Willd. Plant Soil 331:57–67

Duan D, Liu X, Khan MA, Gul B (2004) Effects of salt and water stress on the germination of Chenopodium glaucum L., seed. Pak J Bot 36:793–800

Ebrahimi E, Eslami SV (2012) Effect of environmental factors on seed germination and seedling emergence of invasive Ceratocarpus arenarius. Weed Res 52:50–59

Flowers TJ, Gracia A, Koyama M, Yeo AR (1997) Breeding for salt tolerance in crop plants. the role of molecular biology. Acta Physiol Plant 19:427–433

Foley ME, Chao WS (2008) Growth regulators and chemicals stimulate germination of leafy spurge (Euphorbia esula) seeds. Weed Sci 56:516–522

Gao ZW, Zhu H, Gao JC, Yang CW, Mu CS, Wang DL (2011) Germination responses of Alfalfa (Medicago sativa L.) seeds to various salt-alkaline mixed stress. Afr J Agric Res 6:3793–3803

Guan B, Zhou D, Zhang H, Tian Y, Japhet W, Wang P (2009) Germination responses of Medicago ruthenica seeds to salinity, alkalinity, and temperature. J Arid Environ 73:135–138

Guerrero-Alves J, Pla-Sentís I, Camacho R (2002) A model to explain high values of pH in an alkali sodic soil. Sci Agrár 59:763–770

Gupta RK, Abrol IP (1990) Reclamation and management of alkali soils. Indian J Agric Sci 60:1–16

Gupta I, Basu PK (1988) Role of pH on natural regeneration of Tephrosia candida, an endangered species of North Bengal. Environ Ecol 6:537–541

Harris PJC (1981) Value of laboratory germination and viability tests in predicting field emergence of Urena lobata L. Field Crop Res 4:237–245

Henig-Sever N, Eshel A, Ne'eman G (1996) pH and osmotic potential of pine ash as post-fire germination inhibitors. Physiol Plant 96:71–76

Huang Z, Zhang X, Gutterman Y (2003) Influences of light, temperature, salinity and storage on seed germination of Haloxylon ammodendron. J Arid Environ 55:453–464

Khajeh-Hosseini M, Powell AA, Bingham IJ (2003) The interaction between salinity stress and seed vigour during germination of soybean seeds. Seed Sci Technol 31:715–725

Kitajima K, Fenner M (2000) Ecology of seedling regeneration. In: Fenner M (ed) Seeds: the ecology of regeneration in plant communities. CABI Publishing, Wallingford, pp 331–359

Koger C, Reddy KN, Poston DH (2004) Factors affecting seed germination, seedling emergence, and survival of texasweed (Caperonia palustris). Weed Sci 52:989–995

Kopittke PM, Menzies NW (2005) Effect of pH on Na induced Ca deficiency. Plant Soil 269:119–129

Li R, Shi F, Fukuda K (2010) Interactive effects of salt and alkali stresses on seed germination, germination recovery, and seedling growth of a halophyte Spartina alterniflora (Poaceae). S Afr J Bot 76:380–387

Ma HY, Liang ZW, Wu HT, Huang LH, Wang ZC (2010) Role of endogenous hormones, glumes, endosperm and temperature on germination of Leymus chinensis (Poaceae) seeds during development. J Plant Ecol 3:269–277

Mandić V, Krnjaja V, Tomić Z, Bijelić Z, Žujović M, Simić A, Prodanović S (2012) Genotype, seed age and pH impacts on germination of alfalfa. Rom Biotechnol Lett 17:7205–7211

Mashhady AS, Rowell DL (1978) Soil alkalinity, equilibria and alkalinity development. J Soil Sci 29:65–75

Menzies NW, Fulton IM, Kopittke RA, Kopittke PM (2009) Fresh water leaching of alkaline bauxite residue after sea water neutralization. J Environ Qual 38:2050–2057

Nakamura I, Hossain MA (2009) Factors affecting the seed germination and seedling emergence of red flower ragleaf (Crassocephalum crepidioides). Weed Biol Manag 9:315–322

Norsworthy JK, Oliveira MJ (2005) Coffee senna (Cassia occidentalis) germination and emergence is affected by environmental factors and seeding depth. Weed Sci 53:657–662

Panta S, Flowers T, Lane P, Doyle R, Haros G, Shabala S (2014) Halophyte agriculture: success stories. Environ Exp Bot 107:71–83

Pérez-Fernández MA, Calvo-Magro E, Montanero-Fernández J, Ovola-Velasco JA (2006) Seed germination in response to chemicals: effect of nitrogen and pH in the media. J Environ Biol 27:13–20

Piovan MJ, Zapperi GM, Pratolongo PD (2014) Seed germination of Atriplex undulata under saline and alkaline conditions. Seed Sci Technol 42:286–292

Redmann RE, Abouguendia ZM (1979) Germination and seedling growth on substrates with extreme pH-laboratory evaluation of buffers. J Appl Ecol 16:901–907

Rengasamy P (2010) Soil processes affecting crop production in salt-affected soils. Aust J Soil Res 37:613–620

Roig T, Bäckman P, Olofsson G (1993) Ionization enthalpies of some common zwitterionic hydrogen-ion buffers (HEPES, PIPES, HEPPS and BES) for biological research. Acta Chem Scand 47:899–901

Shi DC, Wang DL (2005) Effects of various salt-alkaline mixed stresses on Aneurolepidium chinense (Trin.) Kitag. Plant Soil 271:15–26

Sosa L, LLanes A, Reinoso H, Reginato M, Luna V (2005) Osmotic and specific ion effects on the germination of Prosopis strombulifera. Ann Bot 96:261–267

Stokes CA, MacDonald GE, Adams CR, Langeland KA, Miller DL (2011) Seed biology and ecology of natalgrass (Melinis repens). Weed Sci 59:527–532

Szabó A, Tóth T (2011) Relationship between soil properties and natural grassland vegetation on sodic soils. Ecol Quest 14:65–67

Tanji KK (1990) Nature and extent of agricultural salinity. In: Tanji KK (ed) Agricultural and salinity assessment and management. American Society of Civil Engineers, New York, pp 1–17

Tavakkoli E, Fatehi F, Coventry S, Rengasamy P, McDonald GK (2011) Additive effects of Na+ and Cl− ions on barley growth under salinity stress. J Exp Bot 62:2189–2203

Tobe K, Li X, Omasa K (2002) Effects of sodium, magnesium and calcium salts on seed germination and radicle survival of a halophyte, Kalidium caspicum (Chenopodiaceae). Aust J Bot 50:163–169

Tobe K, Li X, Omasa K (2004) Effects of five different salts on seed germination and seedling growth of Haloxylon ammodendron (Chenopodiaceae). Seed Sci Res 14:345–353

Valkó O, Tóthmérész B, Kelemen A, Simon E, Migléc T, Lukác BA, Török P (2014) Environmental factors driving seed bank diversity in alkali grasslands. Agric Ecosyst Environ 182:80–87

Yu J, Wang Z, Meixner FX, Yang F, Wu H, Chen X (2010) Biogeochemical characterizations and reclamation strategies of saline sodic soil in northeastern China. Clean: Soil Air Water 38:1010–1016

Zhou D, Xiao M (2010) Specific ion effects on the seed germination of sunflower. J Plant Nut 33:255–266
Acknowledgments
We thank Carol C Baskin, Jerry M Baskin and Changjie Jiang for their constructive comments and suggestions on the various versions of this manuscript. We also thank three anonymous reviewers for providing constructive comments on the manuscript. This work was supported by the National Natural Science Foundation of China (41371260), the National Basic Research Program of China (2015CB150802), the Program of Science and Technology development of Jilin province (20140204050SF) and Australian Research Council Linkage Project grant (LP110100527).
Additional information
Responsible Editor: Jeffrey Walck.
About this article
Cite this article
Ma, H., Yang, H., Lü, X. et al. Does high pH give a reliable assessment of the effect of alkaline soil on seed germination? A case study with Leymus chinensis (Poaceae). Plant Soil 394, 35–43 (2015). https://doi.org/10.1007/s11104-015-2487-4
Received:

Accepted:

Published:

Issue Date:
Keywords
Alkaline soil

Buffer

Electrical conductivity

Soil pH

Vegetation restoration