Abstract
Aims
This study aims to (i) asses the contribution of biological N fixation (%Ndfa) in the soybean production area of Argentina, (ii) build a model for predicting %Ndfa using crop, soil, and meteorological variables, and (iii) estimate %Ndfa at the country level using values obtained in this study.
Methods
%Ndfa was assessed in paddocks and experimental plots located in an area 22–39° S and 56–66° W. %Ndfa was determined using the natural 15N abundance method. A complete data set of soil and meteorological variables (n–47) was used to develop a model for predicting %Ndfa.
Results
A median value of %Ndfa in aboveground biomass of 60 % (interquartile range 46–71 %) was estimated. Larger %Ndfa values were observed in areas with high crops yields. When seed yield was above 3.7 Mg ha−1, effective rainfall during fallow and mean temperature in the seed-filling period explained %Ndfa. Below 3.7 Mg ha−1, soil phosphorus content, pH, and effective rainfall in the vegetative period explicated %Ndfa.
Conclusions
Soybean production systems in Argentina showed larger %Ndfa than reported values in literature that may affect global N balances. Identified soil and meteorological variables may be useful for predicting %Ndfa in future studies, taking into account their spatial variation in the soil-plant system.
This is a preview of subscription content, log in to check access.
Access options
Buy single article
Instant access to the full article PDF.
US$ 39.95
Tax calculation will be finalised during checkout.
Subscribe to journal
Immediate online access to all issues from 2019. Subscription will auto renew annually.
US$ 199
Tax calculation will be finalised during checkout.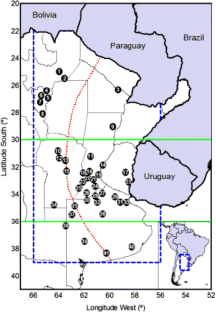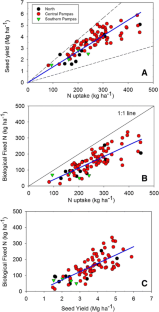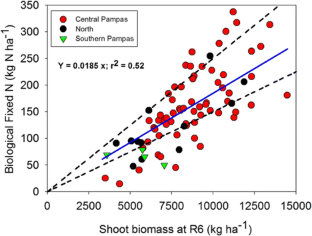 References
Alvarez R, Lavado RS (1998) Climate, organic matter and clay content relationships in the Pampa and Chaco soils, Argentina. Geoderma 83:127–141

Alvarez R, Lemcoff JH, Merzari AH (1995) Nitrogen balance in a soil cultivated with soyabeans. Cienc del Suelo 13:38–40

Alves BJR, Boddey RM, Urquiaga S (2003) The success of BNF in soybean in Brazil. Plant Soil 252:1–9

Austin AT, Bustamante MMC, Nardoto GB, Mitre SK, Perez T, Ometto JPHB, Ascarrunz NL, Forti MC, Longo K, Gavito ME, Enrich-Prast A, Martinelli LA (2013) Latin America's nitrogen challenge. Science 340:149

Austin A, Piñeiro G, Gonzalez-Polo M (2006) More is less: agricultural impacts on the N cycle in Argentina. Biogeochemistry 79:45–60

Bacanamwo M, Purcell LC (1999) Soybean dry matter and N accumulation responses to flooding stress, N sources and hypoxia. J Exp Bot 50:689–696

Baigorri HE (1997) Elección de cultivares. In: Baigorri HE, Giorda L (eds) El cultivo de soja en la Argentina. INTA-Centro Regional Cordoba, Cordoba, pp 106–122

Boddey RM, Peoples MB, Palmer B, Dart PJ (2000) Use of the 15N natural abundance technique to quantify biological nitrogen fixation by woody perennials. Nutr Cycl Agroecosyst 57:235–270

Boyer EW, Howarth RW, Galloway JN, Dentener FJ, Cleveland C, Asner GP, Green P, Vorosmarty C (2004) Current nitrogen inputs to world regions. In: Mosier AR, Syers KJ, Freney JR (eds) Agriculture and the nitrogen cycle: assessing the impacts of fertilizer use on food production and the environment. Island Press, Washington, pp 221–230

Bray RH, Kurtz LT (1945) Determination of total, organic, and available forms of phosphorus in soils. Soil Sci 59:39–45

Bremner JM (1965) Inorganic forms of nitrogen. In: CA Black, DD Evans, JL White, LE Ensminger and FE Clark (eds) Methods of soil analysis. Part 2: chemical and Microbiological properties. ASA, Madison-Wisconsin-USA

Collino D, de Luca M, Perticari A, Urquiaga S and Racca R (2007) Aporte de la FBN a la nutrición de la soja y factores que la limitan en diferentes regiones del país. In: XXIII Reunión Latinoamericana de Rizobiología. Los Cocos, Cordoba. Argentina

CONAB (2014) Acompanhamento da safra brasileira. Graos. Cultivos de verao–Safra 2014–15. www.conab.gov.br

Dardanelli JL, de la Casa A, Ateca MR, Zanvettor R, Nuñez Vazquez F and Salas YHP (1992) Validación del balance hidrológico versátil para la rotación sorgo soja bajo dos sistemas de labranza. Revista Agropecuaria de INTA Manfredi e INTA Marcos Juárez: 20–29

De'ath G, Fabricius KE (2000) Classification and regression trees: a powerful yet simple technique for ecological data analysis. Ecology 81:3178–3192

Di Ciocco C, Alvarez R, Andrada Y, Momo F (2004) Nitrogen balance in a soybean crop. Cienc del Suelo 22:48–51

Di Ciocco C, Coviella C, Coviella C, Penon E, Diaz-Zorita M, Lopez S, Lopez S (2008) Biological fixation of nitrogen and N balance in soybean crops in the pampas region. Span J Agric Res 6:114–119

Di Ciocco C, Penón E, Coviella C, Lopez S, Diaz-Zorita M, Momo F, Alvarez R (2011) Nitrogen fixation by soybean in the Pampas: relationship between yield and soil nitrogen balance. Agrochimica 55:305–313

Divito GA, Sadras VO (2014) How do phosphorus, potassium and sulphur affect plant growth and biological nitrogen fixation in crop and pasture legumes? A meta-analysis. Field Crop Res 156:161–171

Draper NR, Smith H (1998) Applied regression analysis. Wiley, New York

Elsheikh EAE (1998) Effects of salt on rhizobia and bradyrhizobia: a review. Ann Appl Biol 132:507–524

FAO (2014) Statistics division. FAOSTAT Database—agricultural production

Fehr WR, Caviness CE (1977) Stages of soybean development. Cooperative Extension Service, Agriculture and Home Economics Experiment Station-Iowa State University, Ames

Galloway JN, Dentener FJ, Capone DG, Boyer EW, Howarth RW, Seitzinger SP, Asner GP, Cleveland CC, Green PA, Holland EA, Karl DM, Michaels AF, Porter JH, Townsend AR, Voosmarty CJ (2004) Nitrogen cycles: past, present, and future. Biogeochemistry 70:153–226

Hall AJ, Rebella CM, Ghersa CM, Culot JP (1992) Field-crop systems of the Pampas. In: Pearson CJ (ed) Ecosystems of the world. Elsevier, Amsterdam

Herridge DF (1982) Use of the ureide technique to describe the nitrogen economy of field-grown soybeans. Plant Physiol 70:7–11

Herridge D, Peoples M, Boddey R (2008) Global inputs of biological nitrogen fixation in agricultural systems. Plant Soil 311:1–18

Hungria M, Vargas MAT (2000) Environmental factors affecting N2 fixation in grain legumes in the tropics, with an emphasis on Brazil. Field Crop Res 65:151–164

Hungria M, Franchini J, Campo R, Graham P (2005) The importance of nitrogen fixation to soybean cropping in South America. In: Werner D, Newton W (eds) Nitrogen fixation in agriculture, forestry, ecology, and the environment. Springer, Dordrecht, pp 25–42

Hungria M, Franchini JC, Campo RJ, Crispino CC, Moraes JZ, Sibaldelli RNR, Mendes IC, Arihara J (2006) Nitrogen nutrition of soybean in Brazil: contributions of biological N2 fixation and N fertilizer to grain yield. Can J Plant Sci 86:927–939

Jakobsen I (1985) The role of phosphorus in nitrogen fixation by young pea plants (Pisum sativum). Physiol Plantarum 64:190–196

King CA, Purcell LC (2001) Soybean nodule size and relationship to nitrogen fixation response to water deficit. Crop Sci 41:1099–1107

Kumar P, Parry M, Mitchell R, Ahmad A and Abrol Y (2004) Photosynthesis and nitrogen-use efficiency. In: Foyer CH and Noctor G (eds). Photosynthetic nitrogen assimilation and associated carbon and respiratory metabolism, 23–34

Nelson DW, Sommers LE (1973) Determination of total nitrogen in plant material. Agron J 65:109–112

Parker MB, Harris HB (1977) Yield and leaf nitrogen of nodulating and non-nodulating soybeans as affected by nitrogen and molybdenum. Agron J 69:551–554

Pauferro N, Guimarpes AP, Jantalia CP, Urquiaga S, Alves BJR, Boddey RM (2010) 15N natural abundance of biologically fixed N2 in soybean is controlled more by the Bradyrhizobium strain than by the variety of the host plant. Soil Biol Biochem 42:1694–1700

Peltzer H and Peltzer N (2010) Modelo de simulación de fenología en soja. SI.FE.SOJA 2010. Ediciones INTA

Pueppke S (2005) Nitrogen fixation by soybean in North America. In: Werner D, Newton W (eds) Nitrogen fixation in agriculture, forestry, ecology, and the environment. Springer, Dordrecht, pp 15–23

Reed JF, Cummings RW (1945) Soil reaction-glass electrode and colorimetric methods for determining ph values of soils. Soil Sci 1:97–105

Ritchie JT (1972) Model for predicting evaporation from a row crop with incomplete cover. Water Resour Res 8:1204–1213

Robertson GP, Vitousek PM (2009) Nitrogen in agriculture: balancing the cost of an essential resource. Ann Rev Environ Resour 34:97–125

Rochester IJ, Peoples MB, Constable GA, Gault RR (1998) Faba beans and other legumes add nitrogen to irrigated cotton cropping systems. Aust J Exp Agric 38:253–260

Rotaru V, Sinclair TR (2009) Interactive influence of phosphorus and iron on nitrogen fixation by soybean. Environ Exp Bot 66:94–99

Sa TM, Israel DW (1995) Nitrogen assimilation in nitrogen-fixing soybean plants during phosphorus deficiency. Crop Sci 35:814–820

SAGyP - INTA (1990) Atlas de suelos de la República Argentina. Escala 1:500.000 y1:1.000.000

Sainz Rozas H, Echeverria HE, Angelini HP (2011) Niveles de carbono orgánico y pH en suelos agrícolas de las regiones pampeana y extrapampeana argentina. Ciencdel Suelo 29:29–37

Salvagiotti F, Cassman KG, Specht JE, Walters DT, Weiss A, Dobermann A (2008) Nitrogen uptake, fixation and response to fertilizer N in soybeans: a review. Field Crop Res 108:1–13

Salvagiotti F, Specht JE, Cassman KG, Walters DT, Weiss A, Dobermann A (2009) Growth and nitrogen fixation in high-yielding soybean: impact of nitrogen fertilization. Agron J 101:958–970

Serraj R, Sinclair T, Purcell L (1999) Symbiotic N2 fixation response to drought. J Exp Bot 50:143–155

Shearer G, Kohl DH (1986) N2 fixation in field settings: estimations based on natural 15N abundance. Aust J Plant Physiol 13:699–756

Sinclair TR, Horie T (1989) Leaf nitrogen, photosynthesis, and crop radiation use efficiency: a review. Crop Sci 29:90–98

SIIA-MAGyP (2014) Sistema Integrado de Información Agropecuaria. Ministerio de Agricultura Ganadería y Pesca de la Nación www.minagri.gob.ar

Smil V (1999) Nitrogen in crop production: an account of global flows. Glob Biogeochem Cycles 13:647–662

Soares Novo MC, Tanaka RT, Mascarenhas HAA, Bortoletto N, Gallo PB, Alves Pereira JCVN, Teixeira Vargas AA (1999) Nitrogênio e potassio na fixação simbiotica de N2 por soja cultivada no inverno. Sci Agric 56:143–156

Sridhara S, Thimmegowda S, Prasad TG (1995) Effect of water regimes and moisture stress at different growth stages on nodule dynamics, nitrogenase activity and nitrogen fixation in soybean (Glycine max (L.) Merrill). J Agron Crop Sci 174:111–115

Unkovich MJ, Pate JS (2000) An appraisal of recent field measurements of symbiotic N2 fixation by annual legumes. Field Crop Res 65:211–228

Vessey JK, Waterer J (1992) In search of the mechanism of nitrate inhibition of nitrogenase activity in legume nodules: recent developments. Physiol Plantarum 84:171–176

Walkley A, Black IA (1934) An examination of Degtjareff method for determining soil organic matter and a proposed modification of the chromic acid titration method. Soil Sci 37:29–37
Acknowledgments
The authors want to greatly acknowledge valuable contribution in selecting and establishing experimental plots from Norma Arias (INTA Concepción del Uruguay), Gustavo Artaux (INTA Junín), Mirian Barraco (INTA Gral. Villegas), Cristian Brambilla (CREA), Juan Jose Calvo (INTA Junín), Julia Capurro (INTA Cañada de Gomez), Natalia Carrasco (INTA Barrow), Adolfo Carrizo (INTA Salta), Cesar Di Ciocco (Univ. Lujan), Juan Martín Enrico (INTA Oliveros), Hugo Fontanetto (INTA Rafaela), Francisco Fuentes (INTA Marcos Juárez), Pablo Glagovsky (INTA Gualeguaychú), Norma González (INTA Balcarce), Carlos López (INTA Rio I), Hernán Giacomelli (Estancia Runciman), Fernando Martínez (INTA Casilda), Fernando Mousegne (INTA San Antonio de Areco), Leon Murúa (INTA Jesús María), Eduardo Ocampo (INTA EL Colorado), Damian Pafundi (Rizobacter SA), Ricardo Pozzi (CREA), Guillermo Resch (INTA Huinca Renancó), Hector Sanchez (INTA Famailla), Eduardo Sa Pereira (INTA Cnel. Suarez), Diego Santos (INTA Paraná), Luis Ventimiglia (INTA 9 de Julio), Jose Luis Zorzin (AAPRESID), and Sebastian Zuil (INTA Reconquista)
Compliance with Ethical Standards
ᅟ
Funding
This study was funded by INTA (grants AEEV 1512 and PNCER 22472).
Conflict of interest
The authors declare that they have no conflict of interest.
Additional information
Responsible Editor: Euan K. James.
About this article
Cite this article
Collino, D.J., Salvagiotti, F., Perticari, A. et al. Biological nitrogen fixation in soybean in Argentina: relationships with crop, soil, and meteorological factors. Plant Soil 392, 239–252 (2015). https://doi.org/10.1007/s11104-015-2459-8
Received:

Accepted:

Published:

Issue Date:
Keywords
Soybean

BNF

Nitrogen

Argentina