Abstract
Aims
Plant species-specific effects on soil biota and their impacts on subsequent plant growth, i.e. plant-soil feedbacks (PSFs, henceforth), are major drivers in natural systems but little is known about their role in agroecosystems. We investigated the presence and magnitude of PSFs in two contrasting agricultural settings and tested the importance of species identity and phylogenetic relationships in determining PSFs.
Methods
We compared PSFs that developed from an intensified agricultural site and a nearby non-cultivated pasture. Four weed and seven crop species were grown in soil inoculated with either biologically active or sterilized soils from each system. Four crop response species were grown to estimate PSFs.
Results
PSFs were species-specific. The identity of currently- and previously-planted species and their interactions explained over 80 % of the variation in feedbacks. Biota from the intensified agricultural site produced negative feedbacks in three of the four response species. Phylogenetic relationships partially explained PSFs.
Conclusions
PSFs can alter crop growth and may be altered by agricultural practices. The species-specific effect to soil biota should be taken into account when assessing the extent to which crop and weed species could influence subsequent plant growth.
Access options
Buy single article
Instant access to the full article PDF.
USD 39.95
Price excludes VAT (USA)
Tax calculation will be finalised during checkout.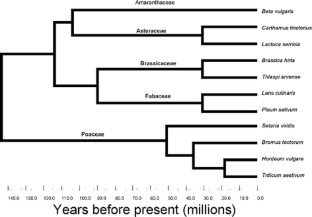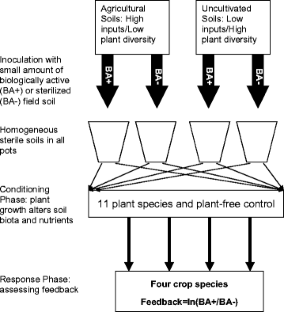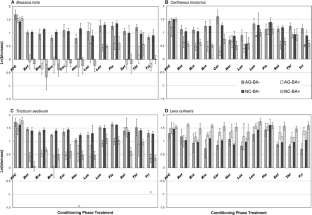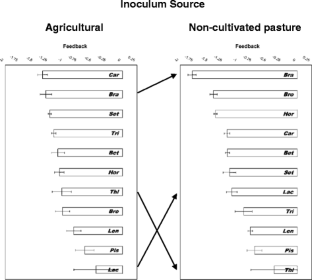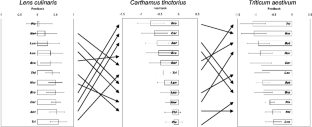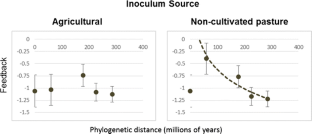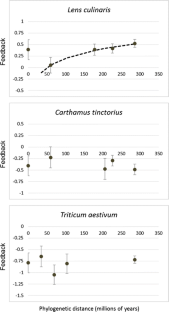 References
Bainard LD, Koch AM, Gordon AM, Klironomos JN (2013) Growth response of crops to soil microbial communities from conventional monocropping and tree-based intercropping systems. Plant Soil 363:345–356. doi:10.1007/s11104-012-1321-5

Baird J, Walley F, Shirtliffe S (2010) Arbuscular mycorrhizal fungi colonization and phosphorus nutrition in organic field pea and lentil. Mycorrhiza 20:541–549. doi:10.1007/s00572-010-0305-7

Bakker MG, Otto-Hanson L, Lange AJ, Bradeen JM, Kinkel LL (2013) Plant monocultures produce more antagonistic soil Streptomyces communities than high-diversity plant communities. Soil Biol Biochem 65:304–312. doi:10.1016/j.soilbio.2013.06.007

Bever J (2003) Soil community feedback and the coexistence of competitors: conceptual frameworks and empirical tests. New Phytol 157:465–473. doi:10.1046/j.1469-8137.2003.00714.x

Brandt A, Seabloom E, Hosseini P (2009) Phylogeny and provenance affect plant-soil feedbacks in invaded California grasslands. Ecology 90:1063–1072. doi:10.1890/08-0054.1

Brinkman E, Van der Putten W, Bakker E, Verhoeven K (2010) Plant-soil feedback: experimental approaches, statistical analyses and ecological interpretations. J Ecol 98:1063–1073. doi:10.1111/j.1365-2745.2010.01695.x

Bryla D, Duniway J (1997) Growth, phosphorus uptake, and water relations of safflower and wheat infected with an arbuscular mycorrhizal fungus. New Phytol 136:581–590. doi:10.1046/j.1469-8137.1997.00780.x

Callaway R, Thelen G, Rodriguez A, Holben W (2004) Soil biota and exotic plant invasion. Nature 427:731–733. doi:10.1038/nature02322

Clark R, Baligar V, Zobel R (2005) Response of mycorrhizal switchgrass to phosphorus fractions in acidic soil. Commun Soil Sci Plant Anal 36:1337–1359. doi:10.1081/CSS-200056950

Curl EA (1963) Control of plant diseases by crop rotation. Bot Rev 29:413–479. doi:10.1007/bf02860813

Daehler C (2001) Darwin's naturalization hypothesis revisited. Am Nat 158:324–330. doi:10.1086/321316

Development Core Team R (2008) R: a language and environment for statistical computing. R Foundation for Statistical Computing, Vienna

de Vries F, Thebault E, Liiri M, Birkhofer K, Tsiafouli M, Bjornlund L, Jorgensen H, Brady M, Christensen S, de Ruiter P, d'Hertefeldt T, Frouz J, Hedlund K, Hemerik L, Hol W, Hotes S, Mortimer S, Setala H, Sgardelis S, Uteseny K, van der Putten W, Wolters V, Bardgett R (2013) Soil food web properties explain ecosystem services across European land use systems. Proc Natl Acad Sci U S A 110:14296–14301. doi:10.1073/pnas.1305198110

Diez JM, Dickie I, Edwards G, Hulme PE, Sullivan JJ, Duncan RP (2010) Negative soil feedbacks accumulate over time for non-native plant species. Ecol Lett 13:803–809. doi:10.1111/j.1461-0248.2010.01474.x

Drijber RA, Doran JW, Parkhurst AM, Lyon DJ (2000) Changes in soil microbial community structure with tillage under long-term wheat-fallow management. Soil Biol Biochem 32:1419–1430. doi:10.1016/s0038-0717(00)00060-2

Ehrenfeld JG, Ravit B, Elgersma K (2005) Feedback in the plant-soil system. Annual Review of Environment and Resources. Annual Reviews, Palo Alto.

Ehrmann J, Ritz K (2014) Plant: soil interactions in temperate multi-cropping production systems. Plant Soil 376:1–29. doi:10.1007/s11104-013-1921-8

Furhrer J, Grimm A, Tschannenn W, Shariatmadari H (1992) The response of spring wheat (Triticum aestivum L.) to ozone at higher elevations. 2. Changes in yield, yield components and grain quality in response to ozone flux. New Phytol 121:211–219. doi:10.1111/j.1469-8137.1992.tb01106.x

Gilbert G, Webb C (2007) Phylogenetic signal in plant pathogen-host range. Proc Natl Acad Sci U S A 104:4979–4983. doi:10.1073/pnas.0607968104

Glenn M, Chrew F, Williams P (1985) Hyphal penetration of Brassica (Crucifera) roots by vesicular-arbuscular micorrhizal fungus. New Phytol 99:463–472. doi:10.1111/j.1469-8137.1985.tb03673.x

Hawkes CV, Kivlin SN, Du J, Eviner VT (2013) The temporal development and additivity of plant-soil feedback in perennial grasses. Plant Soil 369:141–150. doi:10.1007/s11104-012-1557-0

Herms DA, Mattson WJ (1992) The dilemma of plants—to grow or defend. Q Rev Biol 67:283–335. doi:10.1086/417659

Hol W, de Boer W, ten Hooven F, van der Putten W (2013) Competition Increases Sensitivity of Wheat (Triticum aestivum) to Biotic Plant-Soil Feedback. Plos One 8. doi:10.1371/journal.pone.0066085

Hwang S, Ahmed H, Goosen B, Kutcher H, Brandt S, Chang S, Turnbull G (2009) Effect of crop rotation on the soil pathogen dynamics and canola seedling establishment. Plant Pathol J 8:106–112. doi:10.3923/ppj.2009.106.112

Kardol P, Bezemer T, van der Putten W (2006) Temporal variation in plant-soil feedback controls succession. Ecol Lett 9:1080–1088. doi:10.1111/j.1461-0248.2006.00953.x

Klironomos J (2002) Feedback with soil biota contributes to plant rarity and invasiveness in communities. Nature 417:67–70. doi:10.1038/417067a

Kulmatiski A, Beard KH (2011) Long-term plant growth legacies overwhelm short-term plant growth effects on soil microbial community structure. Soil Biol Biochem 43:823–830. doi:10.1016/j.soilbio.2010.12.018

Kulmatiski A, Beard KH, Stevens JR, Cobbold SM (2008) Plant-soil feedbacks: a meta-analytical review. Ecol Lett 11:980–992. doi:10.1111/j.1461-0248.2008.01209.x

Menalled F, Gross K, Hammond M (2001) Weed aboveground and seedbank community responses to agricultural management systems. Ecol Appl 11:1586–1601. doi:10.2307/3061080

Mokany K, Ash J (2008) Are traits measured on pot grown plants representative of those in natural communities? J Veg Sci 19:119–126. doi:10.3170/2007-8-18340

Nielsen D, Unger P, Miller P (2005) Efficient water use in dryland cropping systems in the great plains. Agron J 97:364–372

Pagano E, Cela S, Maddonni GA, Otegui ME (2007) Intra-specific competition in maize: Ear development, flowering dynamics and kernel set of early-established plant hierarchies. Field Crop Res 102:198–209. doi:10.1016/j.fcr.2007.03.013

Postma-Blaauw M, de Goede R, Bloem J, Faber J, Brussaard L (2010) Soil biota community structure and abundance under agricultural intensification and extensification. Ecology 91:460–473. doi:10.1890/09-0666.1

Reinhart K, Wilson G, Rinella M (2012) Predicting plant responses to mycorrhizae: integrating evolutionary history and plant traits. Ecol Lett 15:689–695. doi:10.1111/j.1461-0248.2012.01786.x

Reynolds H, Packer A, Bever J, Clay K (2003) Grassroots ecology: plant-microbe-soil interactions as drivers of plant community structure and dynamics. Ecology 84:2281–2291. doi:10.1890/02-0298

Robertson G, Swinton S (2005) Reconciling agricultural productivity and environmental integrity: a grand challenge for agriculture. Front Ecol Environ 3:38–46. doi:10.1890/1540-9295(2005)003[0038:RAPAEI]2.0.CO;2

Ryan MH, Graham JH (2002) Is there a role for arbuscular mycorrhizal fungi in production agriculture? Plant Soil 244:263–271. doi:10.1023/a:1020207631893

Sainju UM, Lenssen AW, Goosey HB, Snyder E, Hatfield PG (2010) Dryland soil carbon and nitrogen influenced by sheep grazing in the wheat-fallow system. Agron J 102:1553–1561. doi:10.2134/agronj2010.0216

Smith R, Ryan M, Menalled F (2011) Direct and indirect impacts of weed management practices on soil quality, chap 18. In: Hatfield J, Sauer J (eds) Soil management: building a stable base for agriculture. American Soc Agron and Soil Sci Soc of America, WI, p 275–286

Stevens P (2014) Angiosperm Phylogeny Website. Available on line: http://www.mobot.org/MOBOT/Research/APweb/. Accessed 24 April 2014

Tanaka DL, Anderson RL, Rao SC (2005) Crop sequencing to improve use of precipitation and synergize crop growth. Agron J 97:385–390

Trenbath BR (1993) Intercropping for the management of pests and diseases. Field Crop Res 34:381–405. doi:10.1016/0378-4290(93)90123-5

van der Putten W, Bardgett R, Bever J, Bezemer T, Casper B, Fukami T, Kardol P, Klironomos J, Kulmatiski A, Schweitzer J, Suding K, Van de Voorde T, Wardle D (2013) Plant-soil feedbacks: the past, the present and future challenges. J Ecol 101:265–276. doi:10.1111/1365-2745.12054

van Groenigen K, Bloem J, Bååth E, Boeckx P, Rousk J, Bode S, Forristal D, Jones M (2010) Abundance, production and stabilization of microbial biomass under conventional and reduced tillage. Soil Biol Biochem 42:48–55. doi:10.1016/j.soilbio.2009.09.023

Vicentini A, Barber JC, Aliscioni SS, Giussani LM, Kellogg EA (2008) The age of the grasses and clusters of origins of C(4) photosynthesis. Glob Chang Biol 14:2963–2977. doi:10.1111/j.1365-2486.2008.01688.x

Vitta J, Satorre E (1999) Validation of a weed: crop competition model. Weed Res 39:259–269. doi:10.1046/j.1365-3180.1999.00142.x

Wolfe B, Klironomos J (2005) Breaking new ground: soil communities and exotic plant invasion. Bioscience 55:477–487. doi:10.1641/0006-3568(2005)055[0477:BNGSCA]2.0.CO;2

Xavier L, Germida J (2002) Response of lentil under controlled conditions to co-inoculation with arbuscular mycorrhizal fungi and rhizobia varying in efficacy. Soil Biol Biochem 34:181–188. doi:10.1016/S0038-0717(01)00165-1

Zimdahl RL (2004) Weed-crop competition: a review. Blackwell Pub, Professional, Ames
Acknowledgments
We thank Richard Smith and two anonymous reviewers for an insightful review of our work.
Additional information
Responsible Editor: Thom W. Kuyper.
About this article
Cite this article
Miller, Z.J., Menalled, F.D. Impact of species identity and phylogenetic relatedness on biologically-mediated plant-soil feedbacks in a low and a high intensity agroecosystem. Plant Soil 389, 171–183 (2015). https://doi.org/10.1007/s11104-014-2336-x
Received:

Accepted:

Published:

Issue Date:

DOI: https://doi.org/10.1007/s11104-014-2336-x
Keywords
Biologically mediated feedbacks

Weed and crop growth

Phylogeny

Agroecology

Crop field

Pasture