Abstract
Background
Fine roots comprise a dynamic carbon pool in forests. Legumes, widespread in the tropics, have a specialized strategy of nitrogen acquisition. However, the belowground dynamics of this group are poorly understood.
Scope
We studied the seasonal and spatial variation in surface fine root mass (FRM) and nodulation over 2 years in plantations of four legume species (Dalbergia retusa, Enterolobium cyclocarpum, Gliricidia sepium, Leptolobium panamense) in a dry forest in Costa Rica. We measured soil moisture, FRM, and nodule mass at 2 soil depths (0–15 and 15–30 cm) and at 2 distances from the tree bole (1 and 2 m). Mean FRM per species ranged from 10 to 17 g m−2 during the dry season to 86–116 g m−2 the following wet season. Species differed in belowground foraging strategies: G. sepium and L. panamense had ~41 % more roots in the surface layer, but in D. retusa plantations, 44.3 % more roots were in the deeper layer. In G. sepium and L. panamense, nodulation fluctuated seasonally, while the other species did not nodulate.
Conclusions
FRM varied in synchrony with rainfall and responded to interannual precipitation anomalies. Thus, FRM is a sensitive component of the forest carbon pool, vulnerable to shifts in species composition and climate regimes.
Access options
Buy single article
Instant access to the full article PDF.
USD 39.95
Price excludes VAT (USA)
Tax calculation will be finalised during checkout.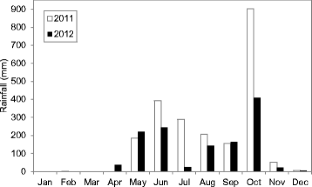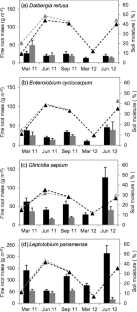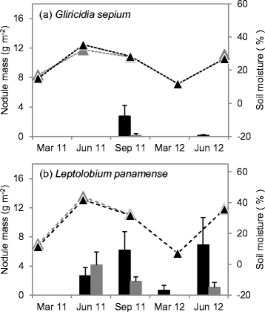 References
Barron AR, Purves DW, Hedin LO (2010) Facultative nitrogen fixation by canopy legumes in a lowland tropical forest. Oecologia 165:511–520

Brassard BW, Chen HYH, Cavard X, Laganière J, Reich PB, Bergeron Y, Paré D, Yuan Z (2013) Tree species diversity increases fine root productivity through increased soil volume filling. J Ecol 101:210–219

Castellanos J, Jaramillo VJ, Sanford RL, Kauffman JB (2001) Slash-and-burn effects on fine root biomass and productivity in a tropical dry forest ecosystem in México. For Ecol Manag 148:41–50

Cavelier J, Wright SJ, Santamaría J (1999) Effects of irrigation on litterfall, fine root biomass and production in a semideciduous lowland forest in Panama. Plant Soil 211:207–213

Corby H (1989) Types of rhizobial nodules and their distribution among the Leguminosae. Kirkia 13:53–123

Czarnowski M (2002) Suitability of native tree species for reforestation in the tropical dry forest of Costa Rica. Dissertation, University of Gottingen

Elizondo-Cruz R, Blanco-Segura R (2010) Developing the bioliteracy of school children for 24 years: a fundamental tool for ecological restoration and conservation in perpetuity of the Area de Conservación Guanacaste, Costa Rica. Ecol Restor 28:193–198

Espeleta JF, Clark DA (2007) Multi-scale variation in fine-root biomass in a tropical rain forest: a seven-year study. Ecol Monogr 77:377–404

Finér L, Ohashi M, Noguchi K, Hirano Y (2011) Factors causing variation in fine root biomass in forest ecosystems. For Ecol Manag 261:265–277

Gei MG, Powers JS (2013) Do legumes and non-legumes tree species affect soil properties in unmanaged forests and plantations in Costa Rican dry forests? Soil Biol Biochem 57:264–272

Gentry AH (1995) Diversity and floristic composition of neotropical dry forests. In: Bullock SH, Mooney HA, Medina E (eds) Seasonally Dry Tropical Forests. Cambridge Univ. Press, Cambridge, pp 146–194

Gillespie TW, Grijalva A, Farris CN (2000) Diversity, composition, and structure of tropical dry forests in Central America. Plant Ecol 147:37–47

González-Ruiz T, Jaramillo VJ, Cabriales JJP, Flores A (2008) Nodulation dynamics and nodule activity in leguminous tree species of a Mexican tropical dry forest. J Trop Ecol 24:107–110

Green JJ, Dawson LA, Proctor J, Duff EI, Elston DA (2005) Fine root dynamics in a tropical rain forest is influenced by rainfall. Plant Soil 276:23–32

Gutiérrez M (2013) Horizontes. Déficit hídrico en cifras. www.acguanacaste.ac.cr

Hedin LO, Brookshire ENJ, Menge DNL, Barron AR (2009) The Nitrogen Paradox in Tropical Forest Ecosystems. Annu Rev Ecol Evol Syst 40:613–635

Jobbágy EG, Jackson RB (2001) The distribution of soil nutrients with depth: global patterns and the imprint of plants. Biogeochemistry 53:51–77

Jones FA, Erickson DL, Bernal MA, Bermingham E, Kress WJ, Herre EA, Muller-Landau HC, Turner BL (2011) The roots of diversity: below ground species richness and rooting distributions in a tropical forest revealed by DNA barcodes and inverse modeling. PLoS ONE 6(9):e24506

Kummerow J, Castillanos J, Maas M, Larigauderie A (1990) Production of fine roots and the seasonality of their growth in a Mexican deciduous dry forest. Vegetatio 90:73–80

Kuruppuarachchi K, Seneviratne G, Madurapperuma BD (2013) Drought induced fine root growth and canopy green-up of tropical dry zone vegetations in Sri Lanka. J Trop For Environ 3:17–23

Malhi Y, Aragão LEOC, Metcalfe DB, Paiva R, Quesada CA, Almeida S, Anderson L, Brando L, Chambers JQ, da Costa ACL, Hutyra LR, Oliveira P, Patino A, Pyle EH, Robertson AL, Teixeira LM (2009) Comprehensive assessment of carbon productivity, allocation and storage in three Amazonian forests. Glob Chang Biol 15:1255–1274

Malhi Y, Doughty C, Galbraith D (2011) The allocation of ecosystem net primary productivity in tropical forests. Phil Trans R Soc B: Biol Sci 366:3225–3245

Nadelhoffer KJ (2000) The potential effects of nitrogen deposition on fine-root production in forest ecosystems. New Phytol 147:131–139

Nygren P, Leblanc HA, Lu M, Gómez Luciano CA (2013) Distribution of coarse and fine roots of Theobroma cacao and shade tree Inga edulis in a cocoa plantation. Ann For Sci 1–11

Pennington RT, Lavin M, Oliveira-Filho A (2009) Woody plant diversity, evolution, and ecology in the tropics: perspectives from seasonally Dry tropical forests. Annu Rev Ecol Evol Syst 40:437–457

Phillips DL, Gregg JW (2001) Uncertainty in source partitioning using stable isotopes. Oecologia 127:171–179

Powers JS, Peréz-Aviles D (2013) Edaphic factors are a more important control on surface fine roots than stand age in secondary tropical dry forests. Biotropica 45:1–9

Powers JS, Tiffin P (2010) Plant functional type classifications in tropical dry forests in Costa Rica: leaf habit versus taxonomic approaches. Funct Ecol 24:927–936

Powers JS, Treseder KK, Lerdau MT (2005) Fine roots, arbuscular mycorrhizal hyphae and soil nutrients in four neotropical rain forests: patterns across large geographic distances. New Phytol 165:913–921

Puri S, Singh V, Bhushan B, Singh S (1994) Biomass production and distribution of roots in three stands of Populus deltoides. For Ecol Manag 65:135–147

Saatchi SS, Harris NL, Brown S, Lefsky M, Mitchard ETA, Salas W, Zutta BR, Buermann W, Lewis SL, Hagen S, Petrova S, White L, Silman M, Morel A (2011) Benchmark map of forest carbon stocks in tropical regions across three continents. Proc Natl Acad Sci U S A 108:9899–9904

Sprent JI (2001) Nodulation in Legumes. Royal Botanical Gardens, Kew

Sprent JI (2007) Evolving ideas of legume evolution and diversity: a taxonomic perspective on the occurrence of nodulation. New Phytol 174:11–25

Sprent JI, Parsons R (2000) Nitrogen fixation in legume and non-legume trees. Field Crop Res 65:183–196

Valverde-Barrantes OJ, Raich JW, Russell AE (2006) Fine-root mass, growth and nitrogen content for six tropical tree species. Plant Soil 290:357–370

West JB, Espeleta JF, Donovan LA (2004) Fine root production and turnover across a complex edaphic gradient of a Pinus palustris–Aristida stricta savanna ecosystem. For Ecol Manag 189:397–406

Winters AF (1995) Soil mapping on the Pleistocene ignimbritic Bagaces Formation, Guanacaste, Costa Rica: The construction of a soil map, scaling 1:50,000, in the Estación Experimental de Reforestación Horizontes, a sector of "Parque Nacional Santa Rosa". Dissertation, Wageningen University

Xiang W, Wu W, Tong J, Deng X, Tian D, Zhang L, Liu C, Peng C (2013) Differences in fine root traits between early and late-successional tree species in a Chinese subtropical forest. Forestry 86:343–351

Yanai RD, Park BB, Hamburg SP (2006) The vertical and horizontal distribution of roots in northern hardwood stands of varying age. Can J For Res 36:450–459

Yavitt JB, Wright SJ (2001) Drought and irrigation effects on fine root dynamics in a tropical moist forest, Panama. Biotropica 33:421–434

Yunusa IAM, Zolfaghar S, Zeppel MJB, Li Z, Palmer AR, Eamus D (2012) Fine root biomass and its relationship to evapotranspiration in woody and grassy vegetation covers for ecological restoration of waste storage and mining landscapes. Ecosystems 15:113–127

Zahran HH (2001) Rhizobia from wild legumes: diversity, taxonomy, ecology, nitrogen fixation and biotechnology. J Biotechnol 91:143–153
Acknowledgments
This study was supported by a L'Oréal-UNESCO Co-Sponsored Fellowship for Young Women in Life Sciences to M.G.G and an NSF CAREER Grant (DEB-1053237) to J.S.P. We thank Daniel Peréz-Aviles, Tomás Gutiérrez, Geohanny Hernández and Ronald Castro who provided excellent help in the field. We also thank Milena Gutiérrez for providing land-use history and climate data of Estación Experimental Horizontes and María Marta Chavarría of the Área de Conservación Guanacaste and Roger Blanco for logistical support. Sarah E. Hobbie, Deborah Allan, Pekka Nygren and two anonymous reviewers provided helpful comments that improved previous drafts of this manuscript.
Additional information
Responsible Editor: Euan K. James.
About this article
Cite this article
Gei, M.G., Powers, J.S. The influence of seasonality and species effects on surface fine roots and nodulation in tropical legume tree plantations. Plant Soil 388, 187–196 (2015). https://doi.org/10.1007/s11104-014-2324-1
Received:

Accepted:

Published:

Issue Date:

DOI: https://doi.org/10.1007/s11104-014-2324-1
Keywords