Abstract
Background and aims
The framework of root system architecture is shaped by the three-dimensional (3D) trajectory of the axile roots. However, methods for characterising root trajectory in the field are lacking. Our aim was to develop a new method for quantifying the spatial distribution of axile roots of maturing plants.
Methods
The trajectory of axile roots of two maize cultivars was measured using a 3D digitiser in situ in the field, in parallel with diameter measurements along the same roots based on scanned images. The measured diameters were then mapped onto the digitised trajectory.
Results
We show that inter-plant distances did not influence root trajectory in either cultivar. The two cultivars had different initial angles from the vertical and presented slightly different patterns of root angle distribution. The reorientation of an axile root downwards was related to its angle and diameter, which can serve as a valuable resource for the parameterisation of root architecture models.
Conclusions
The method is suitable for accurate determination of the 3D architecture of axile roots of mature maize plants under field conditions. The value of acquiring a relative complete root trajectory is highlighted.
Access options
Buy single article
Instant access to the full article PDF.
USD 39.95
Price includes VAT (USA)
Tax calculation will be finalised during checkout.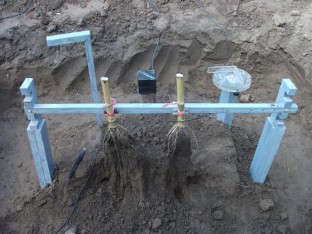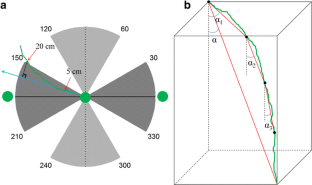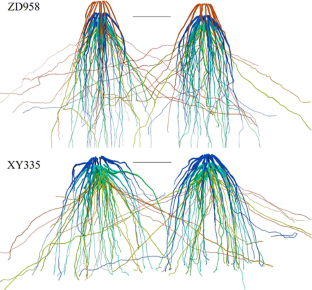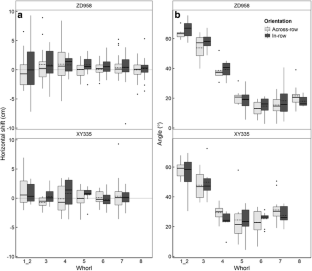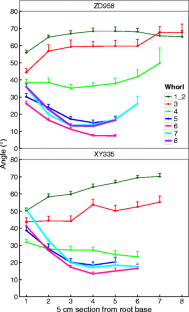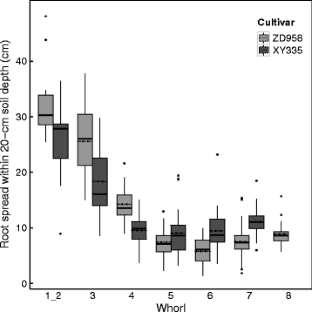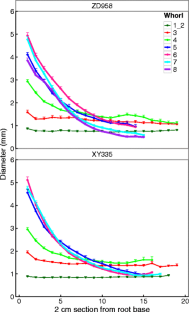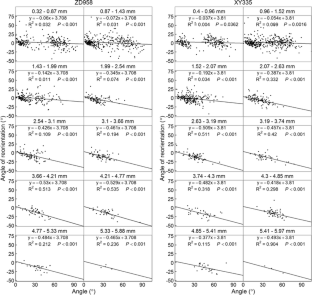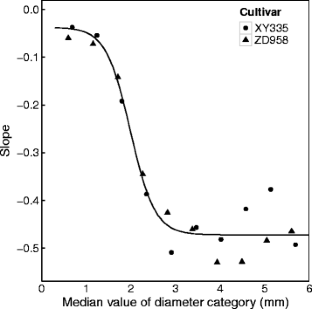 References
Abe J, Morita S (1994) Growth direction of nodal roots in rice: its variation and contribution to root system formation. Plant Soil 165:333–337

Araki H, Hirayama M, Hirasawa H, Iijima M (2000) Which roots penetrate the deepest in rice and maize root systems? Plant Prod Sci 3:281–288

Armengaud P, Zambaux K, Hills A, Sulpice R, Pattison RJ, Blatt MR, Amtmann A (2009) EZ-Rhizo: integrated software for the fast and accurate measurement of root system architecture. Plant J 57:945–956

Bonser AM, Lynch J, Snapp S (1996) Effect of phosphorus deficiency on growth angle of basal roots in Phaseolus vulgaris. New Phytol 132:281–288

Cahn M, Zobel R, Bouldin D (1989) Relationship between root elongation rate and diameter and duration of growth of lateral roots of maize. Plant Soil 119:271–279

Christopher J, Christopher M, Jennings R, Jones S, Fletcher S, Borrell A, Manschadi AM, Jordan D, Mace E, Hammer G (2013) QTL for root angle and number in a population developed from bread wheats (Triticum aestivum) with contrasting adaptation to water-limited environments. Theor Appl Genet 126:1563–1574

Clark LJ, Price AH, Steele KA, Whalley WR (2008) Evidence from near-isogenic lines that root penetration increases with root diameter and bending stiffness in rice. Funct Plant Biol 35:1163–1171

Clark RT, MacCurdy RB, Jung JK, Shaff JE, McCouch SR, Aneshansley DJ, Kochian LV (2011) Three-dimensional root phenotyping with a novel imaging and software platform. Plant Physiol 156:455–465

Danjon F, Reubens B (2008) Assessing and analyzing 3D architecture of woody root systems, a review of methods and applications in tree and soil stability, resource acquisition and allocation. Plant Soil 303:1–34

Danjon F, Sinoquet H, Godin C, Colin F, Drexhage M (1999) Characterisation of structural tree root architecture using 3D digitising and AMAPmod software. Plant Soil 211:241–258

Doussan C, Pagès L, Vercambre G (1998) Modelling of the hydraulic architecture of root systems: an integrated approach to water absorption—Model description. Ann Bot 81:213–223

Drouet J-L, Pagès L (2003) GRAAL: a model of GRowth, Architecture and carbon ALlocation during the vegetative phase of the whole maize plant: Model description and parameterisation. Ecol Model 165:147–173

Fang S, Yan X, Liao H (2009) 3D reconstruction and dynamic modeling of root architecture in situ and its application to crop phosphorus research. Plant J 60:1096–1108

Fang S, Gao X, Deng Y, Chen X, Liao H (2011) Crop root behavior coordinates phosphorus status and neighbors: from field studies to three-dimensional in situ reconstruction of root system architecture. Plant Physiol 155:1277–1285

Fang S, Clark RT, Zheng Y, Iyer-Pascuzzi AS, Weitz JS, Kochian LV, Edelsbrunner H, Liao H, Benfey PN (2013) Genotypic recognition and spatial responses by rice roots. Proc Natl Acad Sci 110:2670–2675

Fitter AH (1987) An architectural approach to the comparative ecology of plant root systems. New Phytol 106:61–77

Fortin M-CA, Poff KL (1990) Temperature sensing by primary roots of maize. Plant Physiol 94:367–369

Ge Z, Rubio G, Lynch JP (2000) The importance of root gravitropism for inter-root competition and phosphorus acquisition efficiency: results from a geometric simulation model. Plant Soil 218:159–171

Gersani M, Brown JS, O'Brien EE, Maina GM, Abramsky Z (2001) Tragedy of the commons as a result of root competition. J Ecol 89:660–669

Hammer GL, Dong Z, McLean G, et al (2009) Can changes in canopy and/or root system architecture explain historical maize yield trends in the US Corn Belt. Crop Sci 49:299–312

Hargreaves CE, Gregory PJ, Bengough AG (2009) Measuring root traits in barley (Hordeum vulgare ssp. vulgare and ssp. spontaneum) seedlings using gel chambers, soil sacs and X-ray microtomography. Plant Soil 316:285–297

Hess L, de Kroon H (2007) Effects of rooting volume and nutrient availability as an alternative explanation for root self/non-self discrimination. J Ecol 95:241–251

Hou P, Gao Q, Xie R, Li S, Meng Q, Kirkby EA, Römheld V, Müller T, Zhang F, Cui Z, Chen X (2012) Grain yields in relation to N requirement: optimizing nitrogen management for spring maize grown in China. Field Crop Res 129:1–6

Hund A (2010) Genetic variation in the gravitropic response of maize roots to low temperatures. Plant Root 4:22–30

Kato Y, Abe J, Kamoshita A, Yamagishi J (2006) Genotypic variation in root growth angle in rice (Oryza sativa L.) and its association with deep root development in upland fields with different water regimes. Plant Soil 287:117–129

Lecompte F, Pagès L (2007) Apical diameter and branching density affect lateral root elongation rates in banana. Environ Exp Bot 59:243–251

Lecompte F, Ozier-Lafontaine H, Pages L (2003) An analysis of growth rates and directions of growth of primary roots of field-grown banana trees in an andisol at three levels of soil compaction. Agronomie 23:209–218

Liao H, Rubio G, Yan X, Cao A, Brown KM, Lynch JP (2001) Effect of phosphorus availability on basal root shallowness in common bean. Plant Soil 232:69–79

Lynch J (1995) Root architecture and plant productivity. Plant Physiol 109:7

Manschadi AM, Christopher J, deVoil P, Hammer GL (2006) The role of root architectural traits in adaptation of wheat to water-limited environments. Funct Plant Biol 33:823

Manschadi AM, Hammer GL, Christopher JT, deVoil P (2008) Genotypic variation in seedling root architectural traits and implications for drought adaptation in wheat (Triticum aestivum L.). Plant Soil 303:115–129

Materechera SA, Alston AM, Kirby JM, Dexter AR (1992) Influence of root diameter on the penetration of seminal roots into a compacted subsoil. Plant Soil 144:297–303

McConnaughay KDM, Bazzaz FA (1991) Is physical space a soil resource? Ecology 72:94

Nagel KA, Kastenholz B, Jahnke S, van Dusschoten D, Aach T, Mühlich M, Truhn D, Scharr H, Terjung S, Walter A, Schurr U (2009) Temperature responses of roots: impact on growth, root system architecture and implications for phenotyping. Funct Plant Biol 36:947–959

Nakamoto T (1993) Effect of soil water content on the gravitropic behavior of nodal roots in maize. Plant Soil 152:261–267

Nakamoto T (1994) Plagiogravitropism of maize roots. Plant Soil 165:327–332

Nakamoto T, Oyanagi A (1994) The direction of growth of seminal roots of Triticum aestivum L. and experimental modification thereof. Ann Bot 73:363–367

Nakamoto T, Shimoda K, Matsuzaki A (1991) Elongation angle of nodal roots and its possible relation to spatial root distribution in maize [Zea mays] and foxtail millet [Setaria italica]. Jpn J Crop Sci 60(4):543–549

Nan H, Liu Q, Chen J, Cheng X, Yin H, Yin C, Zhao C (2013) Effects of nutrient heterogeneity and competition on root architecture of Spruce seedlings: Implications for an essential feature of root foraging. PLoS One 8:e65650

Nord EA, Zhang C, Lynch JP (2011) Root responses to neighbouring plants in common bean are mediated by nutrient concentration rather than self/non-self recognition. Funct Plant Biol 38:941–952

O'Brien EE, Gersani M, Brown JS (2005) Root proliferation and seed yield in response to spatial heterogeneity of below-ground competition. New Phytol 168:401–412

Oyanagi A, Nakamoto T, Morita S (1993) The gravitropic response of roots and the shaping of the root system in cereal plants. Environ Exp Bot 33:141–158

Oyanagi A, Takahashi H, Suge H (1995) Interactions between hydrotropism and gravitropism in the primary seminal roots of Triticum eastivum L. Ann Bot 75:229–235

Pagès L (1995) Growth patterns of the lateral roots of young oak (Quercus robur) tree seedlings Relationship with apical diameter. New Phytol 130:503–509

Pagès L, Pellerin S (1994) Evaluation of parameters describing the root system architecture of field grown maize plants II. Density, length, and branching of first-order lateral roots. Plant Soil 164:169–176

Pagès L, Xie J, Serra V (2013) Potential and actual root growth variations in root systems: modeling them with a two-step stochastic approach. Plant Soil 373:723–735

Poorter H, Bühler J, van Dusschoten D, Climent J, Postma JA (2012) Pot size matters: a meta-analysis of the effects of rooting volume on plant growth. Funct Plant Biol 39:839–850

Postma JA, Lynch JP (2011) Root cortical aerenchyma enhances the growth of maize on soils with suboptimal availability of nitrogen, phosphorus, and potassium. Plant Physiol 156:1190

Semchenko M, Hutchings MJ, John EA (2007) Challenging the tragedy of the commons in root competition: confounding effects of neighbour presence and substrate volume. J Ecol 95:252–260

Singh V, van Oosterom EJ, Jordan DR, Messina CD, Cooper M, Hammer GL (2010) Morphological and architectural development of root systems in sorghum and maize. Plant Soil 333:287–299

Singh V, van Oosterom EJ, Jordan DR, Hammer GL (2012) Genetic control of nodal root angle in sorghum and its implications on water extraction. Eur J Agron 42:3–10

Tardieu F, Pellerin S (1990) Trajectory of the nodal roots of maize in fields with low mechanical constraints. Plant Soil 124:39–45

Tardieu F, Pellerin S (1991) Influence of soil temperature during root appearance on the trajectory of nodal roots of field grown maize. Plant Soil 131:207–214

Thaler P, Pagès L (1996) Root apical diameter and root elongation rate of rubber seedlings (Hevea brasiliensis) show parallel responses to photoassimilate availability. Physiol Plant 97:365–371

Thaler P, Pagès L (1998) Modelling the influence of assimilate availability on root growth and architecture. Plant Soil 201:307–320

Trachsel S, Kaeppler SM, Brown KM, Lynch JP (2011) Shovelomics: high throughput phenotyping of maize (Zea mays L.) root architecture in the field. Plant Soil 341:75–87

Trachsel S, Kaeppler SM, Brown KM, Lynch JP (2013) Maize root growth angles become steeper under low N conditions. Field Crop Res 140:18–31

Tracy SR, Black CR, Roberts JA, Sturrock C, Mairhofer S, Craigon J, Mooney SJ (2012) Quantifying the impact of soil compaction on root system architecture in tomato (Solanum lycopersicum) by X-ray micro-computed tomography. Ann Bot 110:511–519

Tsuda S, Miyamoto N, Takahashi H, Ishihara K, Hirasawa T (2003) Roots of Pisum sativum L. exhibit hydrotropism in response to a water potential gradient in vermiculite. Ann Bot 92:767–770

Tsuji W, Inanaga S, Araki H, Morita S, An P, Sonobe K (2005) Development and distribution of root system in two grain sorghum cultivars originated from Sudan under drought Stress. Plant Prod Sci 8:553–562

Uga Y, Okuno K, Yano M (2011) Dro1, a major QTL involved in deep rooting of rice under upland field conditions. J Exp Bot 62:2485–2494

Uga Y, Sugimoto K, Ogawa S, Rane J, Ishitani M, Hara N, Kitomi Y, Inukai Y, Ono K, Kanno N, Inoue H, Takehisa H, Motoyama R, Nagamura Y, Wu J, Matsumoto T, Takai T, Okuno K, Yano M (2013) Control of root system architecture by DEEPER ROOTING 1 increases rice yield under drought conditions. Nat Genet 45:1097–1102

Varney GT, Canny MJ (1993) Rates of water uptake into the mature root system of maize plants. New Phytol 123:775–786

Varney G, Canny M, Wang X, McCully M (1991) The branch roots of Zea. I. First order branches, their number, sizes and division into classes. Ann Bot 67:357

Waisel Y, Eshel A, Kafkafi U (2002) Plant roots: the hidden half. CRC Press, New York

Watt M, Moosavi S, Cunningham SC, Kirkegaard JA, Rebetzke GJ, Richards RA (2013) A rapid, controlled-environment seedling root screen for wheat correlates well with rooting depths at vegetative, but not reproductive, stages at two field sites. Ann Bot 112:447–455

Wu J, Guo Y (2014) An integrated method for quantifying root architecture of field-grown maize. Ann Bot 114:841–851

Zarebanadkouki M, Kim YX, Carminati A (2013) Where do roots take up water? Neutron radiography of water flow into the roots of transpiring plants growing in soil. New Phytol 199:1034–1044
Acknowledgments
This work was supported by the National Natural Science Foundation of China (41071205 and 41471235). We would like to thank Qi Shen and Pengcheng Hu for their help on conducting experiment and Prof Chunjian Li (CAU) and Dr Sandy Lang for their valuable comments on the manuscript.
Additional information
Responsible Editor: Peter J. Gregory .
About this article
Cite this article
Wu, J., Pagès, L., Wu, Q. et al. Three-dimensional architecture of axile roots of field-grown maize. Plant Soil 387, 363–377 (2015). https://doi.org/10.1007/s11104-014-2307-2
Received:

Accepted:

Published:

Issue Date:
Keywords
Root system architecture

Axile root

Root angle

Root diameter

Root architectural model

Zea mays