Abstract
Background and aims
Bradyrhizobium japonicum and soybean (Glycine max (L.) Merr.) form a symbiotic association which allows for biological nitrogen fixation (BNF) to help meet the nitrogen (N) requirement of soybean plants. Rhizobial inoculants are not always used in soybean production in the Midwestern USA because of high naturalized soil populations, but drought conditions experienced in the region during the 2012 growing season may have led to a decline in numbers resulting in the need for inoculation the following growing season. Therefore, the effect of drought on B. japonicum population size was investigated in this study.
Methods
Drought conditions, 8 weeks long or 4 weeks long preceded (STOP) or followed (START) by 4 weeks of normal watering, were simulated in two contrasting soil types in a greenhouse setting with soybeans as host plants. Drought conditions were monitored by measuring water content. Population size of B. japonicum was quantified using quantitative real-time polymerase chain reaction (qPCR) and most probable number (MPN) methods and compared to population from non-drought treatment.
Results
Using both quantification methods, the response of B. japonicum to drought treatments was minimal.
Conclusions
Drought conditions 4 to 8 weeks long did not reduce B. japonicum population size to levels which would affect soybean growth and development.
Access options
Buy single article
Instant access to the full article PDF.
USD 39.95
Price excludes VAT (USA)
Tax calculation will be finalised during checkout.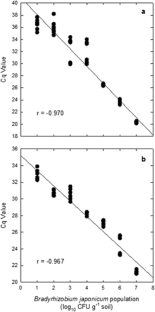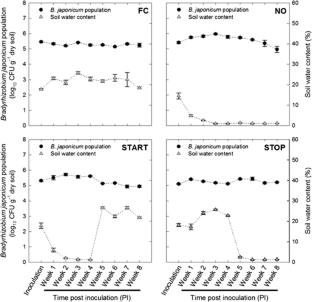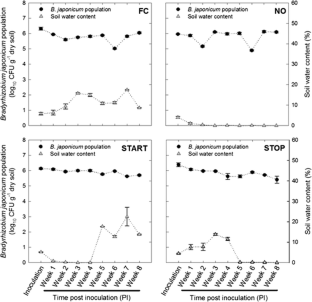 References
Barker DG, Pfaff T, Moreau D, Groves E, Ruffel S, Lepetit M, Whitehand S, Maillet F, Nair RM, Journet EP (2006) Growing M. truncatula: choice of substrates and growth conditions. http://www.noble.org/MedicagoHandbook/pdf/GrowingMedicagotruncatula.pdf. Accessed 13 December 2013

Berg RK, Loynachan TE, Zablotowicz RM, Lieberman MT (1988) Nodule occupancy by introduced Bradyrhizobium japonicum in Iowa soils. Agron J 80:876–881

Carvalhais LC, Dennis PG, Fedoseyenko D, Hajirezaei MR, Borriss R, von Wirén N (2011) Root exudation of sugars, amino acids, and organic acids by maize as affected by nitrogen, phosphorous, potassium, and iron deficiency. J Plant Nutr Soil Sci 174:3–11

Conley SP, Christmas EP (2005) Utilizing inoculants in a corn-soybean rotation. http://www.ces.purdue.edu/extmedia/SPS/SPS-100-W.pdf. Accessed 13 December 2013

Foulds W (1971) Effect of drought on three species of rhizobium. Plant Soil 35:665–667

Furseth BJ, Conley SP, Ané J (2010) Enumeration of soybean-associated rhizobia with quantitative real time polymerase chain reaction. Crop Sci 50:2591–2596

Furseth BJ, Conley SP, Ané J (2011) Soybean response to rhizobia on previously flooded sites in southern Wisconsin. Agron J 103:573–576

Furseth BJ, Conley SP, Ané J (2012) Soybean response to soil rhizobia and seed-applied rhizobia inoculants in Wisconsin. Crop Sci 52:339–344

Gibson AH, Harper JE (1985) Nitrate effect on nodulation of soybean by Bradyrhizobium japonicum. Crop Sci 25:497–501

Keyser HH, Munns DN (1979) Tolerance of rhizobia to acidity, aluminum, and phosphate. Soil SciSoc Am J 43:519–523

Kirda C, Danso SKA, Zapata F (1989) Temporal water stress effects on nodulation, nitrogen accumulation, and growth of soybean. Plant Soil 120:49–55

Littell RC, Milliken GA, Stroup WW, Wolfinger RD, Schabenberger O (2006) SAS for mixed models, 2nd edn. SAS Institute, Cary

Mbofung GCY, Fessehaie A, Bhattacharyya MK, Leandro LFS (2011) A new TaqMan real-time polymerase chain reaction assay for quantification of Fusarium virguliforme in soil. Plant Dis 95:1420–1426

Osa-Afiana LO, Alexander A (1982) Clays and the survival of rhizobium in soils during dessication. Soil SciSoc Am J 46:285–288

Pena-Cabriales JJ, Alexander M (1979) Survival of Rhizobium in soils undergoing drying. Soil SciSoc Am J 43:962–966

Sprent JI (1971) Effects of water stress on nitrogen fixation in root nodules. Plant Soil (Spec Vol), 225-228

Thies JE, Singleton PW, Bohlool BB (1991) Influence of the size of indigenous rhizobia populations on establishment and symbiotic performance of introduced rhizobia on field grown legumes. Appl Environ Microbiol 57:19–28

Trotman AP, Weaver RW (1995) Tolerance of clover rhizobia to heat and desiccation stresses in soil. Soil SciSoc Am J 59:466–470

US Drought Monitor (2012) Drought monitor archives. http://droughtmonitor.unl.edu/archive.html. Accessed 1 December 2013

Vincent JM (1970) A manual for the practical study of root-nodule bacteria. Blackwell, Oxford
Acknowledgements
The authors would like to thank Dr. Spyridon Mourtzinis for his help with the statistical analysis and the members of the Ané lab and Conley lab for their assistance. This work was supported by Novozymes®.
Additional information
Responsible Editor: Euan K. James.
Electronic supplementary material
Below is the link to the electronic supplementary material.
Bradyrhizobium japonicum population response to the FC (upper) and NO (lower) water regimes for the silt loam soil from the second experiment (circles). Population size was calculated from the qPCR cycler-calculated linear regression coefficients derived from the standards (i.e. known amounts of B. japonicum) within each run. Population size was adjusted to CFU g-1 dry soil, and population data are expressed as log10 CFU g-1 dry soil. Corresponding soil water content (%) for each water regime is also displayed (triangles). Shown are means ± SE. Means for population include nine observations (3 reps x 3 tech reps) and three observations (3 reps) for soil water content estimates (JPEG 97 kb)
Bradyrhizobium japonicum population response to the FC (upper) and NO (lower) water regimes for the sandy soil from the second experiment (circles). Population size was calculated from the qPCR cycler-calculated linear regression coefficients derived from the standards (i.e. known amounts of B. japonicum) within each run. Population size was adjusted to CFU g-1 dry soil, and population data are expressed as log10 CFU g-1 dry soil. Corresponding soil water content (%) for each water regime is also displayed (triangles). Shown are means ± SE. Means for population include nine observations (3 reps x 3 tech reps) and three observations (3 reps) for soil water content estimates (JPEG 100 kb)
Effect of watering treatments on plant growth. A) Plants after one month of NO and START treatment are dead whereas B) plants undergoing STOP and FC treatments are healthy. Pictures were taken one month after the beginning of the first experiment. (JPEG 155 kb)
About this article
Cite this article
Barthelemy-Delaux, C., Marburger, D., Delaux, PM. et al. Effect of drought on Bradyrhizobium japonicum populations in Midwest soils. Plant Soil 382, 165–173 (2014). https://doi.org/10.1007/s11104-014-2155-0
Received:

Accepted:

Published:

Issue Date:

DOI: https://doi.org/10.1007/s11104-014-2155-0
Keywords
Drought

Rhizobia

Quantitative PCR

MPN

Inoculants

Nitrogen fixation