Abstract
Background and aims
Wetland plants have been widely used in constructed wetlands for the clean-up of metal-contaminated waters. This study investigated the relationship between rate of radial oxygen loss (ROL), root porosity, Zn uptake and tolerance, Fe plaque formation in wetland plants.
Methods
A hydroponic experiment and a pot trial with Zn-contaminated soil were conducted to apply different Zn level treatments to various emergent wetland plants.
Results
Significant differences were found between plants in their root porosities, rates of ROL, Zn uptake and Zn tolerance indices in the hydroponic experiment, and concentrations of Fe and Mn on roots and in the rhizosphere in the pot trial. There were significant positive correlations between root porosities, ROL rates, Zn tolerance, Zn, Fe and Mn concentrations on roots and in the rhizosphere. Wetland plants with higher root porosities and ROL tended to have more Fe plaque, higher Zn concentrations on roots and in their rhizospheres, and were more tolerant of Zn toxicity.
Conclusions
Our results suggest that ROL and root porosity play very important roles in Fe plaque formation, Zn uptake and tolerance, and are useful criteria for selecting wetland plants for the phytoremediation of Zn-contaminated waters and soils/sediments.
Access options
Buy single article
Instant access to the full article PDF.
USD 39.95
Price excludes VAT (USA)
Tax calculation will be finalised during checkout.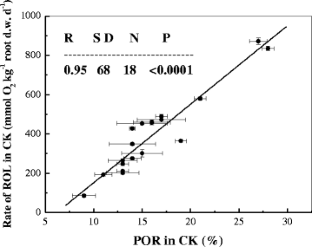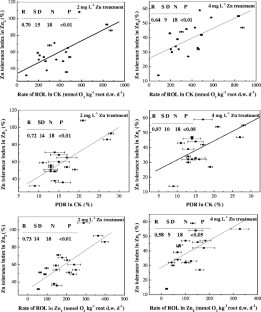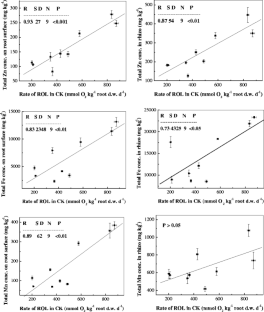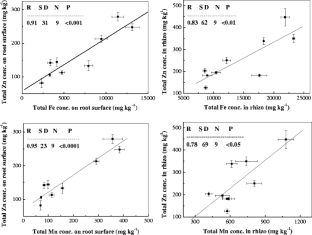 References
Armstrong W (1979) Aeration in higher plants. Adv Bot Res 7:225–232

Armstrong J, Armstrong W (2005) Rice: sulphide-induced barriers to root radial oxyen loss, Fe2+ and water uptake, and lateral root emergence. Ann Bot 96:625–638

Baker AJM (1981) Accumulators and excluders-strategies in the response of plants to heavy metals. J Plant Nutr 3:643–654

Bubba MD, Arias CA, Brix H (2003) Phosphorus adsorption maximum of sands for use media in subsurface flow constructed reed beds as measured by the Langmuir isotherm. Water Res 37:3390–3400

Chabbi A, McKee KL, Mendelssohn IA (2000) Fate of oxygen losses from Typha domingensis (Typhaceae) and Cladium jamaicense (Cyperaceae) and consequences for root metabolism. Am J Bot 87:1081–1090

Chen Z, Zhu YG, Liu WJ, Meharg AA (2005) Direct evidence showing the effect of root surface iron plaque on arsenite and arsenate uptake into rice (Oryza sativa) roots. New Phytol 165:91–97

Colmer TD (2003) Aerenchyma and an inducible barrier to radial oxygen loss facilitate root aeration in upland, paddy and deepwater rice (Oryza sativa L.). Ann Bot 91:301–309

Crowder AA, St-Cyr L (1991) Iron oxide plaque on wetland roots. Trends Soil Sci 1:315–329

Deng H, Ye ZH, Wong MH (2006) Lead and zinc accumulation and tolerance in populations of six wetland plants. Environ Pollut 141:69–80

Deng H, Ye ZH, Wong MH (2009) Lead, zinc and iron (Fe2+) tolerances in wetland plants and relation to root anatomy and spatial pattern of ROL. Environ Exp Bot 65:353–362

Evans DE (2003) Aerenchyma formation. New Phytol 161:35–49

Fan JL, Hu ZY, Ziadi N, Xia X, Yang C, Wu H (2010) Excessive sulfur supply reduces cadmium accumulation in brown rice (Oryza sativa L.). Environ Pollut 158:409–415

Gambrell RP, DeLaune RD, Partrick WH (1991) Redox proscesses in soils following oxygen depletion. In: Jackson MB, Davies DD, Lambers H (eds) Plant life under oxygen deprivation. SPB Academic Publishing, Hague, pp 101–117

Greipsson S (1995) Effect of iron plaque on roots of rice on growth of plants in excess zinc and accumulation of phosphorus in plants in excess copper or nickel. J Plant Nutr 83:321–331

Hansel CM, Force MJ, Fendorf S, Sutton S (2002) Spatial and temporal association of As and Fe species on aquatic plant roots. Environ Sci Technol 36:1988–1994

Hoagland DR, Arnon DI (1938) The Water Culture Method for Growing Plants without Soil. Cal Agr Exp Sta 15:221–227

Hu ZY, Zhu YG, Li M, Zhang LG, Cao ZH, Smith FA (2007) Sulfur (S)-induced enhancement of iron plaque formation in the rhizosphere reduces arsenic accumulation in rice (Oryza sativa L.) seedlings. Environ Pollut 147:387–393

Jensen CR, Luxmoore RJ, Van Gundy SD, Stolzy LH (1969) Root air space measurements by a pycnometer method. Agron J 61:474–475

Kludze HK, Delaume RD, Patrick WH (1994) A colorimetric method for assaying dissolved oxygen loss from container-crown rice roots. Agron J 86:483–487

Li H, Ye ZH, Wei ZJ, Wong MH (2011) Root porosity and radial oxygen loss related to arsenic tolerance and uptake in wetland plants. Environ Pollut 159:30–37

Lin ZQ, Terry N, Gao S, Mohamed S, Ye ZH (2010) Vegetation changes and partitioning of selenium in 4-year-old constructed wetlands treating agricultural drainage. Int J Phytoremediat 12:255–267

Liu WJ, Zhu YG, Smith FA, Smith SE (2004) Do phosphorus nutrition and iron plaque alter arsenate (As) uptake by rice seedlings in hydroponic culture? New Phytol 162:481–488

Liu WJ, Zhu YG, Hu Y, Williams PN, Gault AG, Meharg AA, Charnock JM, Smith FA (2006) Arsenic sequestration in iron plaque, its accumulation and speciation in mature rice plants (Oryza sativa L.). Environ Sci Technol 40:5730–5736

Liu Y, Tam NFY, Yang JX, Pi N, Wong MH, Ye ZH (2009) Mixed heavy metals tolerance and radial oxygen loss in mangrove seedlings. Mar Pollut Bull 58:1843–1849

Lizama KA, Fletcher TD, Sun GZ (2011) Removal processes for arsenic in constructed wetlands. Chemosphere 84:1032–1043

MacFarlane GR, Burchett MD (2002) Toxicity, growth and accumulation relationships of copper, lead and zinc in the grey mangrove, Avicennia marina (Forsk.) Vierh. Mar Environ Res 54:65–84

Marchand L, Mench M, Jacob DL, Otte ML (2010) Metal and metalloid removal in constructed wetlands, with emphasis on the importance of plants and standardized measurements: a review. Environ Pollut 158:3447–3461

Matthews DJ, Moran BM, Otte ML (2005) Screening the wetland plant species Alisma plantago-aquatica, Carex rostrata and Phalaris arundinacea for innate tolerance to zinc and comparison with Eriophorum angustifolium and Festuca rubra Merlin. Environ Pollut 134:343–351

McCabe OM, Daldwin JL, Otte ML (2001) Metal tolerance in wetland plants? Minerva Biotecnol 13:141–149

Mei XQ, Ye ZH, Wong MH (2009) The relationship of root porosity and radial oxygen loss on arsenic tolerance and uptake in rice grains and straw. Environ Pollut 157:2550–2557

Mei XQ, Wong MH, Yang Y, Dong HY, Qiu RL, Ye ZH (2012) The effects of radial oxygen loss on arsenic tolerance and uptake in rice and on its rhizosphere. Environ Pollut 165:109–117

Mendellsohn IA, Kleiss BA, Wakeley JS (1995) Factors controlling the formation of oxidized root channels—a review. Wetlands 15:37–46

Otte ML, Rozema J, Koster L, Haarsma MS, Broekman RA (1989) Iron plaque on roots of Aster tripolium L., interaction with zinc uptake. New Phytol 111:309–317

Page AL, Miller RH, Keeney DR (1982) Methods of soil analysis-chemical and microbiological properties. ASA and SSSA, Madison

Rogers ME, Colmer TD, Frost K, Henry D, Cornwall D, Hulm E, Deretic J, Hughes SR, Craig AD (2008) Diversity in the genus Melilotus for tolerance to salinity and waterlogging. Plant Soil 304:89–101

Sheoran AS, Sheoran V (2006) Heavy metal removal mechanism of acid mine drainage in wetlands: a critical review. Miner Eng 19:105–116

Snowden RED, Wheeler BD (1993) Iron toxicity to fen plant species. J Ecol 81:35–46

St-Cyr L, Crowder AA (1990) Manganese and copper in the root plaque of Phragmites australis (Cav.) Trin. ex Steudel. Soil Sci 149:191–198

Sundaravadivel M, Vigneswaran S (2001) Constructed wetland for wastewater treatment. Crit Rev Env Sci Tec 31:351–409

Taylor GJ, Crowder AA (1983) Use of DCB technique for extraction of hydrous iron oxides from roots of wetland plants. Am J Bot 70:1254–1257

Van Bodegom PM, de Kanter M, Bakker C, Aerts R (2005) Radial oxygen loss, a plastic property of dune slack plant species. Plant Soil 271:351–364

Weis JS, Weis P (2004) Metal uptake, transport and release by wetland plants: implications for phytoremediation and restoration. Environ Int 30:685–700

Wilkins DA (1978) The measurement of tolerance to edaphic factors by means of root growth. New Phytol 80:623–633

Yang JX, Ma ZL, Ye ZH, Guo XY, Qiu RL (2010) Heavy metal (Pb, Zn) uptake and chemical changes in rhizosphere soils of four wetland plants with different ROL. J Environ Sci-China 22:696–702

Yang JX, Liu Y, Ye ZH (2012) Root-induced changes (pH, Eh, Fe2+ and speciation of Pb and Zn) in rhizosphere soils of four wetland plants with different ROL. Pedosphere 22:518–527

Ye ZH, Baker AJM, Wong MH, Willis AJ (1997a) Zinc, lead and cadmium tolerance, uptake and accumulation by Typha latifolia. New Phytol 136:469–480

Ye ZH, Baker AJM, Wong MH, Willis AJ (1997b) Zinc, lead and cadmium tolerance, uptake and accumulation by the common reed, Phragmites australis (Cav.) Trin. ex Steudel. Ann Bot 80:363–370

Ye ZH, Baker AJM, Wong MH, Willis AJ (1998) Zinc, lead and cadmium accumulation and tolerance in Typha latifolia as affected by iron plaque on the root surface. Aquat Bot 61:55–67

Ye ZH, Whiting S, Qian JH, Lytle CM, Lin ZQ, Terry N (2001) Trace element removal from coal pile leachate by an Alabama 10-year old constructed wetland. J Environ Qual 30:1710–1719

Ye ZH, Wong MH, Lan CY (2004) Use of a wetland system for treating Pb/Zn mine effluent: a case study in southern China from 1984 to 2002. In: Wong MH (ed) Wetland ecosystems in Asia: function and management. Elsevier, Amsterdam, pp 413–434

Zhang XK, Zhang FS, Mao DR (1998) Effect of Fe plaque outside roots on nutrient uptake by rice (Oryza sativa L.): zinc uptake. Plant Soil 202:33–39
Acknowledgments
We sincerely thank Mr. HY Huang (SYSU) and Ms HY Dong (SYSU) for their technical help and Prof AJM Baker (University of Melbourne, Australia) for assisting with the review of this paper. This research was financially supported by the National Natural Science Foundation of China (No. 30570345, 30770417, 41201312), Guangdong Natural Science Foundation (06202438) and State Key Laboratory in Marine Pollution, City University of Hong Kong.
Additional information
Responsible Editor: Hans Lambers.
About this article
Cite this article
Yang, J., Tam, N.FY. & Ye, Z. Root porosity, radial oxygen loss and iron plaque on roots of wetland plants in relation to zinc tolerance and accumulation. Plant Soil 374, 815–828 (2014). https://doi.org/10.1007/s11104-013-1922-7
Received:

Accepted:

Published:

Issue Date:

DOI: https://doi.org/10.1007/s11104-013-1922-7
Keywords