Abstract
Aims
Seeds of Henophyton deserti (Brassicaceae), an endemic saharan shrub in south Tunisia, produce a pectinaceous mucilage layer that can imbibe a large amount of water when wetted. The aim of this study was to explore the role of mucilage in seed germination of this shrub under heterogeneous stressful environments.
Methods
Germination of both intact and demucilaged seeds was tested over wide ranges of temperature, and in iso-osmotic solutions of NaCl and PEG. Recovery of germination after NaCl and Polyethylene Glycol (PEG)-6000 treatment was also tested. The effect of mucilage on water uptake was measured and the structure of the seed investigated.
Results
A considerable proportion of seed mass (30 %) is made up of mucilage, which is extremely hydrophilic and able to increase seed mass by 550 % over dry seeds. Mucilage water uptake appears to be unaffected by salt concentration, while higher concentrations of PEG inhibit mucilage hydration. Mucilage decreases germination specifically at 10 °C and this effect can be interpreted in relation to oxygen uptake. High concentrations of NaCl and PEG decrease both germination percentage and rate, with some greater tolerance at 15 °C and 20 °C versus 25 °C. Recovery was higher from higher concentrations of NaCl and PEG and lower temperatures, with a clear inhibitory effect of mucilage.
Conclusions
The study has shown that the mucilage of H. deserti may act as a physical barrier for regulating diffusion of water and oxygen to the inner tissue of the seed and thereby prevent germination under unsuitable conditions.
Access options
Buy single article
Instant access to the full article PDF.
USD 39.95
Price excludes VAT (USA)
Tax calculation will be finalised during checkout.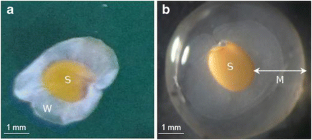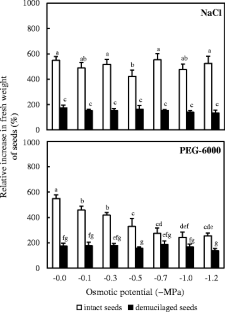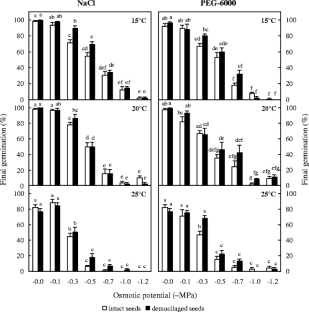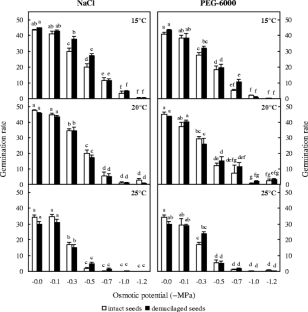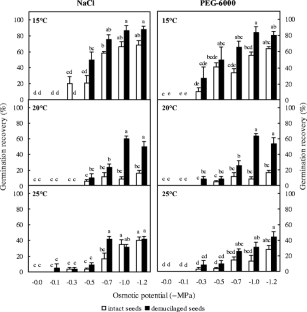 References
Adams R (1999) Germination of Callitris seeds in relation to temperature, water stress, priming, and hydration-dehydration cycles. J Arid Environ 43:437–448

Baskin CC, Baskin JM (1998) Seeds: ecology, biogeography, and evolution of dormancy and germination. Academic, San Diego

Bewley JD, Black M (1994) Seeds. Physiology of development and germination, 2nd edn. Plenum Press, New York

Bouhadjera K, Kebir T, Baba-Ahmed A, Bendahou M (2005) Antimicrobial activity of the sterols and steroids extracted from the Algerian Oudneya qfricana R. Br. Pak J Biol Sci 8:834–838

Coons MJ, Kuehl RO, Simons NR (1990) Tolerance of ten lettuce cultivars to high temperature combined with NaCl during germination. J Amer Soc Hortic Sci 115:1004–1007

Daws MI, Crabtree LM, Dalling JW, Mullins CE, Burslem DFRP (2008) Germination responses to water potential in neotropical pioneers suggest larger seeded species take more risks. Ann Bot 102:945–951

Deng W, Jeng DS, Toorop PE, Squire GR, Iannetta PP (2012) A mathematical model of mucilage expansion in myxospermous seeds of Capsella bursa-pastoris (shepherd's purse). Ann Bot 109:419–427

El-Keblawy A, Al-Ansari F, Hassan N, Al-Shamsi N (2007) Salinity, temperature and light affect germination of Salsola imbricata. Seed Sci Technol 35:272–281

Evans C, Etherington JR (1990) The effect of soil water potential on seed germination of some British plants. New Phytol 115:539–548

Fitch EA, Walck JL, Hidayati SN (2007) Germinating seeds of Lesquerella perforata and stonensis: substrate Seed coat mucilage production and ecological role effects and mucilage production. Native Plant J 8:4–10

Flowers TJ, Colmer TD (2008) Salinity tolerance in halophytes. New Phytol 179:945–963

Garwood N (1985) The role of mucilage in the germination of Cuipo, Cavanillesia platanifolia (H. & B.) H.B.K. (Bombacaceae): a tropical tree. Am J Bot 72:1095–1105

Gorai M, Neffati M (2007) Germination responses of Reaumuria vermiculata to salinity and temperature. Ann Appl Biol 151:53–59

Gorai M, Vadel MA, Neffati M (2006) Seed germination characteristics of Phragmites communis: effects of temperature and salinity. Belg J Bot 139:78–86

Gorai M, Tlig T, Neffati M (2009) Influence of water stress on seed germination characteristics in invasive Diplotaxis harra (Forssk.) Boiss (Brassicaceae) in arid zone of Tunisia. J Phytol 1:249–254

Gorai M, Gasmi H, Neffati M (2011) Factors influencing seed germination of medicinal plant Salvia aegyptiaca L. (Lamiaceae). Saudi J Biol Sci 18:255–260

Gu LL, Liu LH, You TY, Lan HY, Zhang FCH (2008) Characterization of the seed coat mucilage properties of ephemeral plant Lepidium perfoliatum L. in Xinjiang. Acta Bot Boreal-Occid Sin 28:2451–2460

Gul B, Weber DJ (1999) Effect of salinity, light, and temperature on germination in Allenrolfea occidentalis. Can J Bot 77:240–246

Guma IR, Padrón-Mederos MA, Santos-Guerra A, Reyes-Betancort JA (2010) Effect of temperature and salinity on germination of Salsola vermiculata L. (Chenopodiaceae) from Canary Islands. J Arid Environ 74:708–4711

Gutterman Y, Shem-Tov S (1996) Structure and function of the mucilaginous seed coats of Plantago coronopus inhabiting the Negev Desert of Israel. Isr J Plant Sci 44:125–134

Gutterman Y, Shem-Tov S (1997) Mucilaginous seed coat structure of Carrichtera annua and Anastatica hierochuntica from the Negev Desert highlands of Israel, and its adhesion to the soil crust. J Arid Environ 35:695–705

Heydecker W, Orphanos PI (1968) The effect of excess moisture on the germination of Spinacia oleracea L. Planta 83:237–247

Huang Z, Gutterman Y, Hu Z (2000) Structure and function of mucilaginous achenes of Artemisia monosperma inhabiting the Negev Desert of Israel. Isr J Plant Sci 48:255–266

Huang Z, Zhang X, Zheng G, Gutterman Y (2003) Influence of light, temperature, salinity and storage on seed germination of Haloxylon ammodendron. J Arid Environ 55:453–464

Huang Z, Gutterman Y, Osborne DJ (2004) Value of the mucilaginous pellicle to seeds of the and-stabilizing desert woody shrub Artemisia sphaerocephala (Asteraceae). Trees 18:669–676

Huang Z, Boubriak I, Osborne DJ, Dong M, Gutterman Y (2008) Possible role of pectin-containing mucilage and dew in repairing embryo DNA of seeds adapted to desert conditions. Ann Bot 101:277–283

Jordan CL, Haferkamp MR (1989) Temperature responses and calculated heat units for germination of several range grasses and shrubs. J Range Manag 42:41–45

Kaufmann M, Eckard AN (1977) Water potential and temperature effects on germination of Engelmann Spruce and Lodgepole Pine seeds. Forest Sci 23:23–27

Khan MA, Ungar IA (1984) The effect of salinity and temperature on the germination of polymorphic seeds and growth of Atriplex triangularis Willd. Amer J Bot 71:481–489

Le Floc'h E (1983) Contribution à une étude ethnobotanique de la flore Tunisienne. Imprimerie Officielle de la République. Tunisienne, Tunis

Lu J, Tan D, Baskin JM, Baskin CC (2010) Fruit and seed heteromorphism in the cold desert annual ephemeral Diptychocarpus strictus (Brassicaceae) and possible adaptive significance. Ann Bot 105:999–1014

Maraghni M, Gorai M, Neffati M (2010) Seed germination at different temperatures and water stress levels, and seedling emergence from different depths of Ziziphus lotus. S Afr J Bot 76:453–459

Mehra V, Tripathi J, Powell AA (2003) Aerated hydration treatment improves the response of Brassica juncea and Barassica campestris seeds to stress during germination. Seed Sci Technol 31:57–70

Michel BE, Kaufmann MR (1973) The osmotic potential of polyethylene glycol-6000. Plant Physiol 51:914–916

Ozenda P (1977) Flore du sahara. CNRS, Paris

Penfield S, Meissner RC, Shoue DA, Carpita NC, Bevan MW (2001) MYB61 is required for mucilage deposition and extrusion in the Arabidopsis seed coat. Plant Cell 13:2777–2791

Pottier-Alapetite G (1979) Flore de la Tunisie. Angiosperme–Dicotylédones. Vol. I: Apétales–Dialypétales. Ministère de l'Enseignement Supérieur et de la Recherche Scientifique et le Ministère de l'Agriculture, Tunis

Probert RJ (1992) The role of temperature in germination ecophysiology. In: Fenner M (ed) Seeds: the ecology of regeneration in plant communities. CAB International, Wallingford, pp 327–348

Quézel P, Santa S (1963) Nouvelle flore de l'Algérie et des régions désertiques méridionales, Tome II. CNRS, Paris

Song J, Feng G, Tian C, Zhang F (2005) Strategies for adaptation of Suaeda physophora, Haloxylon ammodendron and Haloxylon persicum to a saline environment during seed germination stage. Ann Bot 96:399–405

SPSS (2002) (SPSS) 11.5 for windows update. SPSS Inc, Illinois

Sun Y, Tan DY, Baskin CC, Baskin JM (2012) Role of mucilage in seed dispersal and germination of the annual ephemeral Alyssum minus (Brassicaceae). Aust J Bot 60:439–449

Thanos CA, Kadis CC, Skarou F (1995) Ecophysiology of germination in the aromatic plants thyme, savory and oregano (Labiatae). Seed Sci Res 5:161–170

Thapliyal RC, Phartyal SS, Baskin JM, Baskin CC (2008) Role of mucilage in germination of Dillenia indica (Dilleniaceae) seeds. Aust J Bot 56:583–589

Tlig T, Gorai M, Neffati M (2008) Germination responses of Diplotaxis harra to temperature and salinity. Flora 203:421–428

Tobe K, Zhang L, Omasa K (2006) Seed germination and seedling emergence of three Artemisia species (Asteraceae) inhabiting desert sand dunes in China. Seed Sci Res 16:61–69

Usadel B, Kuschinsky AM, Rosso MG, Eckermann N, Pauly M (2004) RHM2 is involved in mucilage pectin synthesis and is required for the development of the seed coat in Arabidopsis. Plant Physiol 134:286–295

Werker E (1997) Seed anatomy. Encyclopedia of plant anatomy, part 3. Gebruder Borntraeger, Berlin

Western TL (2012) The sticky tale of seed coat mucilages: production, genetics, and role in seed germination and dispersal. Seed Sci Res 22:1–25

Western TL, Skinner DJ, Haughn GW (2000) Differentiation of mucilage secretory cells of the Arabidopsis seed coat. Plant Physiol 122:345–356

Wu CX, Sun Y, Feng G (2009) Water absorbance features of mucilage on the seeds of a desert ephemeral plant, Plantago minuta Pall., and its role in germination of the seeds under drought stress. Acta Ecol Sin 29:1849–1858

Yang X, Dong M, Huang Z (2010) Role of mucilage in the germination of Artemisia sphaerocephala (Asteraceae) achenes exposed to osmotic stress and salinity. Plant Physiol Biochem 48:131–135

Yang X, Baskin CC, Baskin JM, Liu G, Huang Z (2012a) Seed mucilage improves seedling emergence of a sand desert shrub. PLoS ONE 7:e34597

Yang X, Baskin CC, Baskin JM, Zhang W, Huang Z (2012b) Degradation of seed mucilage by soil microflora promotes early seedling growth of a desert sand dune plant. Plant Cell Environ 35:872–883

Yang X, Baskin JM, Baskin CC, Huang Z (2012c) More than just a coating: ecological importance, taxonomic occurrence and phylogenetic relationships of seed coat mucilage. Perspect Plant Ecol Evol Syst 14:434–442
Acknowledgments
We are thankful to the journal associate editor Prof. Timothy J. Flowers and two anonymous referees for their constructive comments and revision of the manuscript.
Additional information
Responsible Editor: Timothy J. Flowers.
About this article
Cite this article
Gorai, M., El Aloui, W., Yang, X. et al. Toward understanding the ecological role of mucilage in seed germination of a desert shrub Henophyton deserti: interactive effects of temperature, salinity and osmotic stress. Plant Soil 374, 727–738 (2014). https://doi.org/10.1007/s11104-013-1920-9
Received:

Accepted:

Published:

Issue Date:

DOI: https://doi.org/10.1007/s11104-013-1920-9
Keywords
Drought

Germination

Henophyton deserti

Mucilage

Salinity

Recovery

Temperature