Abstract
Background and aims
For the last decade, there has been an increasing global interest in using biochar to mitigate climate change by storing carbon in soil. However, there is a lack of detailed knowledge on the impact of biochar on the crop productivity in different agricultural systems. The objective of this study was to quantify the effect of biochar soil amendment (BSA) on crop productivity and to analyze the dependence of responses on experimental conditions.
Methods
A weighted meta-analysis was conducted based on data from 103 studies published up to April, 2013. The effect of BSA on crop productivity was quantified by characterizing experimental conditions.
Results
In the published experiments, with biochar amendment rates generally <30 t ha−1, BSA increased crop productivity by 11.0 % on average, while the responses varied with experimental conditions. Greater responses were found in pot experiments than in field, in acid than in neutral soils, in sandy textured than in loam and silt soils. Crop response in field experiments was greater for dry land crops (10.6 % on average) than for paddy rice (5.6 % on average). This result, associated with the higher response in acid and sandy textured soils, suggests both a liming and an aggregating/moistening effect of BSA.
Conclusions
The analysis suggests a promising role for BSA in improving crop productivity especially for dry land crops, and in acid, poor-structured soils though there was wide variation with soil, crop and biochar properties. Long-term field studies are needed to elucidate the persistence of BSA's effect and the mechanisms for improving crop production in a wide range of agricultural conditions. At current prices and C-trading schemes, however, BSA would not be cost-effective unless persistent soil improvement and crop response can be demonstrated.
This is a preview of subscription content, log in to check access.
Access options
Buy single article
Instant access to the full article PDF.
US$ 39.95
Price includes VAT for USA
Subscribe to journal
Immediate online access to all issues from 2019. Subscription will auto renew annually.
US$ 199
This is the net price. Taxes to be calculated in checkout.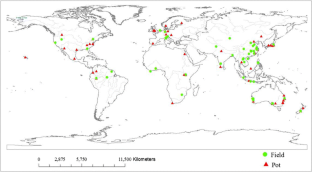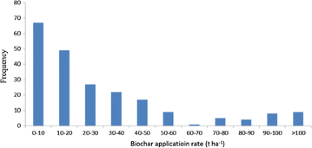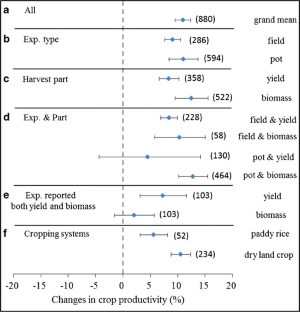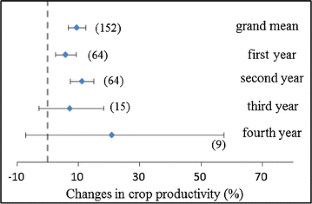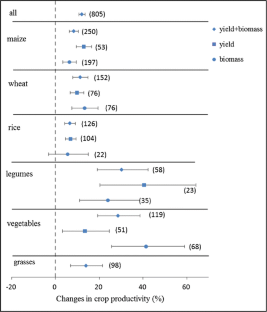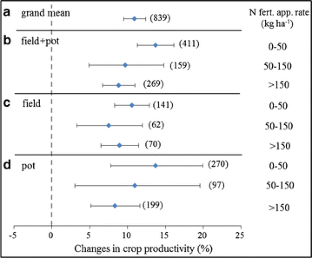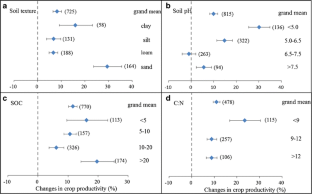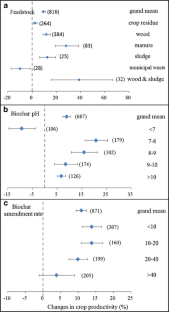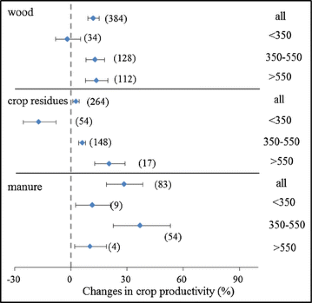 Abbreviations
BSA:

Biochar soil amendment

RC:

Relative change over control
Reference
Asai H, Samson BK, Stephan HM, Songyikhangsuthor K, Homma K, Kiyono Y, Inoue Y, Shiraiwa T, Horie T (2009) Biochar amendment techniques for upland rice production in Northern Laos 1. Soil physical properties, leaf SPAD and grain yield field crop research. Field Crop Res 111:81–84

Bengough AG, Bransby MF, Hans J, McKenna SJ, Roberts TJ, Valentine TA (2006) Root responses to soil physical conditions; growth dynamics from field to cell. J Exp Bot 57:437–447

Biederman LA, Harpole WS (2013) Biochar and its effects on plant productivity and nutrient cycling: a meta-analysis. Glob Chang Biol Bioenergy 5:202–214

Chan KY, van Zwieten L, Meszaros I, Downie A, Joseph S (2008) Using poultry litter biochars as soil amendments. Aust J Soil Res 46:437–444

Díaz-Zorita M, Duarte GA, Grove JH (2002) A review of no-till systems and soil management for sustainable crop production in the sub-humid and semiarid Pampas of Argentina. Soil Tillage Res 65:1–18

Gaskin JW, Speir RA, Harris K, Das KC, Lee RD, Morris LA, Fisher DS (2010) Effect of peanut hull and pine chip biochar on soil nutrients, corn nutrient status, and yield. Agron J 102:623–633

Glaser B, Lehmann J, Zech W (2002) Ameliorating physical and chemical properties of highly weathered soils in the tropics with charcoal—a review. Biol Fertil Soils 35:219–230

Haefele SM, Konboon Y, Wongboon W, Amarante S, Maarifat AA, Pferfer EM, Knoblauch C (2011) Effects and fate of biochar from rice residues in rice-based systems. Field Crop Res 121:430–440

Hass A, Gonzalez JM, Lima IM, Godwin HW, Halvorson JJ, Boyer DG (2012) Chicken manure biochar as liming and nutrient source for acid Appalachian soil. J Environ Qual 41:1096–1106

Hedges LV, Gurevitch J, Crutis PS (1999) The meta-analysis of response rations in experimental ecology. Ecology 80:1150–1156

Hossain MK, Strezov V, Chan KY, Nelson PF (2010) Agronomic properties of wastewater sludge biochar and bioavailability of metals in production of cherry tomato (Lycopersicon esculentum). Chemosphere 78:1167–1171

Jeffery S, Verheijen FGA, van der Velde M, Bastos AC (2011) A quantitative review of the effects of biochar application to soils on crop productivity using meta-analysis. Agric Ecosyst Environ 144:175–187

Johnson DW, Curtis PS (2001) Effect of forest management on soil C and N storage: meta-analysis. For Ecol Manag 140:227–238

Joseph SD, Camps-Arbestain M, Lin Y, Munroe P, Chia CH, Hook J, van Zwieten L, Kimber S, Cowie A, Singh BP, Lehmann J, Foidl N, Smernik RJ, Amonette JE (2010) An investigation into the reactions of biochar in soil. Aust J Soil Res 48:501–515

Joseph SD, Graber ER, Chia C, Munroe P, Donne S, Nielsen T, Marjo TS, Rutlidge C, Pan GX, Li L, Taylor P, Rawal A, Hook J. (2013) Shifting paradigms on biochar: micro/nano-structures and soluble components are responsible for its plant-growth promoting ability. Carbon Management (in press)

Karhu K, Mattila T, Bergström I, Regina K (2011) Biochar addition to agricultural soil increased CH4 uptake and water holding capacity—results from a short-term pilot field study. Agric Ecosyst Environ 140:309–313

Kleber M (2010) What is recalcitrant soil organic carbon? Environ Chem 7:320–332

Knoblauch C, Maarifat AA, Pfeiffer EM, Haefele SM (2011) Degradability of black carbon and its impact on trace gas fluxes and carbon turnover in paddy soils. Soil Biol Biochem 43:1768–1778

Lal R (2004) Soil carbon Sequestration impacts on global climate change and food security. Science 304:1623–1627

Lehmann J, Gaunt J, Rondon M (2006) Bio-char sequestration in terrestrial ecosystems—a review. Mitig Adapt Strateg Glob Chang 11:403–427

Lehmann J (2007) A handful of carbon. Nature 447:143–144

Lentz RD, Ippolito JA (2011) Biochar and manure affect calcareous soil and corn silage nutrient concentrations and uptake. J Environ Qual 41:1033–1043

Liu XY, Qu JJ, Li LQ, Zhang AF, Zheng JF, Zheng JW, Pan GX (2012) Can biochar be an ecological engineering technology to depress N2O emission in rice paddies?—a cross site field experiment from South China. Ecol Eng 42:168–173

Luo YQ, Hui DF, Zhang DQ (2006) Elevated CO2 stimulates net accumulations of carbon and nitrogen in land ecosystems: a meta-analysis. Ecology 87:53–63

Major J, Rondon M, Molina D, Riha SJ, Lehmann J (2010) Maize yield and nutrition during 4 years after biochar application to a Colombia savanna oxisol. Plant Soil 333:117–128

Oguntunde PG, Fosu M, Ajayi AE, van de Giesen N (2004) Effects of charcoal production on maize yield, chemical properties and texture of soil. Biol Fertil Soils 39:295–299

Pan GX, Lin ZH, Li LQ, Zhang AF, Zheng JW, Zhang XH (2011) Perspective on biomass carbon industrialization of organic waste from agriculture and rural areas in China. J Agric Sci Tech 13:75–82 (in Chinese with English abstract)

Pan GX, Smith P, Pan WN (2009) The role of soil organic matter in maintaining the productivity and yield stability of cereals in China. Agric Ecosyst Environ 129:344–348

Paz-Ferreiro J, Gascó G, Gutiérrez B, Méndez A (2012) Soil biochemical activities and the geometric mean of enzyme activities after application of sewage sludge and sewage sludge biochar to soil. Biol Fertil Soils 48:511–517

Qin HZ, Liu YY, Li LQ, Pan GX, Zhang XH, Zheng JW (2012) Adsorption of cadmium in solution by biochar from household biowaste. J Ecol Rural Environ 28:181–186 (in Chinese with English abstract)

Rajkovich S, Enders A, Hanley K, Hyland C, Zimmerman AR, Lehmann J (2012) Corn growth and nitrogen nutrition after additions of biochars with varying properties to a temperate soil. Biol Fertil Soils 48:271–284

Schmidt MWI, Torn MS, Abiven S, Dittmar T, Guggenberger G, Janssens IA, Kleber M, Kogel-Knabner I, Lehmann J, Manning DAC, Nannipieri P, Rasse DP, Weiner S, Trumbore SE (2011) Persistence of soil organic matter as an ecosystem property. Nature 478:49–56

Shang QY, Yang XX, Gao CM, Wu PP, Liu JJ, Xu YC, Shen QR, Zou JW, Guo SW (2011) Net annual global warming potential and greenhouse gas intensity in Chinese double rice-cropping systems: a 3-year field measurement in long-term fertilizer experiments. Glob Chang Biol 17:2196–2210

Singh PB, Hatton JB, Singh B, Cowie AL, Kathuria A (2010) Influence of biochars on nitrous oxide emission and nitrogen leaching from two contrasting soils. J Environ Qual 39:1224–1235

Smith P, Marino D, Cai ZC, Gwary D, Janzen H, Kumar P (2008) Greenhouse gas mitigation in agriculture. Philos Trans R Soc B 363:789–813

Smith P, Martino Z, Cai ZC, Gwary D, Janzen H, Kumar P, McCarl B, Ogle S, O'Mara F, Rice C, Scholes B, Sirotenko O (2007) Agriculture. In: Metz B, Davidson OR, Dave R, Meyer LA (eds) Climate Change 2007: mitigation. Contribution of Working Group III to the Fourth Assessment Report of the Intergovernmental Panel on Climate Change. Cambridge University Press, Cambridge, pp 498–540

Sohi S, Krull E, Lopez-Capel E, Bol R (2010) A review of biochar and its use and function in soil. Adv Agron 105:47–82

Sohi S (2012) Carbon Storage with Benefits. Science 338:1034–1035

Spokas KA, Cantrell KB, Novak JM, Archer DW, Ippolito JA, Collins HP, Boateng AA, Lima IM, Lamb MC, McAloon AJ, Lentz RD, Nichols KA (2012) Biochar: a synthesis of its agronomic impact beyond carbon sequestration. J Environ Qual 41:973–989

Spokas KA, Reicosky DC (2009) Impact of sixteen different biochars on soil greenhouse gas production. Ann Environ Sci 3:179–193

Spokas KA (2010) Review of the stability of biochar in soils: predictability of O:C molar ratios. Carbon Manag 1:289–303

Steiner C, Teixeira WG, Lehmann J, Nehls T, de Macêdo JV, Blum WEH, Zech W (2007) Long term effects of manure, charcoal and mineral fertilization on crop production and fertility on a highly weathered Central Amazonian upland soil. Plant Soil 291:275–290

Taghizadeh-Toosi A, Clough TJ, Condron LM, Sherlock RR, Anderson CR, Craigie RA (2011) Biochar incorporation into pasture soil suppresses in situ nitrous oxide emissions from ruminant urine patches. J Environ Qual 40:468–476

Vaccari FP, Baronti S, Lugato E, Genesio L, Castaldi S, Fornasier F, Miglietta F (2011) Biochar as a strategy to sequester carbon and increase yield in durum wheat. Eur J Agron 34:231–238

van Zwieten L, Kimber S, Downie A, Morris S, Petty S, Rust J, Chan KY (2010) A glasshouse study on the interaction of low meneral ash biochar with N in a sandy soil. Aust J Soil Res 48:569–576

van Zwieten L, Singh B, Jospeh S, Kimber S, Cowie A, Chan KY (2009) Biochar and emissions of non-CO2 greenhouse gases from soil. In: Lehmann J, Joseph S (eds) Biochar for environmental management: science and technology. Earthscan, London, pp 227–249

Woolf D, Amonette JE, Street-Perrott A, Lehmann J, Joseph S (2010) Sustainable biochar to mitigate climate change. Nat Commun 1:56

Woolf D, Lehmann J (2012) Modelling the long-term response positive and negative priming of soil organic carbon by black carbon. Biogeochemistry 111:83–95

Yamato M, Okimori Y, Wibowo IF, Anshori S, Ogawa M (2006) Effects of the application of charred bark of Acacia mangium on the yield of maize, cowpea and peanut, and soil chemical properties in South Sumatra, Indonesia. Soil Sci Plant Nutr 52:489–495

Yan XY, Yagi K, Akiyama H, Akimoto H (2005) Statistical analysis of the major variables controlling methane emission from rice fields. Glob Chang Biol 11:1131–1141

Yanai Y, Toyota K, Okazaki M (2007) Effect of charcoal addition on N2O emissions from soil resulting from rewetting air-dried soil in short-term laboratory experiments. Soil Sci Plant Nutr 53:181–188

Zhang AF, Bian RJ, Pan GX, Cui LQ, Hussain Q, Li LQ, Zheng JW, Zheng JF, Zhang XH, Han XJ, Yu XY (2012a) Effect of biochar amendment on soil quality, crop yield and greenhouse gas emission in a Chinese rice paddy: a field study of 2 consecutive rice growing cycles. Field Crop Res 127:153–160

Zhang AF, Cui LQ, Pan GX, Li LQ, Hussain Q, Zhang XH, Zheng JW, Crowley D (2010) Effect of biochar amendment on yield and methane and nitrous oxide emissions from a rice paddy from Tai Lake plain, China. Agric Ecosyst Environ 139:469–475

Zhang AF, Liu YM, Pan GX, Hussain Q, Li LQ, Zheng JW, Zhang XH (2012b) Effect of biochar amendment on maize yield and greenhouse gas emissions from a soil organic carbon poor calcareous loamy soil from central China Plain. Plant Soil 351:263–275

Zhang B, Liu XY, Pan GX, Zheng JF, Chi ZZ, Li LQ, Zhang XH, Zheng JW (2012c) Changes in soil properties, yield and trace gas emission from a paddy after biochar amendment in two consecutive rice growing cycles. Sci Agric Sin 45:4844–4853 (in Chinese with English abstract)
Acknowledgments
This work was financially supported by NSFC under a grant 40830528 and by Ministry of Agriculture under a grant 2110402-201261. We are grateful to the authors of the literature cited for their constructive original research and the information provided for this analysis. Thanks also go to the audience comments given at preliminary presentations of this work at workshops related to biochar issues in 2012.
Additional information
Responsible Editor: Hans Lambers.
Electronic supplementary material
Below is the link to the electronic supplementary material.
About this article
Cite this article
Liu, X., Zhang, A., Ji, C. et al. Biochar's effect on crop productivity and the dependence on experimental conditions—a meta-analysis of literature data. Plant Soil 373, 583–594 (2013). https://doi.org/10.1007/s11104-013-1806-x
Received:

Accepted:

Published:

Issue Date:
Keywords
C-sequestration

Soil fertility

Soil amendment

Meta-analysis

Soil carbon