Abstract
Background and aims
Despite our growing appreciation of the large contribution made by fine roots to soil organic carbon pool and nutrient cycling, their decomposition dynamics still remain poorly quantified.
Methods
In a field experiment, we conducted a 4-year litterbag study on different root size classes (< 0.5 and 0.5–2.0 mm) in four temperate tree species.
Results
Very fine roots (< 0.5 mm) decomposed more slowly than 0.5–2.0 mm roots in the four species roots studied in both the initial and later phases of root decomposition. Of all the root tissue chemistry we measured, decomposition rates correlated best with acid-unhydrolyzable fraction concentrations. However, no correlation was found for any of the nutrient related root quality parameters and decomposition rates. In contrast to mass loss, root net N released declined more rapidly in very fine roots (< 0.5 mm) than in 0.5–2.0 mm roots. Additionally, much of nitrogen was released in the final stages of decomposition, during which the recalcitrant carbon compounds were decomposed.
Conclusions
We conclude that the quality of carbon in root detritus and not the concentration of initial nutrients control its decomposition dynamics in a relatively nutrient-rich soil in northeastern China. These patterns can be explained by lower easily accessible labile carbon and higher recalcitrant carbon fractions in very fine roots (< 0.5 mm) than in 0.5–2.0 mm roots, at least in the four species we studied.
Access options
Buy single article
Instant access to the full article PDF.
USD 39.95
Price excludes VAT (USA)
Tax calculation will be finalised during checkout.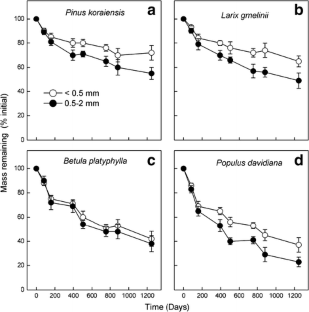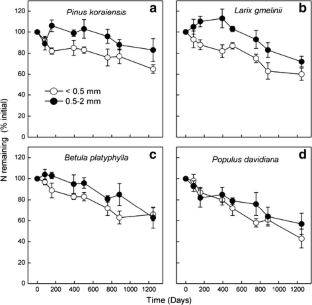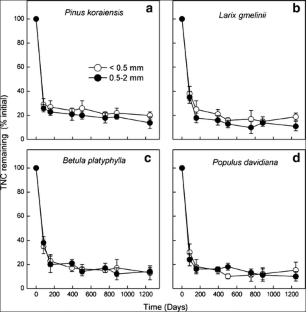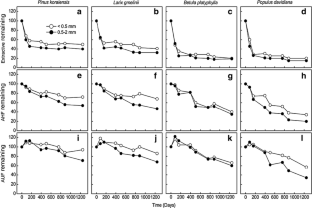 References
Aerts R, Van Bodegom PM, Cornelissen JHC (2012) Litter stoichiometric traits of plant species of high-latitude ecosystems show high responsiveness to global change without causing strong variation in litter decomposition. New Phytol 196:183–188

Ågren GI, Andersson FO (2012) Terrestrial ecosystem ecology. Cambridge University Press, Cambridge

Ågren GI, Bosatta E (1998) Theoretical ecosystem ecology—understanding element cycles, 2nd edn. Cambridge University Press, Cambridge

Ågren GI, Bosatta E, Balesdent J (1996) Isotope discrimination during decomposition of organic matter: a theoretical analysis. Soil Sci Soc Am J 60:1121–1126

Aulen M, Shipley B, Bradley R (2011) Prediction of in situ root decomposition rates in an interspecific context from chemical and morphological traits. Ann Bot 109(1):287–297

Bao SD (2000) The method of the soil and agriculture chemical analysis. China Agriculture Press, Beijing (in Chinese)

Bauerle TL, Eissenstat DM, Granett J, Gardner DM, Smart DR (2007) Consequences of insect herbivory on grape fine root systems with different growth rates. Plant Cell Environ 30:786–795

Berg B (1984) Decomposition of root litter and some factors regulating the process: long-term root litter decomposition in a Scots pine forest. Soil Biol Biochem 16:609–617

Berg B, McClaugherty C (2008) Plant litter—decomposition, humus formation, carbon sequestration (2nd edition). Springer-Verlag Berlin, Heidelberg

Berg B, Johansson MB, Meentemeyer V (2000) Litter decomposition in a transect of Norway spruce forests: substrate quality and climate control. Can J For Res 30:1136–1147

Bird JA, Torn MS (2006) Fine roots vs. needles: a comparison of 13C and 15N dynamics in a ponderosa pine forest soil. Biogeochemistry 79:361–382

Birouste M, Kazakou E, Blanchard A, Roumet C (2012) Plant traits and decomposition: are the relationships for roots comparable to those for leaves? Ann Bot 109:463–472

Burton AJ, Jarvey JC, Jarvi MP, Zak DR, Pregitzer KS (2012) Chronic N deposition alters root respiration—tissue N relationship in northern hardwood forests. Glob Change Biol 18:258–266

Chapin FS, Matson PA, Mooney HA (2002) Principles of terrestrial ecosystem ecology. Springer, New York

Chen DK, Zhou XF, Zhu N (1994) Natural secondary forest—structure, function, dynamic, and management. Northeast Forestry University Press, Harbin

Chen H, Harmon ME, Sexton J, Fasth B (2002) Fine root decomposition and N dynamics in coniferous forests of the Pacific Northwest, USA. Can J of Forest Res 32:320–331

Cornwell WK, Cornelissen JHC, Amatangelo K, Dorrepaal E, Eviner VT, Godoy O, Hobbie SE, Hoorens B, Kurokawa H, Perez-Harguindeguy N, Quested HM, Santiago LS, Wardle DA, Wright IJ, Aerts R, Allison SD, van Bodegom P, Brovkin V, Chatain A, Callaghan TV, Diaz S, Garnier E, Gurvich DE, Kazakou E, Klein JA, Read J, Reich PB, Soudzilovskaia NA, Vaieretti MV, Westoby M (2008) Plant species traits are the predominant control on litter decomposition rates within biomes worldwide. Ecol Lett 11:1065–1071

Cusack DF, Chou WW, Yang WH, Harmon ME, Silver WL, The LIDET Team (2009) Controls on long-term root and leaf litter decomposition in neotropical forests. Glob Chang Biol 15:1339–1355

De Deyn GB, Biere A, van der Putten WH, Wagenaar R, Klironomos JN (2009) Chemical defense, mycorrhizal colonization and growth responses in Plantago lanceolata L. Oecologia 160:433–442

Dornbush ME, Isenhart TM, Raich J (2002) Quantifying fine root decomposition: an alternative to buried litterbags. Ecology 83:2985–2990

Eissenstat DM, Volder A (2004) The efficiency of nutrient acquisition over the life of a root. In: BassiriRad H (ed) Nutrient acquisition by plants: an ecological perspective. Ecological studies 191. Springer, New York, pp 185–220

Eissenstat DM, Wells CE, Yanai RD, Whitbeck JL (2000) Building roots in a changing environment: implications for root longevity. New Phytol 147:33–42

Fan PP, Guo DL (2010) Slow decomposition of lower order roots: a key mechanism of root carbon and nutrient retention in the soil. Oecologia 163:509–515

Fernandez CW, Koide RT (2012) The role of chitin in the decomposition of ectomycorrhizal fungal litter. Ecology 93:24–28

Fontaine S, Barot S, Barré P, Bdioui N, Mary B, Rumpel C (2007) Stability of organic carbon in deep soil layers controlled by fresh carbon supply. Nature 450:277–280

Fornara DA, Tilman D, Hobbie SE (2009) Linkages between plant functional composition, fine root processes and potential soil N mineralization rates. J Ecol 97:48–56

Fujii S, Takeda H (2010) Dominant effects of litter substrate quality on the difference between leaf and root decomposition process above- and belowground. Soil Biol Biochem 42:2224–2230

Fujii S, Takeda H (2012) Succession of collembolan communities during decomposition of leaf and root litter: effects of litter type and position. Soil Biol Biochem 54:77–85

Gadkar V, David-Schwartz R, Kunik T, Kapulnik Y (2001) Arbuscular mycorrhizal fungal colonization: factors involved in host recognition. Plant Physiol 127:1493–1499

Goebel M, Hobbie SE, Bulaj B, Zadworny M, Archibald DD, Oleksyn J, Reich PB, Eissenstat DM (2011) Decomposition of the finest root branching orders: linking carbon and nutrient dynamics belowground to fine root function and structure. Ecol Monogr 81:89–102

Gong ZT, Chen ZC, Luo GB, Zhang GL, Zhao WJ (1999) Soil reference with Chinese soil taxonomy. Soils 31:57–63 (in Chinese)

Guo DL, Mitchell RJ, Hendricks JJ (2004) Fine root branch orders respond differentially to carbon source-sink manipulations in a longleaf pine forest. Oecologia 140:450–457

Guo DL, Li H, Mitchell RJ, Han WX, Hendricks JJ, Fahey TJ, Hendrick RL (2008) Anatomical traits associated with absorption and mycorrhizal colonization are linked to root branch order in twenty-three Chinese temperate tree species. New Phytol 180:673–683

Harmon ME, Silver WL, Fasth B, Chen H, Burke IC, Parton WJ, Hart SC, Currie WS (2009) Long-term patterns of mass loss during the decomposition of leaf and fine root litter: an intersite comparison. Glob Chang Biol 15:1320–1338

Hättenschwiler S, Bracht Jørgensen H (2010) Carbon quality rather than stoichiometry controls litter decomposition in a tropical rain forest. J Ecol 98:754–763

Hättenschwiler S, Coq S, Barantal S, Handa IT (2011) Leaf traits and decomposition in tropical rainforests: revisiting some commonly held views and towards a new hypothesis. New Phytol 189:950–965

Hendricks JJ, Aber JD, Nadelhoffer KJ, Hallett RD (2000) Nitrogen controls on fine root substrate quality in temperate forest ecosystems. Ecosystems 3:57–69

Hendricks JJ, Hendrick RL, Wilson CA, Mitchell RJ, Pecot SD, Guo D (2006) Assessing the patterns and controls of fine root dynamics: an empirical test and methodological review. J Ecol 94:40–57

Hobbie SE (1992) Effects of plant-species on nutrient cycling. Trends Ecol Evol 7:336–339

Hobbie EA, Horton TR (2007) Evidence that saprotrophic fungi mobilise carbon and mycorrhizal fungi mobilise nitrogen during litter decomposition. New Phytol 173:447–449

Hobbie SE, Oleksyn J, Eissenstat DM, Reich PB (2010) Fine root decomposition rates do not mirror those of leaf litter among temperate tree species. Oecologia 162:505–513

Jackson RB, Mooney HA, Schulze E-D (1997) A global budget for fine root biomass, surface area, and nutrient contents. Proc Natl Acad Sci USA 94:7362–7366

Joslin JD, Gaudinski JB, Torn MS, Riley WJ, Hanson PJ (2006) Fine-root turnover patterns and their relationship to root diameter and soil depth in a 14C-labeled hardwood forest. New Phytol 172:523–535

Kätterer T, Anders Bolinder M, Andren O, Kirchmann H, Menichetti L (2011) Roots contribute more to refractory soil organic matter than above-ground crop residues, as revealed by a long-term field experiment. Agric Ecosyst Environ 141:184–192

King JS, Albaugh TJ, Allen HL, Buford M, Strain BR, Dougherty P (2002) Below-ground carbon input to soil is controlled by nutrient availability and fine root dynamics in loblolly pine. New Phytol 154:389–398

Koide RT, Fernandez CW, Peoples MS (2011) Can ectomycorrhizal colonization of Pinus resinosa roots affect their decomposition? New Phytol 191:508–514

Kramer C, Trumbore S, Froberg M, Cisneros Dozal LM, Zhang D, Xu X, Santos GM, Hanson PJ (2010) Recent (<4 year old) leaf litter is not a major source of microbial carbon in a temperate forest mineral soil. Soil Biol Biochem 42:1028–1037

Kuzyakov Y, Friedel JK, Stahr K (2000) Review of mechanisms and quantification of priming effects. Soil Biol Biochem 32:1485–1498

Lal R (2004) Soil carbon sequestration to mitigate climate change. Geoderma 123:1–22

Langley JA, Hungate BA (2003) Mycorrhizal controls on belowground litter quality. Ecology 84:2302–2312

Langley JA, Chapman SK, Hungate BA (2006) Ectomycorrhizal colonization slows root decomposition: the post-mortem fungal legacy. Ecol Lett 9:955–959

Lin CF, Yang YS, Guo JF, Chen GS, Xie JS (2011) Fine root decomposition of evergreen broadleaved and coniferous tree species in mid-subtropical China: dynamics of dry mass, nutrient and organic fractions. Plant Soil 338:311–327

Lõhmus K, Ivask M (1995) Decomposition and nitrogen dynamics of fine roots of Norway spruce (Picea abies (L.) Karst.) at different sites. Plant Soil 168(169):89–94

McCormack ML, Adams TS, Smithwick EAH, Eissenstat DM (2012) Predicting fine root lifespan from plant functional traits in temperate trees. New Phytol 195:823–831

Moretto AS, Distel RA, Didoné NG (2001) Decomposition and nutrient dynamic of leaf litter and roots from palatable and unpalatable grasses in a semi-arid grassland. Appl Soil Ecol 18:31–37

Osaki M, Shinano T, Tadano T (1991) Redistribution of carbon and nitrogen compounds from the shoot to the harvesting organs during maturation in field crops. Soil Sci Plant Nutr 37:117–128

Ostertag R, Hobbie SE (1999) Early stages of root and leaf decomposition in Hawaiian forests: effects of nutrient availability. Oecologia 121:564–573

Park BB, Yanai RD, Fahey TJ, Bailey SW, Siccama TG, Shanley JB, Cleavitt NL (2008) Fine root dynamics and forest production across a calcium gradient in northern hardwood and conifer ecosystems. Ecosystems 11:325–341

Parton W, Silver WL, Burke IC, Grassens L, Harmon ME, Currie WS, King JY, Carol Adair E, Brandt LA, Hart SC, Fasth B (2007) Global-scale similarities in nitrogen release patterns during long-term decomposition. Science 315:361–364

Personeni E, Loiseau P (2005) Species strategy and N fluxes in grassland soil, a question of root litter quality or rhizosphere activity? Eur J Agron 22:217–229

Pregitzer KS, Laskowski MJ, Burton AJ, Lessard VC, Zak DR (1998) Variation in sugar maple root respiration with root diameter and soil depth. Tree Physiol 18:665–670

Pregitzer KS, DeForest JL, Burton AJ, Allen MF, Ruess RW, Hendrick RL (2002) Fine root architecture of nine North American trees. Ecol Monogr 72:293–309

Prescott CE (2010) Litter decomposition: what controls it and how can we alter it to sequester more carbon in forest soils? Biogeochemistry 101:133–149

Preston CM, Trofymow JA, Sayer BG, Niu J (1997) 13C nuclear magnetic resonance spectroscopy with cross-polarization and magic-angle spinning investigation of the proximate-analysis fractions used to assess litter quality in decomposition studies. Can J Bot 75:1601–1613

Resendes ML, Bryla DR, Eissenstat DM (2008) Early events in the life of apple roots: variation in root growth rate is linked to mycorrhizal and nonmycorrhizal fungal colonization. Plant Soil 313:175–186

Ryan MG, Melillo JM, Ricca A (1990) A comparison of methods for determining proximate carbon fractions of forest litter. Can J For Res 20:166–171

Seastedt TR, Parton WJ, Ojima DS (1992) Mass loss and nitrogen dynamics of decaying litter of grasslands: the apparent low nitrogen immobilization potential of root detritus. Can J Bot 70:384–391

Seifter S, Dayton S, Novic B, Muntwyler E (1950) The estimation of glycogen with the anthrone reagent. Arch Biochem 25:191–200

Silver WL, Miya RK (2001) Global patterns in root decomposition: comparisons of climate and litter quality effects. Oecologia 129:407–419

Sun T, Mao ZJ (2011) Functional relationships between morphology and respiration of fine roots in two Chinese temperate tree species. Plant Soil 346:375–384

Sun T, Mao ZJ, Dong LL, Hou LL, Song Y, Wang XW (2012) Further evidence for slow decomposition of very fine roots using two methods: litterbags and intact cores. Plant Soil. doi:10.1007/s11104-012-1457-3

Valenzuela-Estrada LR, Vera-Caraballo V, Ruth LE, Eissenstat DM (2008) Root anatomy, morphology, and longevity among root orders in Vaccinium corymbosum (Ericaceae). Am J Bot 95:1506–1514

Valenzuela-Estrada LR, Richards JH, Diaz A, Eissensat DM (2009) Patterns of nocturnal rehydration in root tissues of Vaccinium corymbosum L. under severe drought conditions. J Exp Bot 60:1241–1247

Vogt KA, Persson H (1991) Measuring growth and development of roots. In: Lassoie JP, Hinckley TM (eds) Techniques and approaches in forest tree ecophysiology. CRC Press, Boston, pp 477–501

Watanabe T, Osaki M, Tadano T (1998) Effects of nitrogen source and aluminum on growth of tropical tree seedlings adapted to low pH soils. Soil Sci Plant Nutr 44:655–666

Wells CE, Eissenstat DM (2001) Marked differences in survivorship among apple roots of different diameters. Ecology 82:882–893

Wieder RK, Lang GE (1982) A critique of the analytical methods used in examining decomposition data obtained from litter bags. Ecology 63:1636–1642

Xiong YM, Fan PP, Fu SL, Zeng H, Guo DL (2012) Slow decomposition and limited nitrogen release by lower order roots in eight Chinese temperate and subtropical trees. Plant Soil. doi:10.1007/s11104-012-1290-8

Zhu B, Cheng WX (2010) Rhizosphere priming effect increases the temperature sensitivity of soil organic matter decomposition. Glob Chang Biol 17:2172–2183
Acknowledgements
The authors thank Guohua Song, Quanbo Wang for assistance in the field. We also thank Dr. Björn Berg for suggestions that improved earlier versions of this work. The funding for this research was supported by National Basic Research Program (973 Program) (2010CB951301) and National Natural Science Foundation of China (No. 31270494 and 31070350).
Additional information
Responsible Editor: Alain Pierret.
About this article
Cite this article
Sun, T., Mao, Z. & Han, Y. Slow decomposition of very fine roots and some factors controlling the process: a 4-year experiment in four temperate tree species. Plant Soil 372, 445–458 (2013). https://doi.org/10.1007/s11104-013-1755-4
Received:

Accepted:

Published:

Issue Date:

DOI: https://doi.org/10.1007/s11104-013-1755-4
Keywords