Abstract
Background and aims
Green roofs are often installed to reduce urban stormwater runoff. To optimally achieve this, green roof plants need to use water when available, but reduce transpiration when limited to ensure survival. Succulent species commonly planted on green roofs do not achieve this. Water availability on green roofs is analogous to natural shallow-soil habitats including rock outcrops. We aimed to determine whether granite outcrop species could improve green roof performance by evaluating water use strategies under contrasting water availability.
Methods
Physiological and morphological responses of 12 granite outcrop species with different life-forms (monocots, herbs and shrubs) and a common green roof succulent were compared in well watered (WW) and water deficit (WD) treatments.
Key results
Granite outcrop species showed a variety of water-use strategies. Unlike the green roof succulent all of the granite outcrop species showed plasticity in water use. Monocot and herb species showed high water use under WW but also high water status under WD. This was achieved by large reductions in transpiration under WD. Maintenance of water status was also related to high root mass fraction.
Conclusions
By developing a conceptual model using physiological traits we were able to select species suitable for green roofs. The ideal species for green roofs were high water users which were also drought tolerant.
Access options
Buy single article
Instant access to the full article PDF.
USD 39.95
Price includes VAT (USA)
Tax calculation will be finalised during checkout.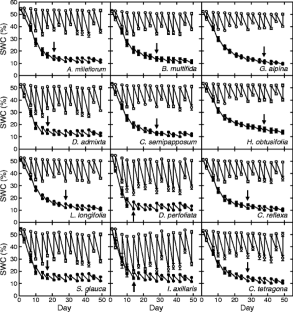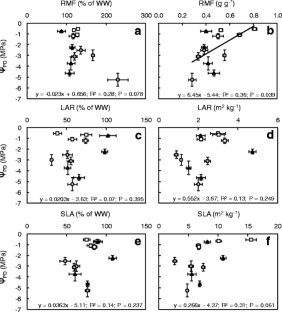 References
Barthlott W, Porembski S (2000a) Vascular plants on inselbergs: systematic overview. In: Barthlott W, Porembski S (eds) Inselbergs: biotic diversity of isolated rock outcrops in tropical and temperate regions. Springer, pp 103–116

Barthlott W, Porembski S (2000b) Why study inselbergs? In: Barthlott W, Porembski S (eds) Inselbergs: biotic diversity of isolated rock outcrops in tropical and temperate regions. Springer, pp 1–6

Baskin JM, Baskin CC (1988) Endemism in rock outcrop plant communities of unglaciated eastern United States: an evaluation of the roles of the edaphic, genetic and light factors. J Biogeogr 15:829–840

Bass B, Baskaran B (2003) Evaluating rooftop and vertical gardens as an adaptation strategy for urban areas. Institute for Research and Construction, National Research Council, Canada, p 111

Bayly IAE (1999) Rock of Ages: human use and natural history of Australian granites. University of Western Australia Press, Nedlands

Beadle NCW (1981) The vegetation of Australia. Cambridge University Press

Berndtsson JC (2010) Green roof performance towards management of runoff water quantity and quality: a review. Ecol Eng 36:351–360

Biedinger N, Porembski S, Barthlott W (2000) Vascular plants on inselbergs: vegetation and reproductive strategies. In: Barthlott W, Porembski S (eds) Inselbergs: biotic diversity of isolated rock outcrops in tropical and temperate regions. Springer, pp 117–142

Brenneisen S (2006) Space for urban wildlife: designing green roofs as habitats in Switzerland. Urban Habitats 4:27–36

Carter T, Jackson CR (2007) Vegetated roofs for stormwater management at multiple spatial scales. Landsc Urban Plan 80:84–94

Chaves MM, Pereira JS, Maroco J, Rodrigues M, Ricardo CPP, Osorio M, Carvalho I, Faria T, Pinheiro C (2002) How plants cope with water stress in the field? Photosynthesis and growth. Ann Bot 89:907–916

Chaves MM, Maroco JP, Pereira JS (2003) Understanding plant responses to drought: from genes to the whole plant. Funct Plant Biol 30:239–264

Collins SL, Mitchell GS, Klahr SC (1989) Vegetation-environment relationships in a rock outcrop community in southern Oklahoma. Am Midl Nat 339–348

Cooke SJ, Suski CD (2008) Ecological restoration and physiology: an overdue integration. Bioscience 58:957–968

Cowan I (1981) Coping with water stress. In: Pate JS, McComb AJ (eds) The biology of Australian plants. University of Western Australia Press, Nedlands, pp 1–32

Davies WJ, Zhang J (1991) Root signals and the regulation of growth and development of plants in drying soil. Annu Rev Plant Biol 42:55–76

Durhman AK, Rowe DB, Rugh CL (2007) Effect of substrate depth on initial growth, coverage, and survival of 25 succulent green roof plant taxa. Hortscience 42:588–595

Eggli U, Nyffeler R (2009) Living under temporarily arid conditions: succulence as an adaptive strategy. Bradleya 27:13–36

Farrell C, Mitchell RE, Szota C, Rayner JP, Williams NSG (2012) Green roofs for hot and dry climates: interacting effects of plant water use, succulence and substrate. Ecol Eng 49:270–276

Farrell C, Ang XQ, Rayner JP (2013) Water-retention additives increase plant available water in green roof substrates. Ecol Eng 52:112–118

Flexas J, Bota J, Galmés J, Medrano H, Ribas-Carbó M (2006) Keeping a positive carbon balance under adverse conditions: responses of photosynthesis and respiration to water stress. Physiol Plant 127:343–352

Gaff D, Churchill D (1976) Borya nitida Labill.: an Australian species in the Liliaceae with desiccation-tolerant leaves. Aust J Bot 24:209–224

Galmés J, Flexas J, Savé R, Medrano H (2007) Water relations and stomatal characteristics of Mediterranean plants with different growth forms and leaf habits: responses to water stress and recovery. Plant Soil 290:139–155

Getter KL, Rowe DB (2006) The role of extensive green roofs in sustainable development. HortSci 41:1276–1285

Hacke UG, Sperry JS, Pittermann J (2000) Drought experience and cavitation resistance in six shrubs from the Great Basin, Utah. Basic Appl Ecol 1:31–41

Hernández E, Vilagrosa A, Pausas J, Bellot J (2010) Morphological traits and water use strategies in seedlings of Mediterranean coexisting species. Plant Ecol 207:233–244

Hopper S (2000) Floristics of Australian granitoid inselberg vegetation. In: Barthlott W, Porembski S (eds) Inselbergs: biotic diversity of isolated rock outcrops in tropical and temperate regions. Springer, pp 391–407

Hopper S, Brown A, Marchant NG (1997) Plants of Western Australian granite outcrops. J R Soc West Aust 80:141–158

Hunter J, Clarke P (1998) The vegetation of granitic outcrop communities on the New England Batholith of eastern Australia. Cunninghamia 5:547–618

Incoll L, Bonnett G, Gott B (1989) Fructans in the underground storage organs of some Australian plants used for food by Aborigines. J Plant Physiol 134:196–202

Jacobsen AL, Esler KJ, Pratt RB, Ewers FW (2009) Water stress tolerance of shrubs in Mediterranean-type climate regions: convergence of fynbos and succulent karoo communities with California shrub communities. Am J Bot 96:1445–1453

Jarvis PG, McNaughton K (1986) Stomatal control of transpiration: scaling up from leaf to region. In: Adv. Ecol. Res. Academic Press, London, pp 1–49

Kluge M, Brulfert J (2000) Ecophysiology of vascular plants on inselbergs. In: Barthlott W, Porembski S (eds) Inselbergs: biotic diversity of isolated rock outcrops in tropical and temperate regions. Springer, pp 143–174

Lundholm JT (2006) Green roofs and facades: a habitat template approach. Urban Habitats 4:87–101

Lundholm J, MacIvor JS, MacDougall Z, Ranalli M (2010) Plant species and functional group combinations affect green roof ecosystem functions. PLoS One 5:e9677

MacIvor JS, Ranalli MA, Lundholm JT (2011) Performance of dryland and wetland plant species on extensive green roofs. Ann Bot 107:671

Michael DR, Lindenmayer DB (2012) Vegetation structure and floristics of granite landforms in the south-west slopes of New South Wales. Cunninghamia 12:309–323

Mitchell PJ, Veneklaas EJ, Lambers H, Burgess SSO (2008) Using multiple trait associations to define hydraulic functional types in plant communities of south-western Australia. Oecologia 158:385–397

Mott K, Parkhurst D (1991) Stomatal responses to humidity in air and helox. Plant Cell Environ 14:509–515

Nagase A, Dunnett N (2010) Drought tolerance in different vegetation types for extensive green roofs: effects of watering and diversity. Landsc Urban Plan 97:318–327

Nicotra AB, Atkin OK, Bonser SP, Davidson AM, Finnegan E, Mathesius U, Poot P, Purugganan MD, Richards C, Valladares F (2010) Plant phenotypic plasticity in a changing climate. Trends Plant Sci 15:684–692

Nikulinsky P, Hopper SD (1999) Life on the rocks: the art of survival. Fremantle Arts Centre Press, Fremantle

Oberndorfer E, Lundholm J, Bass B, Coffman RR, Doshi H, Dunnett N, Gaffin S, Kohler M, Liu KKY, Rowe B (2007) Green roofs as urban ecosystems: ecological structures, functions, and services. Bioscience 57:823–833

Ornduff R (1987) Islands on islands: plant life on the granite outcrops of Western Australia. University of Hawaii Honolulu

Parsons RF (2000) Monocotyledonous geophytes: comparison of California with Victoria, Australia. Aust J Bot 48:39–43

Parsons R, Hopper S (2003) Monocotyledonous geophytes: comparison of south-western Australia with other areas of mediterranean climate. Aust J Bot 51:129–133

Pate JS, Dixon KW (1981) Plants with fleshy underground storage organs: a Western Australian survey. In: Pate JS, McComb AJ (eds) The biology of Australian plants. University of Western Australia Press, Nedlands, pp 1–32

Pérez-García EA, Meave JA (2005) Heterogeneity of xerophytic vegetation of limestone outcrops in a tropical deciduous forest region in southern Mexico. Plant Ecol 175:147–163

Phillips DL (1981) Succession in granite uutcrop shrub-tree communities. Am Midl Nat 106:313–317

Poorter H, Nagel O (2000) The role of biomass allocation in the growth response of plants to different levels of light, CO2, nutrients and water: a quantitative review. Funct Plant Biol 27:595–607

Poorter H, Niklas KJ, Reich PB, Oleksyn J, Poot P, Mommer L (2012) Biomass allocation to leaves, stems and roots: meta-analyses of interspecific variation and environmental control. New Phytol 193:30–50

Poot P, Lambers H (2003) Are trade-offs in allocation pattern and root morphology related to species abundance? A congeneric comparison between rare and common species in the south-western Australian flora. J Ecol 91:58–67

Poot P, Hopper SD, van Diggelen JMH (2012) Exploring rock fissures: does a specialized root morphology explain endemism on granite outcrops? Ann Bot

Porembski S, Barthlott W (2000) Granitic and gneissic outcrops (Inselbergs) as centers of diversity for desiccation-tolerant vascular plants. Plant Ecol 151:19–28

Porembski S, Becker U, Seine R (2000) Islands on islands: habitats on inselbergs. In: Barthlott W, Porembski S (eds) Inselbergs: biotic diversity of isolated rock outcrops in tropical and temperate regions. Springer, pp 49–67

Pou A, Medrano H, Tomàs M, Martorell S, Ribas-Carbó M, Flexas J (2012) Anisohydric behaviour in grapevines results in better performance under moderate water stress and recovery than isohydric behaviour. Plant Soil 359:1–15

Rhizopoulou S, Pantis JD, Tirantafylli E, Vokou D (1997) Ecophysiological adaptations of Asphodelus aestivus to Mediterranean climate periodicity: water relations and energetic status. Ecography 20(6):626–633

Sanders GJ, Arndt SK (2012) Osmotic adjustment under drought conditions. In: Aroca R (ed) Plant responses to drought stress: from morphological to molecular features. Springer Verlag, Berlin, pp 199–229

Sayed OH (2001) Crassulacean acid metabolism 1975–2000, a check list. Photosynthetica 39:339–352

Schwinning S (2010) The ecohydrology of roots in rocks. Ecohydrology 3:238–245

Shure DJ, Ragsdale HL (1977) Patterns of primary succession on granite outcrop surfaces. Ecol 58:993–1006

Sperry JS (2000) Hydraulic constraints on plant gas exchange. Agric For Meteorol 104:13–23

Sperry JS, Hacke UG (2002) Desert shrub water relations with respect to soil characteristics and plant functional type. Funct Ecol 16:367–378

Sternberg PD (1996) Root distribution and seasonal water status in weathered granitic bedrock under chaparral. Geoderma 72:89

Szarzynski J (2000) Xeric islands: environmental conditions on inselbergs. In: Barthlott W, Porembski S (eds) Inselbergs: biotic diversity of isolated rock outcrops in tropical and temperate regions. Springer, pp 37–48

Tardieu F, Davies WJ (1993) Integration of hydraulic and chemical signalling in the control of stomatal conductance and water status of droughted plant. Plant Cell Environ 16:341–349

Tardieu F, Simonneau T (1998) Variability among species of stomatal control under fluctuating soil water status and evaporative demand: modelling isohydric and anisohydric behaviours. J Exp Bot 49:419–432

Valladares F, Sánchez-Gómez D (2006) Ecophysiological traits associated with drought in mediterranean tree seedlings: Individual responses versus interspecific trends in eleven species. Plant Biol 8:688–697

VanWoert ND, Rowe DB, Andresen JA, Rugh CL, Fernandez RT, Xiao L (2005) Green roof stormwater retention: effects of roof surface, slope, and media depth. J Environ Qual 34:1036–1044

Walters TW, Wyatt R (1982) The vascular flora of granite outcrops in the central mineral region of Texas. Bull Torrey Bot Club 109:344–364

West AG, Dawson T, February E, Midgley G, Bond W, Aston T (2012) Diverse functional responses to drought in a Mediterranean-type shrubland in South Africa. New Phytol 195:396–407

Wolf D, Lundholm JT (2008) Water uptake in green roof microcosms: effects of plant species and water availability. Ecol Eng 33:179–186

Wong NH, Chen Y, Ong CL, Sia A (2003) Investigation of thermal benefits of rooftop garden in the tropical environment. Build Environ 38:261–270
Acknowledgements
We thank Ruth Mitchell for assistance weighing and watering pots, planting and harvesting plants. Melanie Deleuze, Beau Picking and Claudia Green also assisted during harvests. Thanks to Burnley nursery staff Nick Osborne and Sascha Andrusiak for technical assistance. This research was funded by Australian Research Council Linkage Grant LP0990704 supported by the Victoria Department of Sustainability and Environment, Melbourne Water, City of Melbourne, and The Committee for Melbourne.
Additional information
Responsible Editor: Michael Denis Cramer.
About this article
Cite this article
Farrell, C., Szota, C., Williams, N.S.G. et al. High water users can be drought tolerant: using physiological traits for green roof plant selection. Plant Soil 372, 177–193 (2013). https://doi.org/10.1007/s11104-013-1725-x
Received:

Accepted:

Published:

Issue Date:
Keywords
Granite outcrop

Shallow soil

Geophyte

Water relations

Trait

Sedum