Abstract
Aims
Our aims were to characterize the fate of leaf-litter-derived nitrogen in the plant-soil-microbe system of a temperate beech forest of Southern Germany and to identify its importance for N nutrition of beech seedlings.
Methods
15N-labelled leaf litter was traced in situ into abiotic and biotic N pools in mineral soil as well as into beech seedlings and mycorrhizal root tips over three growing seasons.
Results
There was a rapid transfer of 15N into the mineral soil already 21 days after tracer application with soil microbial biomass initially representing the dominant litter-N sink. However, 15N recovery in non-extractable soil N pools strongly increased over time and subsequently became the dominant 15N sink. Recovery in plant biomass accounted for only 0.025 % of 15N excess after 876 days. After three growing seasons, 15N excess recovery was characterized by the following sequence: non-extractable soil N >> extractable soil N including microbial biomass >> plant biomass > ectomycorrhizal root tips.
Conclusions
After quick vertical dislocation and cycling through microbial N pools, there was a rapid stabilization of leaf-litter-derived N in non-extractable N pools of the mineral soil. Very low 15N recovery in beech seedlings suggests a high importance of other N sources such as root litter for N nutrition of beech understorey.
This is a preview of subscription content, log in to check access.
Access options
Buy single article
Instant access to the full article PDF.
US$ 39.95
Price includes VAT for USA
Subscribe to journal
Immediate online access to all issues from 2019. Subscription will auto renew annually.
US$ 199
This is the net price. Taxes to be calculated in checkout.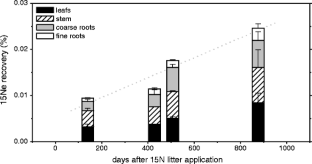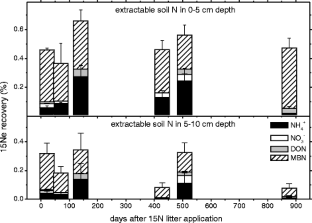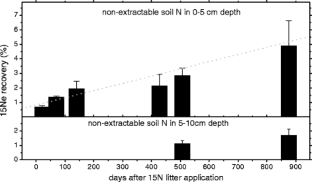 References
Allen AS, Andrews JA, Finzi AC, Matamala R, Richter DD, Schlesinger WH (2000) Effects of free-air CO2 enrichment (FACE) on belowground processes in a Pinus taeda forest. Ecol Appl 10:437–448

Bimüller C, Naumann PS, Buegger F, Dannenmann M, Zeller B, Kögel-Knabner I (2013) Rapid transfer of 15N from labelled beech leaf litter to functional soil organic matter fractions in a Rendzic Leptosol. Soil Biol Biochem, in press

Buchmann N, Gebauer G, Schulze ED (1996) Partitioning of 15N-labeled ammonium and nitrate among soil, litter, below- and above-ground biomass of trees and understory in a 15-year-old Picea abies plantation. Biogeochem 33:1–23

Butterbach-Bahl K, Gundersen P, Ambus P, Augustin J, Beier C, Boeckx P, Dannenmann M, Gimeno BS, Kiese R, Kitzler B, Ibrom A, Rees RM, Smith K, Stevens C, Vesala T, Zechmeister-Boltenstern S (2011). Nitrogen turnover processes and effects in terrestrial ecosystems. In: Sutton MA, Howard CM, Erisman JW et al (eds) The European Nitrogen Assessment. Cambridge University Press, pp 99–125

Christenson LM, Mitchell MJ, Groffman PM, Lovett GM (2010) Winter climate change implications for decomposition in northeastern forests: comparisons of sugar maple litter with herbivore fecal inputs. Global Change Biol 16:2589–2601

Cotrufo MF, Miller M, Zeller B (2000) Litter decomposition. In: Schulze ED (ed) Carbon and nitrogen cycling in European Forest Ecosystems. Springer

Dannenmann M, Gasche R, Ledebuhr A, Papen H (2006) Effects of forest management on soil N cycling in beech forests stocking on calcareous soils. Plant Soil 287:279–300

Dannenmann M, Gasche R, Papen H (2007) Nitrogen turnover and N2O production in the forest floor of beech stands as influenced by forest management. J Plant Nutr Soil Sc 170:134–144

Dannenmann M, Butterbach-Bahl K, Gasche R, Willibald G, Papen H (2008) Dinitrogen emissions and the N2:N2O emission ratio as influenced by pH and forest thinning. Soil Biol Biochem 40:2317–2323

Dannenmann M, Simon J, Gasche R, Holst J, Naumann PS, Kögel-Knabner I, Knicker H, Mayer H, Schloter M, Pena R, Polle A, Rennenberg H, Papen H (2009) Tree girdling provides insight on the role of labile carbon in nitrogen partitioning between soil microorganisms and adult European beech. Soil Biol Biochem 41:1622–1631

D'Annunzio R, Zeller B, Nicolas M, Dhôte J-F, Saint-André L (2008) Decomposition of European beech (Fagus sylvatica) litter: combining quality theory and 15N labelling experiments. Soil Biol Biochem 40:322–333

Fotelli MN, Rienks M, Rennenberg H, Gessler A (2004) Climate and forest management affect 15N-uptake, N balance and biomass of European beech seedlings. Trees 18:157–166

Gabet EJ, Reichmann OJ, Seabloom EW (2003) The effects of bioturbation on soil processes and sediment transport. Annu Rev Earth Plant Sci 31:249–273

Geßler A, Jung K, Gasche R, Papen H, Heidenfelder A, Börner E, Metzler B, Augustin S, Hildebrand E, Rennenberg H (2005) Climate and forest management influence nitrogen balance of European beech forests: microbial N transformations and inorganic N net uptake capacity of ectomycorrhizal roots. Eur J For Res 124:95–111

Guo C, Dannenmann M, Gasche R, Zeller B, Papen H, Polle A, Rennenberg H, Simon J (2012) Drought affects the partitioning of 15N recoverd from root and/or leaf litter between beech seedlings (Fagus sylvatica) and soil microbial biomass. Plant Soil, in press

Hatton PJ, Kleber M, Zeller B, Moni C, Plante AF, Townsend K, Gelhaye L, Lajtha K, Derrien D (2012) Transfer of litter-derived N to soil mineral-organic associations: Evidence from decadal N-15 experiments. Org Geochem 42:1489–1501

Hendricks JJ, Mitchell RJ, Kuehn KA, Pecot SD, Sims SE (2006) Measuring external mycelia production of ectomycorrhizal fungi in the field: the soil matrix matters. New Phyt 171:179–186

Kaiser C, Fuchslueger L, Koranda M, Gorfer M, Stange CF, Kitzler B, Rasche F, Strauss J, Sessitsch A, Zechmeister-Boltenstern S, Richter A (2011) Plants control the seasonal dynamics of microbial N cycling in a beech forest soil by belowground C allocation. Ecology 92:1036–1051

Lamontagne S, Schiff SL, Elgood RJ (2000) Recovery of 15N-labelled nitrate applied to a small upland boreal forest catchment. Can J For Res 30:1165–1177

Pena R (2011) Functional diversity of beech (Fagus sylvatica) ectomycorrhizas with respect to nitrogen nutrition in response to plant carbon supply. Ph.D Thesis. University of Göttingen. Cuvillier Verlag, 196 p

Pena R, Offermann C, Simon J, Naumann PS, Geßler A, Holst J, Dannenmann M, Mayer H, Kögel-Knabner I, Rennenberg H, Polle A (2010) Girdling affects ectomycorrhizal fungal diversity and reveals functional differences of EMF community composition in a beech forest. Appl Env Microbiol 76:1831–1841

Perakis SS, Hedin LO (2001) Fluxes and Fates of Nitrogen in soil of an unpolluted old-growth temperate forest, Southern Chile. Ecology 82:2245–2260

Providoli I, Bugmann H, Siegwolf R, Buchmann N, Schleppi P (2006) Pathways and dynamics of 15NO3− and 15NH4+ applied in a mountain Picea abies forest and in a nearby meadow in central Switzerland. Soil Biol Biochem 38:1645–1657

Rennenberg H, Dannenmann M, Gessler A, Kreuzwieser J, Simon J, Papen H (2009) Nitrogen balance in forest soils: nutritional limitation of plants under climate change stresses. Plant Biol 11:4–23

Rosenkranz P, Dannenmann M, Brüggemann N, Papen H, Berger U, Zumbusch E, Butterbach-Bahl K (2010) Gross rates of ammonification and nitrification at a nitrogen-saturated spruce (Picea abies (L.) Karst.) stand in Southern Germany. Eur J Soil Sc 61:745–758

Scheu S, Falca M (2000) The soil food web of two beech forests (Fagus sylvatica) of contrasting humus type: stable isotope analysis of a macro- and a mesofauna-dominated community. Oecologia 123:285–296

Schimel JP, Bennett J (2004) Nitrogen mineralization: challenges of a changing paradigm. Ecology 85:591–602

Simon J, Waldhecker P, Brüggemann N, Rennenberg H (2010) Competition for nitrogen resources between beech and sycamore maple seedlings. Plant Biol 12:453–458

Simon J, Dannenmann M, Gasche R, Holst J, Mayer H, Papen H, Rennenberg H (2011) Competition for nitrogen between adult European beech and its offspring is reduced by avoidance strategy. Forest Ecol Manage 262:105–114

Sollins P, Swanston C, Kleber M, Filley T, Kramer M, Crow S, Caldwell BA, Lajtha K, Bowden R (2006) Organic C and N stabilization in a forest soil: evidence from sequential density fractionation. Soil Biol Biochem 38:3313–3324

Sollins P, Kramer MG, Swanston C, Lajtha K, Filley T, Aufdenkampe AK, Wagai R, Bowden RD (2009) Sequential density fractionation across soils of contrasting mineralogy: evidence for both microbial- and mineral-controlled soil organic matter stabilization. Biogeochemistry 96:209–231

Stoelken G, Pritsch K, Simon J, Mueller CW, Grams TEE, Esperschuetz S, Gayler S, Buegger F, Brueggemann N, Meier R, Zeller B, Winkler JB, Rennenberg H (2010) Enhanced ozone exposure of European beech (Fagus sylvatica) stimulates nitrogen mobilization from leaf litter and nitrogen accumulation in the soil. Plant Biosyst 144:537–546

Von Lützow M, Kögel-Knabner I, Ekschmitt K, Matzner E, Guggenberger G, Marschner B, Flessa H (2007) Stabilization of organic matter in temperate soils: mechanisms and their relevance under different soil conditions – a review. Eur J Soil Sc 57:426–445

Wallander H, Nilsson LO, Hagerberg D, Baath E (2001) Estimation of the biomass and seasonal growth of external mycelium of ectomycorrhizal fungi in the field. New Phyt 151:753–760

Wallander H, Göransson H, Rosengren U (2004) Production, standing biomass and natural abundance of 15N and 13C in ectomycorrhizal mycelia collected at different soil depths in two forest types. Oecologia 139:89–97

Wilkinson MT, Richards PJ, Humphreys GS (2009) Breaking ground: Pedological, geological and ecological implications of soil bioturbation. Earth Sci Rev 97:257–272

Wu H, Dannenmann M, Fanselow N, Wolf B, Yao ZS, Wu X, Brüggemann N, Zheng X, Han X, Dittert K, Butterbach-Bahl K (2011) Feedback of grazing on gross rates of N mineralization and inorganic N partitioning in steppe soils of Inner Mongolia. Plant Soil 340:127–139

Zeller B, Colin-Belgrand M, Dambrine É, Martin F (1998) 15N partitioning and production of 15N labeled litter in beech trees following (15N) urea spray. Ann For Sc 55:375–383

Zeller B, Colin-Belgrand M, Dambrine É, Martin F, Bottner P (2000) Decomposition of 15N-labelled leaf litter and fate of nitrogen derived from litter in a beech forest. Oecologia 123:550–559

Zeller B, Colin-Belgrand M, Dambrine É, Martin F (2001) Fate of nitrogen released from 15N-labelled litter in European beech forests. Tree Phys 21:153–162
Acknowledgements
Funding of this work by the German Research Foundation/Deutsche Forschungsgemeinschaft (DFG) within the framework of the Beech Research Group under contract numbers FOR 788/1, KO 1035/29-1, RE 515/27-1 and PO 362/17-1 as well as the follow-up joint proposal under the contract numbers KO 1035/41-1, RE 515/33-1 and DA 1217/2-1 is gratefully acknowledged. Chanjuan Guo was financially supported by a scholarship from the China Scholarship Council (no. 2007U27036). Judy Simon was financially supported by the European Social Fund and by the Ministry of Science, Research and the Arts Baden-Württemberg. We like to acknowledge Martin Leberecht for help during sampling and Franz Buegger and Rudolf Meier for conducting stable isotope analyses. Furthermore we are grateful to Vitomira Erac and Regina Wiegel for help with laboratory work.
Additional information
Responsible Editor: Per Ambus.
About this article
Cite this article
Guo, C., Simon, J., Gasche, R. et al. Minor contribution of leaf litter to N nutrition of beech (Fagus sylvatica) seedlings in a mountainous beech forest of Southern Germany. Plant Soil 369, 657–668 (2013). https://doi.org/10.1007/s11104-013-1603-6
Received:

Accepted:

Published:

Issue Date:
Keywords
Nitrogen cycling

Beech

15N-labelled leaf litter

15N tracing

Microbial biomass

Ectomycorrhiza