Abstract
Background and aims
Acacia cyclops is an invasive species within Mediterranean ecosystems, characteristically low in soil nutrients. Thus associations with nitrogen-fixing bacteria (NFB) and arbuscular mycorrhiza (AM) may provide an advantage to these legumes. This study investigated the role of AM and NFB in the growth and nutritional physiology of A. cyclops.
Methods
Seedlings were inoculated with naturally occurring NFB, Glomus mosseae or both, and grown under glasshouse conditions for 5 months. Plants were cultivated in sand and supplied with a 20 % strength nutrient solution. Xylem sap nutrients, photosynthetic rates, biomass and chemical compositions, were recorded.
Results
The dual inoculation decreased the colonization of both symbionts, compared to a single symbiosis with either symbiont. Despite low colonization levels, the dual symbiosis increased host biomass and relative growth rates. This was associated with increased photosynthetic rates and enhanced nutrition. Additionally, dual symbiotic plants had enhanced N and P acquisition and utilization rates. Xylem sap analysis showed higher levels of NH +4 being exported from the roots to the shoots in the dual symbiotic plants compared with other treatments.
Conclusions
These findings suggest the dual symbiosis is an important factor in the growth and development of A. cyclops under nutrient limiting conditions.
Access options
Buy single article
Instant access to the full article PDF.
US$ 39.95
Tax calculation will be finalised during checkout.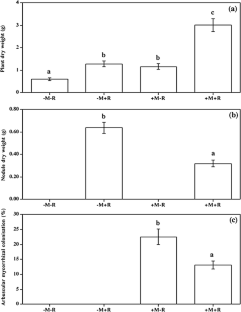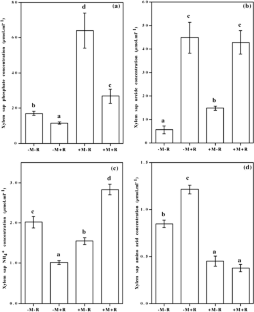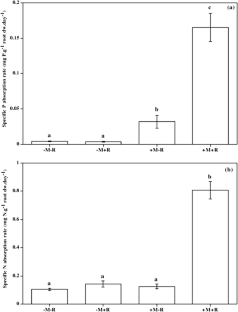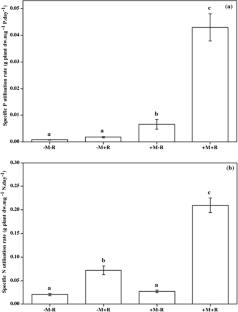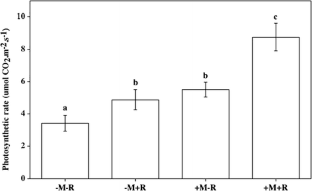 References
Bell TL, Pate JS (1995) Nitrogen and phosphorus nutrition in Mycorrhizal Epacridaceae of South-west Australia. Ann Bot 77:389–397

Brown MS, Bethlenfalvay GJ (1988) The Glycine-Glomus-Rhizobium Symbiosis VII. Photosynthetic nutrient-use efficiency in nodulated, mycorrhizal soybeans. Plant Physiol 86:491–496

Brundrett M, Melville L, Peterson L (Eds.) (1994) Practical methods in mycorrhiza research. Mycologue Publications, Guelph

Carvalho LM, Antunes PM, Martins-Loucao AM, Klironomos JN (2010) Disturbance influences the outcome of plant-soil biota interactions in invasive the Acacia longifolia and native species. Oikos 119:1172–1180

Catford JG, Staehelin C, Lerat S, Piché Y, Vierheilig H (2003) Suppression of arbuscular mycorrhizal colonization and nodulation in split-root systems of alfalfa after pre-inoculation and treatment with Nod factors. J Exp Bot 54:1481–1487

Chalk PM, Souza RDF, Urquiaga S, Alves BJR, Boddey RM (2006) The role of arbuscular mycorrhiza in legume symbiotic performance. Soil Biol Biochem 38:2944–2951

Chaturvedi C, Singh R (1989) Response of chickpea (Cicer arietinum L.) to inoculation with Rhizobium and VA mycorrhiza. Proc Indian Nat Sci Acad Sec B 59:443–446

Constable JVH, Bassirirad H, Lussenhop J, Ayalsew Z (2001) Influence of elevated CO2 and mycorrhiza on nitrogen acquisition: contrasting responses in Pinus taeda and Liquidambar styraciflua. Tree Physiol 21:83–91

Cramer MD, Richards MB (1999) The effect of rhizosphere dissolved inorganic carbon on the growth of tomato seedlings. J Exp Bot 50:79–87

Epo WDB (1991) Effect of nitrogen nutrition on photosynthesis and growth in C4Panicum species. Plant Cell Environ 14:295–301

Fitter AH (1991) Costs and benefits of mycorrhiza: implications for functioning under natural conditions. Experientia 47:350–355

Govindarajulu M, Pfeffer PE, Hairu J, Abubaker J, Douds DD, Allen JW, Bucking H, Lammers PJ, Shachar-Hill Y (2005) Nitrogen transfer in the arbuscular mycorrhizal symbiosis. Nature 435(9):819–823

Hewitt EJ (1966) Sand and water culture methods used in the study of plant nutrition, 2nd edn. Commonwealth Bureau of Horticultural Technology and Communication. No. 221, Commonwealth Agricultural Bureau: Farnham Royal, England

Høgh-Jensen H, Schjoerring JK, Soussana JF (2002) The influence of phosphorus deficiency on growth and nitrogen fixation of white clover plants. Ann Bot 90:745–753

Jia Y, Gray VM, Straker CJ (2004) The influence of Rhizobium and arbuscular mycorrhizal fungi on nitrogen and phosphorous accumulation by Vicia faba. Ann Bot 94:251–258

Kaschuk G, Kuyper TW, Leffelaar PA, Hungaria M, Giller KE (2009) Are the rates of photosynthesis stimulated by the carbon sink strength of rhizobial and arbuscular mycorrhizal symbioses? Soil Biol Biochem 41:1233–1244

Lima JD, Da Matta FM, Mosquim PR (2008) Growth attributes, xylem sap composition, and photosynthesis in common bean as affected by nitrogen and phosphorus deficiency. J Plant Nutr 23(7):937–947

Marchante HS, Marchante E, Buscardo E, Maia J, Freitas H (2003) Recovery potential of dune ecosystems invaded by an exotic Acacia species (Acacia longifolia). Weed Tech 18:1427–1433

Marchante E, Kjoller A, Struwe S, Freitas H (2009) Soil recovery after removal of N2-fixing invasive Acacia longifolia: consequences for ecosystem recovery. Biol Invasions 11:813–823

Marschner H, Dell B (1994) Nutrient uptake in mycorrhizal symbiosis. Plant Soil 59:89–102

Mortimer PE, Pérez-Fernández MA, Valentine AJ (2008) The role of arbuscular mycorrhizal colonization in the carbon and nutrient economy of the tripartite symbiosis with nodulated Phaseolus vulgaris. Soil Biol Biochem 40:1019–1027

Mortimer PE, Pérez-Fernández MA, Valentine AJ (2009) Arbuscular mycorrhiza affect the N and C economy of nodulated Phaseolus vulgaris (L.) during NH +4 nutrition. Soil Biol Biochem 41:2115–2121

Mortimer PE, Pérez-Fernández MA, Valentine AJ (2012) Arbuscular mycorrhiza maintains nodule function during external NH +4 supply in Phaseolus vulgaris (L.). Mycorrhiza 22:237–245

Murphy J, Riley JP (1962) A modified single solution method for the determination of phosphate in natural waters. Anal Chim Acta 27:31–36

Nielson KL, Amram E, Lynch JP (2001) The effect of phosphorous availability on the carbon economy of contrasting common bean (Phaseolus vulgaris L.) genotypes. J Exp Bot 52:329–339

Pacovsky RS, Fuller G, Stafford AE, Paul EA (1986) Nutrient and growth interactions in soybeans colonized with Glomus fasciculatum and Rhizobium japonicum. Plant Soil 92:37–45

Pearson JN, Abbott LK, Jasper DA (1993) Mediation of competition between two colonizing VA mycorrhizal fungi by the host plant. New Phytol 123:93–98

Peoples MB, Pate JS, Atkins CA, Bergensen FJ (1986) Nitrogen nutrition and xylem sap composition of Peanut (Arachis hypogaea L. cv Virginia Bunch). Plant Physiol 82:946–951

Possel M, Hewitt CN (2009) Gas exchange and photosynthetic performance of the tropical tree Acacia nigrescens when grown in different CO2 concentrations. Planta 229:837–846

Reinhart KO, Callaway RM (2006) Soil biota and invasive plants. New Phytol 170:445–457

Richardson DM, Van Wilgen BW (2004) Invasive alien plants in South Africa: how well do we understand the ecological impacts? SA J Sci 100:45–52

Richardson DM, van Wilgen BW, Higgins SI, Trinder-Smiths TH, Cowling RM, McKellt DH (1996) Current and future threats to plant biodiversity on the Cape Peninsula, South Africa. Biodivers Conserv 5:607–647

Rodriguez-Echeverria S, Crisostomo JA, Nabais C, Freitas H (2008) Belowground mutualist and the invasive ability of Acacia longifolia in coastal dunes in Portugal. Biol Invasions 11:651–661

Rosen H (1957) A modified ninhydrin colorimetric analysis for amino acids. Arch Biochem Biophys 67(1):10–15

Solorzano L (1969) Determination of ammonia in natural waters by the phenolhypochlorite method. Limnol Oceanog 14:799–801

Stock WD, Wienand KT, Baker AC (1995) Impacts of invading N2-fixing Acacia species on patterns of nutrient cycling in two Cape ecosystems: evidence from soil incubation studies and 15 N natural abundance values. Oecologia 101:375–382

Tang C, Hisinger P, Drevon JJ, Jaillard B (2001) Phosphorus deficiency impairs early nodule functioning and enhances proton release in roots of Medicago truncatula L. Ann Bot 88(1):131–138

Toro M, Azcon R, Barea JM (1998) The use of isotopic dilution techniques to evaluate the interactive effects of Rhizobium genotype, mycorrhizal fungi, phosphate-solubilizing rhizobacteria and rock phosphate on nitrogen and phosphorus acquisition by Medicago sativa. New Phytol 138:265–273

Toussaint JP, St-Arnaud M, Charest C (2004) Nitrogen transfer and assimilation between the arbuscular mycorrhizal fungus Glomus intraradices Schenck & Smith and Ri T-DNA roots of Daucus carota L. in an in vitro compartmented system. Can J Microbiol 50(4):251–260

Vadez V, Lasso JH, Beck DP, Drevon JJ (1999) Variability of N2-fixation in common bean (Phaseolus vulgaris L.) under P deficiency is related to P use efficiency. Euphytica 106:231–242

Valentine AJ, Kleinert A (2006) Respiratory metabolism of root-zone CO2 in mycorrhizal plants with NH +4 and NO −3 nutrition. Symbiosis 41(3):119–126

Vitousek PM, Walker LR, Whiteaker LD, Muller-Dombois D, Matson PA (1987) Biological invasions by Myrica faya alters ecosystem development in Hawaii. Science 238:802–804

Vogels GD, van der Drift C (1970) Differential analysis of glyoxylate derivatives. Anal Biochem 33:143–157

Winter HC, Powell GK, Dekker EE (1981) 4-Methyleneglutamine in peanut plants: dynamics of formation, levels, and turnover in relation to other free amino acids. Plant Physiol 68:588–593

Witowski ETF (1989) Effects of nutrients on the distribution of dry mass, nitrogen and phosphorus in seedlings of Protea repens (L.) L. (Proteaceae). New Phytol 112:481–487

Witowski ETF (1991) Effects of invasive alien acacias on nutrient cycling in the coastal lowlands of the Cape Fynbos. J App Ecol 28:1–15

Wright DP, Read DJ, Scholes JD (1998) Mycorrhizal sink strength influences whole plant carbon balance of Trifolium repens L. Plant Cell Environ 21:881–891

Yu H, Ong BL (2003) Effect of radiation quality on growth and photosynthesis of Acacia magnum seedlings. Photosynthetica 41:349–355

Zar JH (1999) Biostatistical analysis, 4th edn. Prentice-Hall, Upper Saddle River
Additional information
Responsible Editor: Hans Lambers.
About this article
Cite this article
Mortimer, P.E., Le Roux, M.R., Pérez-Fernández, M.A. et al. The dual symbiosis between arbuscular mycorrhiza and nitrogen fixing bacteria benefits the growth and nutrition of the woody invasive legume Acacia cyclops under nutrient limiting conditions. Plant Soil 366, 229–241 (2013). https://doi.org/10.1007/s11104-012-1421-2
Received:

Accepted:

Published:

Issue Date:
Keywords
Arbuscular mycorrhiza

Nitrogen fixing bacteria

Dual symbiosis

P and N nutrition

Xylem sap

Invasive species

Acacia cyclops