Abstract
Aim
Zinc (Zn) fertilization is an effective agronomic tool for Zn biofortification of wheat for overcoming human Zn deficiency. But it still needs to be evaluated across locations with different management practices and wheat cultivars, since grain Zn concentrations may be significantly affected by locations, cultivars and management.
Materials
Field experiments were conducted over 3 years with the following four Zn treatments: nil Zn, soil Zn application, foliar Zn application and soil + foliar Zn application to explore the impact of Zn fertilization in Zn biofortification of wheat. The experiments were conducted at a total of 23 experimental site-years in China, India, Kazakhstan, Mexico, Pakistan, Turkey and Zambia.
Results
The results showed that foliar Zn application alone or in combination with soil application, significantly increased grain Zn concentrations from 27 mg kg−1 at nil Zn to 48 and 49 mg kg−1 across all of 23 site-years, resulting in increases in grain Zn by 84 % and 90 %, respectively. Overall, soil Zn deficiency was not a growth limiting factor on the experimental sites. A significant grain yield increase in response to soil Zn fertilization was found only in Pakistan. When all locations and cropping years are combined, soil Zn fertilization resulted in about 5 % increase in grain yield. Foliar Zn application did not cause any adverse effect on grain yield, even slightly improved the yield. Across the 23 site-years, soil Zn application had a small effect on Zn concentration of leaves collected before foliar Zn application, and increased grain Zn concentration only by 12 %. The correlation between grain yield and the effectiveness of foliar Zn application on grain Zn was condition dependent, and was positive and significant at certain conditions.
Conclusion
Foliar Zn application resulted in successful biofortification of wheat grain with Zn without causing yield loss. This effect of Zn fertilization occurred irrespective of the soil and environmental conditions, management practices applied and cultivars used in 23 site-years. Foliar Zn fertilizer approach can be locally adopted for increasing dietary Zn intake and fighting human Zn deficiency in rural areas.
Access options
Buy single article
Instant access to the full article PDF.
USD 39.95
Price includes VAT (USA)
Tax calculation will be finalised during checkout.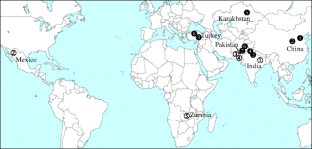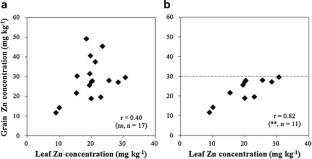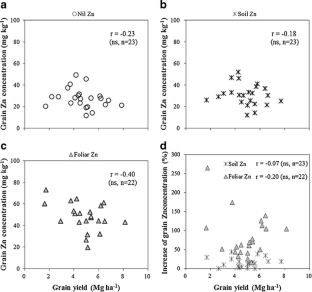 References
Alloway BJ (2004) Zinc in soils and crop nutrition. IZA Publications. International Zinc Association, Brussels

Alloway BJ (2008) Zinc in soils and crop nutrition. 2nd ed. International Zinc Association, Brussels; International Fertilizer Industry Association, Paris

Bagci SA, Ekiz H, Yilmaz A, Cakmak I (2007) Effects of zinc deficiency and drought on grain yield of field-grown wheat cultivars in Central Anatolia. J Agron Crop Sci 193:198–206

Bouis H (1996) Enrichment of food staples through plant breeding: a new strategy for fighting micronutrient malnutrition. Nutr Rev 54:131–137

Bouis HE, Welch RM (2010) Biofortification-A sustainable agricultural strategy for reducing micronutrient malnutrition in the global south. Crop Sci 50:20–32

Bouis HE, Hotz C, McClafferty B, Meenakshi JV, Pfeiffer WH (2011) Biofortification: a new tool to reduce micronutrient malnutrition. Food Nutr Bull 32:S31–S40

Cakmak I (2000) Role of zinc in protecting plant cells from reactive oxygen species. New Phytol 146:185–205

Cakmak I (2008) Enrichment of cereal grains with zinc: agronomic or genetic biofortification? Plant Soil 302:1–17

Cakmak I, Pfeiffer WH, McClafferty B (2010a) Biofortification of durum wheat with zinc and iron. Cereal Chem 87:10–20

Cakmak I, Kalayci M, Kaya Y, Torun AA, Aydin N, Wang Y, Arisoy Z, Erdem H, Yazici A, Gokmen O, Ozturk L, Horst WJ (2010b) Biofortification and localization of zinc in wheat grain. J Agric Food Chem 58:9092–9102

Cakmak I, Yilmaz A, Ekiz H, Torun B, Erenoglu B, Braun HJ (1996) Zinc deficiency as a critical nutritional problem in wheat production in Central Anatolia. Plant Soil 180:165–172

Ekiz H, Bagci SA, Kiral AS, Eker S, Gultekin I, Alkan A, Cakmak I (1998) Effects of zinc fertilization and irrigation on grain yield and zinc concentration of various cereals grown in zinc-deficient calcareous soil. J Plant Nutr 21:2245–2256

Fan M, Zhao F, Fairweathertait S, Poulton P, Dunham S, McGrath S (2008) Evidence of decreasing mineral density in wheat grain over the last 160 years. J Trace Elem Med Biol 22:315–324

Database FAO (2010) The statistic division. United Nations, Rome

Garvin DF, Welch RM, Finley JW (2006) Historical shifts in the seed mineral micronutrient concentration of US hard red winter wheat germplasm. J Sci Food Agric 86:2213–2220

Gibson RS (2006) Zinc: the missing link in combating micronutrient malnutrition in developing countries. Proc Nutr Soc 65:51–60

Gomez-Becerra HF, Abugalieva A, Morgounov A, Abdullayev K, Bekenova L, Yessimbekova M, Sereda G, Shpigun S, Tsygankov V, Zelenskiy Y, Pena RJ, Cakmak I (2010) Phenotypic correlations, G x E interactions and broad sense heritability analysis of grain and flour quality characteristics in high latitude spring bread wheats from Kazakhstan and Siberia. Euphytica 171:23–38

Graham RD, Ascher JS, Hynes SC (1992) Selection of zinc-efficient cereal genotypes for soils of low zinc status. Plant Soil 146:241–250

Graham RD, Senadhira D, Beebe S, Iglesias C, Monasterio I (1999) Breeding for micronutrient density in edible portions of staple food crops: conventional approaches. Field Crop Res 60:57–80

Graham RD, Welch RM, Saunders DA, Ortiz-Monasterio I, Bouis HE, Bonierbale M, de Haan S, Burgos G, Thiele G, Liria R, Meisner CA, Beebe SE, Potts MJ, Kadian M, Hobbs PR, Gupta PK, Twomlow S (2007) Nutritious subsistence food systems. Adv Agron 92:1–74

Haslett BS, Reid RJ, Rengel Z (2001) Zinc mobility in wheat: uptake and distribution of zinc applied to leaves or roots. Ann Bot 87:379–386

Hotz C, Brown KH (2004) Assessment of the risk of zinc deficiency in populations and options for its control. Food Nutr Bull 25:S91–S204

Karami M, Afyuni M, Khoshgoftarmanesh AH, Papritz A, Schulin R (2009) Grain zinc, iron and copper concentrations of wheat grown in central Iran and their relationships with soil and climate variables. J Agric Food Chem 57:10876–10882

Karim MR, Zhang YQ, Zhao RR, Chen XP, Zhang FS, Zou CQ (2012) Alleviation of drought stress in winter wheat by late foliar application of zinc, boron, and manganese. J Plant Nutr Soil Sci 175:142–151

Kutman UB, Yildiz B, Ozturk L, Cakmak I (2010) Biofortification of durum wheat with zinc through soil and foliar applications of nitrogen. Cereal Chem 87:1–9

Ma GS, Jin Y, Li YP, Zhai FY, Kok F, Jacobsen E, Yang XG (2008) Iron and zinc deficiencies in China: what is a feasible and cost-effective strategy? Public Health Nutr 11:632–638

McDonald GK, Genc Y, Graham RD (2008) A simple method to evaluate genetic variation in Zn grain concentration by correcting for differences in grain yield. Plant Soil 306:49–55

Morgounov A, Gomez-Becerra HF, Abugalieva A, Dzhunusova M, Yessimbekova M, Muminjanov H, Zelenskiy Y, Ozturk L, Cakmak I (2007) Iron and zinc grain density in common wheat grown in Central Asia. Euphytica 155:193–203

Oury FX, Leenhardt F, Rémésy C, Chanliaud E, Duperrier B, Balfourier F, Charmet G (2006) Genetic variability and stability of grain magnesium, zinc and iron concentrations in bread wheat. Eur J Agron 25:177–185

Pearson JN, Rengel Z (1994) Distribution and remobilization of Zn and Mn during grain development in wheat. J Exp Bot 281:1829–1835

Shewry PR (2009) Wheat. J Exp Bot 60:1537–1553

Stein AJ (2010) Global impacts of human mineral malnutrition. Plant Soil 335:133–154

Waters BM, Grusak MA (2008) Whole-plant mineral partitioning throughout the life cycle in Arabidopsis thaliana ecotypes Columbia, Landsberg erecta, Cape Verde Islands, and the mutant line ysl1ysl3. New Phytol 177:389–405

Waters BM, Sankaran RP (2011) Moving micronutrients from the soil to the seeds: genes and physiological processes from a bio-fortification perspective. Plant Sci 180:562–574

Welch RM (1999) Importance of seed mineral nutrient reserves in crop growth and development. In: Rengel Z (ed) Mineral nutrition of crops: fundamental mechanisms and implications. Food Products Press, New York, pp 205–226

Welch RM (2008) Linkages between trace elements in food crops and human health. In: Alloway BJ (ed) Micronutrient deficiencies in global crop production. Springer, Netherlands, pp 287–309

Welch RM, Graham RD (2004) Breeding for micronutrients in staple food crops from a human nutrition perspective. J Exp Bot 55:353–364

White PJ, Broadley MR (2005) Biofortifying crops with essential mineral elements. Trends Plant Sci 10:586–593

Yilmaz A, Ekiz H, Torun B, Gultekin I, Karanlik S, Bagci SA, Cakmak I (1997) Effect of different zinc application methods on grain yield and zinc concentration in wheat cultivars grown on zinc-deficient calcareous soils. J Plant Nutr 20:461–471

Yilmaz A, Ekiz H, Gultekin I, Torun B, Barut H, Karanlik S, Cakmak I (1998) Effect of seed zinc content on grain yield and zinc concentration of wheat grown in zinc-deficient calcareous soils. J Plant Nutr 21:2257–2264

Zhang YQ, Shi RL, Karim MR, Zhang FS, Zou CQ (2010) Iron and zinc concentrations in grain and flour of winter wheat as affected by foliar application. J Agric Food Chem 58:12268–12274

Zhang YQ, Sun YX, Ye YL, Karim MR, Xue YF, Yan P, Meng QF, Cui ZL, Cakmak I, Zhang FS, Zou CQ (2012) Zinc biofortification of wheat through fertilizer applications in different locations of China. Field Crop Res 125:1–7

Zhao FJ, McGrath SP (2009) Biofortification and phytoremediation. Curr Opin Plant Biol 12:373–380
Acknowledgement
This study was financially supported by the HarvestPlus Program (www.harvestplus.org) and the sponsors of the HarvestPlus Global Zinc Fertilizer Project (www.harvestzinc.org) including Mosaic Company, K + S Kali GmbH, International Zinc Association, Omex Agrifluids, International Fertilizer Industry Association and International Plant Nutrition Institute.
Additional information
Y. Q. Zhang contributed equally to first author.
Responsible Editor: Hans Lambers.
About this article
Cite this article
Zou, C.Q., Zhang, Y.Q., Rashid, A. et al. Biofortification of wheat with zinc through zinc fertilization in seven countries. Plant Soil 361, 119–130 (2012). https://doi.org/10.1007/s11104-012-1369-2
Received:

Accepted:

Published:

Issue Date:
Keywords
Biofortification

Foliar zinc application

Wheat

Zinc deficiency