Abstract
Aims
The improvement of nitrogen-deficiency tolerance (NDT) and nitrogen-use efficiency (NUE) traits is an important objective of many rice breeding programs. A better understanding of their relationship is required for more efficient breeding. The objectives of this study were to map quantitative trait loci (QTLs) for NDT and NUE traits, and to gain a better understanding about the genetic basis of the relationships between NUE and NDT traits.
Methods
127 recombinant inbred lines (RILs) deriving from the cross of Zhenshan97/Minghui63 were tested in field conditions with low nitrogen (LN, 0 kg/ha) and normal nitrogen conditions (NN, 135 kg/ha in 2006 and 130 kg/ha in 2007). NDT traits were the ratio of a trait value under LN to NN, including grain yield, biomass yield, grain nitrogen and biomass nitrogen. NUE traits were nitrogen response, grain yield response and physiological nitrogen-use efficiency (PE).
Results
For NDT traits, seven and eight QTLs were identified in 2006 and 2007, respectively. These QTLs were on chromosomes 1, 2, 3, 4, 7, 9, 10 and 11. For NUE traits, five and six QTLs were detected on chromosomes 1, 2, 3, 4, 6, 7, 9, 10 and 11 in 2006 and 2007, respectively. Four genomic regions, including G393-C922 on chromosome 1, RM232-C63 on chromosome 3, G235-G102 on chromosome 4 and RG678-R1440 on chromosome 7, were found to contain QTLs for NDT and NUE traits. NUE traits significantly negatively correlated with NDT traits in the two testing years, except for the correlations between physiological nitrogen-use efficiency and relative biomass nitrogen.
Conclusion
The four QTL clusters harboring QTLs for both NDT and NUE traits, provides partial explanation and genetic mechanism for the observed correlations between NDT and NUE traits, and could be used as targets for improving NDT and NUE traits in future breeding.
Access options
Buy single article
Instant access to the full article PDF.
USD 39.95
Price includes VAT (USA)
Tax calculation will be finalised during checkout.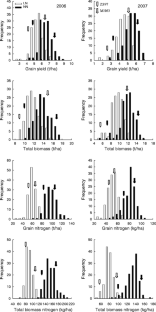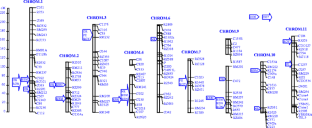 References
Cassman KG, Peng S, Olk DC, Ladha JK, Reichardt W, Dobermann A, Singh U (1998) Opportunities for increased nitrogen-use efficiency from improved resource management in irrigated rice systems. Field Crops Res 56:7–39

Chen JY, Xu L, Cai YL, Xu J (2008) QTL mapping of phosphorus efficiency and relative biologic characteristics in maize (Zea mays L.) at two sites. Plant Soil 313:251–266

Cho Y, Jiang WZ, Chin JH, Piao ZP, Cho YG, McCouch SR, Koh HJ (2007) Identified QTLs associated with physiological nitrogen use efficiency in rice. Mol Cells 23:72–79

Churchill GA, Doerge RW (1994) Empirical threshold values for quantitative trait mapping. Genetics 138:963–971

Coque M, Martin A, Veyrieras JB, Hirel B, Gallais A (2008) Genetic variation for N-remobilization and postsilking N-uptake in a set of maize recombinant inbred lines. 3. QTL detection and coincidences. Theor Appl Genet 117:729–747

De Datta SK, Broadbent FE (1993) Development changes related to nitrogen-use efficiency in rice. Field Crops Res 34:47–56

Feng Y, Cao LY, Wu WM, Shen XH, Zhan XD, Zhai RR, Wang RC, Chen DB, Cheng SH (2010) Mapping QTLs for nitrogen-deficiency tolerance at seedling stage in rice (Oryza sativa L.). Plant Breed 129:652–656

Hirel B, Le Gouis J, Ney B, Gallais A (2007) The challenge of improving nitrogen use efficiency in crop plants: towards a more central role for genetic variability and quantitative genetics within integrated approaches. J Exp Bot 58:2369–2387

Hua JP, Xing YZ, Xu CG, Sun XL, Yu SB, Zhang QF (2002) Genetic dissection of an elite rice hybrid revealed that heterozygotes are not always advantageous for performance. Genetics 162:1885–1895

Inthapanya P, Sipaseuth SP, Sihathep V, Chanphengsay M, Fukai S, Basnayake J (2000) Genotype differences in nutrient uptake and utilization for grain yield production of rainfed lowland rice under fertilized and non-fertilized conditions. Field Crops Res 65:57–68

Ishimaru K, Kobayashi N, Ono K, Yano M, Ohsugi R (2001) Are contents of Rubisco, soluble protein and nitrogen in flag leaves of rice controlled by the same genetics? J Exp Bot 52:1827–1833

Lafitte HR, Edmeades GO (1994) Improvement for tolerance to low soil nitrogen in tropical maize. II. Grain yield, biomass production, and N accumulation. Field Crops Res 39:15–25

Li HH, Li Z, Wang JK (2008) Inclusive composite interval mapping (ICIM) for digenic epistasis of quantitative traits in biparental population. Theor Appl Genet 116:243–260

Lian X, Xing Y, Yan H, Xu C, Li X, Zhang Q (2005) QTLs for low nitrogen tolerance at seedling stage identified using a recombinant inbred line population derived from an elite rice hybrid. Theor Appl Genet 112:85–96

Mae T, Ohira K (1984) The relationship between proteolytic activity and loss of soluble protein in rice leaves from anthesis though senescence. Soil Sci Plant Nutr 30(3):427–434

McCouch SR, Cho YG, Yano M, Paul E, Blinstruub M (1997) Report on QTL nomenclature. Rice Genet Newsl 14:11–13

Namai S, Toriyama K, Fukuta Y (2009) Genetic variation in dry matter production and physiological nitrogen use efficiency in rice (Oryza sativa L.) varieties. Breed Sci 59:269–276

Novoa R, Loomis RS (1981) Nitrogen and plant production. Plant and Soil 58:177–204

Obara M, Kajiura M, Fukuta Y, Yano M, Hayashi M, Yamaya T, Sato T (2001) Mapping of QTLs associated with cytosolic glutamine synthetase and NADH-glutamate synthase in rice (Oryza sativa L.). J Exp Bot 52:1209–1217

Obara M, Sato T, Sasaki S, Kashiba K, Nagano A, Nakamura I, Ebitani T, Yano M, Yamaya T (2004) Identification and characterization of a QTL on chromosome 2 for cytosolic glutamine synthetase content and panicle number in rice. Theor Appl Genet 110:1–11

Peng SB, Buresh RJ, Huang JL, Yang JC, Zou YB, Zhong XH, Wang GH, Zhang FS (2006) Strategies for overcoming low agronomic nitrogen use efficiency in irrigated rice system in China. Field Crops Res 96:37–47

R CORE Development Team (2008) R: a language and environment for statistical computing. R Foundation for Statistical Computing, Vienna, Austria. ISBN 3-900051-07-0. www.R-project.org

Senapathy S, Kunnummal KV, Palaniappan M, Marappa M (2008) QTL and QTL × environment effects on agronomic and nitrogen acquisition traits in rice. J Integr Plant Biol 50:1108–1117

Shan YH, Wang YL, Pan XB (2005) Mapping of QTLs for nitrogen use efficiency and related traits in rice (Oryza sativa L). Acta Agron Sin 4(10):721–727

Singh U, Ladhab JK, Castilloa EG, Punzalanb G, Tirol-Padre A, Duqueza M (1998) Genotypic variation in nitrogen use efficiency in medium- and long-duration rice. Field Crops Res 8:35–53

Sohei K, Yoshimichi F, Hiroshi T, Tadashi S, Mitsuru O (2008) Identification and characterization of genomic regions associated with nitrogen dynamics in rice plants (Oryza sativa L.). Breed Sci 58:113–120

Tong HH, Mei HW, Yu XQ, Xu XY, Li MS, Zhang SQ, Luo LJ (2006) Identification of related QTLs at late developmental stage in rice (Oryza sativa L.) under two nitrogen levels. Acta Genet Sin 33:458–467

Wang Y, Sun YJ, Chen DY, Yu SB (2009) Analysis of quantitative trait loci in response to nitrogen and phosphorus deficiency in rice using chromosomal segment substitution lines. Acta Agron Sin 35(4):580–587

Wei D, Cui KH, Pan JF, Ye GY, Xiang J, Nie LX, Huang JL (2011) Genetic dissection of grain nitrogen use efficiency and grain yield and their relationship in rice. Field Crops Res 124:340–346

Xing YZ, Tan YF, Hua JP, Sun XL, Xu CG, Zhang Q (2002) Characterization of the main effects, epistatic effects and their environmental interactions of QTLs on the genetic basis of yield traits in rice. Theor Appl Genet 105:248–257

Xue W, Xing YZ, Weng X, Zhao Y, Tang W, Wang L, Zhou H, Yu SB, Xu CG, Li XH, Zhang QF (2008) Natural variation in Ghd7 is an important regulator of heading date and yield potential in rice. Nat Genet 40:761–767

Yamaya T, Obara M, Nakajima H, Sasaki S, Hayakawa T, Sato T (2002) Genetic manipulation and quantitative-trait loci mapping for nitrogen recycling in rice. J Exp Bot 53:917–925

Yoshida S, Forno DA, Cock DH, Gomez KA (1976) Laboratory manual for physiological studies of rice. IRRI, Philippines, pp 14–17

Yoshida S (1981) Fundamentals of rice crop science. International Rice Research Institute, Philippines, pp 135–147

Yu SB, Li JX, Xu CG, Tan YF, Gao YJ, Li XH, Zhang QF, Maroof MAS (1997) Importance of epistasis as the genetic basis of heterosis in an elite rice hybrid. Proc Natl Acad Sci USA 94:9226–9231

Zeng JM, Cui KH, Huang JL, He F, Peng SB (2007) Responses of physio-biochemical properties to N-fertilizer application and its relationship with nitrogen use efficiency in rice (Oryza sativa L.). Acta Agron Sin 33(7):1168–1176
Acknowledgments
We are grateful to anonymous reviewers for many critical comments and suggestions on the manuscript. We thank professors Xing Yongzhong and Yu Sibin, and National Key Laboratory of Crop Genetic Improvement, Huazhong Agricultural University, Wuhan, 430070, for providing seeds and marker data for the recombinant inbred lines used in the study. This work was jointly supported by the National Special Program for Research of Transgenic Plant of China (2009ZX8009-007B) and 948 program from MOA (No. 2010-S13).
Additional information
Responsible Editor: Martin Weih.
About this article
Cite this article
Wei, D., Cui, K., Ye, G. et al. QTL mapping for nitrogen-use efficiency and nitrogen-deficiency tolerance traits in rice. Plant Soil 359, 281–295 (2012). https://doi.org/10.1007/s11104-012-1142-6
Received:

Accepted:

Published:

Issue Date:
Keywords
Nitrogen-deficiency tolerance

Nitrogen-use efficiency

Recombinant inbred lines (RILs)

Quantitative trait loci (QTLs)